Most of the world has just celebrated Father's Day, while here in Poland we are still waiting to do so. Our Father's Day is always on June 23rd (so it's easy to remember).
This year, to celebrate it ever better, I have come together with the THE OAK MEN and we are going to give away a special gift, that any Dad would be happy to receive.
The Oak Men is a Danish brand started a few years ago by two friends and experienced cabinet makers – Anders Buchtrup Jensen and Peter Hensberg. They love wood and they love cool things and so they made a decission to combine these two loves and create something extraordinary. For other men, for their homes, for their friends and for all of us, loving simple yet cool modern Scandinavian design. Anders and Peter noticed that there were plenty of nice [and cool]  interior products made for women. However, each and every time they aimed to find a "man product", they couldn't. The Oak Men was made to fill in the gap. Anders and Peter started designing and making things for other men to discover – that women love them too! I wonder why! ;)
One of many cool The Oak Men products is BALLS – an universal calender made of 3 oak balls, which you can freely adjust to any date. It makes a great decoration for the workspace, bedroom, living room or office and adds that cool "The Oak Men factor" to any space. Right now you can win the BALLS in the worldwide giveaway that has just started on my Instagram and will run until the end of Polish Father's Day, Friday, 23rd of June – as the BALLS show (24:00 CET).
Konkurs z okazji Dnia Ojca z The Oak Men
Za parę dni Dzień Ojca i w tym roku wraz z The Oak Men, postanowiliśmy zrobić wspólny konkurs, którego nagroda ucieszy każdego Tatę (i nie tylko).
The Oak Men to duńska marka, którą kilka lat temu założyli dwaj przyjaciele, doświadczeni stolarze Anders Buchtrup Jensen i Peter Hensberg. Obaj kochają drewno oraz przepadają za nietuzinkowymi przedmiotami – postanowili to połączyć i skupić się na tworzeniu niezwykłych przedmiotów z drewna. Dla innych facetów, do ich domów, dla przyjaciół i dla nas wszystkich, którzy kochamy dobry i ciekawy skandynawski design. Anders i Peter zauważyli, że dostępne na rynku dodatki do domów tworzone są głównie z myślą o kobietach. Kiedy chcieli znaleźć coś "męskiego", napotykali problem. Zapragnęli choć w części zapełnić tę lukę. Kiedy zaczęli projektować i tworzyć swoje produkty zauważyli, że i kobiety pokochały ich pomysły. Ciekawe dlaczego! ;)
Jednym z produktów w ofercie The Oak Men jest uniwersalny kalendarz BALLS złożony z trzech dębowych kul pozwalających na stworzenie dowolnej daty. To fajny, dekoracyjny, ale i praktyczny dodatek do gabinetu, salonu, sypialni czy na biurko. Każdej przestrzeni dodaje męskiego uroku. Teraz możecie wygrać BALLS w konkursie, który właśnie rozpoczął się na moim Instagramie i potrwa do końca Dnia Ojca – 23. czerwca do północy.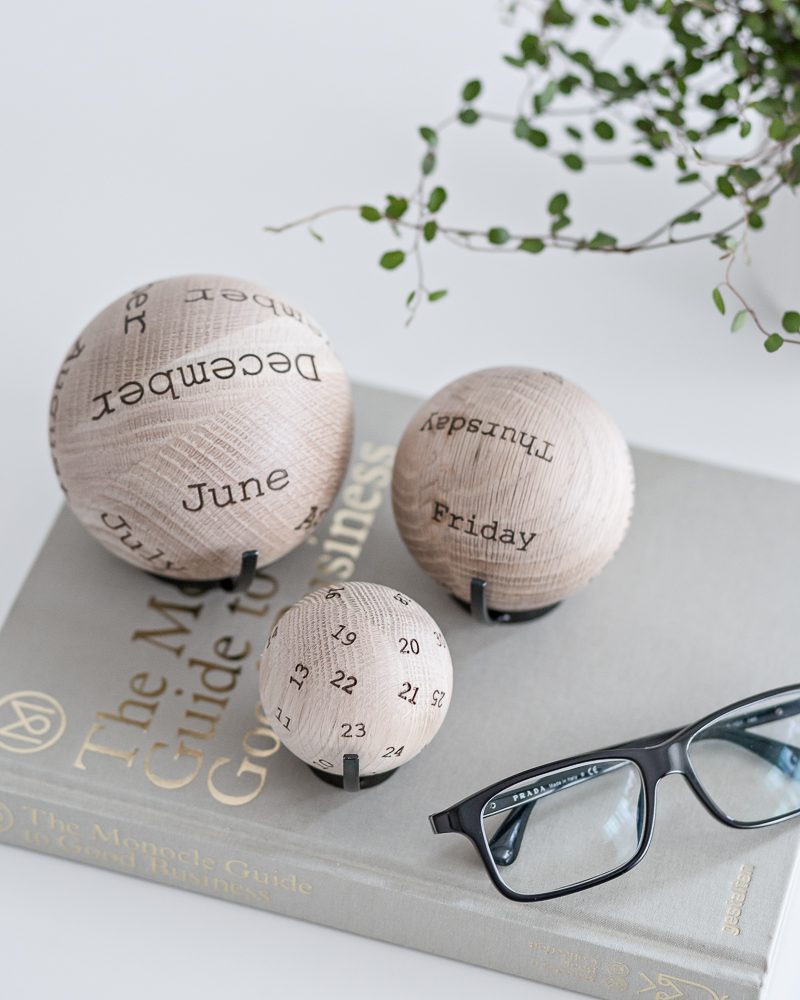 ? Kasia Rutkowiak / My Full House
W Polsce produkty The Oak Men dostępne są obecnie w sklepie Amazing Decor.