I am a coffeeholic. It is one of top 5 characteristics of myself, along the fact that I need fresh flowers to feel happy and that I will always choose a steak over cake. Or at least 9 out of 10 times. 
However recently, while fasting, it was not beef that I missed but the coffee. It was also the greatest challenge of all, to avoid this black, invigorating liquid for long weeks and one of the first things I had after completing my fast. Getting back to the routine of brewing my morning coffee by the kitchen window, felt like coming home after a long trip.
Dlaczego wybrałam Nespresso – moja kawowa historia
Jestem kawoholiczką. To jeden z pięciu najważniejszych faktów opisujących moje upodobania. Inne to na przykład miłość do świeżych kwiatów, których codziennie potrzebuję do szczęścia, czy to, że nad tort zawsze wybiorę stek. No, może w 9 przypadkach na 10.
Jednak kiedy ostatnio przeprowadzałam post, to nie steków najbardziej mi brakowało, a kawy. Odstawienie jej było dla mnie największym wyzwaniem i to właśnie po kawę sięgnęłam w pierwszym dniu po zakończonym poście. Powrót do rytuału parzenia świeżej porannej kawy był cudownym uczuciem, zupełnie jak powrót do domu po długiej podróży.
But it hasn't always been like that. I learned to drink coffee quite late. It wasn't until the last, 6th year of my studies that I started drinking coffee on regular basis, usually white and rarely more than a cup a day, just "for fun", with a little dessert or over a chit-chat with friends. Later on, in Denmark, I started drinking more coffee, mostly filter brewed and never freshly grounded. Having a job that required all kind of working hours in all kinds of conditions, both in heat and in freezing cold, coffee was my companion, but almost never something I truly enjoyed. Rather a "wake me up medicine" or something that helped me to go through a tough day (or night).
It all changed, after I moved to Poland a bit more than 3 years ago. It was when we got our first Nespresso machine. It changed the way I look at coffee, the way I drink it and what good coffee means to me. 
Nie zawsze jednak byłam fanką kawy. Nauczyłam się ją pić dość późno, bo na szóstym roku studiów. Zwykle białą i "dla towarzystwa". Później, już w Danii, przestawiłam się niemal zupełnie na kawę z ekspresu przelewowego. Mając pracę, która wymagała mojej atencji o różnych porach doby, w najróżniejszych warunkach, w mrozie czy upale, traktowałam kawę po prostu jak coś, co pozwalało mi się obudzić i przetrwać ciężki dzień (lub noc). 
To wszystko zmieniło się, kiedy ponad trzy lata temu, już w Polsce, pojawił się w domu nasz pierwszy ekspres Nespresso. Sprawił, że zmieniłam podejście do kawy, sposób w jaki ją piję i to co oznacza dla mnie hasło "dobra kawa".
Many people shake their heads when hearing the words "coffee capsule" and to some extend I do understand them. I have tried another brand of coffee machines brewing milk coffees from a single pod/capsule, and I didn't like it a bit. On the contrary, I really liked Nespresso coffee from the first sip. The difference lies in the capsule content. Nespresso capsules are filled with best quality fresh grounded coffee and nothing else. If you don't believe me, it is enough to open a capsule and see (and smell) for yourself. 
My grandma used to have a manual grinder and sometimes she asked me to grind some coffee beans for afternoon coffee on Sundays. I can still remember the smell of freshly grounded beans and the black "powder" that we spooned out of a little wooden grinder drawer. What I find in our capsules brings back those memories.
Wiele osób kręci głowami słysząc o kawie w kapsułkach i do pewnego stopnia to rozumiem. Miałam okazję próbować kawę innej marki, która w kapsułce miała i kawę i masę dodatków do stworzenia "kawy mlecznej". Nie smakowało to dobrze (chyba, że ktoś uwielbiał kawy "mokate cappucino" – to mniej więcej ten sam smak). Kawa Nespresso zasmakowała mi od pierwszego łyku. Różnica leży bowiem właśnie w tym co znajdujemy w kapsułkach. Te aluminiowe, które kupujemy do naszego ekspresu zawierają jedynie świeżo zmieloną kawę i nic więcej. Niedowiarkom polecam otwarcie takiej kapsułki i sprawdzenie na własne oczy (i nos).
Moja babcia miała stary drewniany, ręczny młynek do kawy. Czasem sadzała mnie w kuchni i prosiła o zmielenie porcji do poobiedniej niedzielnej kawy. Do dziś pamiętam zapach świeżo zmielonych ziaren, które trafiały do małej szufladki. To co znajduję w kapsułkach przywołuje te wspomnienia.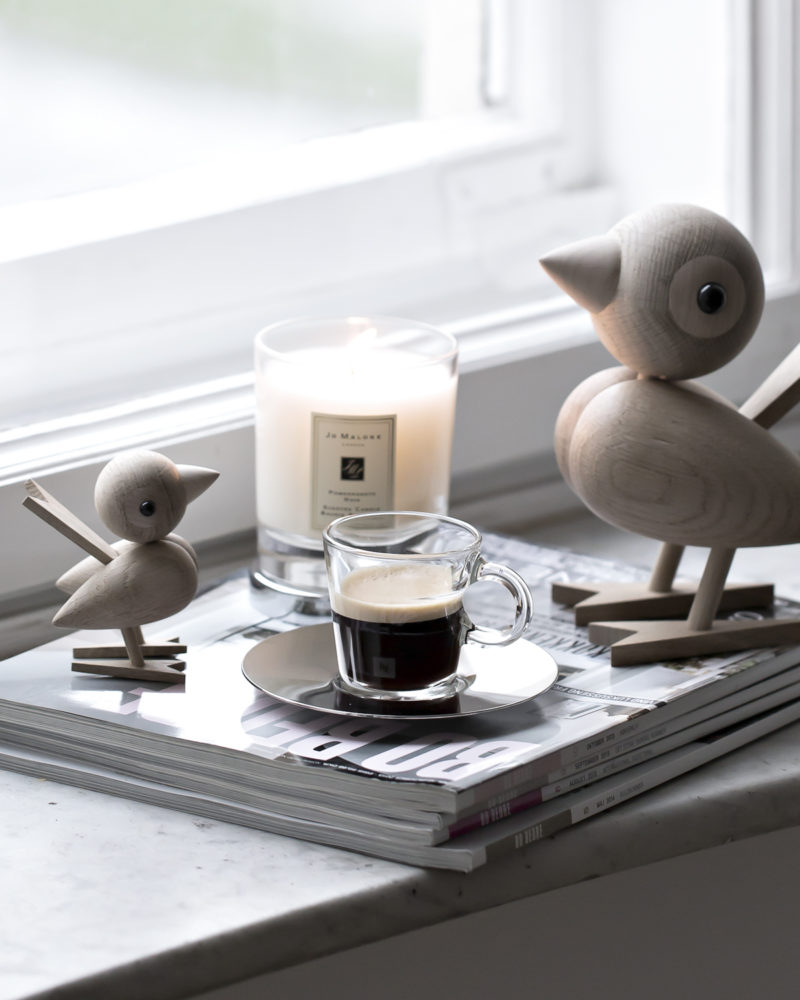 One of the things that I love most about Nespresso is the possibility of picking the right coffee for my mood, at any time, mornings and evenings included. The fact that I don't have to grind 200 g coffee before I change the kind of beans in the machine grinder is beyond convenient. So I have my favourite Fortissio Lungo in the morning, Dharkan espresso around early afternoon and often also a cup od decaffeinated coffee after dinner.
Actually, availability of so many different kinds of coffee, made me totally change the way I drink it. One of the first changes in my coffee drinking routine was going from coffee with milk to all black. And after a while I was able to tell the difference between the strength and roast of different blends and truly enjoy their taste. Although our Lattissima machine can effortlessly make a superb latte or cappuccino (something that my husband enjoys each day).
Jedną z największych zalet posiadania ekspresu Nespresso jet to, że o dowolnej porze można się delektować inną kawą, zależnie od upodobań czy potrzeb. Nie ma konieczności zmielienia 200 g jednego rodzaju ziaren, aby móc zmienić go na inny i każdy członek rodziny może zażyczyć sobie inną kawę do tego samego posiłku. Ja sama rano zwykle decyduję się na Fortissio Lungo, wczesnym popołudniem robię espresso Dharkan, a wieczorem sięgam najczęściej po kapsułkę z kawą bez kofeiny (moja ulubiona to i wierzcie mi, w smaku absolutnie idealna, a nie ma kłopotów z zaśnięciem).
To właśnie dostępność wielu rodzajów kawy z możliwością dowolnego wyboru dostosowanego do potrzeb i upodobań sprawiło, że odkąd mamy ekspres Nespresso, zupełnie przestałam pijać kawy z mlekiem. Teraz z łatwością jestem w stanie poczuć różnice w intensywności i smaku poszczególnych kaw i ich mieszanek, a kawy mleczne poszły w zapomnienie. W odróżnieniu ode mnie, mój mąż wciąż najchętniej pija latte.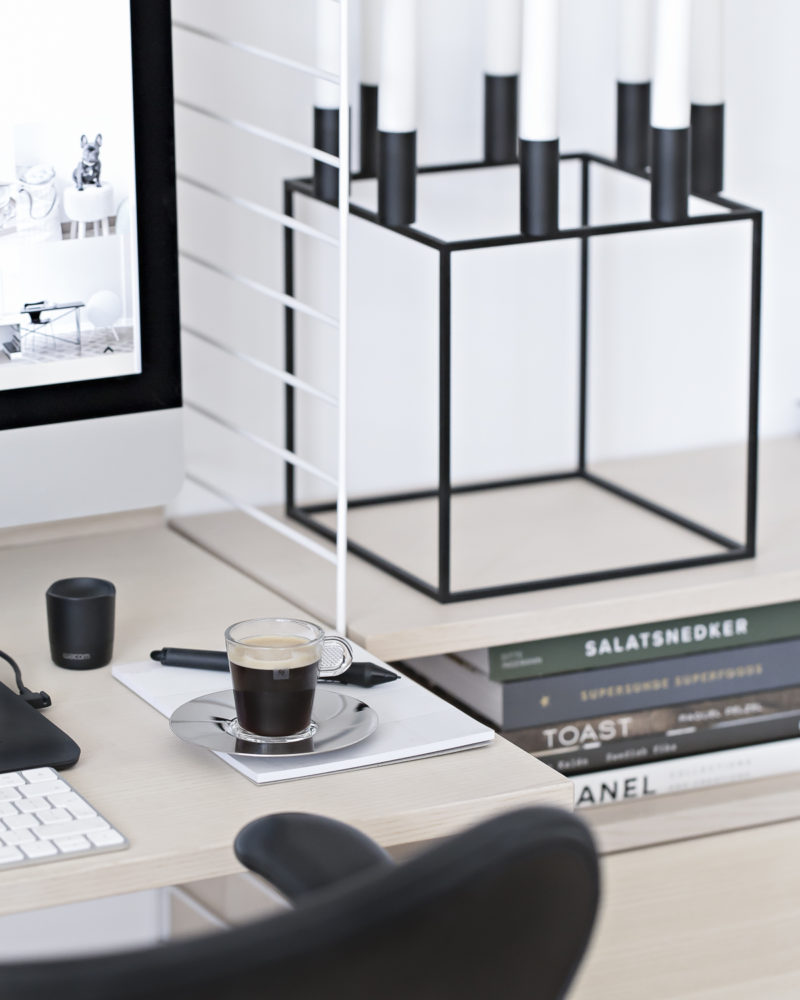 Lately, despite the fact that our coffee machine brews great latte and cappuccino, I did get curious about a new Barista milk frother. That was especially when I read, that it can make wonderful cold coffees with a press of a button (or bluetooth!). Cause even if I normally choose black over white coffee, a cup of ice cold coffee with milk can really save me on a hot summer day. When Barista came, just a day before leaving for our vacation, I was super excited. The first thing I made was a rich and creamy flat white and a regular coffee latte – just to see how these two tasted. We both loved them (that flat white was dreamy!) and I must say, that after our vacation, I will have to go through an entire Barista recipe book, till I see if I don't find that parfect coffee with milk (or cream!) for my afternoon break. I will surely share my new Barista skills on Instagram.
I mimo, że nasz ekspres doskonale radzi sobie z parzeniem cappuccino czy latte, bardzo zaciekawiła mnie informacja o pojawieniu się nowego urządzenia do przyrządzania kaw mlecznych – Barista. Szczególnie, że z jego pomocą można przygotować nie tylko gorące napoje na bazie kawy i mleka, ale też napoje zimne. Mimo, że wciąż wybieram kawę czarną nad mleczną, doskonale wiem, jak zimna latte potrafi poprawić nastrój w czasie upału. Nasz Barista dotarł tuż przed naszym wyjazdem na urlop i w pierwszej kolejności testowałam przyrządzanie flat white i "narmalnej" latte. Przyznam, że smak tej pierwszej baaardzo pozytywnie mnie zaskoczył i będę musiała rozważyć, czy po powrocie z wakacji, nie wprowadzę jej na stałe do mojego kawowego menu. Po wakacjach przetestuję też wszystkie inne przepisy z książki przepisów Barista, łącznie z tymi na zimną kawę. Efektami z pewnością podzielę się z Wami na Instagramie.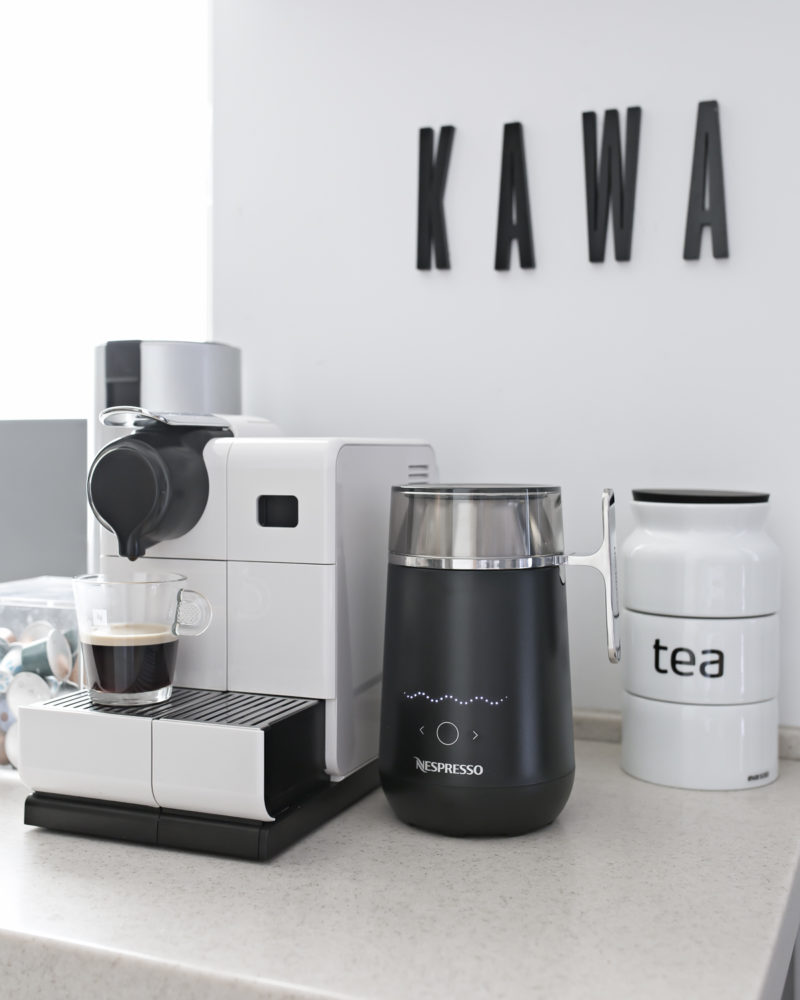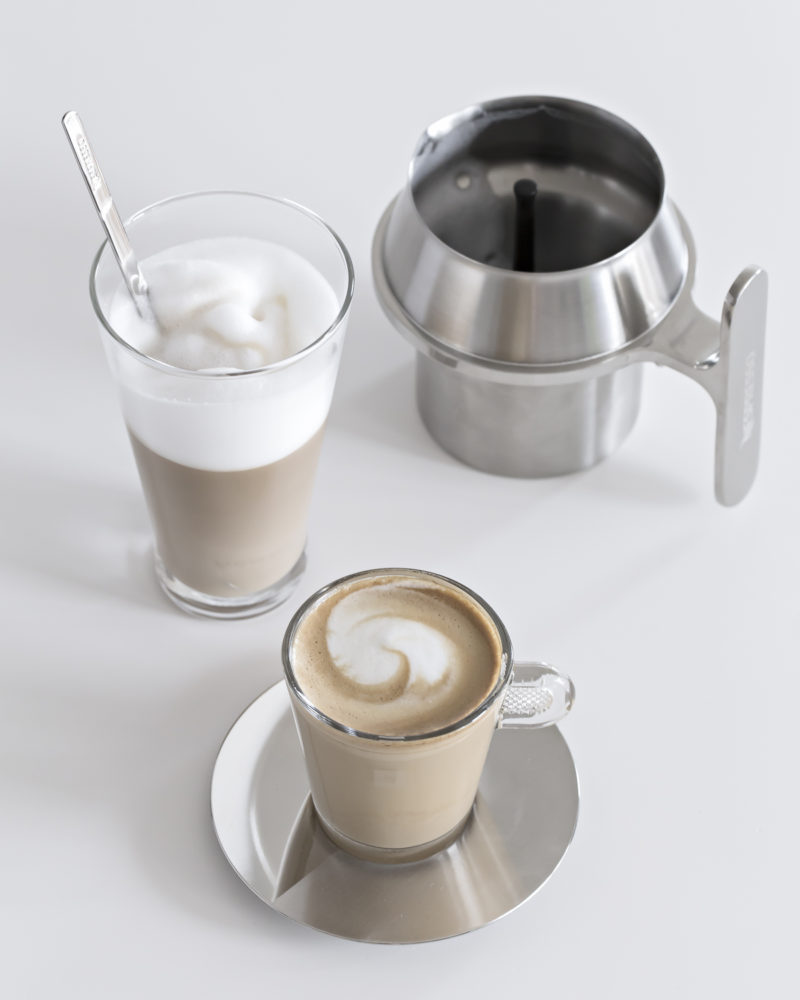 We usually buy our capsules in a Nespresso Boutique, although I know many people who prefer to buy their coffee online. I personally like the shopping experience and always friendly staff in my favourite Nespresso Boutique in town. Worth mentioning is the fact that no matter if you go to a boutique or shop online, you can always return any used capsules for recycling. We always do that. Upon shopping, we get special bags, which we use after our empty capsule box is filled. The coffee from used capsules is then used to make fertilisers while all aluminium is recycled. You can return the capsules free of charge when using a courier service as well. Just give the bag with used capsules to the person delivering you the coffee, next time you shop online.
Osobiście kupujemy kawę w naszym ulubionym butiku Nespresso w Warszawie. Bardzo lubię i samo miejsce i zawsze pomocny personel, istnieje jednak możliwość zakupu kawy przez internet. To ważne jeśli nie macie szczęścia mieszkać w pobliżu butiku. Co więcej, zawsze oddajemy nasze zużyte kapsułki do recyklingu – kawa z nich wykorzystywana jest do produkcji nawozów, a z pozyskanego aluminium produkuje się na przykład części do kolejnych ekspresów. Warto o tym pamiętać nie tylko kupując w sklepie stacjonarnym, ale i online. Kurier, który dostarcza świeżą porcję kawy zabiera wówczas zużyte kapsułki ze sobą.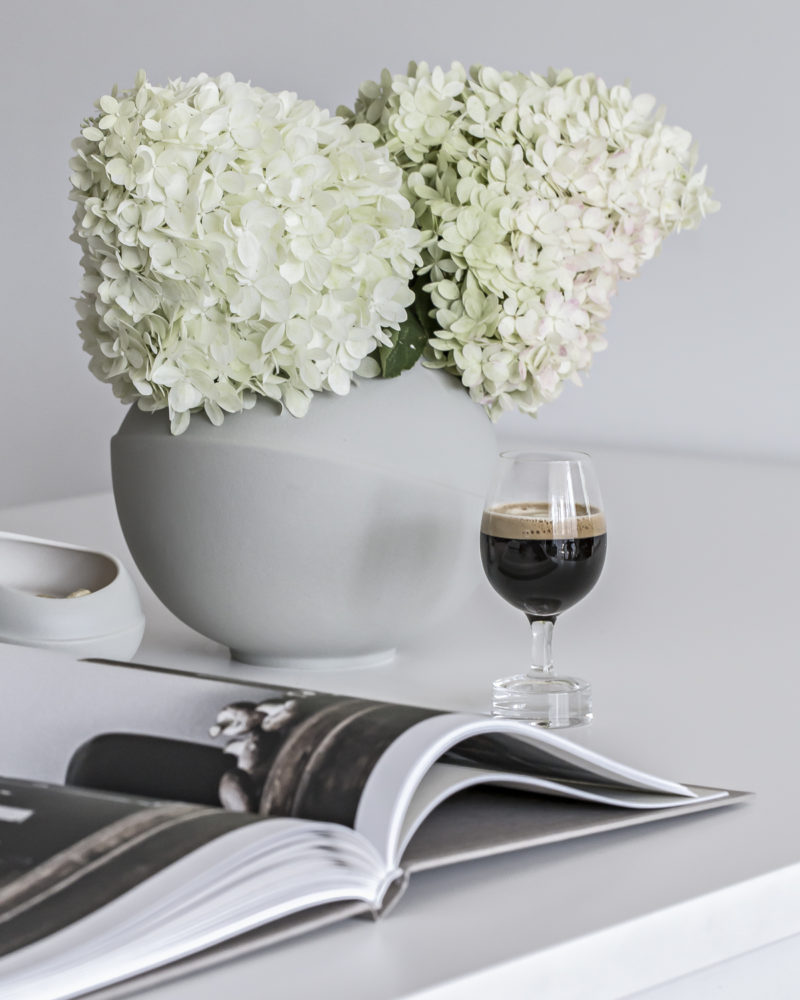 That was my long coffee story made short. Hopefully, it explained why we drink and love Nespresso coffee and will be something to refer all those of you, who every now and then ask me about how and why, or simply say that capsule coffee is bad for me (and our environment).
We try to choose wisely all things that we eat and drink, not just coffee. It is also very important for us to teach our children that the quality of what we put in our bodies as well as all the production and recycling process make a big difference. That is why, it came as no surprise to anyone that we did choose Nespresso for our workplace and have another Lattissima standing in our showroom kitchen. Just like George used to say – Nespresso? What else?
Teraz już poznaliście w skrócie moją kawową historię. Mam nadzieję, że udało mi się wyjaśnić dlaczego pijemy i za co lubimy tę kawę. Do tego posta będę też mogła odsyłać w przyszłości wszystkich z Was, którzy pytają mnie o kawę Nespresso, a także tych, którzy piszą, że ta kawa jest dla mnie (i dla środowiska) samym złem.
Bardzo świadomie wybieramy wszystko to co jemy i pijemy. Dodatkowo, staramy się tego samego uczyć nasze dzieci. Jakość jedzenia, a także dbałość o środowisko w procesie jego wytwarzania (i sprzątania po nim!) jest niezmiernie ważna. Dlatego, kiedy wybieraliśmy ekspres do pracy, raz jeszcze, jednogłośnie i w pełni świadomie zdecydowaliśmy się na Nespresso. Jak to mawiał George – Nespresso? What else?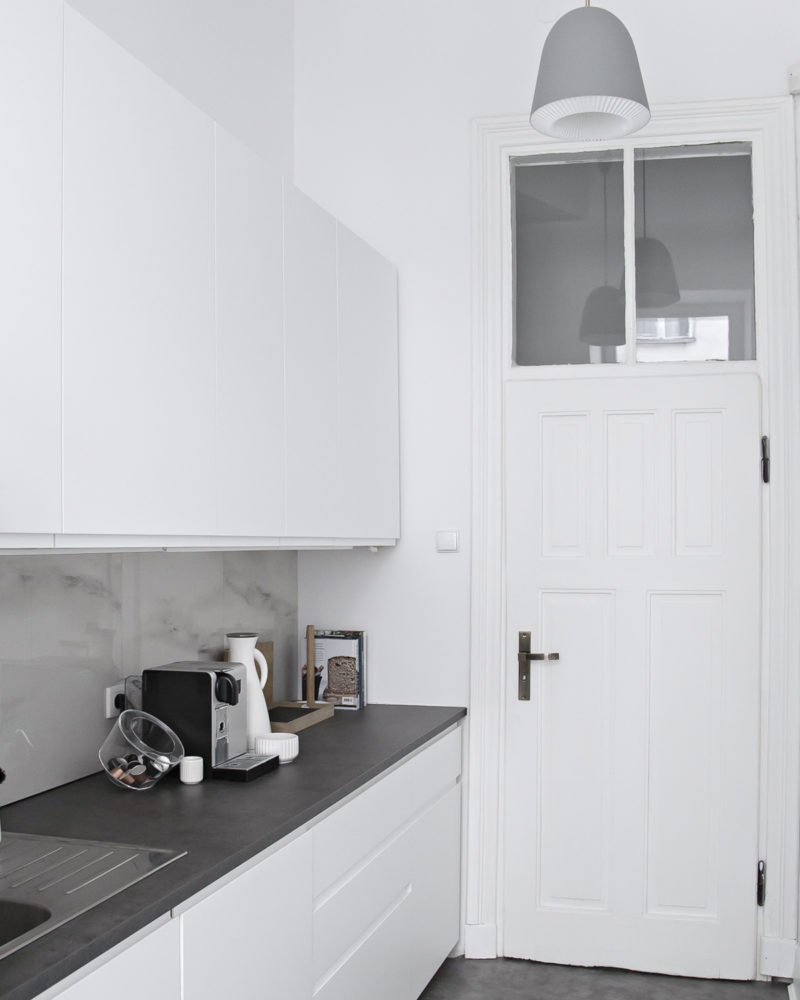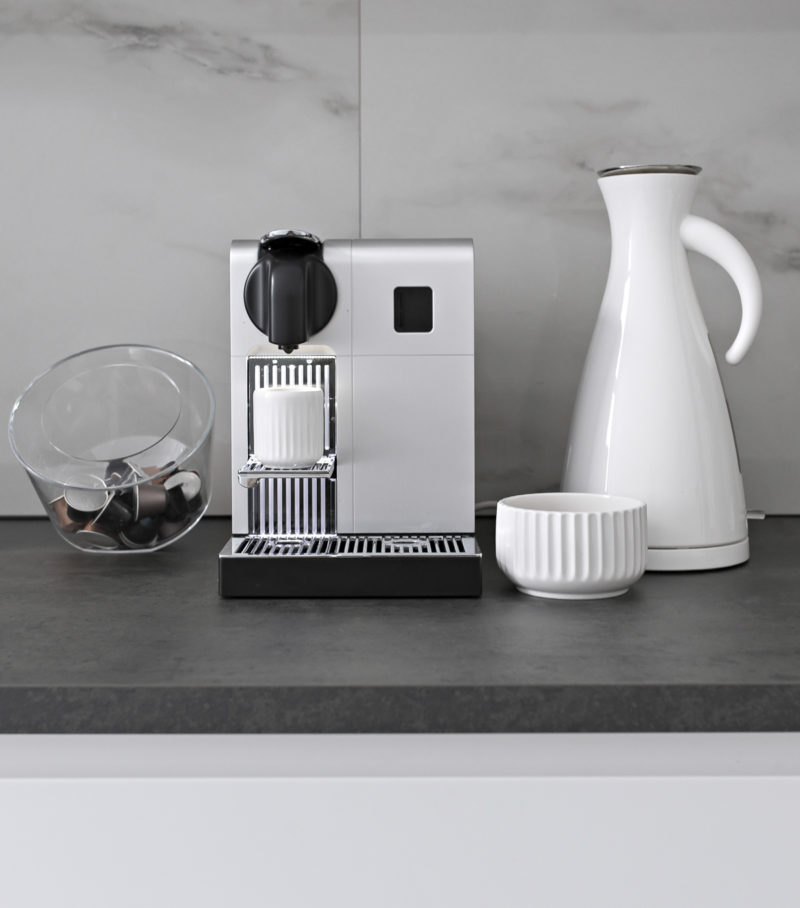 copyright Kasia Rutkowiak | My Full House | any unauthorised use prohibited
Disclaimer: This post was made in cooperation with Nespresso and is based on our over 3 years old experience with company and products. Any opinions are my own.
Post powstał we współpracy z marką Nespresso i bazuje na naszym ponad 3-letnim doświadczeniu z marką i jej produktami. Przedstawia moje subiektywne opinie.