When you have a job like mine, a comfortable home office space is a must. Furthermore, it should be a workspace that feels inviting and pleases the eye. A place where you feel good and can focus on all the everyday tasks in the best way. If you ask me, if I think that I have the perfect home office – I don't. Far from! A perfect one would have a… door. It would be a room with a nice big desk, some shelves plus plenty of storage for all my props and equipement. An office I could both enter and leave. Like normal people do ;) They go to work and they leave work. In stead, I have my tiny desk in the middle of My Full House, in the living room. If you ask me if I like my workspace, I would have to say that despite of it being so far from perfect – I love it! I am aware of the space limits and the size of our family, so I am more than glad to have this spot for me. String System truly is a magnificent invention and I would't give it away for anything! I also love the fact that it's white. Not only because I am a "white person" regarding interiors, but because it's such a practical colour when it comes to shelves. And yes, I would hope to expand it in the future, but that has to wait.
I bet that you can also spot a new addition to my workspace! Yes! At last! I am a happy owner of Fritz Hansen Series 7 Chair in white (what else?!). It was so worth the wait, and the day that the chairs came, felt like Christmas to me.
But luckily, it's not winter yet, and we're here, in the middle of summer, working and smiling. Have a nice day, dear all! See you tomorrow for the girls room makeover reveal!
Moje skandynawskie domowe biuro
Kiedy pracuje się w domu, przyjazna, wygodna i ciesząca oko przestrzeń do pracy to podstawa. Moje domowe biuro jest dalekie od ideału. Gdybym mogła wybierać, moje biuro przede wszystkim miałoby drzwi. Chciałabym bardzo miec pokój do pracy, z dużym biurkiem, półkami i szafami na sprzęt i wszystkie dodatki potrzebne do robienia zdjęć. Mogłabym chodzić do pracy i z niej wracać, jak normalni ludzie. Zamiast tego mam niewielkie biureczko w samym centrum mojego pełnego domu. Czy lubię więc moją przestrzeń do pracy? Uwielbiam! Mam świadomość ograniczeń wynikających z wielkości mieszkania (i rodziny), więc cieszę się, że udało mi się zaaranżować tę część dla siebie. System półek String jest absolutnie fantastycznym wynalazkiem i nie oddałabym mojego regału za nic! Biel półek nie tylko idealnie wpasowuje się w mój gust, ale też okazuje się praktyczna w codziennym użytkowaniu. Z czasem chętnie rozbuduję naszego Stringa, ale to musi jeszcze zaczekać.
I tak! Pewnie zauważyliście nowy dodatek w postaci mojego wymarzonego krzesła Serii 7, projektu Arne Jacobsena. Doczekałam się spełnienia kolejnego marzenia, a dzień, w którym przyszły krzesła był dla mnie niczym Gwiazdka!
Na szczęście do zimy jeszcze daleko. Mamy środek lata, dużo pracy i wiele powodów do uśmiechu. Miłego dnia! Jutro zapraszam do pokoju dziewczynek po przeróbce!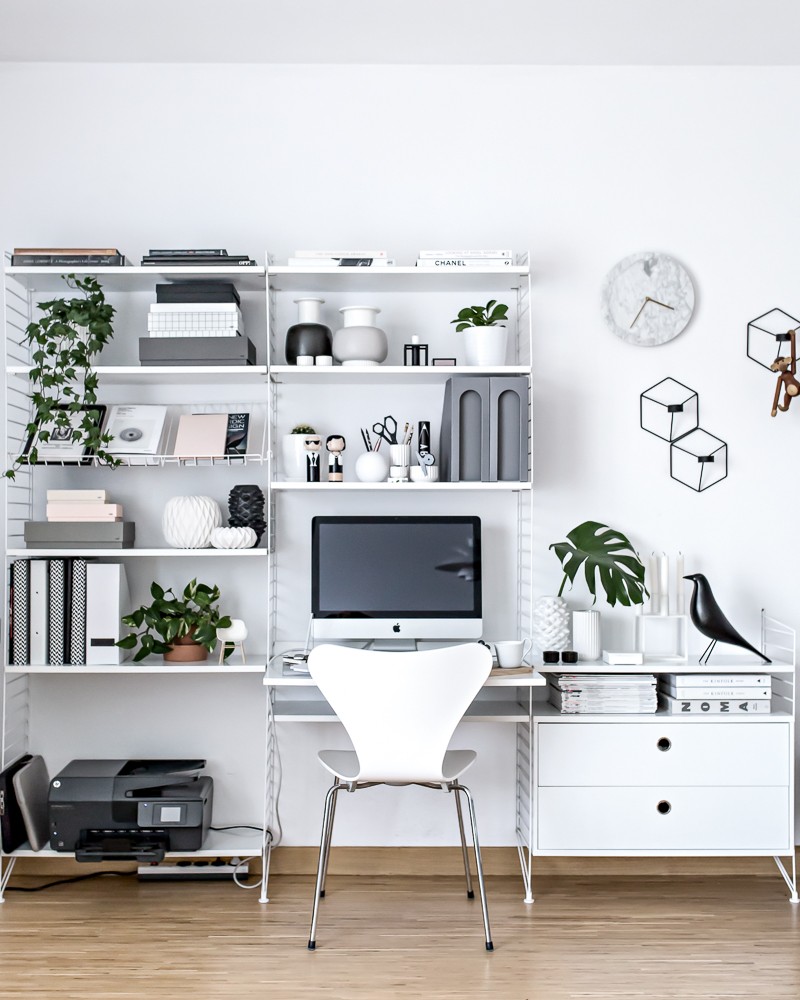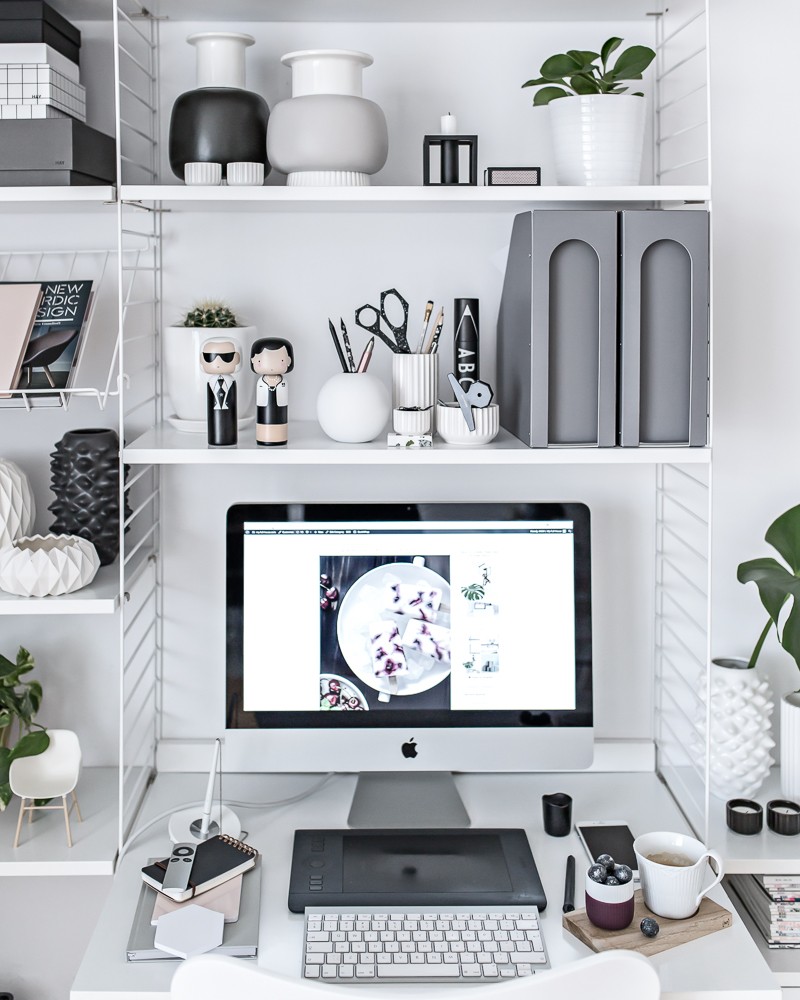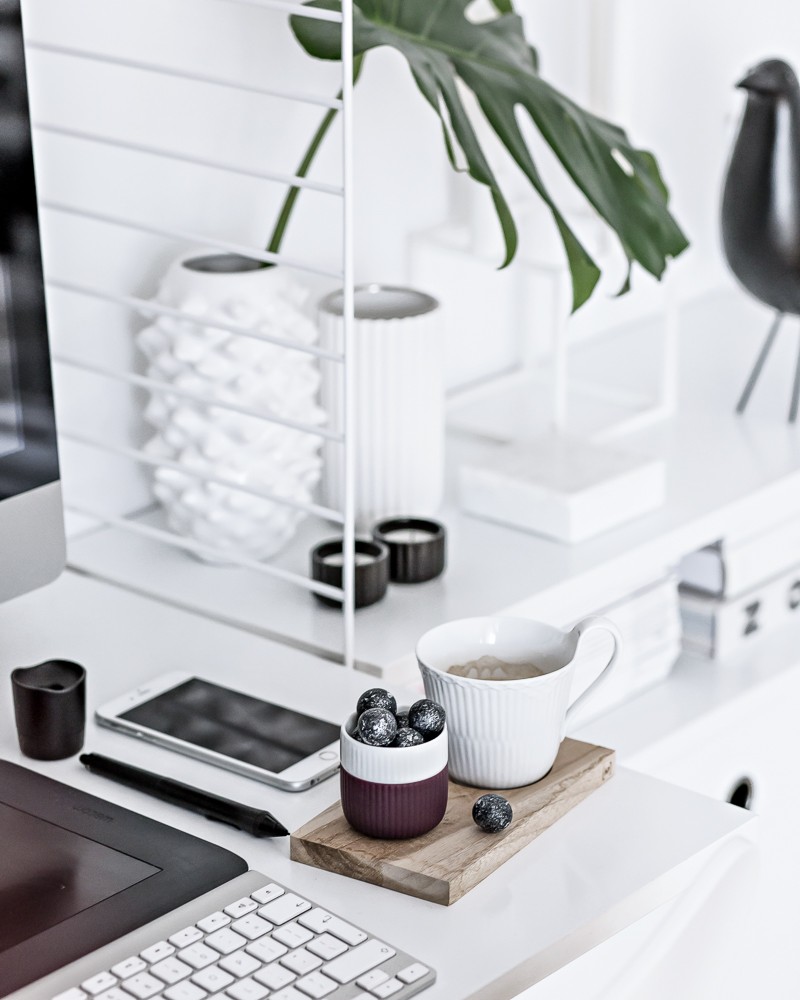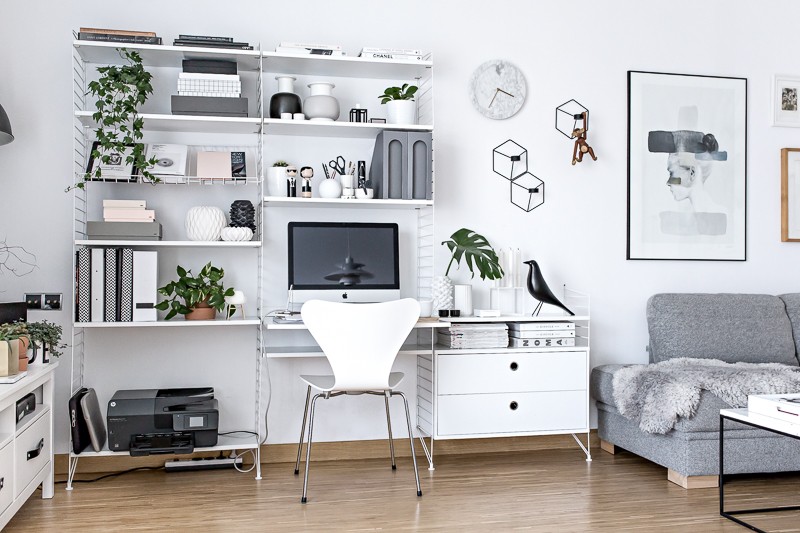 ? Kasia Rutkowiak / My Full House
W Polsce zakupy Systemu String jak i kultowych krzeseł Serii 7 marki Fritz Hansen zrobiłam (i polecam!)
w sklepie Scandinavian Living w Warszawie