Today I am back with a detailed reveal of the new girls' room. By saying new, I mean that we changed the wall colour, all furniture, lamp and carpet. The only thing that remains the same is a closet, for obvious reasons. Also the way we chose to place the furniture is same as before, as the size of the room and placing of door and window would't really allow us to change it.
As I mentioned in the sneak peek post, the previous walls were ivory/cream and I didn't really like them with white furniture, so one day we decided to give the room some white, washable paint. It helped! Now all the apartment is white, yay!
The furniture for this room is my big dream come true. After years of browsing the Oliver Furniture catalogues, in hope for "one day", we finally decided to go for their beautiful bunk bed. That was when I discovered the new line of bookshelves, a perfect match if you ask me, especially with the wooden front boxes. As boxes are white on the opposite side, you can freely choose the bookshelf's look. They are roomy and very well made, as all Oliver Furniture pieces (the glass cabinet in the living room is the same brand). The boxes room mostly books and board games. The last piece of OF is the new desk. The previous one was nice but too narrow for both girls. Because of that, they often fought for the sitting spot. Now they can sit side by side and draw together, and they love it (so do I!). We paired the desk with two Tripp Trapp chairs from Stokke (what else?!) in Whitewash.
Searching for the carpet was a long process. Eventually, I decided to order a carpet from Lorena Canals and they newest collection Degrade. We chose the colour Dark Grey-Grey. It is incredibly soft and nice to touch. The girls enjoy not only walking on it barefoot, but they also love to sit on it and play. This handmade carpet is also washable. It fits easily into a washing machine, and making it look all clean and new is a piece of cake. I really recommend it!
If you look at the ceiling, you will also see a new lamp from Studio Snowpuppe. It is the newest addition to their collection – the Wave Lamp in Pastel Pink. It is a paper shade with a wooden rim and looks great in this room. It also gives a very nice light so we are very happy for it! I decided to keep the mint Monty desk lamp from FLEXA and the two mint Cloud Lamps on the wall from Ferm Living.
I also made a gallery wall with my Dad's drawing as a main spot. It makes me so happy to know that they look at it every day! There is also a poster with a Bornholm motive, remaining them everyday of their other home. Moving the bookshelf towards the corner, gave some extra space for smaller storage boxes and baskets, without making it look cluttered.
I think that the room should definitely stay as it is now, for a longer time! If (or when) we move, the bunkbed can actually be split into two separate beds, and as these are full size single mattress beds, they can be used for many years to come.
As usual, I am very curious to hear your opinions, so please leave me a comment under the post. Have a lovely day!
Skandynawski pokój dziewczynek – odsłona
Wracam do Was ze zdjęciami całego pokoju dziewczynek po przeróbce. Zmieniliśmy prawie wszystko – od koloru ścian, przez wszystkie meble, dywan, aż po lampę. Jedynie wbudowana szafa pozostała bez zmian :). Rozplanowanie pokoju też jest takie samo, ze względu na jego rozmiar i rozmieszczenie drzwi i okna.
Tak jak wspomniałam parę dni temu, poprzednio ściany były kremowe i nie podobały mi się w zestawieniu z białymi meblami. Pewnego dnia kupiliśmy więc wiadro białej, zmywalnej farby i od razu zrobiło się lepiej! Teraz całe mieszkanie jest już śnieżnobiałe.
Meble w tym pokoju to spełnienie moich marzeń. Po latach wzdychania nad katalogami marki Oliver Furniture, z nadzieją na nadejście "pewnego dnia", w końcu zdecydowaliśmy się na zakup wymarzonego łóżka piętrowego. Wtedy odkryłam, że OF ma też w swojej ofercie nowe regały z drewnianymi skrzynkami – idealnie pasujące do łóżka. Druga strona pudełek jest biała, co pozwala na uzyskanie różnego efektu, w zależności od potrzeb i upodobań. Wszystkie meble Oliver Furniture są wykonane z troską o najmniejszy szczegół, a ich jakość zachwyca nawet najbardziej wybrednych użytkowników (w salonie stoi moja ukochana witryna tej samej marki). Ponieważ poprzednie biurko było często powodem kłótni dziewczynek, zdecydowałam się jeszcze na zgrabne, lecz nieco szersze biurko z kolekcji OF i tym sposobem zażegnałam spory. Przy biurku stanęły dwa krzesła Stokke Tripp Trapp (nie mogło być inaczej!) w kolorze Whitewash.
Dość dużo czasu zabrało mi znalezienie odpowiedniego dywanu. Po gruntownym przeszukaniu sklepów i sprawdzeniu wielu możliwości, zdecydowałam się na dywan marki Lorena Canals z najnowszej kolekcji Degrade, w kolorze Dark Grey-Grey. Dywan jest niesamowicie miękki i miły w dotyku. Dziewczynki uwielbiają nie tylko po nim chodzić boso, ale też siadać na nim i się bawić. Ręcznie robione dywany Lorena Canals nadaja się do prania w pralce, więc odświeżenie wyglądu takiego dywanu to pestka. Polecam!
Ostatnia nowość znajduje się na suficie. To najnowsza lampa z kolekcji mojej ulubionej holenderskiej marki Studio Snowpuppe – Wave w kolorze Pale Pink. Papierowy abażur wykończony drewnianym rąbkiem świetnie pasuje do tego pokoju, dając bardzo fajne światło. Z poprzedniego pokoju zachowałam miętową lampkę Monty marki FLEXA oraz miętowe kinkiety chmurki nad łóżkiem od Ferm Living.
Na wolnej ścianie zaaranżowałam kilka obrazków i plakatów. Główny punkt tej małej galerii to rysunek, który dla dziewczynek wykonał Mój Tatko. Cudownie wiedzieć, że patrzą na niego każdego dnia! Jest tam też plakat z motywem Bornholmu, przypominający im codziennie o ich drugim domu. Dzięki przesunięciu regału do rogu pokoju, uzyskałam nieco przestrzeni na mniejsze pudełka i kosze z zabawkami. Dzięki temu uniknęłam bałaganu :)
Jak zawsze, jestem bardzo ciekawa Waszych opinii, więc zostawcie proszę komentarz pod postem. Miłego dnia!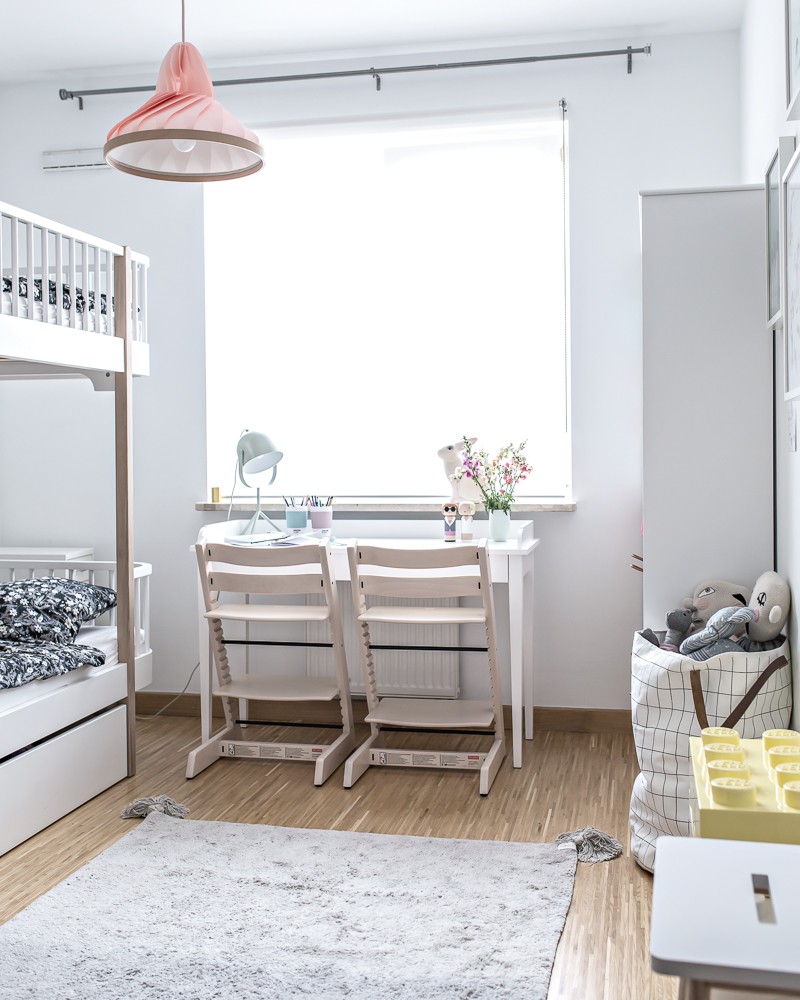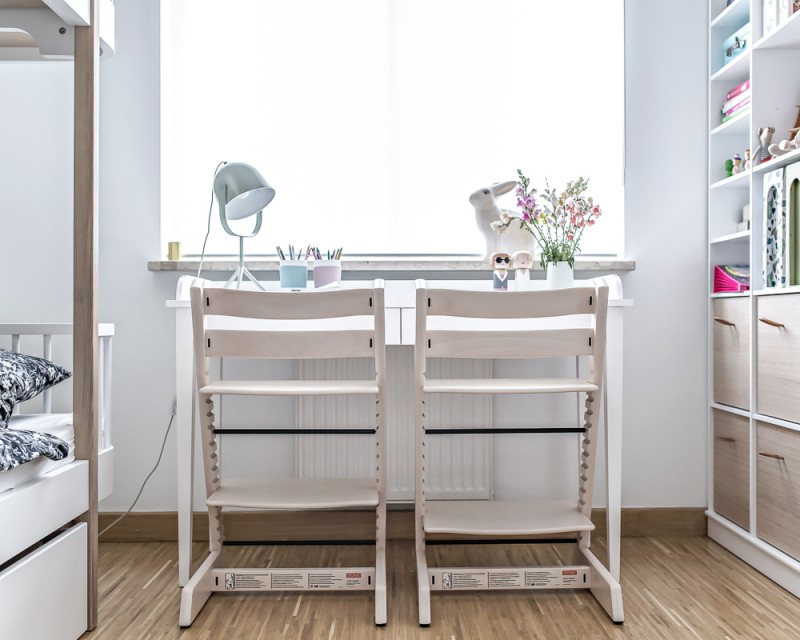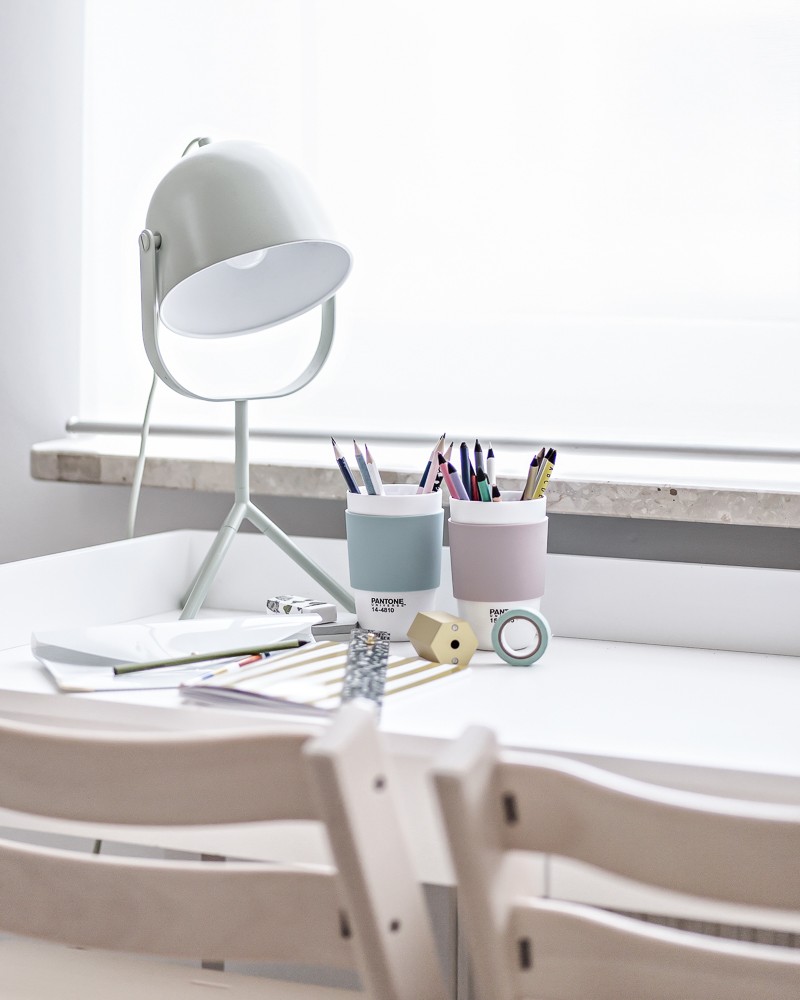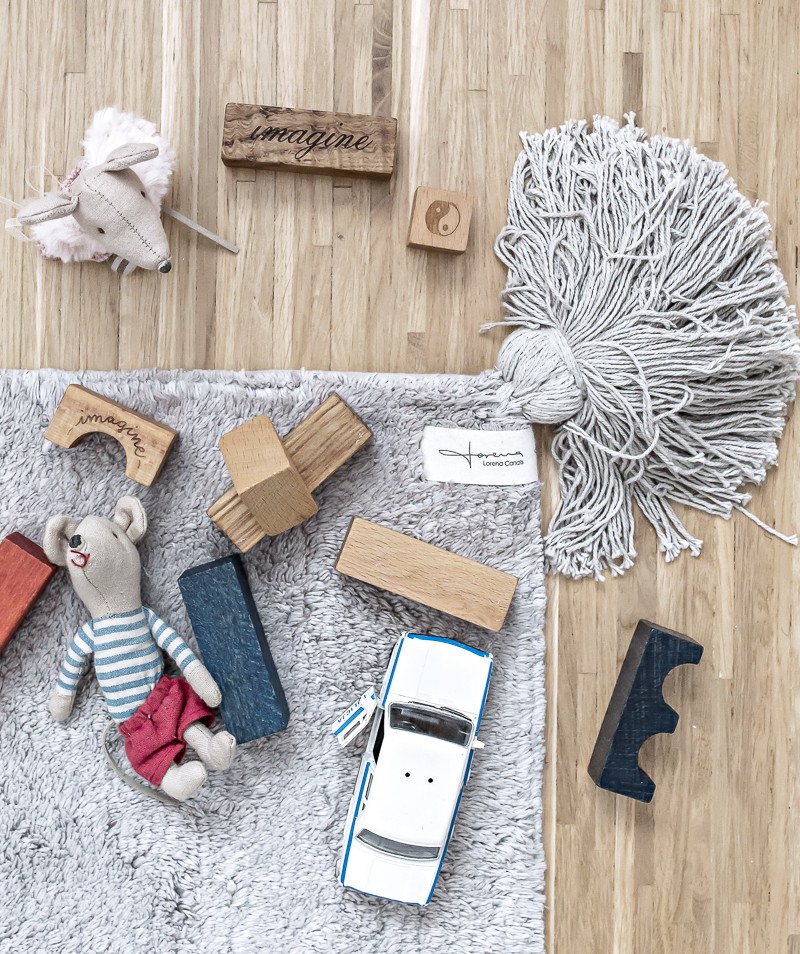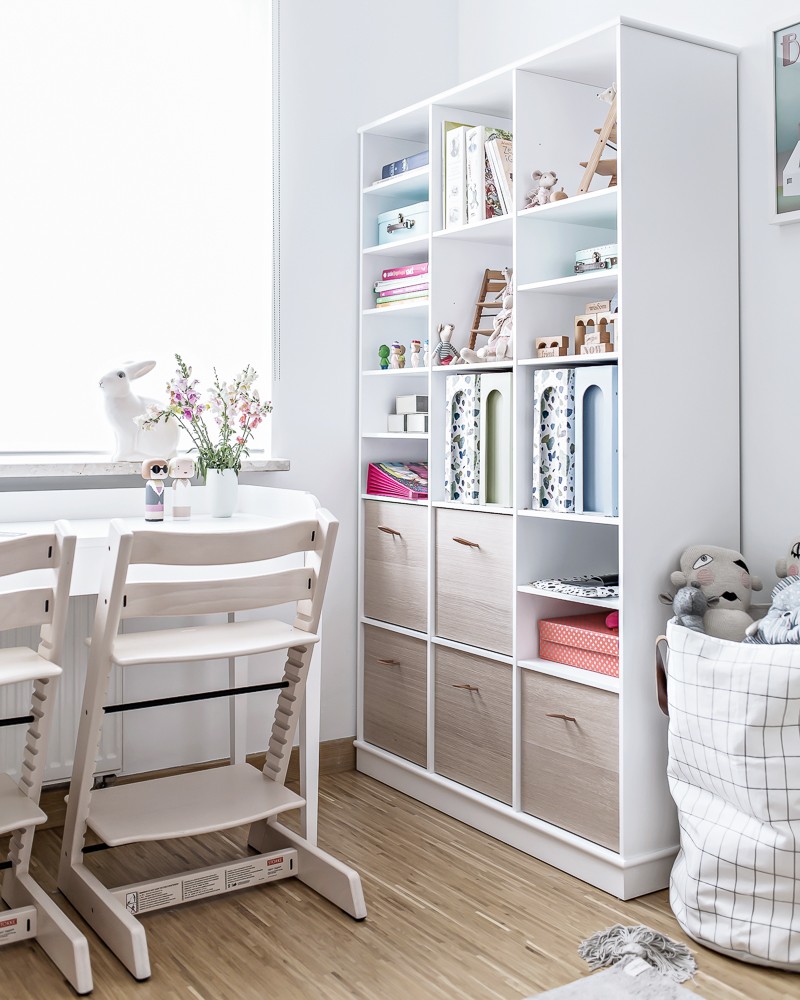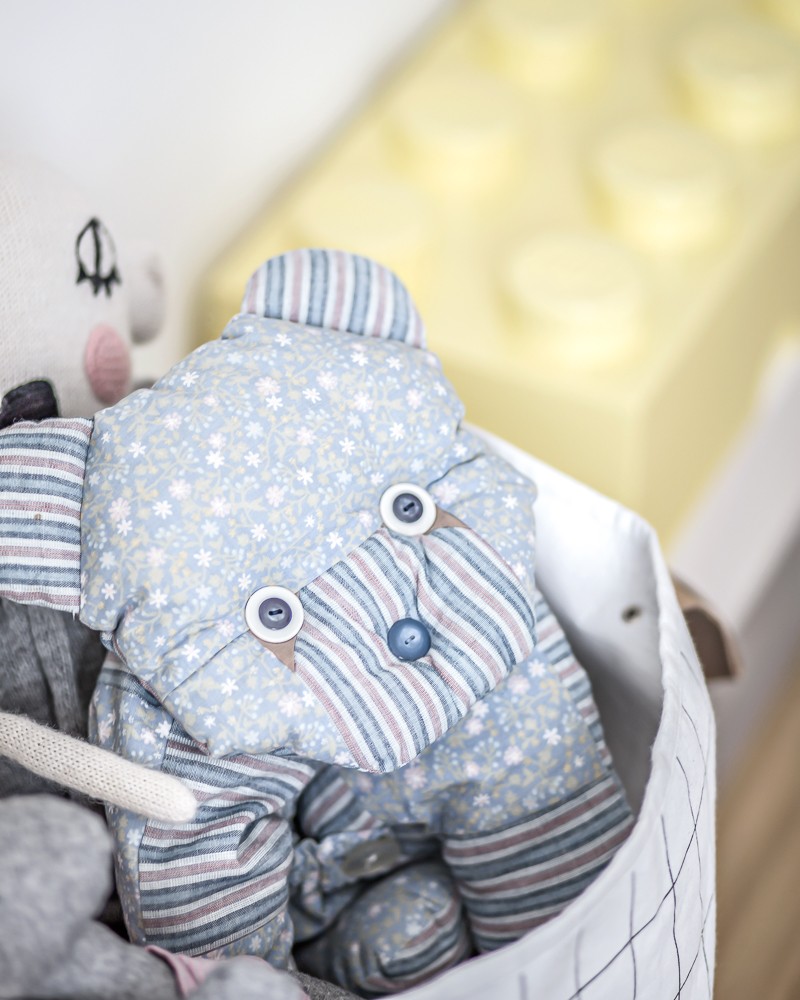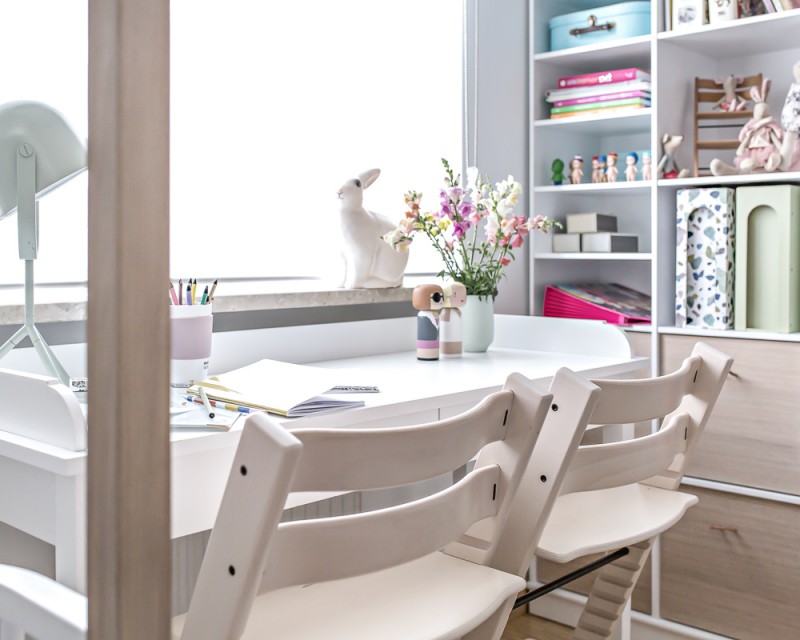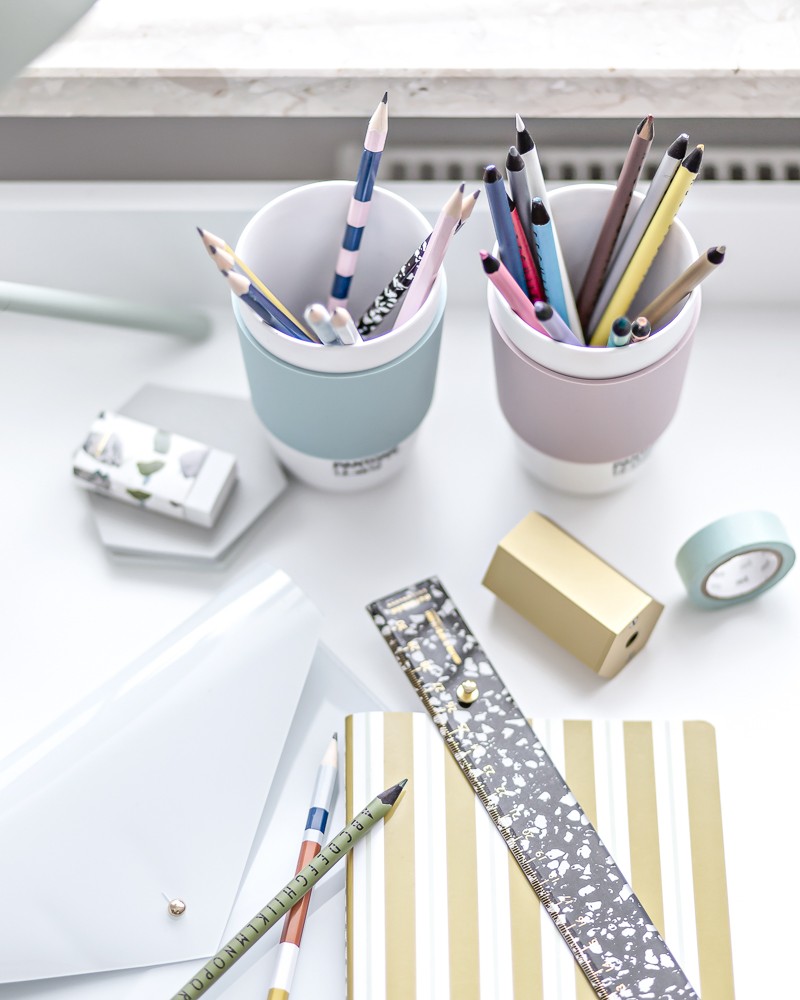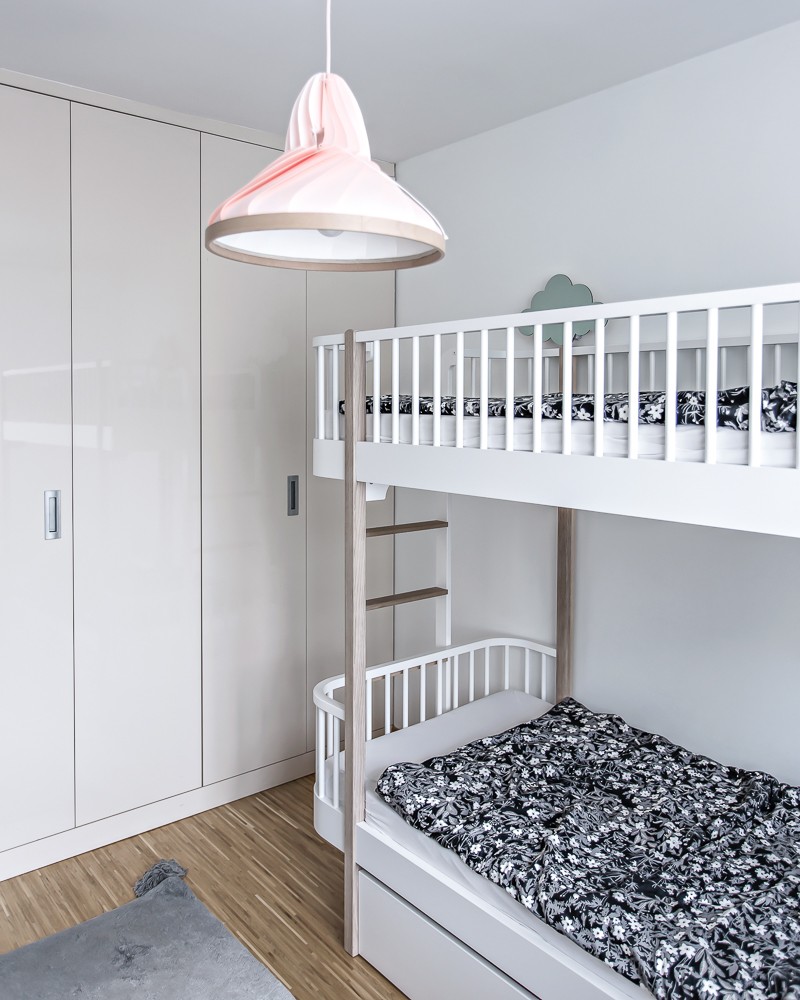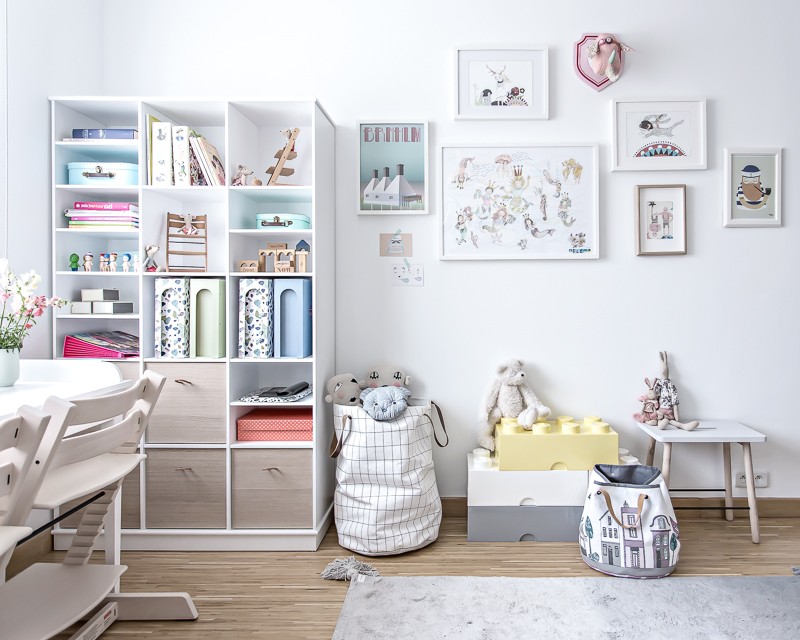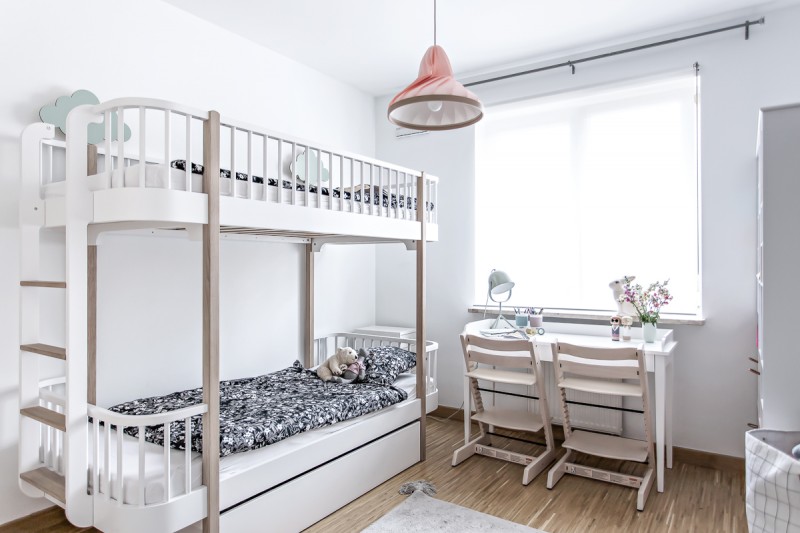 ? Kasia Rutkowiak / My Full House
Meble Oliver Furniture są w Polsce do obejrzenia i nabycia w sklepie Scandinavian Living w Warszawie.
The previous look of the room is right here
Tutaj znajdziecie zdjęcia pokoju przed przemianą.