I must admit that I am not too happy about summer's arrival. I wish that the spring could last longer. I was so much looking forward to (a bit) warmer days and if you ask me, summer came a bit too fast. Unfortunately, thare's nothing that can be done about this, so I better embrace the summer as long as it lasts. Embrace and get ready for it :) I have plans to hold a couple of weeks off, somewhere during the school holidays, and here are the thing's I could imagine being helpfull for this year's vacay.
And what is your must have for this summer?
Letni niezbędnik 2018
Nie do końca cieszę się z nadejścia lata. Bardzo czekałam na wiosnę i jeśli o mnie chodzi, minęła za szybko. Ponieważ nie mogę zatrzymać pędzącego czasu, pozostaje mi jedynie przywitać lato i cieszyć się nim, tak długo jak będzie trwało. Jako, że istnieje szansa, iż uda nam się wziąć ze 2 tygodnie wolnego w czasie wakacji, pora się przygotować. Poniżej mój letni niezbędnik na tegoroczny urlop.
Ciekawa jestem co jest Waszym numerem jeden na te wakacje, nie koniecznie z poniższej listy.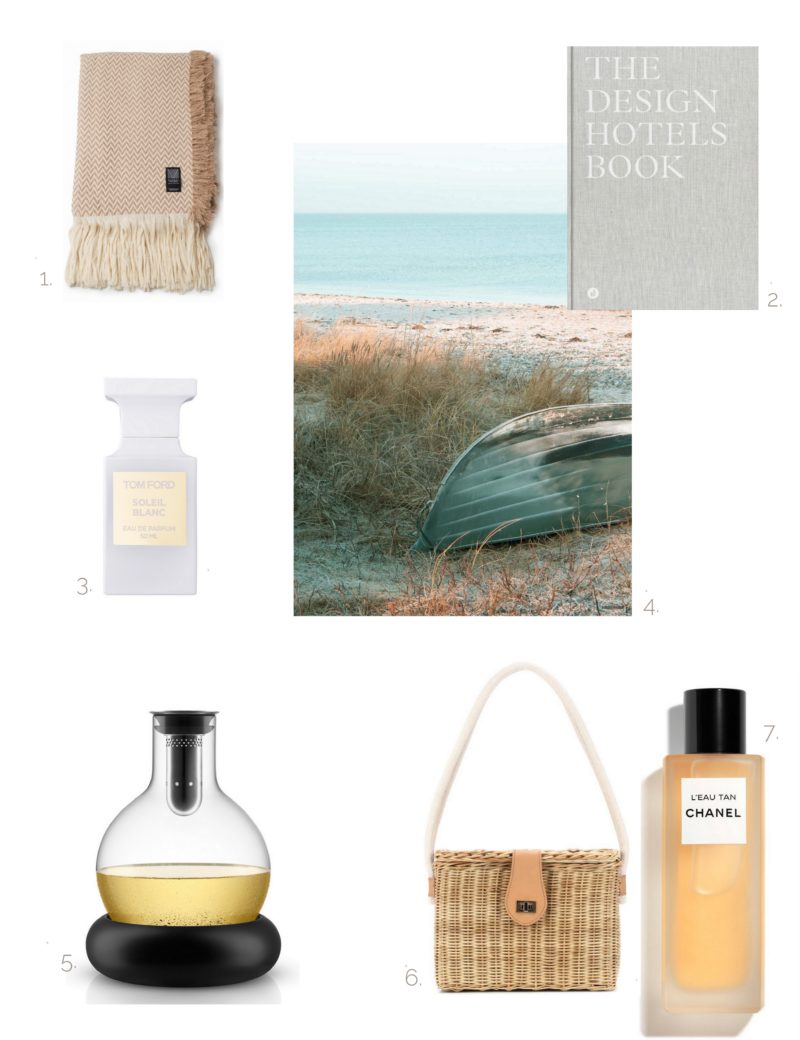 A blanket. For the beach or for reading outside in the colder evenings. I already have one of Fram Oslo blankets and love it, but I am still dreaming of another one in this beautiful beige color, perfect for summer / Miękki pled. Na plażę, albo do przykrycia się podczas hłodniejszego wieczoru z książką na tarasie. Mam już jeden koc Fram Oslo i uwielbiam go, wciąż marząc o kolejnym, tym razem w pięknym letnim beżu.
A book. This 2018 edition of The Design Hotels Book has been on my list ever since published. I like dreaming about visiting all those amazing places one day / Dobra ksążka. Od dnia wydania marzę o tegorocznej edycji album The Design Hotels Book. Lubię marzyć o tym, że kiedyś uda nam się odwiedzić choć niektóre z pięknych miejsc w niej pokazanych.
A scent. This coconut sweet Tom Ford Soleil Blanc is like summer in a bottle. And what a bottle it is! / Zapach. Kokosowy, słodki Tom Ford Soleil Blanc jest jak lato w butelce. I to jakiej!
A beach. Untill I can get to one, the newest ViSSEVASSE poster would be a perfect inspiration, and "get me in the mood" aid. / Plaża. Dopóki fizycznie na nią nie dotrę, nowy plakat ViSSEVASSE mógłby być idealną inspiracją, jakże pomocną w wizualizacji.
A wine cooler. There is no summer without white wine and this wine cooler from Eva Solo is functional, pretty and… cool. / Chłodząca karafka do wina. Nie ma lata bez białego wina, a ta karafka od Eva Solo jest nie tylko praktyczna, ale i bardzo ładna.
A straw bag. Because I want one. / Torebka z wikliny. Bo bardzo chcę.
A sun kissed body. I am very conscious of the harmful sun rays. That is why I protect my skin with sunscreen at all times, which also means that I don't really tan that much. Still, I would like some of that holiday glow. I have just received L'eau Tan – a self-tanning mist from CHANEL with a buildable effect and I am starting testing it as we speak. I will let you know how it goes, either here or on my Instagram. So far it sounds very promising! / Opalona skóra. Będąc świadomą zagrożeń jakie niosą szkodliwe promienie słońca, zawsze zabezpieczam się filtrem. Ta ochrona mnie cieszy, ale z drugiej strony uniemożliwia opalenie się, a nikt nie lubi być blady latem. Właśnie otrzymałam samoopalająca mgiełkę L'eau Tan od CHANEL, która pozwala na stopniowe budowanie opalenizny i zaczynam testować. Dam Wam znać jak efekty, tu albo na Instagramie. Póki co brzmi obiecująco!