Recent renovation of the apartment that soon will serve as my primary workspace makes me think about old apartments in general. As the WWII has almost entirely distroyed Warsaw (and many other Polish cities), old apartments are very hard to find here in Poland. On the contrary, in Scandinavian cities, buildings from the beginning of last century (and older) are the most popular sight. Renovated and bright apartments make great nests for cosy homes. Wooden floors, old windows and doors as well as many small imperfections add up to the charm. Many of these old apartments still have tile stoves!
Just like this cosy white space in Gothenburg. White interiors with wood and a hint of grey are the most neutral combination. Bright walls make the apartment seem bigger than it really is. Modesty in decoration shows an exceptional sense of style and balance. I wish we had possibilities to enjoy similar homes here in Poland. And look at that old table in the kitchen! Just perfect!
Białe mieszkanie z pięknym piecem
Ostatnio, pod wpływem toczącego się remontu mieszkania, które lada moment stanie się moim miejscem pracy, dużo myślę o mieszkaniach z duszą. W Warszawie jest ich stosunkowo niewiele. Spustoszenie pozostawione przez wojnę było tak wielkie, że przedwojenne budynki są rzadkością. Podobnie jest zresztą w wielu innych polskich miastach. W Skandynawii, dla odmiany, jest całe mnóstwo kamienic i domów pamiętających początek ubiegłego stulecia. Regularnie odnawiane, jasne i zadbane mieszkania, stanowią dla mnie kwintesencję przytulności. Podniszczone drewniane podłogi, wiekowa stolarka i masa drobnych niedoskonałości dodają im uroku. W wielu z nich wciąż obecne są stare piece, tak jak w tym jasnym mieszkaniu w Szwecji.
Właściciele zdecydowali się nie eksperymentować z kolorami, stąd w całym mieszkaniu panuje biel. Dopełniają ją szarości i drewno – najbardziej uniwersalna, ponadczasowa kombinacja. To właśnie ta biel czyni mieszkanie z pozoru dużo większym niż jest w rzeczywistości. Minimalna ilość starannie dobranych dodatków podkreśla wyczucie stylu. Bardzo żałuję, że z powodów historycznych tak mało jest podobnych mieszkań w Polsce. Jestem pewna, że i wielu z Was to mieszkanie bardzo przypada do gustu. Zwróćcie uwagę na stary stół w kuchni. Fantastyczny!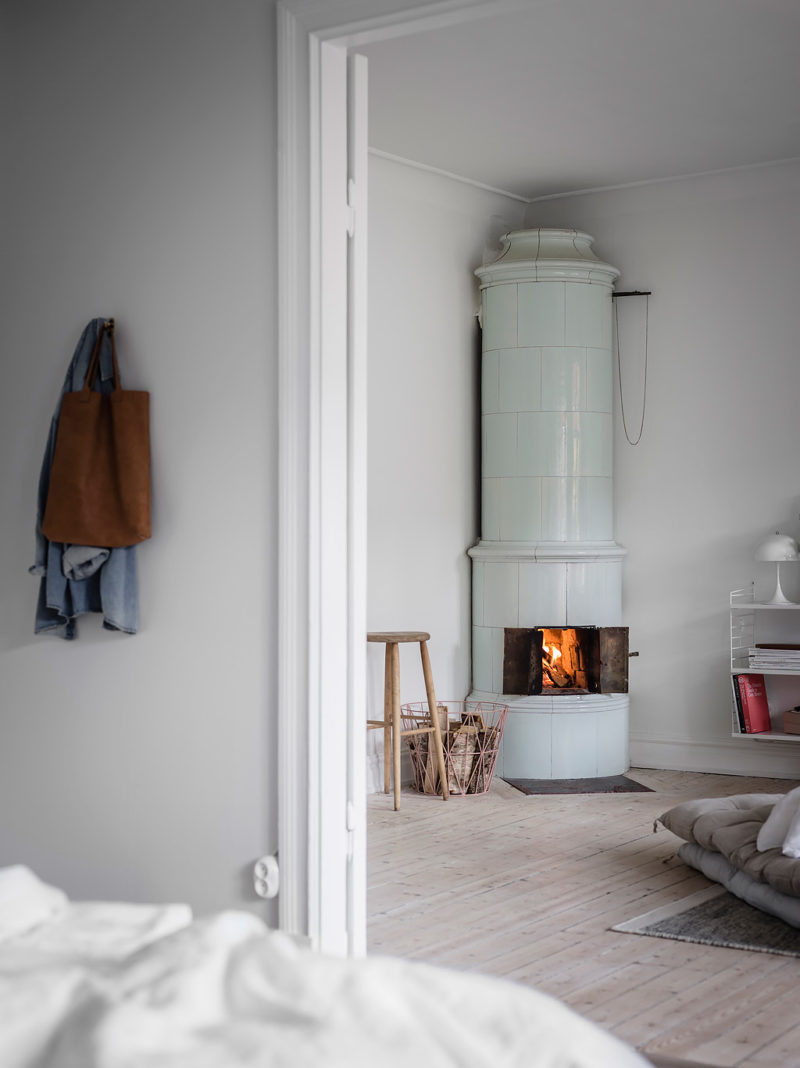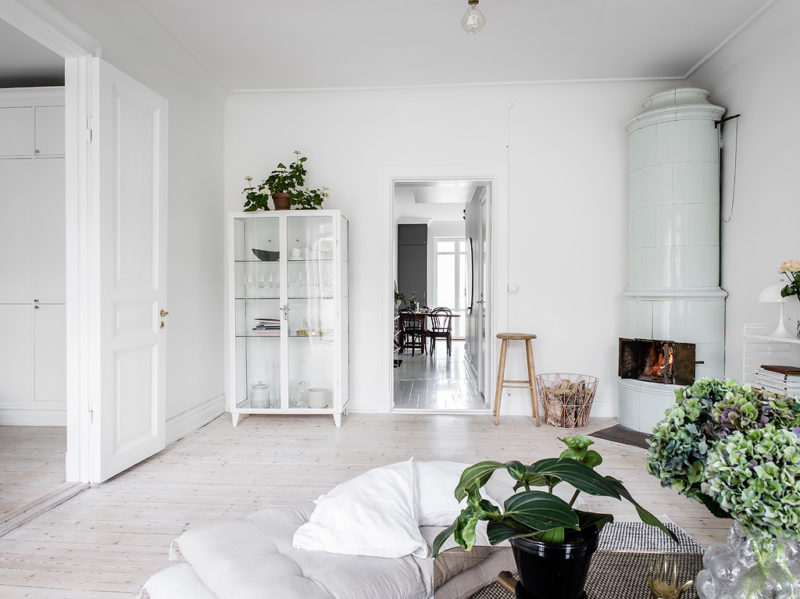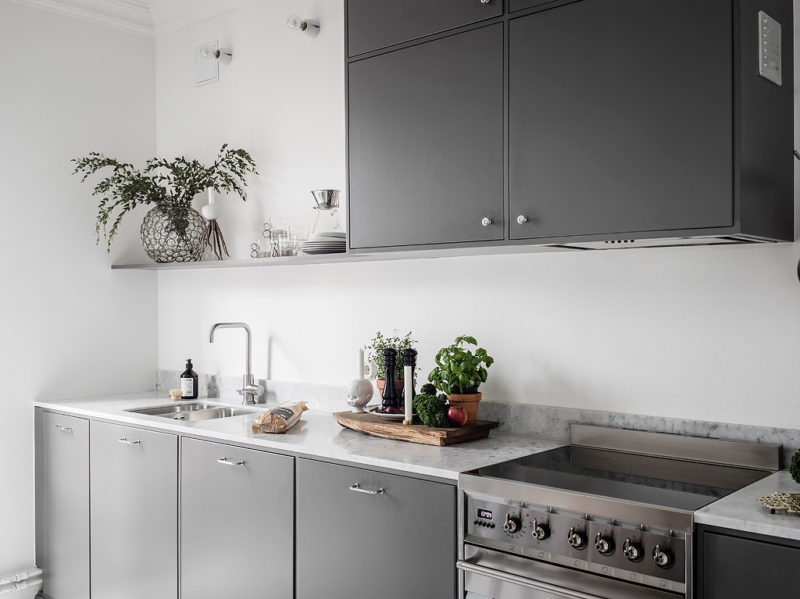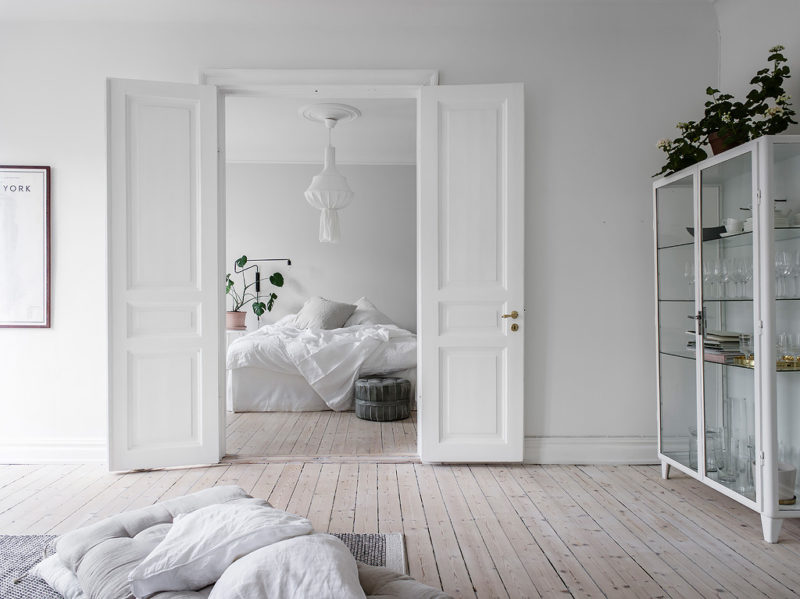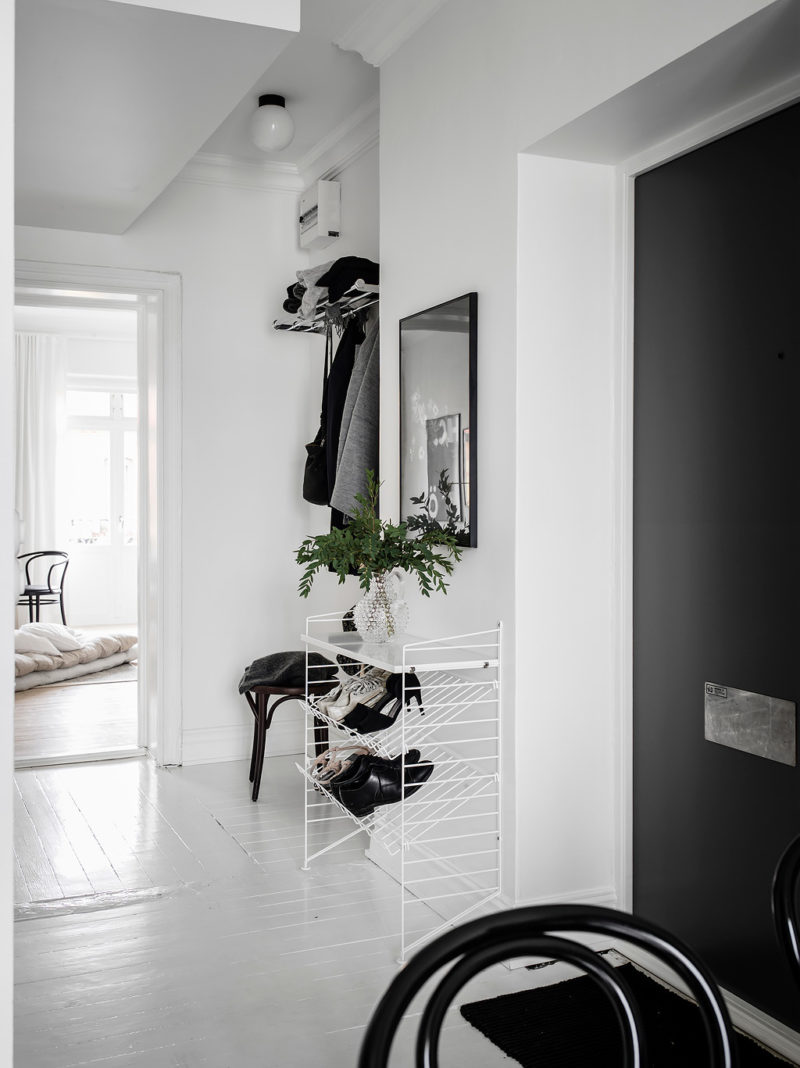 all images courtesy of Entrance Makleri