Do you also freeze lately? I am NOT complaining, just noticing a serious temperature drop, compared to previous weeks. However, I am happy to see the weather change to what it should be now. I am seriously worried about all the alarming climate changes lately.
Colder days call for more "hygge". And as I believe that this word is being a bit "abused", nothing describes a moment of small pleasure better. I have just had a good friend stopping by our office to drop off some things. I invited her in and we had a cup of coffee. That half an hour of chatting, laughing and discussing upcoming holidays felt great. There was music, candles and chocolates – a lovely little break, real hygge in the middle of a busy day.
Moment hygge i piękne krzesła Fredericia
Wy też ostanio marzniecie? Nie skarżę się, jedynie zauważam duży spadek temperatury, na który z resztą bardzo czekałam. Niepokoją mnie zmiany klimatyczne tak wyraźne w ostatnim czasie.
Jesienn0-zimowe chłody mają to do siebie, że chętniej oddajemy się temu co miłe. Idealnie oddaje to słowo "hygge" tak często używane przez ludzi na całym świecie. Nie ma lepszego określenia na odszukiwanie przyjemności w codziennych chwilach. Dziś wpadłą do mnie do pracy koleżanka. Chciała jedynie coś podrzucić, ale po momencie dała się namówić, aby weszła choć na trochę. Spędziłyśmy przemiłe pół godziny rozmawiając, śmiejąc się, dzieląc się planami na święta. Była kawa, muzyka, świeczki i czekoladki. Cudowna mała przerwa i chwila hygge w środku zabieganego dnia.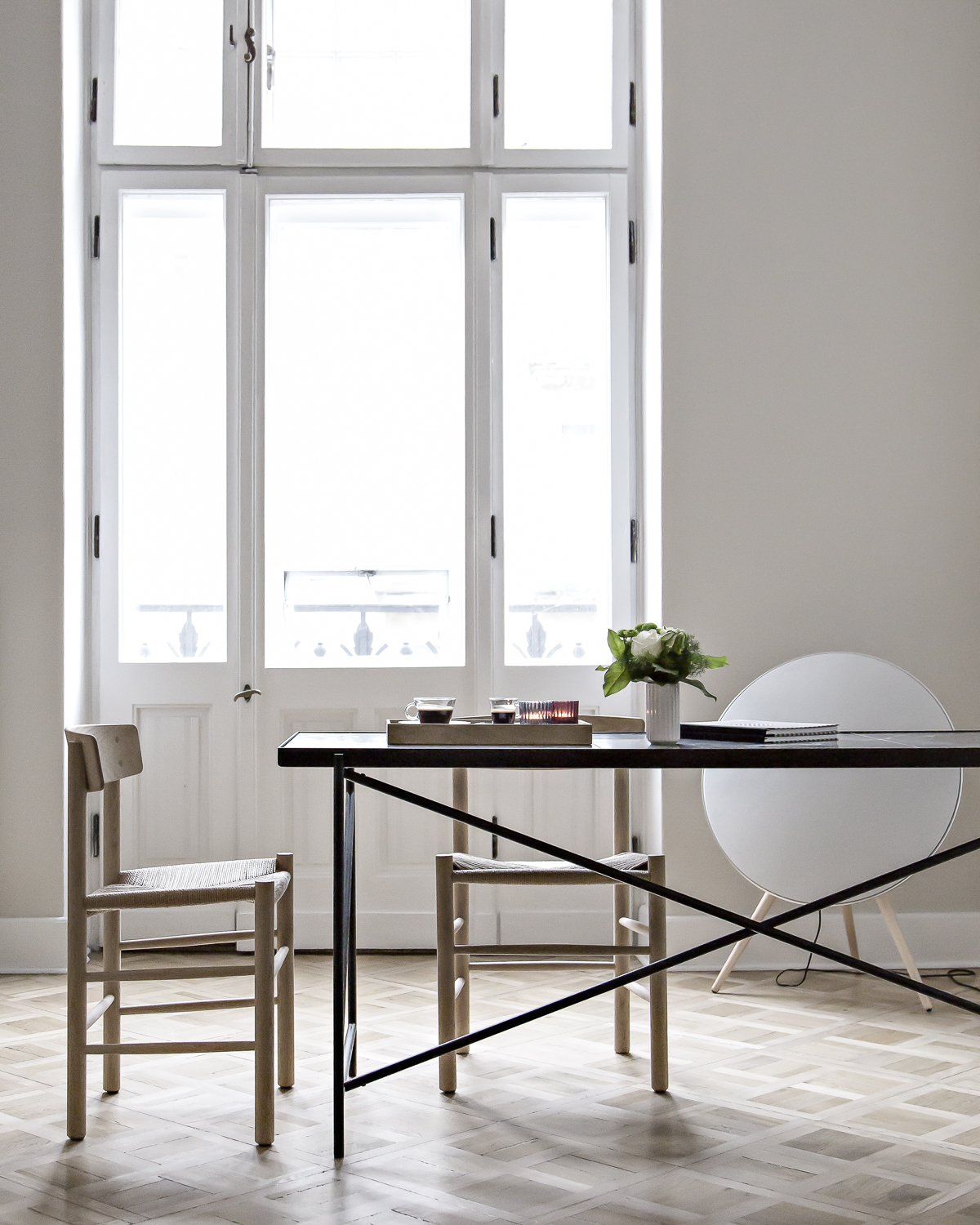 It is amazing how a short hygge moment can give us a boost of good energy for the day! Another great way to stay in good mood (regardless of whether you are working or relaxing), is surrounding yourself with nice things. Big or small, it can be anything that brings a smile on your face. Furniture or accessories, the more frequently used, the better, as each use is another reason to feel good and smile.
Just like J39 chairs by Fredericia. I am sure that many of you know this shape very well. J39 chair was designed by Borge Mogensen in 1947. It is known as Peoples' Chair and it's one of Denmark's most sold wooden chairs that has been in uninterrupted production ever since it was launched! Made of solid oak or beech with comfortable backrest and seat which is hand-corded with paper yarn, J39 is a stylish, beautiful and comfortable addition to any space. I love the contrast between yarn and wood, as well as other textures. Plus, it is a design that will NEVER go out of fashion.
To niesamowite, jak taka krótka chwila przyjemności może poprawić nastrój i dać energię na kolejne zadania! Innym sposobem na dobry nastrój (niezależnie od tego czy się właśnie odpoczywa czy pracuje), jest otaczanie się przedmiotami, które dają radość. Małymi, większymi – wszystkim tym, co sprawia, że jest nam milej. Mogą to być tak meble jak i dodatki. Im częściej z nich korzystamy, tym lepiej, bo to znaczy, że częściej będą nam dawać powód do uśmiechu.
Tak jest w przypadku tych pięknych krzeseł J39 duńskiej marki Fredericia. Jestem pewna, że wielu z Was zna ten kształt. W 1947 roku zaprojektował go znany duński projektant Borge Mogensen. Krzesło to znane jest też jako "Peoples' Chair", ze względu na swoją ogromną popularność wśród klientów od samego początku stworzenia. To także jedno z najczęściej sprzedawanych duńskich krzeseł z drewna w historii. W dodatku jest w produkcji nieprzerwanie od dnia premiery! Wykonane z litego drewna bukowego lub dębowego, ma wygodne oparcie i siedzisko z papierowej plecionki, wykonane ręcznie. Wszystko to czyni krzesła J39 idealnym dodatkiem do wielu wnętrz. Bardzo podoba mi się kontrast pomiędzy drewnem, a plecionką oraz innymi meblami. No i ten design, który nigdy nie wyjdzie z mody!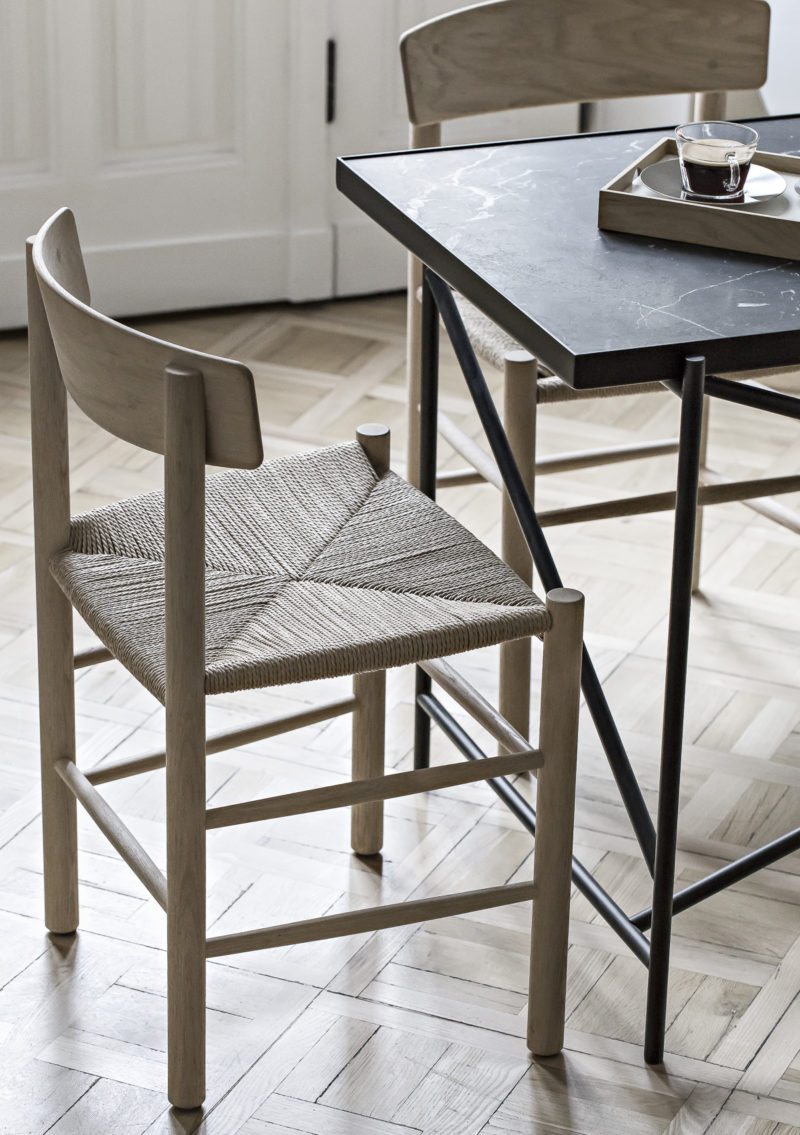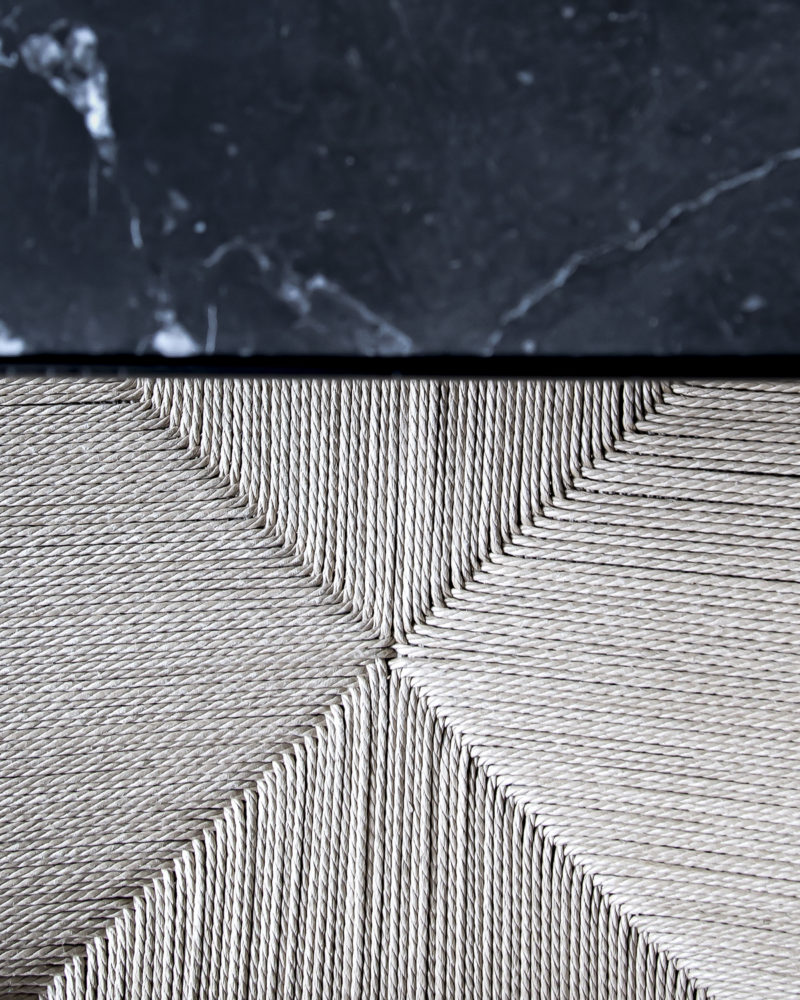 So while we are entering another week, remember to find that small pleasure moments whenever possible. It is easy to forget about it during a busy day. When you will implement "me moments" into your routine, you will instantly see that everything seems better, easier and much nicer. It is so worth it!
Tak więc wkraczając w nowy tydzień koniecznie pamiętajcie o odnajdywaniu radości w codziennych chwilach. Łatwo o tym zapomnieć, szczególnie kiedy tyle spraw nas goni. Jednak czasem wystarczy moment zatrzymania i wszystko staje się piękniejsze, milsze i łatwiejsze. Warto!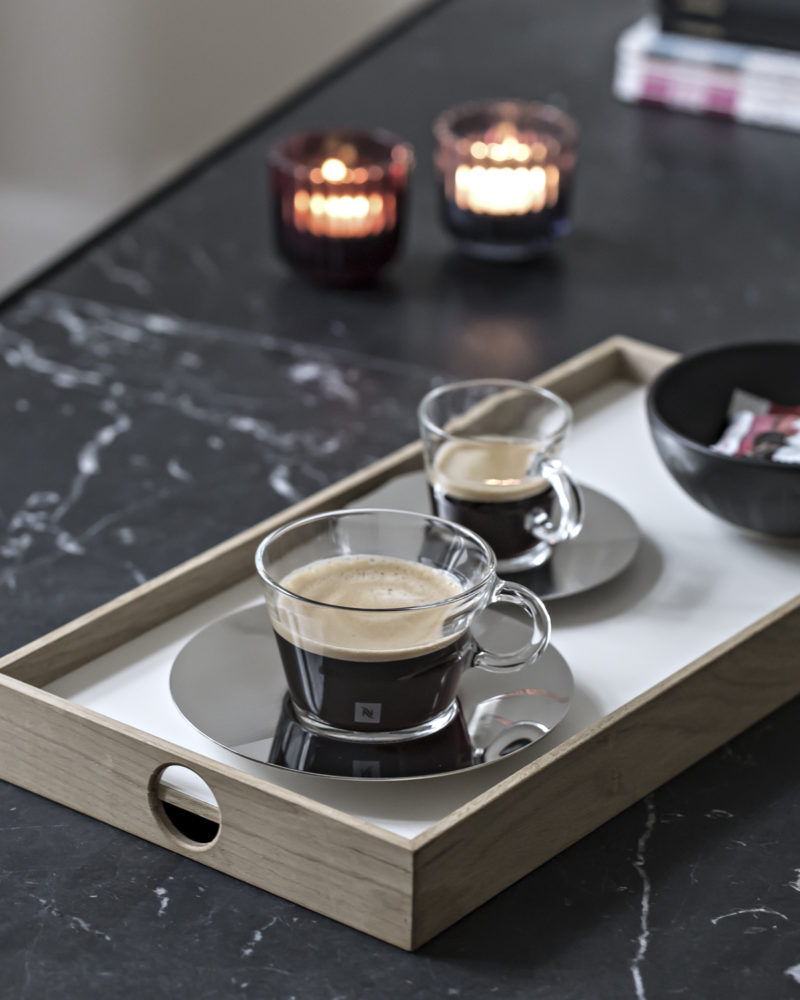 copyright Kasia Rutkowiak | My Full House | any unauthorised use prohibited
chairs / krzesła – Fredericia Furiture, desk / biurko – Handvark, tray / taca – The Oak Men, tealights and vase / świeczniki i wazon – Lyngby, speaker / głośnik – Bang & Olufsen