Do you remember when I promissed you something green and super tasty? Well, here it is! The best spinach salad I have ever tried. And if that wasn't enough, our children eat it fast as (very hungry) rabbits. That really means something!
The inspiration for this salad came during our stay on Crete. A salad very similar to this one was my holiday favorite. Babis Tsironis, head Chef at our hotel Elounda Orama, was kind enough to share his version. I made a few adjustments and thought I'd pass it further to all of you who love to eat light, colorful and healthy. This salad is verastile enough to be eaten on it's own or as an addition to fish, poultry or meat. Whatever you like.
Najlepsza sałatka ze szpinakiem
Pamiętacie, że obiecałam Wam coś pysznego i zielonego? Oto jest! Najlepsza sałatka ze szpinakiem e-v-e-r. To nie tylko moje zdanie. Dzieci pożerają ją niczym (bardzo głodne) króliki, a to znaczy, że naprawdę jest fantastyczna. Do tego robi się ją super szybko.
Inspiracją do stworzenia tej przekąski była podobna sałatka serwowana podczas naszego urlopu na Krecie. Chef Babis Tsironis dał mi swój przepis, kiedy wyjeżdżaliśmy z hotelu, a ja dokonałam paru niewielkich zmian i pomyślałam, że podzielę się z Wami. Jeśli lubicie zdrową, lekką i kolorową kuchnię, ten przepis z pewnością przypadnie Wam do gustu. Sałata ta est niezwykle uniwersalna, można ją serwować jako samodzielne danie lub dodatek do ryb, drobiu czy innych mięs. Cokolwiek lubicie.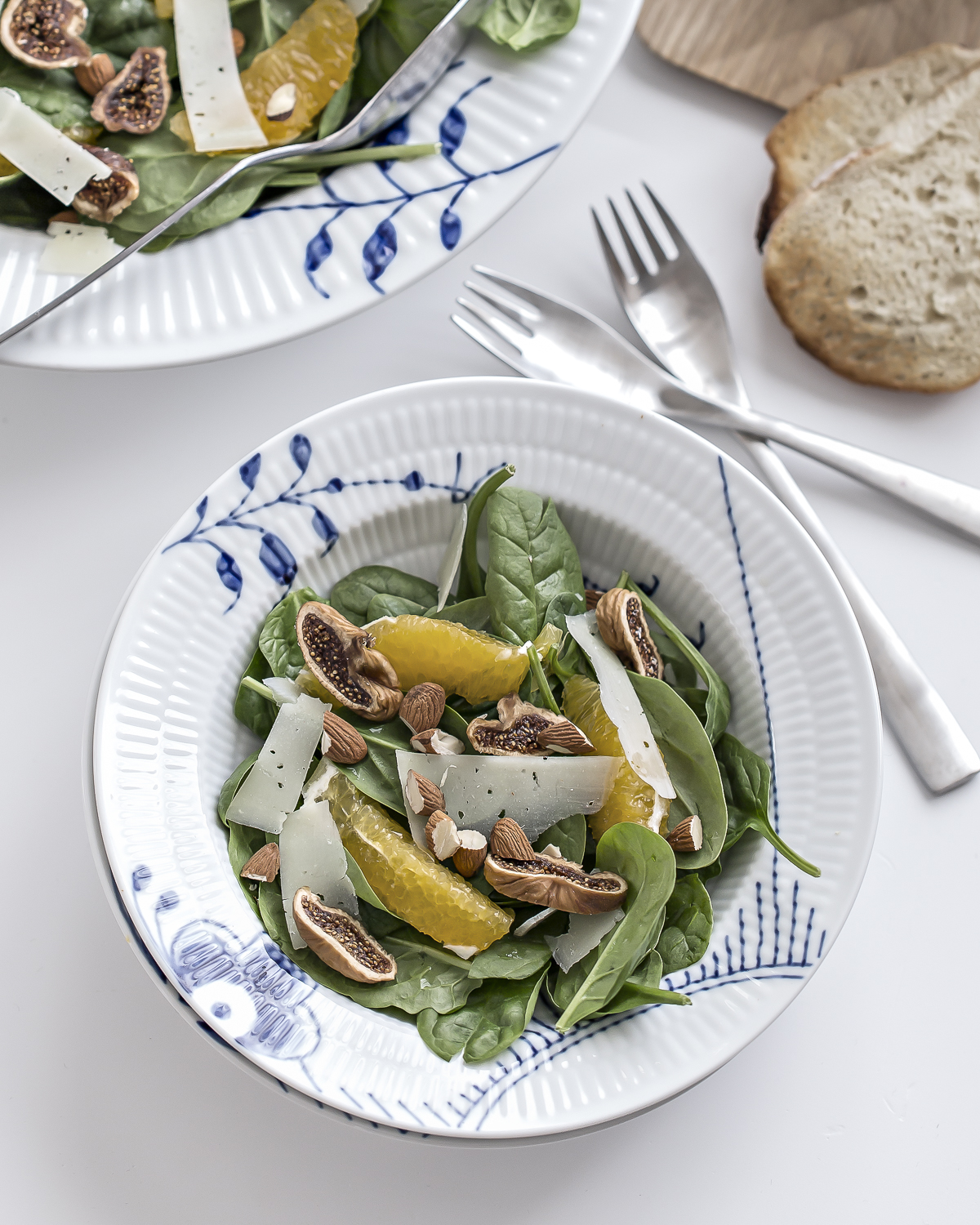 Ingredients (2/4 portions, depending if you serve it alone or as a side dish) / składniki (2-4 porcje w zależności czy serwujecie ją jako oddzielne danie czy dodatek):
200g fresh spinach leaves, washed/  200g umytych liści szpinaku
7-10 dried figs (buy the soft ones!) / 7-10 suszonych fig (pamiętajcie, aby kupować te miękkie)
2 oranges / 2 pomarańcze
2 handful almonds / 2 garści migdałów
80g kefalotyri cheese (can be substituted with Romano or Parmesan) / 80g greckiego sera kefalotyri (można zastąpić parmezanem) – I got my cheese as a gift from the sweetest Athanasia from Oh! so homey
4 tbsp good quality olive oil / 4 łyżki stołowe dobrej jakości oliwy z oliwek
1 tbsp liquid honey / 1 łyżka stołowa płynnego miodu
salt / sól
Method:
Place 2/3 of spinach in a larg bowl. Peel the orange with knife and cut off the segments from in between the membranes, one by one. Collect all the juice by doing it over a small bowl or cup. Add fruit pieces to the spinach. Slice figs and add to bowl together with roughly chopped almonds. Slice the cheese in thin pieces (by using the fruit peeler).
Add olive and honey to the bowl with collected orange juice, season with salt and mix well. Add the dressing to your salad and toss gently. Let stand in a cooler place for 15-30 min. Just before serving, add the remaining spinach leaves, toss again and enjoy.
Sposób przygotowania:
W dużej misce umieścić 2/3 liści szpinaku. Obrać pomarańcze przez ścięcie skórki i wyciąć segmenty owoców spomiędzy błonek. Czynność należy wykonać nad niewielką miseczką lub kubkiem, aby zebrać ściekający z owoców sok. Figi pokroić w plasterki, a migdały posiekać grubo i wraz z cząstkami pomarańczy dodać do szpinaku. Ser pokroić na cieniutkie kawałki za pomocą obieraczki do warzyw. Dodać do sałaty i delikatnie wymieszać.
Do soku pozyskanego z pomarańczy dodać miód, oliwę i sól do smaku. Wymieszać dokładnie. Sałatę polać dresingiem i delikatnie wymieszać. Odstawić w chlodne miejsce na 15-30 min. Przed podaniem dodać pozostałe liście szpinaku, raz jeszcze wymieszać i niezwłocznie podawać.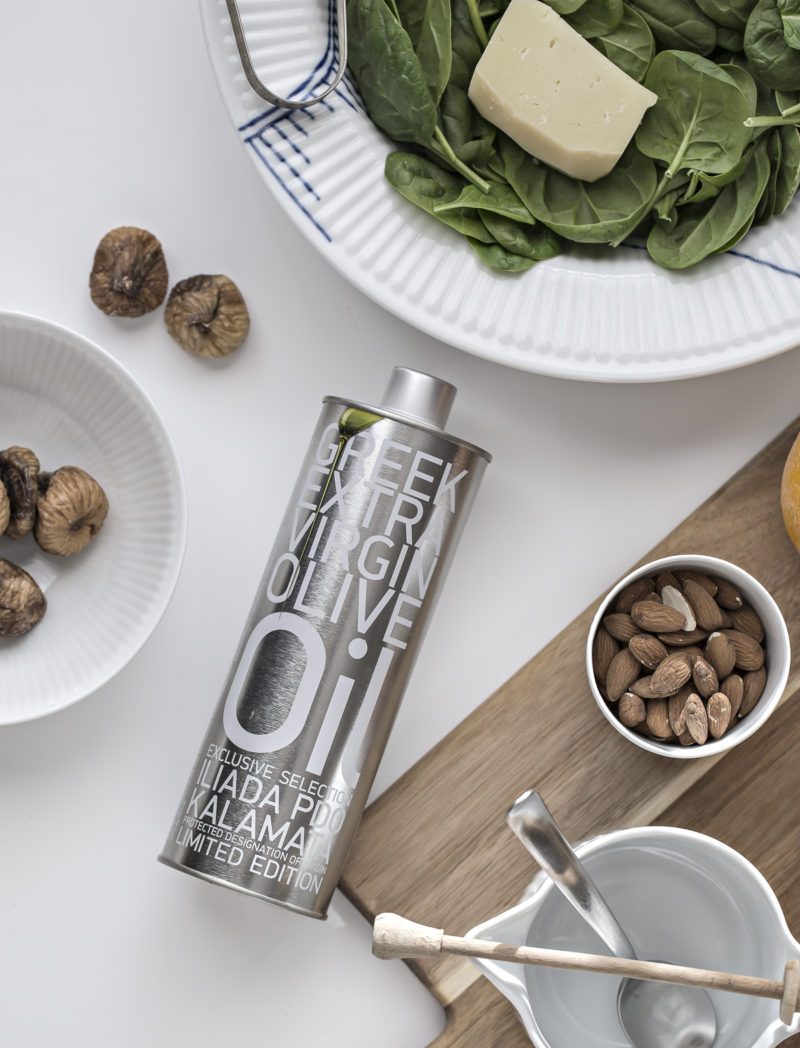 Another version of the salad would be using dried apricots in stead of figs and/or walnuts (or even better pecans) in stead of almonds. If the oranges are very sweet you can use less honey or add some lemon juice to the dressing. A glass of cold dry white wine on the side will make the salad taste even better!
W innej wersji można zamienić figi na suszone morele albo migdały na orzechy włoskie (lub jeszcze lepiej pekan!). Jeśli pomarańcze są bardzo słodkie można uzyć mniej miodu, albo dodać do dresingu nieco soku z cytryny. Sałta będzie jeszcze lepiej smakowała z kieliszkiem zimnego wytrawnego białego wina.
copyrights Kasia Rutkowiak | My Full House | any unauthorised use prohibited