When I was a teenager, I'd never believe that it's possible to wish for a gift meant for home. My close family knows the stories about me waiting for my mom outside of a homeware store (in the rain), just because I really disliked all that "home stuff" and simply refused to come inside. Sic! And look at me now!
With my birthday approaching, I am thinking of all the nice things I'd love to be gifted (or buy). Funny enough, majority of them are things designed for home. Here is my short list of the things which I'd love to "adopt".
Urodzinowa lista życzeń (dla domu)
Kiedy byłam nastolatką, nie byłam sobie w stanie wyobrazić, że można zażyczyć sobie prezent przeznaczony do wnętrza. Moja rodzina zna opowieści o tym, jak stałam przed sklepem z wyposażeniem domu, w deszczu, kiedy moja mama robiła zakupy, bo nie cierpiałam takich miejsc. Serio! I gdzie dziś jestem?
Jako, że zbliżają się moje urodziny, myślę o tym co najbardziej chciałabym dostać w prezencie (lub nabyć drogą kupna). I tak się składa, że większość z życzeń to "artykuły wyposażenia wnętrz". Kilka z nich znajdziecie poniżej.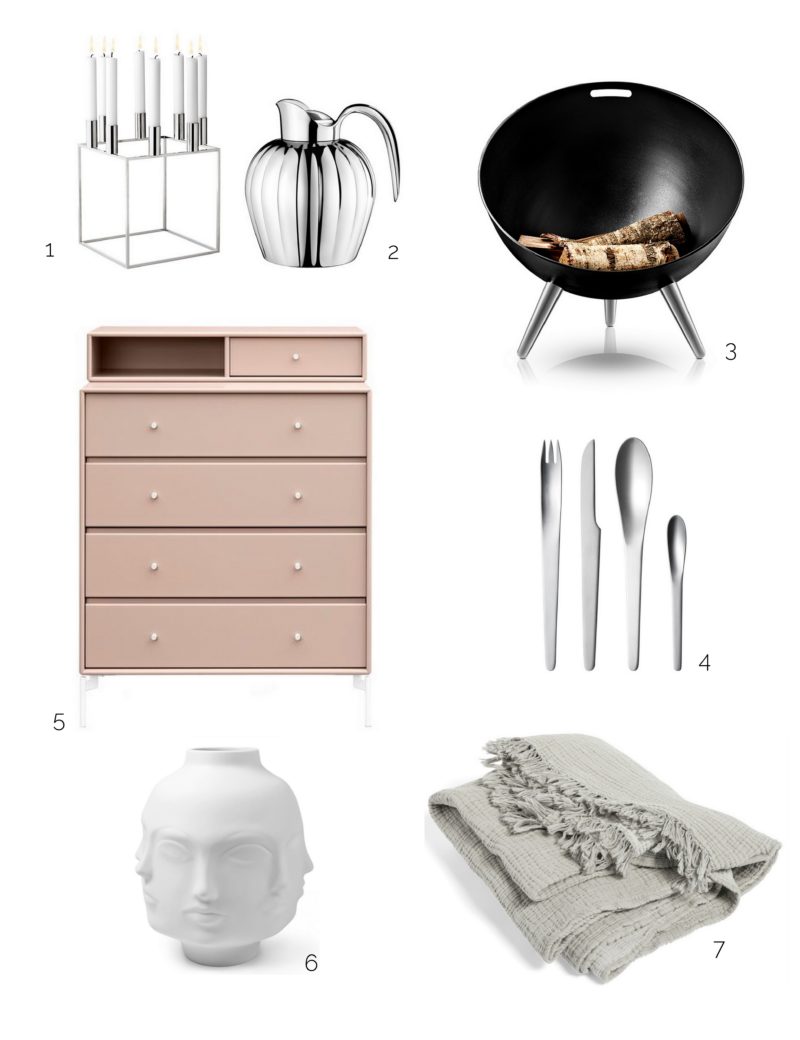 1 |
Kubus 8 candleholder in Nickel from by Lassen. I know that I already have one in black but hey, one can never have  enough candle holders. The simple form will never "grow out of fashion" and shiny nickel makes it so festive.
Niklowany świecznik Kubus 8 od by Lassen. Wiem, że mam już jeden taki w kolorze czarnym, ale przecież nie da się mieć za wielu świeczników! Prosta forma nigdy nie wyjdzie z mody, a połysk czyni go wyjątkowo ozdobnym.
2 |
Talking of shiny things, on my wishlist for years, Bernadotte Thermo Jug from Georg Jensen. Not only for Sundays.
Pozostając w temacie rzeczy błyszczących, na mojej liście od lat – termos Bernadotte Georg Jensen. Nie tylko na niedziele.
3 |
FireGlobe Fireplace from Eva Solo. Just so we can go outside, great, portable solution for bonfire. We could take it for holidays at my parents and eat fire roasted sausages and marshmallows all summer without making any damage to the garden.
FireGlobe Fireplace Eva Solo – przenośne palenisko na letnie ognisko. Już sobie wyobrażam jak zabieramy je do moich rodziców i całe wakacje jemy kiełbaski i pianki znad ognia, nie uszkadzając ogrodu ani tarasu.
4 |
One and only "cutlery without frills" designed by Arne Jacobsen in 1957 for SAS Royal Hotel in Copenhagen (Georg Jensen). I used to really dislike it when I first saw it, but that was 23 years ago and many things changed since then ;) Sighhhhh…
Zestaw sztućców zaprojektowany w 1957 roku dla hotelu SAS Royal w Kopenhadze przez Arne Jacobsena. Nazywane "sztućcami bez falbanek", jedyne w swoim rodzaju, minimalistyczne sztućce, które bardzo mi się nie spodobały przy pierwszym poznaniu… 23 lata temu. Teraz kocham!
5 |
Beautiful chest of drawers for our hall – KEEP from Montana, designed by Peter J. Lassen. Not that long I did show you our new bedside tables from Montana and gosh – the quality is amazing. My ONLY problem would be having to pick from 42 (yes, forty two, this is NOT a misspelling) colors that this beauty comes in. It would be sort of boring to go for white, wouldn't it?
Przepiękna komódka KEEP marki Montana, projektu Petera J. Lassena. Niedawno pokazywałam Wam nasze nowe stoliki nocne tej marki, są świetne, a ich jakość zachwyca. Moim JEDYNYM problemem byłby wybór koloru spośród 42 możliwości (to nie literówka – czterdziestu dwóch!). Trochę słabo wybrać biały…
6 |
Dora Maar Vase from Jonathan Adler. While this might not be the most simple, Scandinavian design, there is something about this vase that makes me want it. Badly. I can already see it mixed with some other vases I have. Or alone on our dining table. Or sofa table. Extraordinary (and white)!
Wazon Dora Maar (Jonathan Adler). Choć nie można go nazwać przykładem prostego skandynawskiego wzornictwa, jest w nim coś takiego, co sprawia, że baaaaardzo mi się marzy. Oczyma wyobraźni już go widzę u nas. Wyjątkowy (i biały)!
7 |
Crinkle Plaid from Hay. For the sofa, for the bed, or for Sundays in the park. Or for beach. For hygge.  Yes, I did use the "H" word.
Koc Crinkle marki Hay. Na kanapę, na łóżko, na niedzielne wypady do Łazienek z Chopinem w tle. Albo na plażę. Na hygge. Tak, napisałam to ;)
Is there anything on the list that you like in particular? I'd love to hear. Happy Tuesday!
Czy którakolwiek z pozycji wpadła Wam w oko? Jestem bardzo ciekawa Waszych opinii. Dobrego wtorku!