Good morning from my bedroom, which smells like a little heaven today. Actually, these are my 3 favorite scents at the moment. First of all, Lilly of the Valley. My special flowers. When I was a little girl, I used to get a little bouquet of these tiny beauties from my beloved aunt. She grew them in her garden and always remembered to bring me some for my special day. It's one of my childhood's sweetest (smelling) memories and even now, decades later, I still feel like a little girl on my birthday when I smell them.
Did you know that a legend says that Lily of the valley sprang from Eve's tears when she was exiled from the Garden of Eden? And as I don't believe in legends, what I know for sure is that Lilly of the Valley is highly poisonouss. I made sure to aware the kids, now that we have Chloe.
Moje 3 ulubione zapachy wiosny
Dzień dobry z sypialni, która pachnie dziś absolutnie cudownie. Prawdę mówiąc unoszą się tu właśnie moje 3 ulubione zapachy. Po pierwsze – zapach konwalii. Te kwiaty mają dla mnie szczególne znaczenie. Kiedy byłam małą dziewczynką, dostawałam bukiecik konwalii od mojej ukochanej cioci na każde urodziny. Ciocia miała w ogrodzie całą masę tych niezwykłych kwiatów i zawsze pamiętała, aby w mój szczególny dzień się nimi podzielić. To jedno ze słodszych wspomnień mojego dzieciństwa. Nawet teraz, wiele lat później, wąchając konwalie czuję się jak mała dziewczynka w dniu swoich urodzin.
Znacie legendę, mówiącą o tym, że konwalie wyrosły z łez Ewy, kiedy została wygnana z raju? Osobiście w legendy nie wierzę, za to wiem, że konwalie są bardzo silnie trujące. Dlatego pamiętałam, aby uświadomić o tym fakcie dzieci, teraz, kiedy jest z nami Chloe.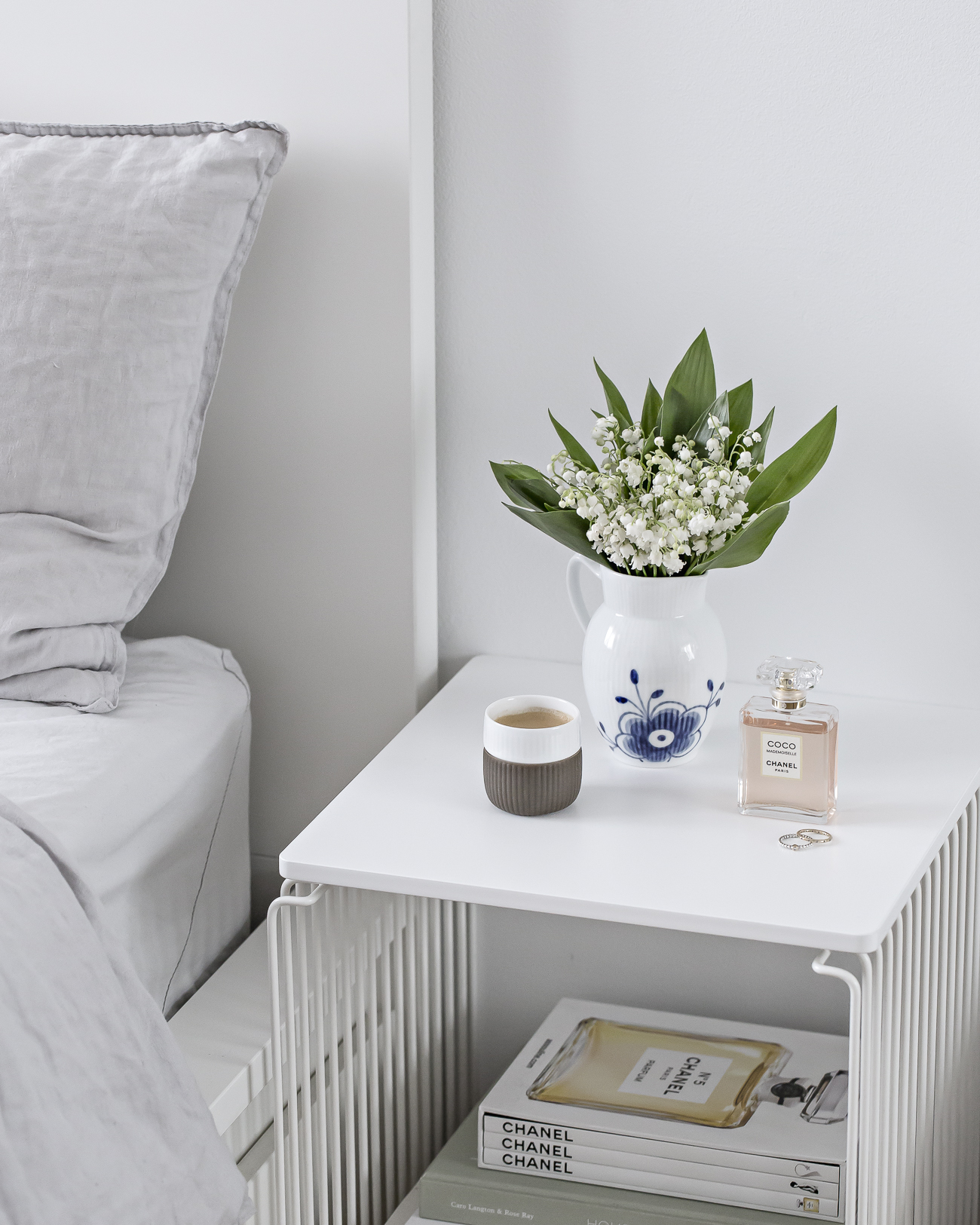 Another scent, which I absolutey love this spring is CHANEL Coco Mademoiselle in it's new reveal – Eau de Parfum Intense. It is an oriental, woody and ambery fragrance structured around patchouli, vanilla and tonka bean. It has a heart of rose and jasmine and a some contrasting freshness of citrus. I can't get enough of it, and wear it a lot ever since it came out some weeks ago.
Innym moim ulubionym zapachem tej wiosny jest najnowsza odsłona CHANEL Coco Mademoiselle – Eau de Parfum Intense. Ten orientalny, drzewno-ambrowy zapach ma w sobie dużą dawkę paczuli, ocieplonej  wanilią i bobem tonka. W jej sercu jest róża i jaśmin oraz odrobina cytrusowej świeżości. Tej wiosny jest to mój ulubiony zapach, od dnia kiedy wyszedł kilka tygodni temu, noszę go niemal bez przerwy.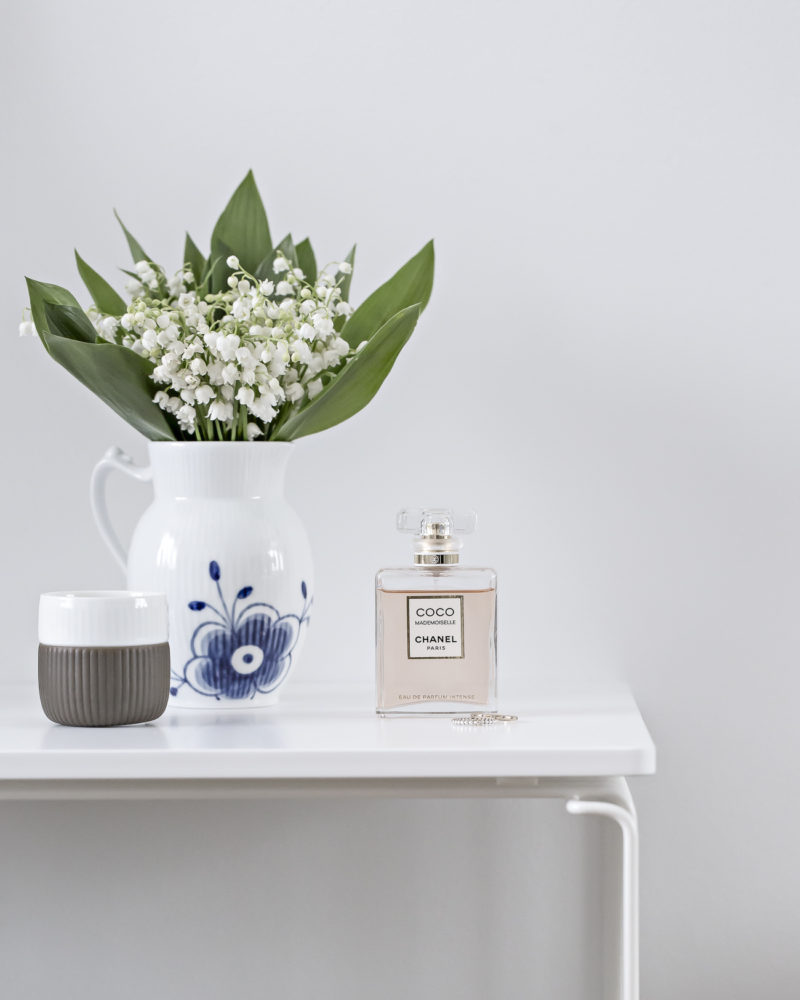 Last but not least, no matter if it's spring or winter, summer or fall, my beloved scent of fresh brewed coffee. No other drink smells as good and awakes my senses so well. After my winter detox, I cut down the caffeine intake and drink max 3 coffees a day. And if I ever feel like having more, I rescue myself with a decaf – same taste and smell without the boost. One of many reasons why I love Nespresso.
By the way, Coco Chanel loved coffee too – you can see it on the picture below!
I w końcu (bez względu na porę roku) mój ukochany aromat świeżo zaparzonej kawy. Żaden inny napój nie pachnie tak cudownie i nie budzi moich zmysłów. Po zimowym detoksie udaje mi się utrzymać spożycie kawy na poziomie maksymalnie trzech filiżanek dziennie. A jeśli wieczorem pojawia się chęć na kolejną, ratuję się wersją bez kofeiny. Ten sam cudowny aromat i smak, ale bez pobudzenia zmysłów. Jeden z wielu powodów, dla których kochamy Nespresso.
Przy okazji – Coco Chanel też uwielbiała kawę, co widać na poniższym rysunku!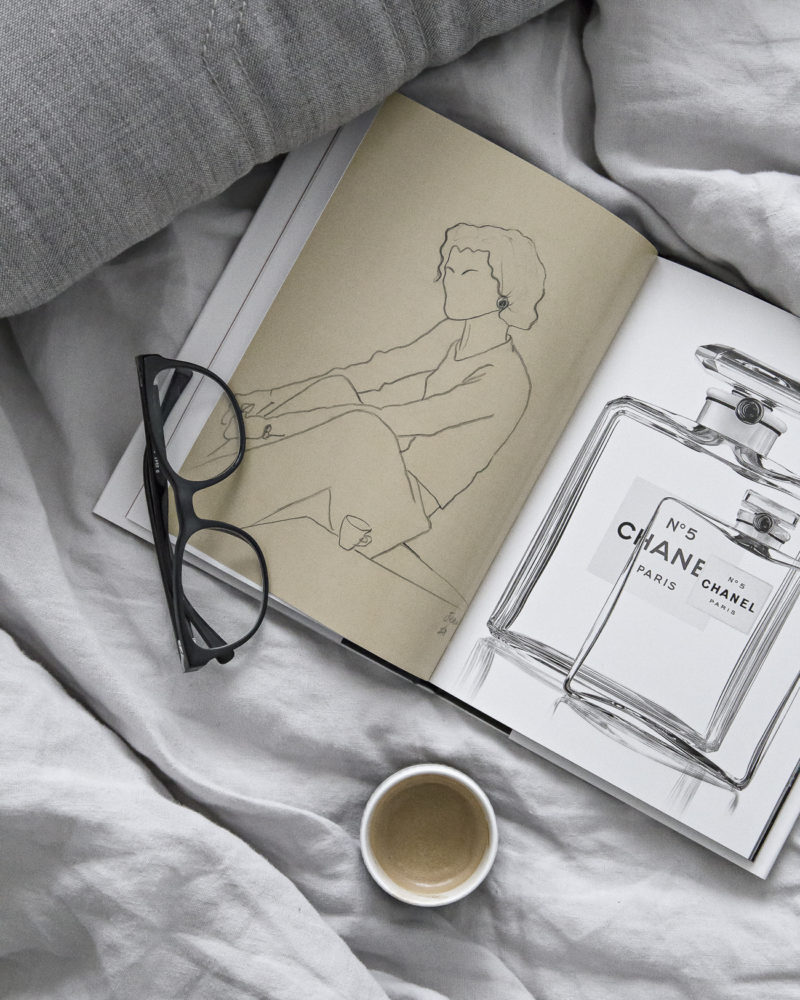 copyright Kasia Rutkowiak | My Full House. Any unauthorised use prohibited
Bedside tables / Stoliki nocne – Montana Furniture, jug & espresso cup / dzbanek i kubeczek do espresso – Royal Copenhagen