Some weeks ago Nespresso launched it's new and very special new collection – Barista Creations. The uniqueness of it comes from the fact, that all coffees from this range were designed to go with milk. It's a great news for all of you who love latte, cappuccino or flat white.
On my Instagram you could see some stories from the event where I tried different milk coffee recipes and got to know the new coffees – Chiaro, Scuro and Corto a little better.
Kawa i mleko w trzech odsłonach z Nespresso Barista Creations
Parę tygodni temu marka Nespresso wprowadziła do oferty nową kolekcję Barista Creations, a w niej trzy wyjątkowe kawy. Wyjątkowość ich polega na tym, że zostały stworzone specjalnie do łączenia z mlekiem. To fantastyczna informacja dla wszystkich wielbicieli latte, cappuccino czy flat white.  
Na Instagramie pokazywałam Wam relację ze spotkania z Ambasadorką Nespresso, Anną Oleksak i warsztatów, gdzie mogłam bliżej poznać nowe kawy – Chiaro, Scuro i Corto.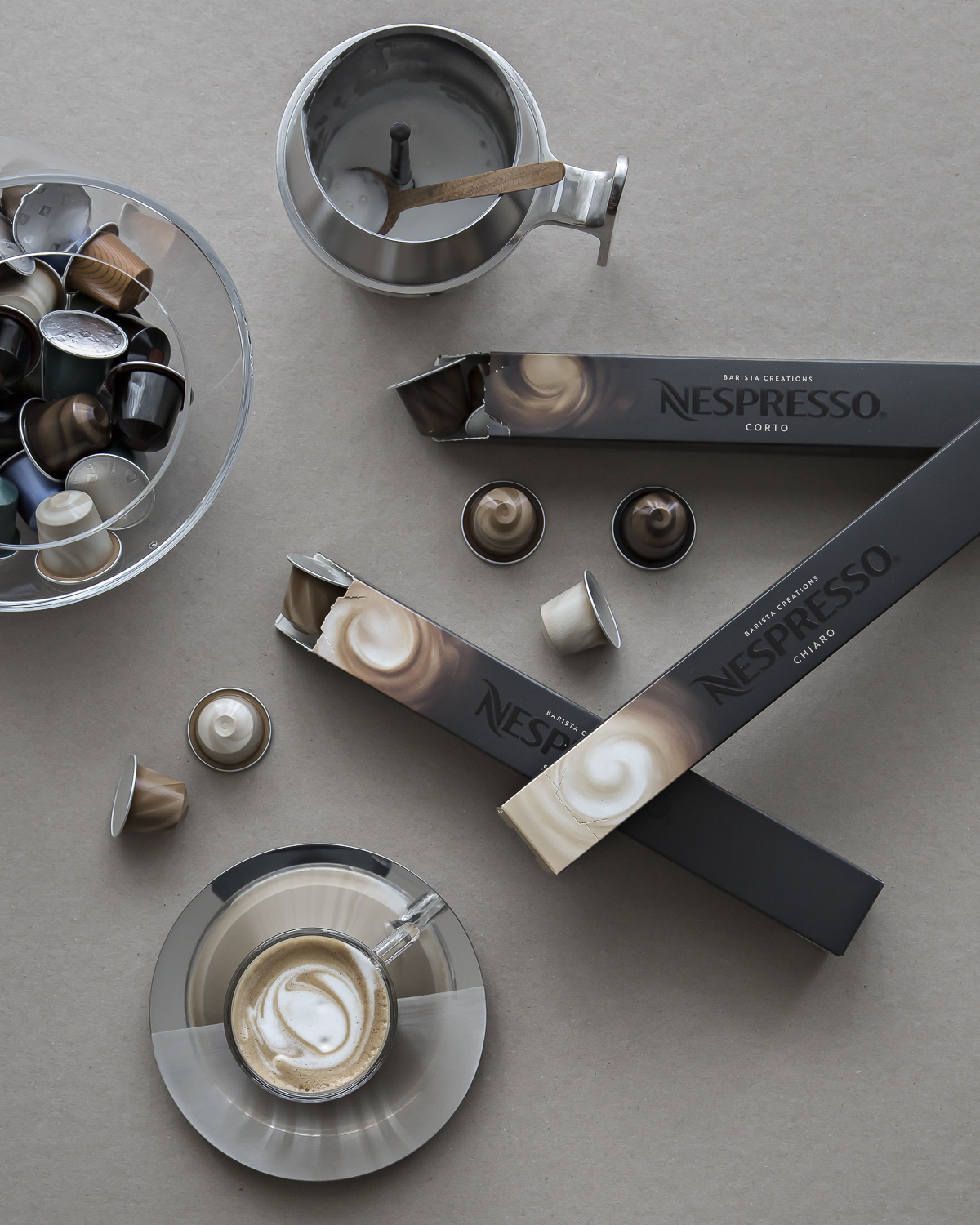 Chiaro is the most delicate of three. A carefully selected blend of Kenyan and Indonesian Arabicas gets the lightest roast, so when you add milk, it reveals delicious caramel and sweet biscuit notes.
For those of you who like more intense taste, there is Scuro. It is split roasted selection of Colombian and Ethiopian Arabicas. Adding milk makes the roasted, cereal and nutty notes glow in the cup.
And last but not least – Corto (my personal favorite). As you surely figure it is the most intense cooffee from Nespresso Barista Creations range. It has a silky texture and lingering aftertaste. This dark roasted blend of African Arabicas and Robusta can carry you away with its intense notes of roasted coffee and peppery spice.
To make it all easier, Nespresso closes it's freshly grounded coffees in beautiful capsules in three shades of brown and beige – the stronger the coffee, the darker the capsule.
Najdelikatniejsza z mieszanek – Chiaro to jasno palona Arabika z Kenii i Indonezji. W połączeniu z mlekiem uwalnia słodkie nuty karmelu i biszkoptów.
Dla wielbicieli nieco bardziej wyrazistych smaków powstała kawa Scuro – mieszanka Arabiki z Kolumbii i Etiopii. Palona jest metodą rozdzielnego palenia (split roasted). Jej intensywny smak doskonale harmonizuje z mlekiem, pozwalając na wyczucie wyraźnych nut palenia.
I wreszcie – Corto (moja osobista faworytka). Jak się domyślacie – to najbardziej intensywna kawa kolekcji Barista Creations. Ta mieszanka afrykańskiej Robusty i Arabiki ma bardzo gęstą teksturę, a wydłużone palenie zapewnia jej niezmiernie wyrazisty smak. Po dodaniu mleka staje się aksamitna, gładka i kremowa. 
Aby ułatwić rozpoznawanie poszczególnych kaw, Nespresso zapakowało świeżo zmielone ziarna w kapsułki w trzech odcieniach brązu – im ciemniejsza kapsułka, tym mocniejsza kawa. I już same kapsułki bardzo mi się podobają, a Wam?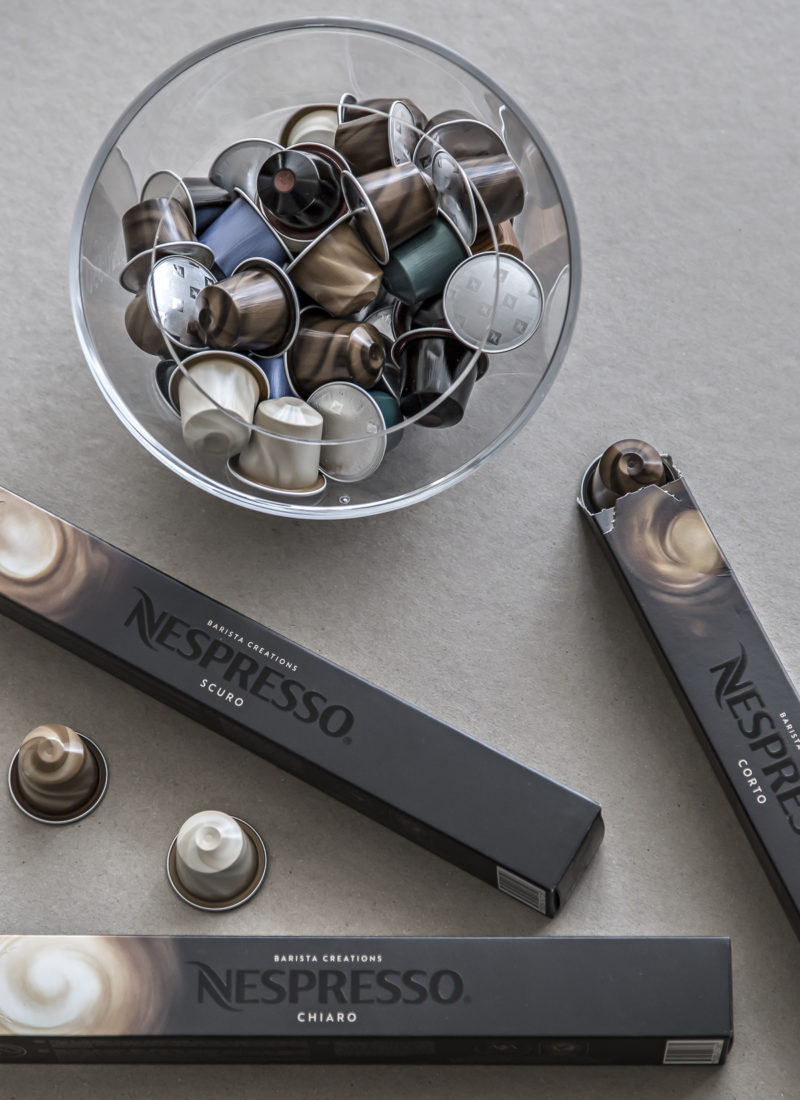 Today, with help from Nespresso, I prepared 3 different coffee recipes using the Barista Creations range. I hope you will enjoy them.
Delicate iced latte (perfect evening treat after a busy day)
cubes of frozen espresso Chiaro
cold milk (I use almond milk for this one)
a dash of favorite syrup (can be omitted)
Put cubes of frozen coffee into a tall glass, add milk and syrup to taste. As the Chiaro is delicate and sweet, it can easily be omitted for a more subtle taste. And good thing about this coffee is that it gets more and more ineresting with time, when coffee cubes melt.
Dziś, przy wsparciu Nespresso, zainspirowana ostatnimi warsztatami, przygotowałam dla Was trzy różne przepisy na kawy mleczne z wykorzystaniem kaw Barista Creations. Mam nadzieję, że przypadną Wam do gustu.
Delikatna lodowa latte (idealna szczególnie na ciepły wieczór po pracowitym dniu):
kostki zmrożonej kawy espresso Chiaro
zimne mleko (dowolne, ja używam migdałowego)
syrop o ulubionym smaku (opcjonalnie)
Do wysokiej szklanki wkładamy kostki kawy, dolewamy mleko i dosładzamy syropem do smaku. Ze względu na lekką słodycz Chiaro, syrop można z powodzeniem pominąć. Powstanie wówczas delikatny, zimny napój kawowy. Co ciekawe, z czasem, wraz z topieniem się kostek kawy, jego smak (i kolor) będzie się pięknie pogłębiał.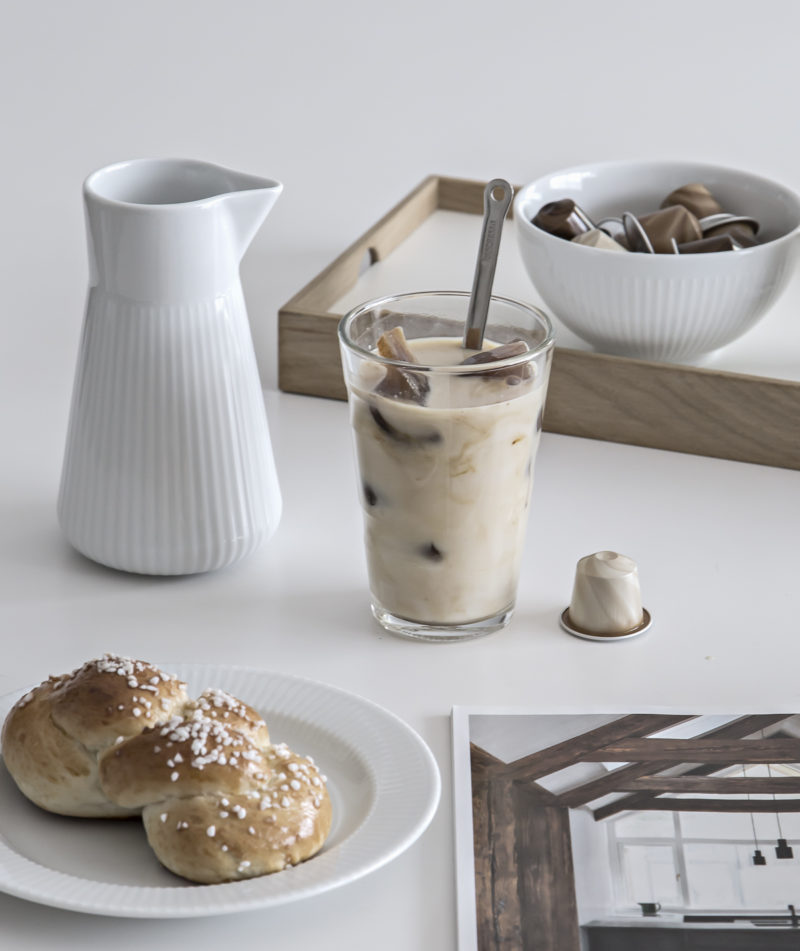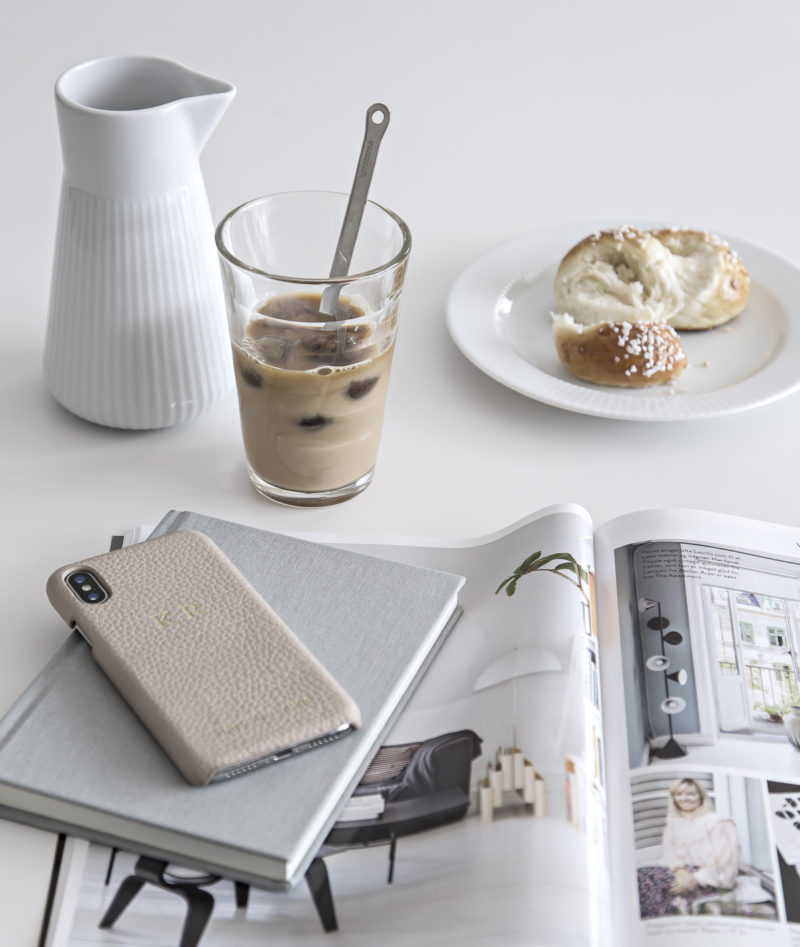 2. Coconut and chocolate latte
a piece of Nespresso Dark Chocolate 70% cacao or chocolate syrup (1-3 tsp)
espresso Scuro
coconut milk mixed with full fat cow milk (1:1)
roasted coconut flakes
Put a piece of chocolate (or pour syrup) into a glass. Brew/pour espresso on top. Froth the combine milks (I do recommend that you check out this post where I wrote about Nespresso Barista frother – so good!). Add milk on top of the coffee and decorate with coconut flakes. It can be made sweet enough to create a dessert on it's own.
2.
 

Kokosowo – czekoladowa latte
kawałek gorzkiej czekolady Nespresso 70% kakao lub syrop czekoladowy (1-3 łyżeczki)
espresso Scuro
mleko kokosowe zmieszane z pełnotłustym mlekiem krowim 1:1
prażone wiórki kokosowe
Na dno szklanki wkładamy kawałek czekolady lub wlewamy syrop. Dodajemy espresso. Mleko spieniamy (koniecznie poczytajcie o moim ulubionym spieniaczu do mleka Nespresso Barista – w tym poście). Mleczną piankę dodajemy do kawy, całość posypujemy wiórkami. Dla mnie ta kawa może z powodzeniem stanowić samodzielny deser.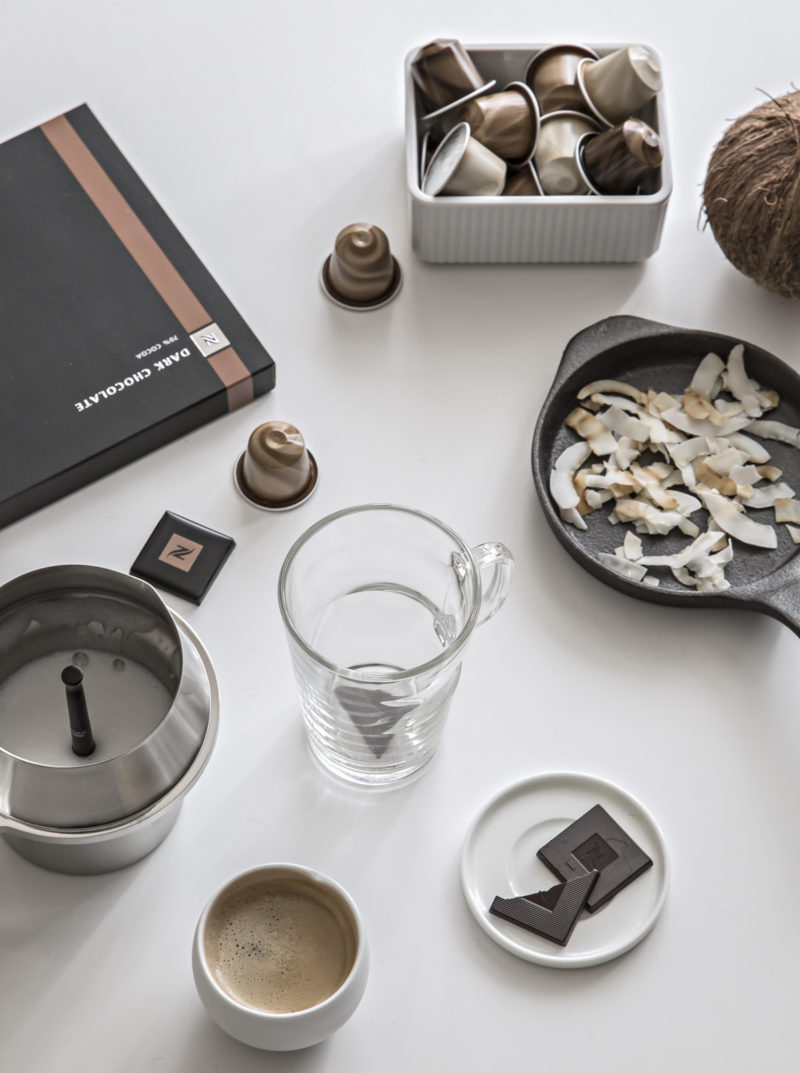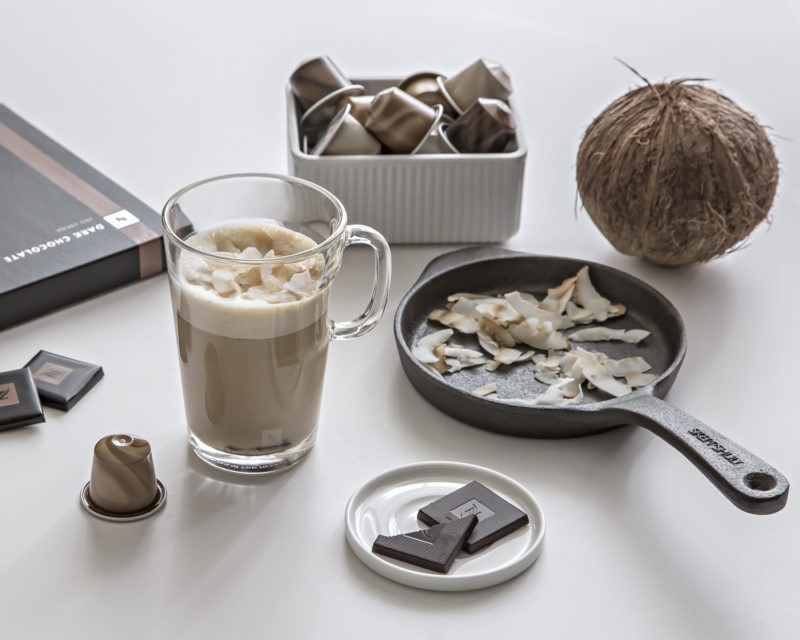 3. Intense rose cappuccino with cardamom
An idea I got from my dear friend, Polish Master Chef finalist, Samar Khanafer.
milk (I used full fat cow milk)
1-2 tsp of rose water
espresso Corto
cardamom
Froth milk with cardamom and rose water. Add espresso and sprinkle with some more cardamom on top.
3. Intensywne, różane cappuccino z kardamonem – kawa inna niż wszystkie.
Nie ukrywam, że to nie mój pomysł, bo o tej kawie usłyszałam od cudownej Samar Khanafer, mistrzyni kuchni libańskiej. 
mleko (używam pełnotłustego, krowiego)
1-2 łyżeczki wody różanej
espresso Corto
kardamon
Do filiżanki parzymy espresso Corto. Spieniamy mleko z dodatkiem wody różanej i kardamonu i dolewamy do kawy. Całość posypujemy szczyptą kardamonu.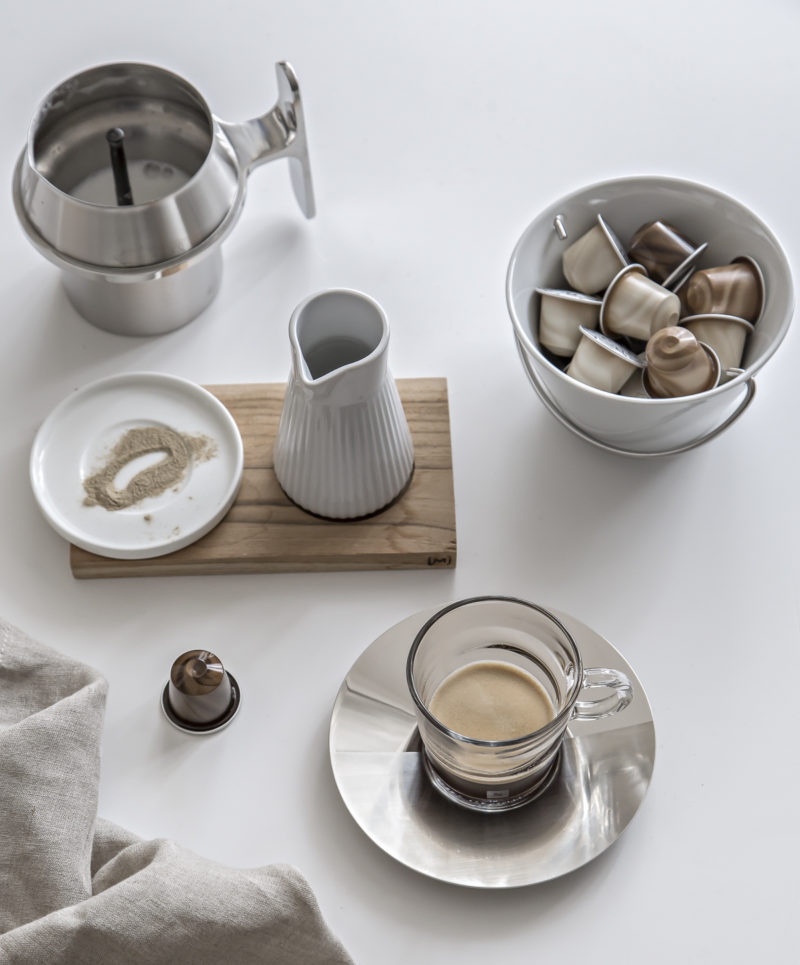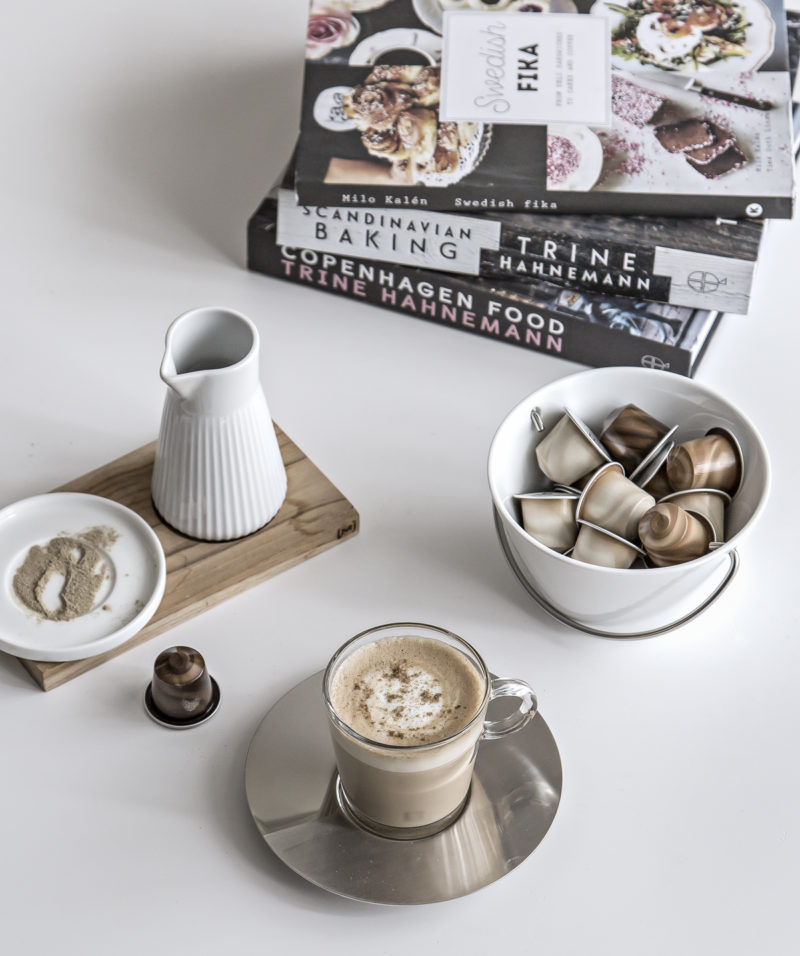 The good news about the Barista Creations range is that it is NOT a limited edition of coffees. If you fall in love with these three special blends, you can rest assured that it will be available for a long time.
And one last comment from me – please always remember to return your used Nespresso capsules for recycling.
Coffee?
I jeszcze bardzo dobra informacja – kolekcja Nespresso Barista Creations wchodzi do oferty marki na stałe. Tak więc, jeśli zauroczą Was kawy Chiaro, Scuro lub Corto , możecie być spokojni – nie zginą z półek i będzie się nimi można cieszyć przez cały czas. 
Na koniec, jak zawsze przypominam Wam o tym, że wszystkie zużyte kapsułki oddajemy do recyklingu (w butikach lub kurierowi, który dostarcza nową porcję kaw Nespresso). 
To jaką kawę robimy?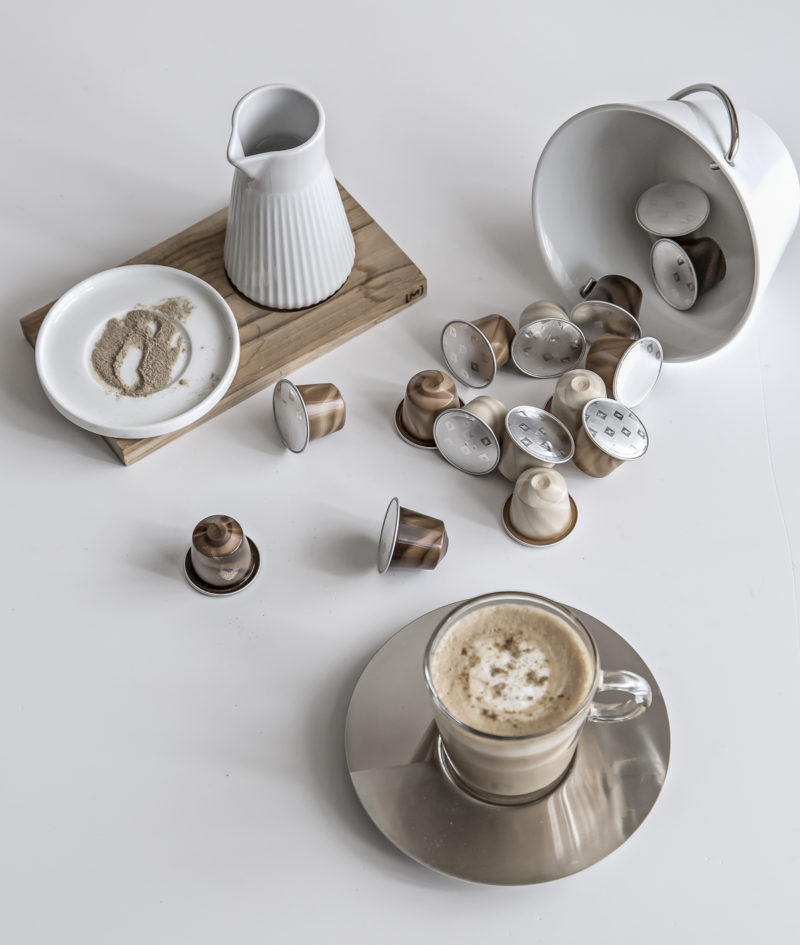 copyright Kasia Rutkowiak | My Full House | any unauthorised use prohibited
Post powstał przy wsparciu marki Nespresso