With some delay, I am ready to show you the first 2019 news in our apartment. Last winter I made some decissions about introducing new furniture and lamps here and there, but as you know – things take time. Today I am coming with the first news and that is our new TV bench from tylko.
I've heard once that TV  benches are some of the least sexy furniture. I totally agree and I am sure you get the point. You don't see them much, although almost all people who own a TV have one. There's just nothing there to show, normally. Thet being said, I love our new TV bench and I am absolutely amazed by the ingenious concept from tylko.
The idea of tylko is to create customisable furniture (bookcases, shoeracks, sideboards and much more) which are incredibly easy and fast to assemble (all you need is a rubber mallet). So bookmark this blogpost if you shall ever be looking for a super simple, timeless and high quality storage solution of any kind (like a shoerack that will perfectly fit into that hall niche).
To tylko szafka telewizyjna!
Z lekkim poślizgiem, jestem gotowa, aby pokazać Wam pierwsze tegoroczne nowości w naszym mieszkaniu. Zimą podjęłam decyzję o wprowadzeniu kilku zmian, ale jak wiecie, co nagle to po diable, więc dałam sobie czas na zmiany. Dziś, z nieskrywaną radością chcę się podzielić pierwszą z nich – szafką telewizyjną marki tylko.
Kiedyś uslyszałam stwierdzenie, że szafki pod telewizor to najmniej seksowne meble. Zupełnie się z tym zgadzam i jestem pewna, że rozumiecie o co chodzi. Rzadko je widujemy na zdjęciach mieszkań, bo niby co tu pokazać? Mimo to, ja naszą nową szafkę uwielbiam, podobnie jak genialny pomysł twórców tylko.
Marka ta tworzy fantastyczne regały, szafki, komody i inne meble do przechowywania dokładnie według pomysłu i potrzeb klienta. Swój projekt można dopasować i zwizualizować na świetnie działającej stronie. Dodatkowo, wszystkie produkty są ultrałatwe w składaniu (do którego potrzebny jest jedynie gumowy młotek). Tak więc, jeśli w przyszłości będziecie potrzebować półki, regału lub wyjątkowej szafki na buty, która idealnie wpasuje się do wnęki w przedpokoju, koniecznie zapiszcie sobie ten post.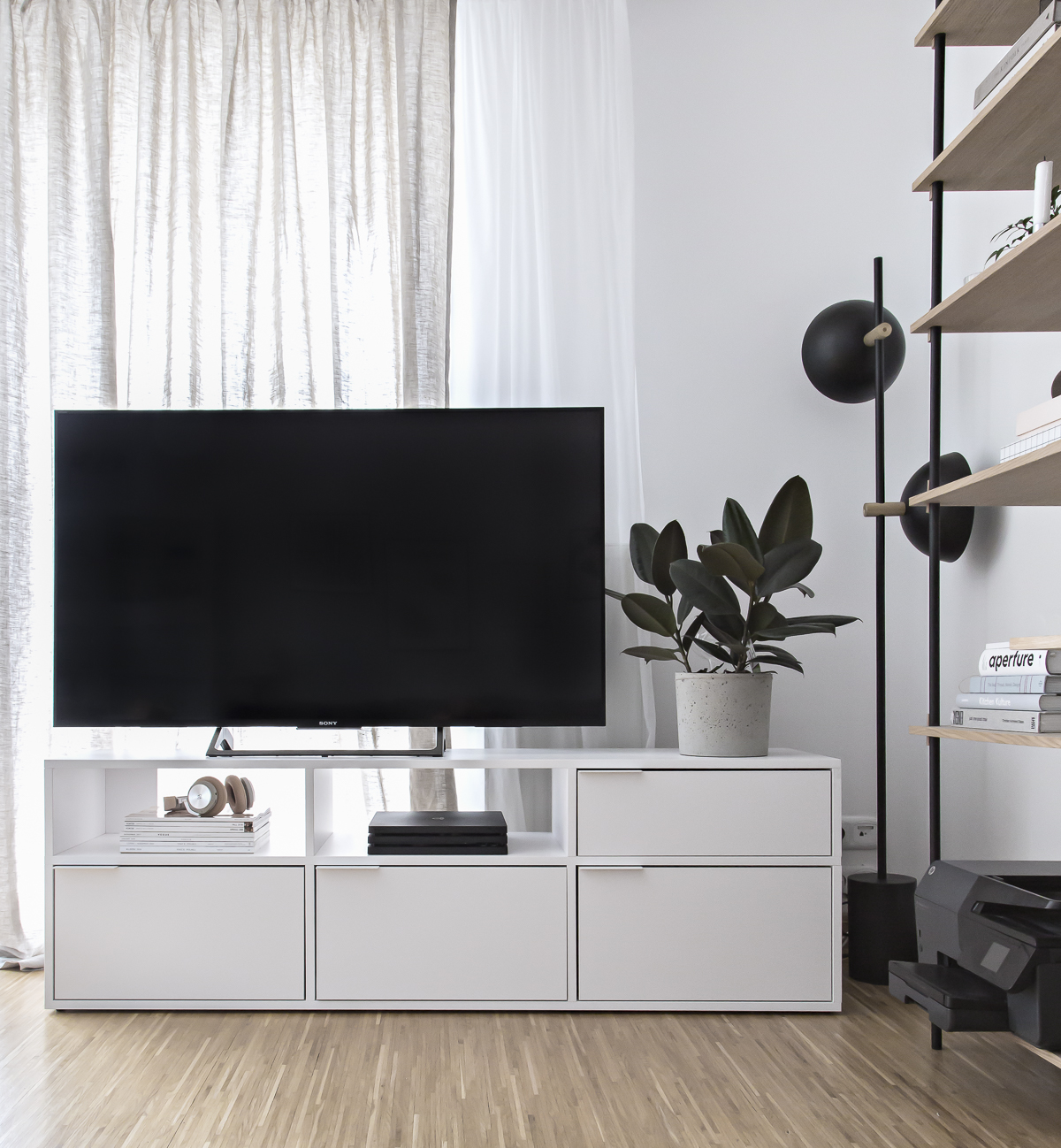 Specificly for our needs, I designed a bench with 2 shelves and 4 drawers. As my new home office (comming later this week!) does not have any drawers, we decided to use the right side drawers solely for the office related stuff, while the two others hold dvds, games, cables and more. The drawers run smoothly and close gently. White color of the unit matches the style of our apartment and is super practical too.
Dla naszych potrzeb zaprojektowałam szafkę z 2 wnękami i 4 szufladami. Ponieważ w moim nowym domowym biurze (pokażę Wam je w tym tygodniu!) nie ma szuflad, dwie szuflady po prawej stronie wykorzystujemy na przybory biurowe. Pozostałe dwie mieszczą gry, kable, filmy i inne tego typu rzeczy. Szuflady mają świetne prowadnice i zamykają się delikatnie. Biały kolor mebla pasuje idealnie do naszego wnętrza i jest niezmiernie praktyczny.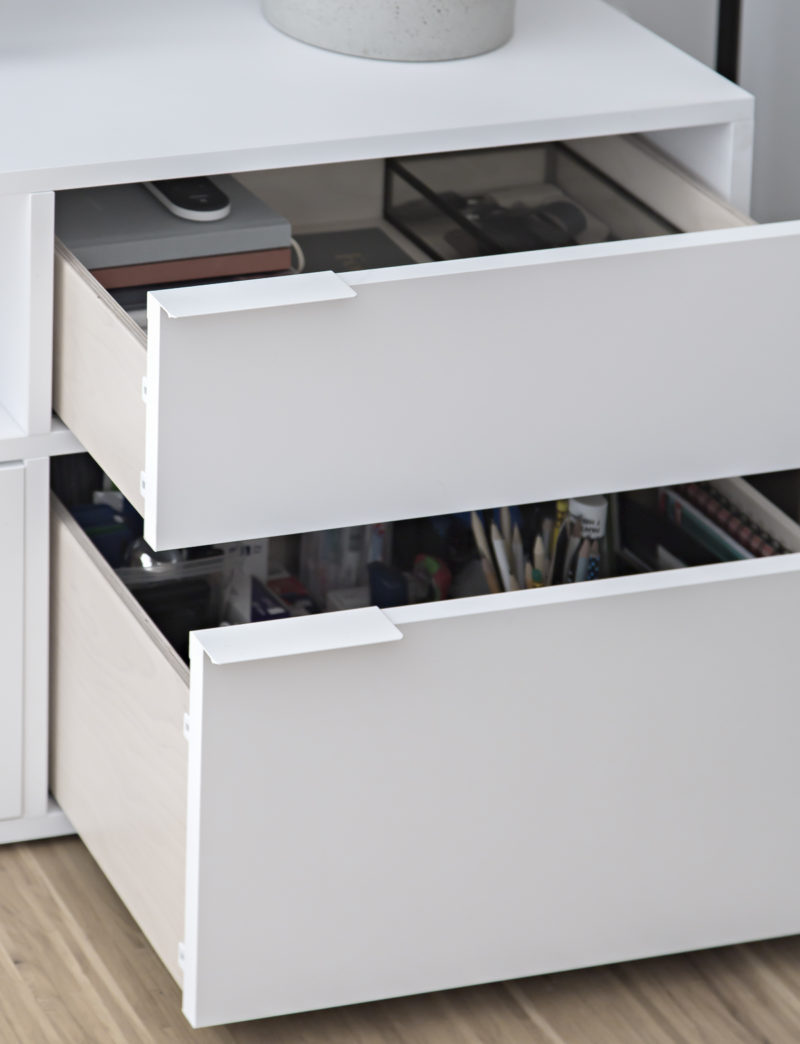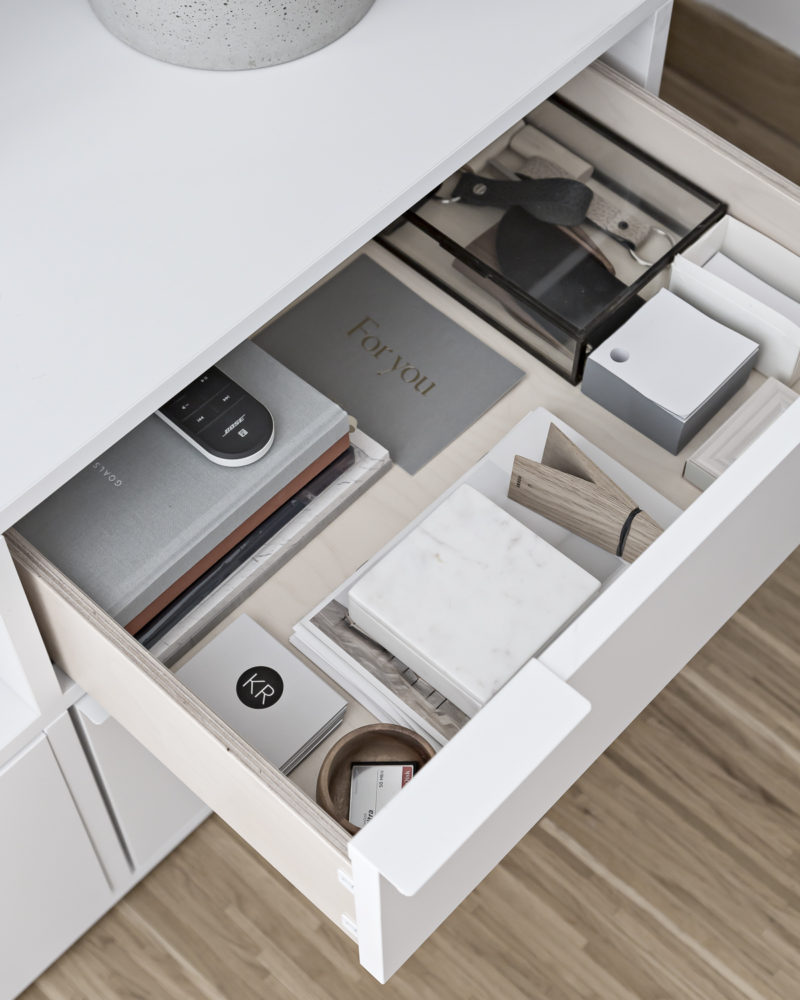 I have also replaced old black IKEA curtains with linen curtains from so linen (it's a great brand too and just like tylko, they can make any size of great quality curtains or bedding you need). Introducing natural beige linen color made a big, positive difference in the corner of this room and also made the Studio Lamp stand out. The rubber plant is a new addition as well, however I am speculating whether I shouldn't place it where there is a bit more light. Any advice highly appreciated, so don't hesitate to leave a comment.
To sum it all up I am extremely pleased with my choice and I love the brand idea and product quality so much, that I am considering some more pieces for other spots in our apartment. Let's see.
Wraz ze zmianą mebla, zmieniłam też zasłony. Zdecydowałam się na sprawdzoną już przez nas polską markę so linen. Podobnie jak tylko – so linen tworzy produkty na każdy wymiar, idealnie pod klienta. Mamy już pościel tej marki i jest świetna. Wprowadzenie jasnych zasłon miało bardzo pozytywny wpływ na ten narożnik salonu. Nowy kolor sprawił też, że lampa przepięknie odcięła się od tła. Również fikus jest nowym nabytkiem (wypatrzony na stoisku Grow Raw podczas ostatnich Targów Rzeczy Ładnych). Betonowa doniczka delikatnie kontrastuje z gładką bielą szafki, tylko nie wiem, czy fikusowi nie będzie tu nieco za ciemno. Póki co, rozwija nowe listki, ale wszelkie prady mile widziane, więc w razie czego piszcie.
Reasumując, jestem niezmiernie zadowolona z wyboru nowego mebla. Koncepcja tylko jest rewelacyjna, a produkt wysokiej jakości, więc skłamałabym pisząc, że nie myślałam już o kolejnym meblu tej marki w innych "kącikach" mieszkania. Są genialne.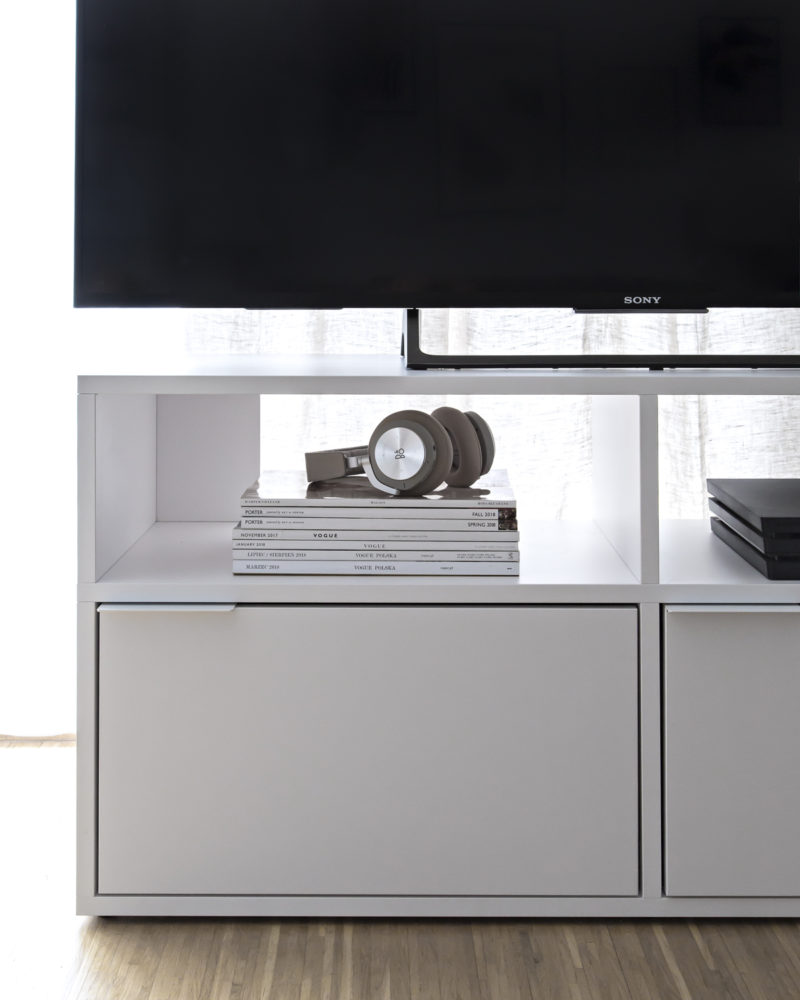 copyright Kasia Rutkowiak | www.my-full-house.com | any unauthorised use prohibited
tv bench / szafka rtv – tylko | flower pot / donica – grow raw, lamp / lampa – handvark, curtains / zasłony – so linen