Lately I hear many people complaining about the wather and how fed up they are with winter. Well, to be honest, there is A LOT of winter left still, so complaining is not going to help too much. Personally I am so happy to be in the new year, with days getting longer and I kind of enjoy the wait. I know that once the spring comes it will go way too fast. Before we know, it's gonna be summer again and oops… We will be "on the wrong side of the year again". The only thing that irritates me these days is that it's not that easy to plan my work. The light is tricky and challenges my skills a lot but that also means that I am learning new skills. That's at least what I keep on telling myself :)
This morning I woke up to a particularly grey day. No sun, no light. Therefore, despite the fact that I do think that "eating local, seasonal products is good for you and your health" I decided to go after seasonal products from far away. A freshly brewed coffee and a yoghurt bowl with home made granola, fresh mango, passionfruit and coconut (sorry neighbours! I know that it was LOUD for a long time but it didn't want to crack!) totally made my morning. Not to mention the heavenly smelling hyacinths. It's incredible how a little thing like this can change the entire morning! A good breakfast, interesting book, bubble bath or a new body lotion and all that small stuff can help so much. That is why I honestly believe that we are creators of our mood and how we feel depends mostly on ourselves. That excludes the PMS, of course (although it can be helped with medicin called chocolate, to some extent).
Wishing you a positive day, no matter the weather!
Zadbaj o swój dobry nastrój
Ostatnio zewsząd słyszę wiele narzekań na szarą aurę i zmęczenie zimą. Trochę mnie to dziwi, gdyż biorąc pod uwagę fakt, że mamy styczeń, nie zanosi się na szybką zmianę i narzekanie na niewiele się zda. Ja staram się skupiać na tym, że już mamy nowy rok i dni stają się coraz dłuższe. Staram się nacieszyć tym oczekiwaniem na wiosnę, która z pewnością minie za szybko. Potem lato i… znów czekanie. Jedyną rzeczą która mnie obecnie trochę denerwuje to brak światła do pracy i związane z tym trudności w planowaniu zdjęć. Zmienne światło wystawia moje nerwy na próbę, ale z drugiej strony sprawia, ze dzięki temu opanowuję nowe umiejętności. Tak sobie przynajmniej mówię :)
Dziś rano stwierdziłam, że jest wyjątkowo szaro. Zero słońca, marne światło. Dlatego, mimo, że wierzę w to, że dobrze jest "jeść lokalne sezonowe produkty", postanowiłam sięgnąć po produkty sezonowe z daleka. Świeżo zaparzona kawa i miseczka jogurtu z domową granolą, mango, marakują i kokosem (bardzo przepraszam sąsiadów, tym razem było wyjątkowo długo głośno, gdyż za nic nie chciał się dać rozbić) od razu wprowadziły mnie w świetny nastrój. I do tego pięknie pachnące hiacynty! To niewiarygodne jak wiele może zdziałać takie śniadanie! Uważam, że właśnie za pomocą takich drobiazgów możemy (i powinniśmy) sobie teraz umilać bezsłoneczne chwile. Dobre śniadanie, ciekawa książka, kąpiel w wannie pełnej piany, albo nowy balsam do ciała potrafią zdziałać cuda. Sami decydujemy o tym jak się czujemy i jak postrzegamy świat i nasz nastrój zależy przede wszystkim od nas samych. Z wyjątkiem dni zdominowanych przez zespół napięcia przedmiesiączkowego (który jedynie częściowo można łagodzić dobrą czekoladą).
Miłego dnia, bez względu na to co za oknem!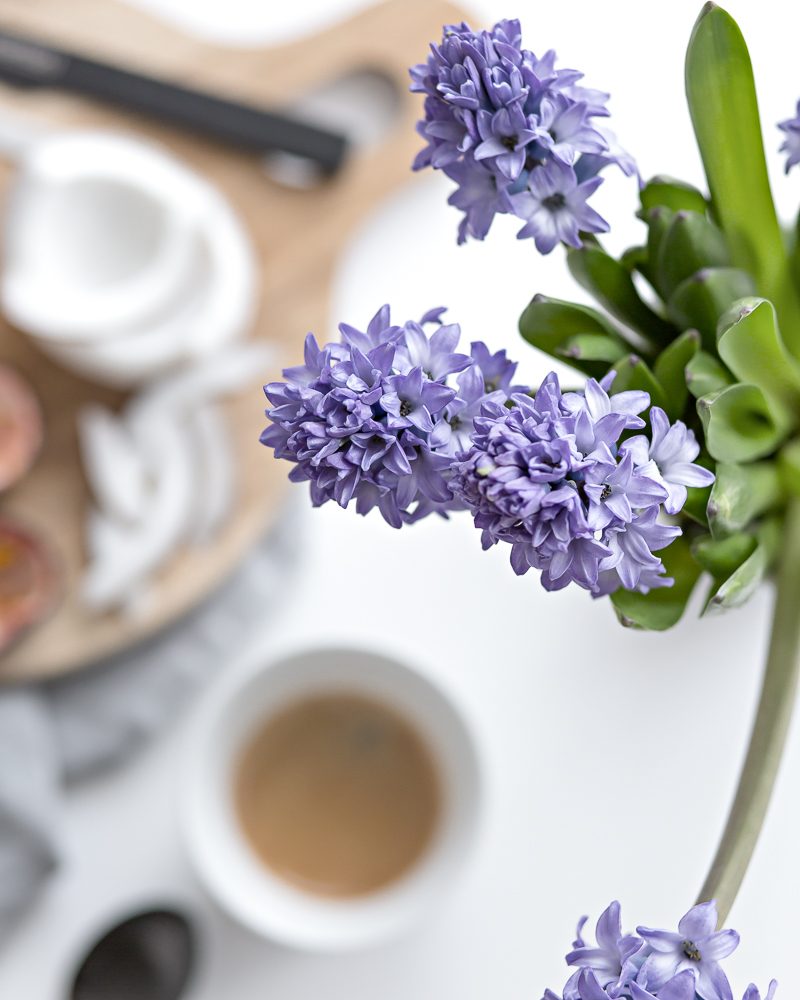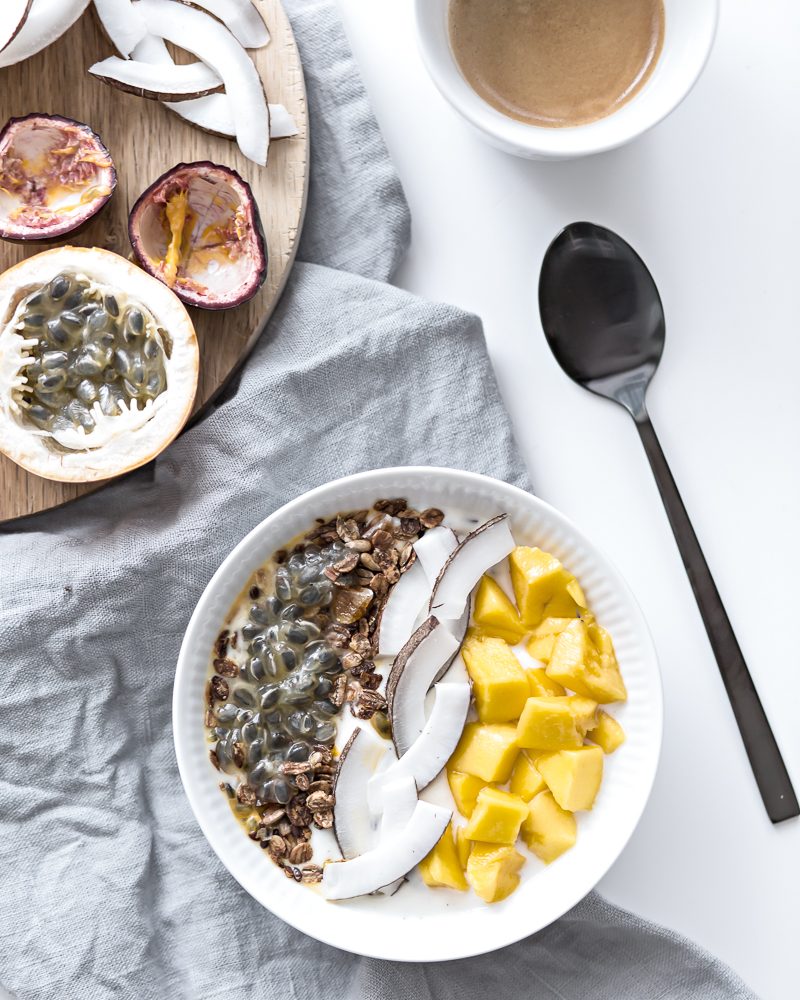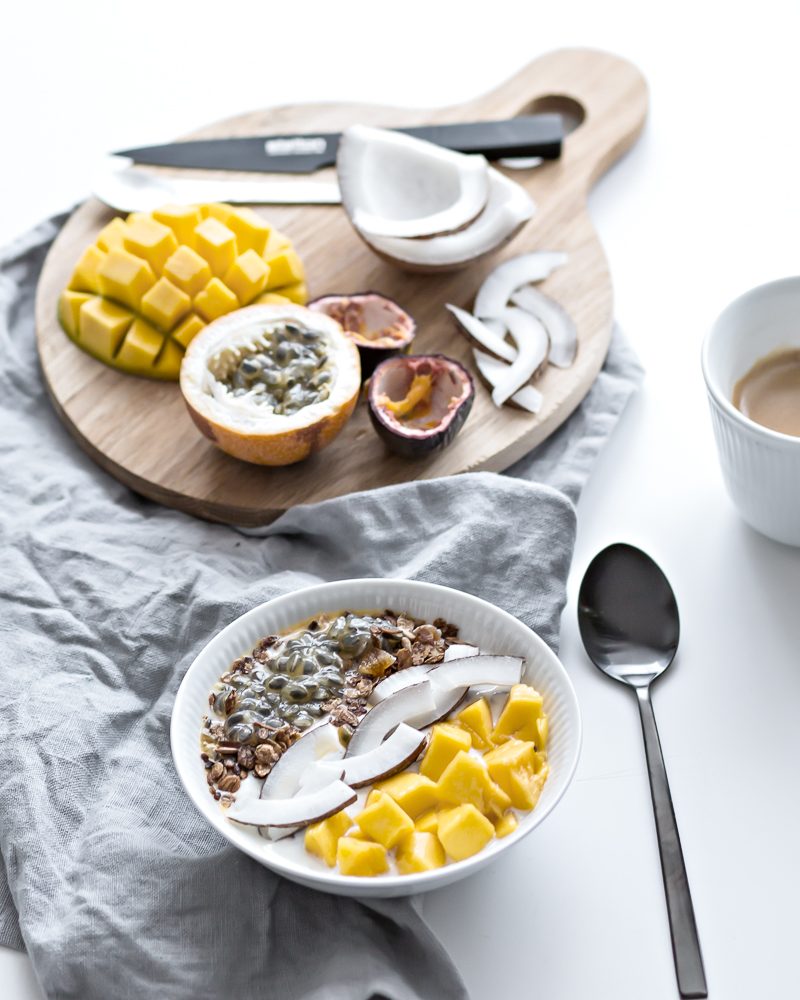 ? Kasia Rutkowiak / My Full House