Are you good at temporary solutions? Sometimes there is just no way out, is there? A while ago I decided to change our dining table (which we loved), into a different table (which we will love just as much, but will suit our needs a bit better). So for the past 6 weeks or so, we've been using my old DIY desk which was made back in DK some years ago. I cannot wait to see the new table and to and arrange the brand new dining space! It will be wonderful to have more space during everyday meals, as right now we do sit tight. You have already seen the PH5 lamp which also is a new element in the room. It gives beautiful light and we love it! Many of you have also noticed new, white Series 7 chairs (more about them in this post). The only keepers will be the kids' white Tripp Trapp chairs. I will keep you posted!
Nasza tymczasowa jadalnia
Lubicie tymczasowe rozwiązania? Ja średnio, ale czasem po prostu nie da się inaczej, prawda? Jakiś czas temu postanowiłam wymienić nasz stół (który bardzo lubiliśmy), na inny (który będziemy równie lubić, ale który nieco lepiej spełni nasze wymagania). Tym sposobem, od 6 tygodni siedzimy przy moim starym biurku, które zrobiłam jeszcze mieszkając w Danii. Nie możemy się już doczekać nowego stołu i naszej nowej jadalni. Fajnie będzie znów mieć wystarczająco dużo miejsca podczas posiłków. Niedawno pokazywałam Wam już nową lampę PH5. Daje piękne światło i bardzo ją lubimy. Wielu z Was zauważyło też krzesła serii 7 (więcej poczytać możecie o nich w tym poście). Jedynym elementem bez zmian pozostają krzesełka Tripp Trapp. Jak tylko przyjdzie nowy nabytek – dam znać!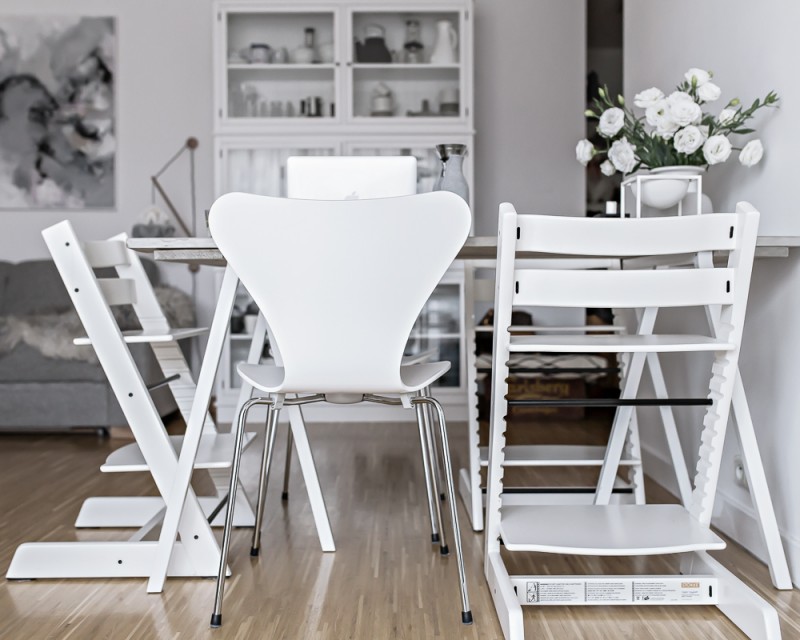 ? Kasia Rutkowiak / My Full House
PH5 Lamp Louis Poulsen / Lampa PH5 Louis Poulsen – Finnish Design Shop, Series 7 chairs Fritz Hansen / Krzesła serii 7 Fritz Hansen – www.scandinavianliving.pl, high chairs Tripp Trapp / krzesełka Tripp Trapp – Stokke.com