How are you on a gloomy Halloween Monday morning? Hopefully ready to say goodbye to October and welcome another cold month (ok, not my Aussie readers, and I don't envy you at all ;)). I am not particularly found of colder weather and to be honest it also has it's consequences in terms of my diet. I comfort myself in food and I must admit that yesterday I comforted myself a whole lot! ;) But that's what happens when you invite friends for a sweet halloween party and do your very best to make it as sweet as possible. We started with an Apple Pie in a glass (with roasted pecans and maple sauce) and after that – it only got sweeter.
Słodkie Halloween Party
Jak się macie w ponury poniedziałkowy poranek? Jesteście gotowi pożegnać się z październikiem i powitać kolejny, jeszcze chłodniejszy miesiąc? Ja nie lubię chłodów, co zawsze odbija się na mojej diecie. Często pocieszam się czymś słodkim, a wczoraj, z okazji niewielkiego Halloween Party dla koleżanek pocieszanie to przeszło moje najśmielsze oczekiwania. Zaczęłyśmy od szarlotki w szklaneczkach (z prażonymi orzechami pekan i sosem klonowym), a potem robiło się już tylko bardziej słodko.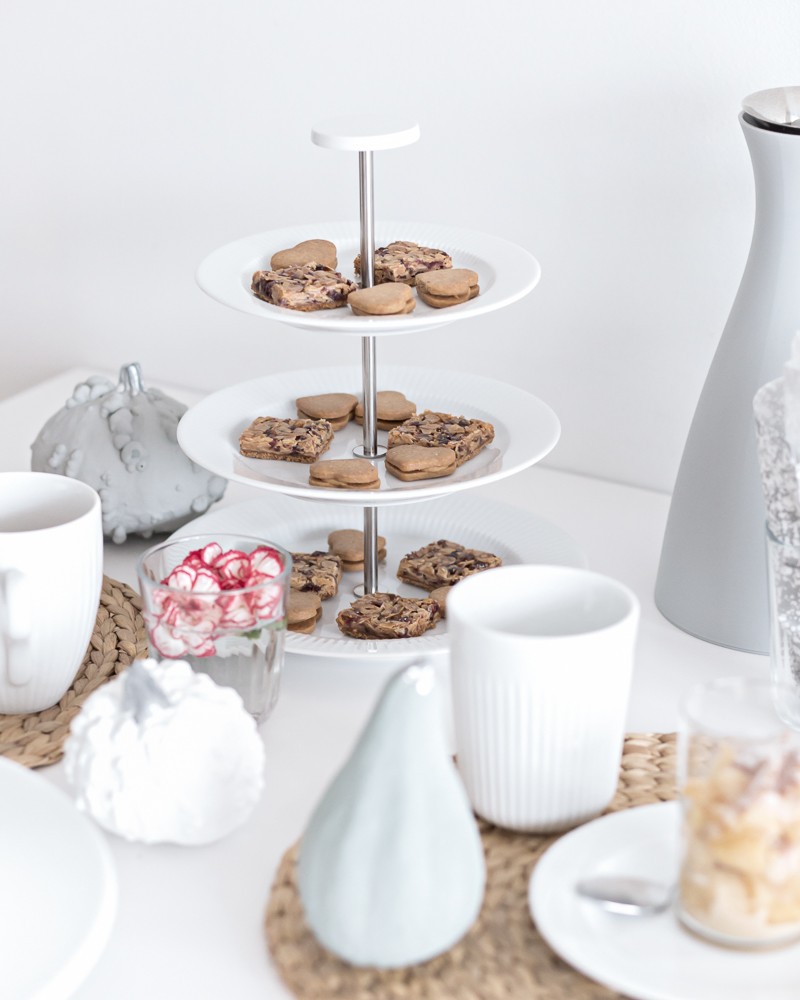 I decided to decorate the table with recently painted pumpkins and classic white porcelain from Legio Nova collection by Eva Trio. Some of it came just in time for the weekend. It's the first time I ever ordered an étag?re and I am totally in love with it.  It is such a nice way to serve small sweets, cookies or chocolates. I am sure we will use it a lot during the Christmas season. With every new item in the Legio Nova line I get more and more attached to this collection. I love the snow white color and the decorative rim that goes well with anything, looking classy and timeless.
And before you ask – this time I did not bake anything myself, but left it to those who do it better than me. The meringue Romanov cake was even better than it looked, I swear!
Postanowiłam udekorować nasz stół niedawno malowanymi mini dyniami i klasyczną białą porcelaną z linii Eva Trio Legio Nova marki Eva Solo. Moje ostatnie nabytki zdążyły dojść tuż przed samym weekendem. Po raz pierwszy zdecydowałam się na zamówienie etażerki i jestem nią zachwycona! To piękny sposób na podanie drobnych słodyczy, czekoladek lub ciasteczek. Jestem przekonana, że będziemy z niej często korzystać w nadchodzącym okresie okołoświątecznym. Z każdym nowym produktem linii Legio Nova coraz bardziej się przywiązuję do tej kolekcji. Bardzo podoba mi się jej śnieżnobiały kolor i delikatne karbowanie. Pasuje dosłownie na każdą okazję i ładnie komponuje się z innymi naczyniami, jest klasyczna i ponadczasowa.
Uprzedzając Wasze pytania – tym razem zrobiłam jedynie kawę i herbatę, a słodycze postanowiłam dać zrobić lepszym ode mnie. Od dawna marzyłam o torcie bezowym i nie zawiodłam się. Wszystkie słodycze zamówiłam w mojej ulubionej, niezawodnej cukierni Lukullus.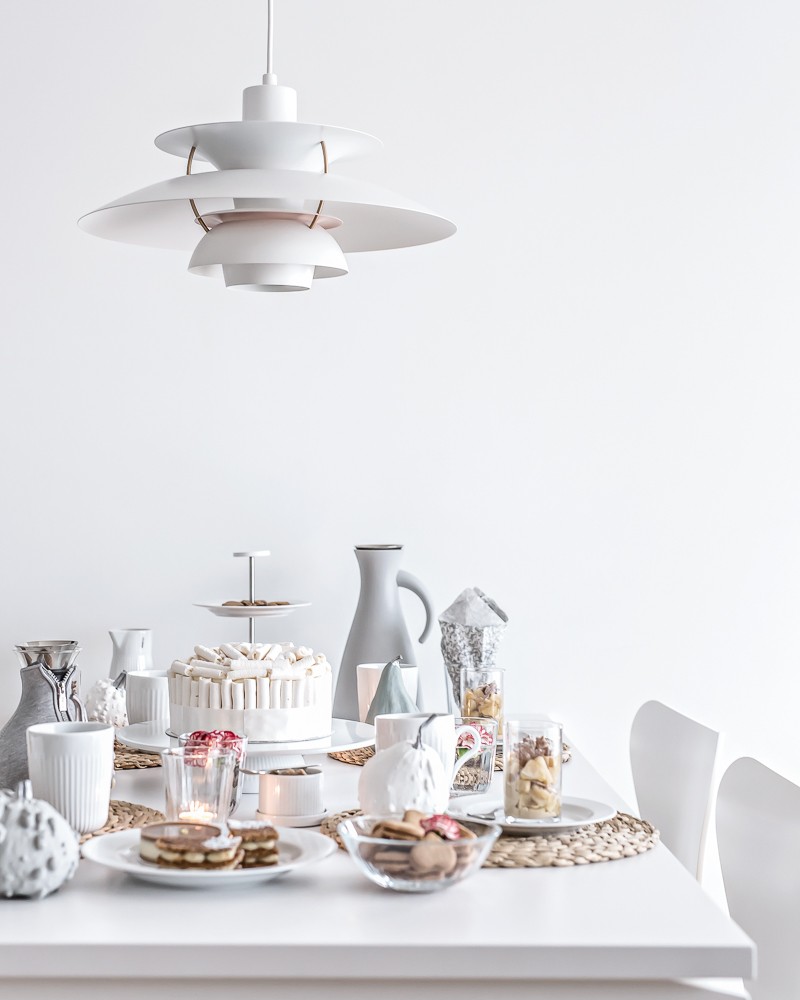 ? Kasia Rutkowiak / My Full House
porcelain / porcelana – Eva Solo/Eva Trio, lamp / lampa – Louis Poulsen/ Finnish Design Shop