Last weekend, we celebrated Chloé's first birthday. Yay! When did hit happen?! She is the most loving, sweet, caring, kids friendly creature I could ever wish for. Easy to be taken care of, super low maintenance, amazing dog. The day we made a decision to get her, must have been one of the best days ever and we are grateful for her every day. Funny enough, my husband was very sceptical regarding us having a dog and it took me 3 years to convince him. Now not a single day goes by without him saying "Thank you for her, she is the best little dog in the world". But is she, really? Being a French Bulldog, so famous for their flaws and problems? Here is some truth and advice on getting a Frenchie. From a Frenchie lover, Frenche owner and a veterinarian. Some of you might still remember that I am a vet and used to work with animals for over a decade.
Now, this is advice for people seriously thinking about getting a Frenchie, and wanting to get a good one. I don't want to get into talking about dog adoption, saving lives or that there are many dogs that will love you forever, if you take them out of a dog shelter. It is not what this blogpost is about. I think that many dog shelters do a great job finding homes for amazing dogs, and I think it's great that many people decide to go for dog adoption. No doubt! Still, I think that getting a French Bulldog from a shelter is like asking for trouble. Big time.
Kupno Buldożka Francuskiego – moje osobiste rady
Podczas ostatniego weekendu świętowaliśmy pierwsze urodziny Chloé. Kiedy to zleciało!? To najbardziej kochany, kochający dzieci i uwielbiający ludzi pies, jakiego mogłam sobie wymarzyć. Chloé jest niezmiernie łatwa w obsłudze i prosta w utrzymaniu. Mój mąż, którego do psa przekonywałam przez trzy lata, codziennie mówi, że to była świetna decyzja, powtarzając "dziękuję  Ci za nią, to najwspanialszy pies na świecie". Ale czy aby na pewno? To przecież buldog francuski, tak znany ze swoich wad i kłopotów ze zdrowiem, powód niekończących się zmartwień właścicieli. Dziś mam dla Was kilka moich spostrzeżeń i rad. Z pozycji wielbiciela buldożków, właściciela buldożka i lekarza weterynarii. Niektórzy z Was mogą pamietać, że przez ponad dekadę pracowałam w tym pięknym zawodzie :)
I jeszcze zanim przejdę dalej – to jest post skierowany do ludzi poważnie rozważających zakup buldożka francuskiego i chcących podjąć jak najlepszą decyzję. Jej konsekwencje ponosić będą przez lata. Dlatego, z bardzo konkretnych powodów, nie będę zalecała adopcji buldożka ze schroniska. Nie dlatego, abym schronisk nie lubiła. Wręcz przeciwnie. Uważam, że wiele schronisk robi fantastyczne rzeczy, dzięki ciężkiej i ofiarnej pracy bardzo dobrych ludzi. Co więcej, uważam, że wielu ludzi adoptując psy ze schronisk, czyni swój i psi świat o wiele piękniejszym. Jednak wszystko należy robić z głową. Adopcja buldożka ze schroniska to w zdecydowanej mierze przypadków proszenie się o kłopoty, i to duże.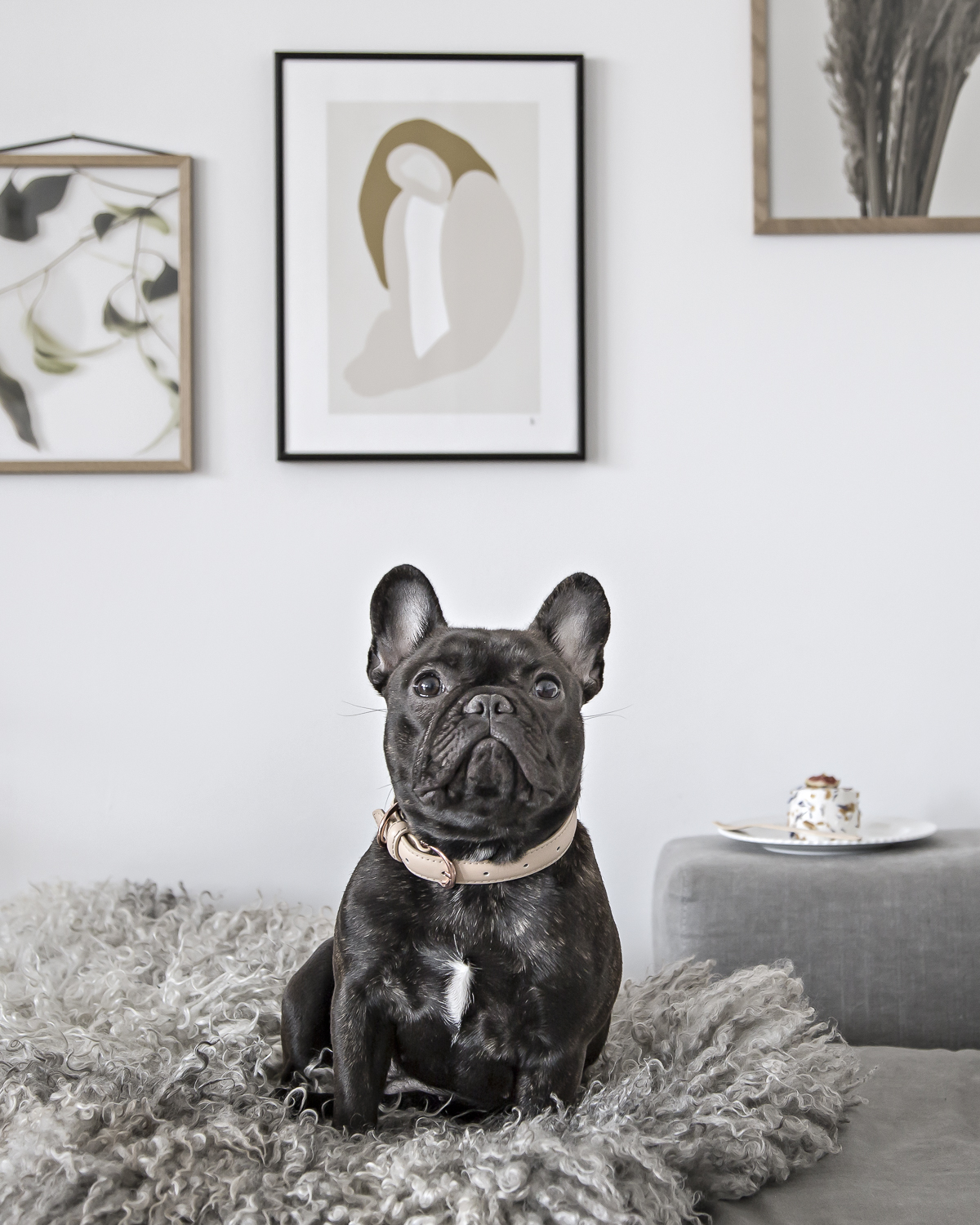 Frenchies are a very trendy breed these days and it means that you can easily go wrong, while picking one. There are many people who call themselves breeders, but they are not. So first of all, make sure you find someone smart and passionate, a breeder who knows the do's and don'ts of that business. Hopefully one who breeds dogs at home, has all dogs cross checked for common conditions of the breed and attends shows frequently.
Why dog shows? They guarantee that a dog not only has great exterior features, corresponding to the specific breed, but also psyche that is characteristic for its kind. Furthermore, good, responsible breeders don't spare money on health checks of their dogs, aiming to make both the prettiest and the most healthy offspring. And yes, these puppies often cost a lot of money, but trust me – most of the time, there is a great reason for it. So, if you find a great offer on a frenchie puppy, run away. The money you will "save" on the purchase will surely multiply in a while, when you will find all kinds of problems with you pup. Prices on French Bulldog puppies vary from country to country and can easily be quite an investment. In my honest opinion, it's one worth making, IF you want a good dog. And it doesn't matter that you only want it to be a couch potato (like our Chloé), and never intend to breed yourself. As I wrote, it's a decision that will influence your life for many years to come. Don't scrimp.
Buldog Francuski to obecnie bardzo popularna rasa. Dlatego przy podejmowaniu decyzji łatwo popełnić błąd. W tej chwili w Polsce roi się od ludzi "specjalizujących się w hodowli buldożków". Dobrze więc mieć w świadomości fakt, że dobre, uczciwe, rzetelne hodowle może być trudniej znaleźć wśród tych chcących się szybko wzbogacić na fali popularności rasy. Tyczy się to szczególnie ludzi, którzy o kynologii wiedzą niewiele. Dlatego właśnie nie należy się spieszyć. Niech to nie będzie decyzja podejmowana z dnia na dzień (i równie szybki zakup). Skupmy się najpierw na znalezieniu dobrego hodowcy, takiego, który jest pasjonatem i wielbicielem rasy. Idealnie jest, jeśli psy hodowane są w domu i regularnie wystawiane na psich wystawach.
Dlaczego wystawy? Dlatego, że one w dużej mierze gwarantują, że wykorzystane do hodowli psy reprezentują nie tylko porządane cechy eksterieru czyli wyglądu zewnętrznego, ale też charakterystyczne dla rasy cechy usposobienia. Bo rasa to zbiór obu grup cech, o czym wielu ludzi zdaje się zapominać. Dodatkowo, hodowcy regularnie wystawiający swoje psy, zwykle częściej poddają swoich ulubieńców gruntownym badaniom weterynaryjnym oraz uczestniczą w programach prewencyjnych. I tak, szczenięta pochodzące z takich miejsc kosztują niemało, ale wierzcie mi – nie bez powodu. Jeśli znajdziecie buldożka w świetnej cenie, uciekajcie. Wielokrotność tego, co zaoszczędzicie podczas zakupu, szybko może przyjść wydać na pomoc weterynaryjną. Ceny szczeniąt tej rasy wahają się w Polsce w przedziale od 1000 (odradzam!) do 7000 zł (za świetnie rokujące szczenięta po fantastycznych rodzicach), tak więc kupno dobrego szczenięcia to niemała inwestycja. Moim zdaniem nie należy na tym zakupie oszczędzać, bo tak jak pisałam, konsekwencje decyzji związanych z wyborem ponosić będziemy (nierzadko całą rodziną) przez wiele lat. I nie ma znaczenia, że sami nie zamierzamy psa wystawiać (podobnie jak my Chloé).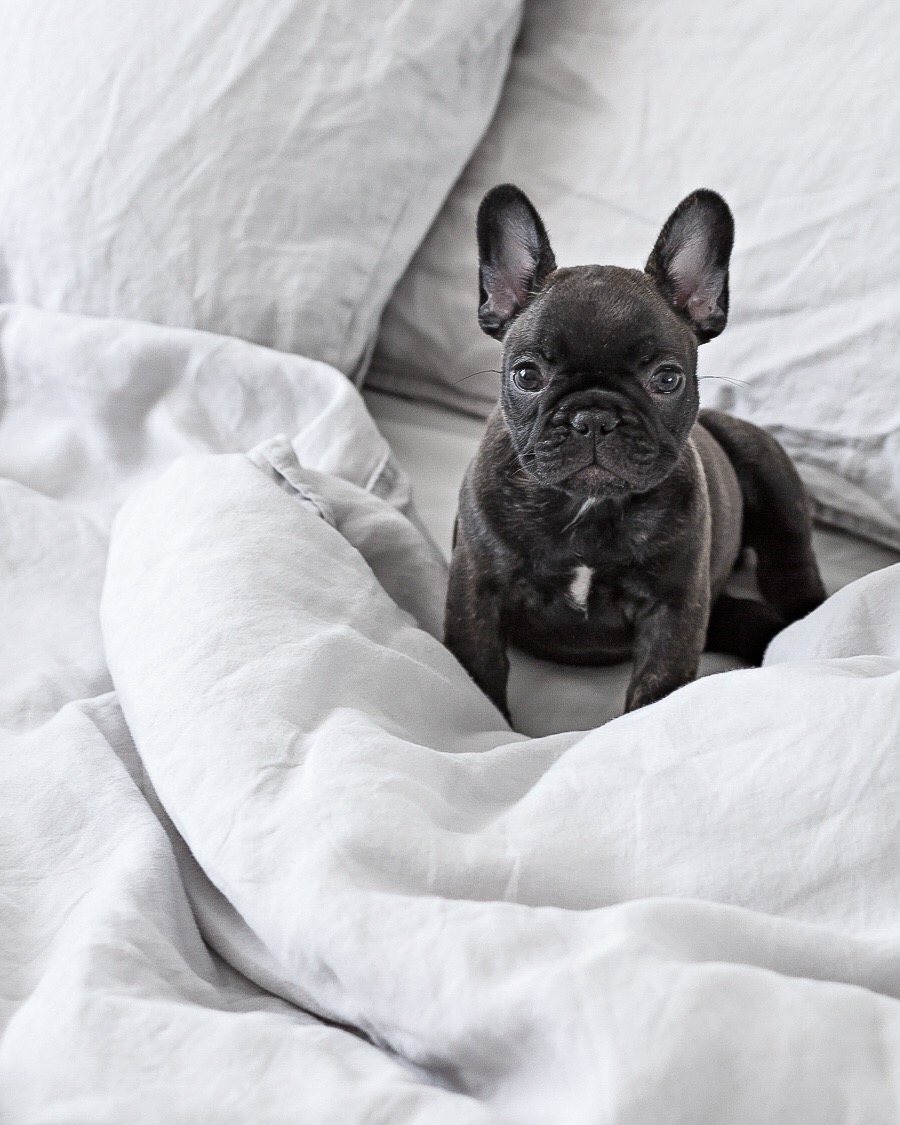 Again, just like two completely healthy people (with healthy parents) can get a child with serious health condition, even the best breeder won't give you any guarantee that his or her puppy will always be healthy. On the contrary, many lousy, self called breeders will. This is biology, not mathematics. That being said, the chances of going wrong gatting a puppy from a respectful breeder, are much smaller than if you just get a cheap puppy from someone who values quantity over quality.
When you finally find a good kennel, make contact, ask about planned litters, parents, possibilities, prices. Share information about yourself, your lifestyle, family status etc. And when you have a good connection, while you wait for that puppy of yours, learn as much about the breed as possible, find a good vet in the neighbourhood, become a member of social media groups with Frenchie owners (very possible that there even is one in your district or town). Get ready and embrace the waiting time. It's almost like waiting for a baby (keeping that in mind, remember that social media with all its info, can also be a curse :))
Last but not least, you should also get ready for possible surprises…
I znów, podobnie jak w przypadku pary dwojga zdrowych ludzi, pochodzących ze zdrowych rodzin, nie ma gwarancji, że wszystkie ich dzieci będą zdrowe. Tak samo jest z psami. Żaden dobry hodowca nie zagwarantuje Wam, że jego szczenięta to okazy zdrowia na kolejnych 15 lat (co ciekawe, często takie "gwarancje" dają kynologiczni hochsztaplerzy). Biologia to nie matematyka. Jednak wybór dobrej hodowli, minimalizuje ryzyko zakupienia psa, który w przyszłości będzie większym problemem niż radością.
Kiedy już znajdziecie hodowlę (polecam listę Związku Kynologicznego w Polsce), nawiążcie kontakt, zapytajcie o planowane mioty, ceny, warunki w jakich prowadzona jest hodowla, jej sukcesy. Dajcie się troche poznać, napiszcie o sobie, Waszej rodzinie, domu. I czekając na tego wymarzonego szczeniaka uczcie się o rasie, czytajcie, namierzcie dobrego lekarza w okolicy, zapiszcie się do grup właścicieli buldożków w mediach społecznościowych. Ze względu na wspomnianą gigantyczną popularność buldożków, istnieje szansa, że lokalne stowarzyszenie miłośników tej rasy funkcjonuje w Waszym mieście. Szykujcie się i cieszcie oczekiwaniem. To prawie jak oczekiwanie na dziecko. Pamiętajcie tylko, że z internetem trzeba ostrożnie, bo łatwo tu także o niepotrzebny zamęt. Wszystko z umiarem.
Na koniec – przygotujcie się też na niespodzianki.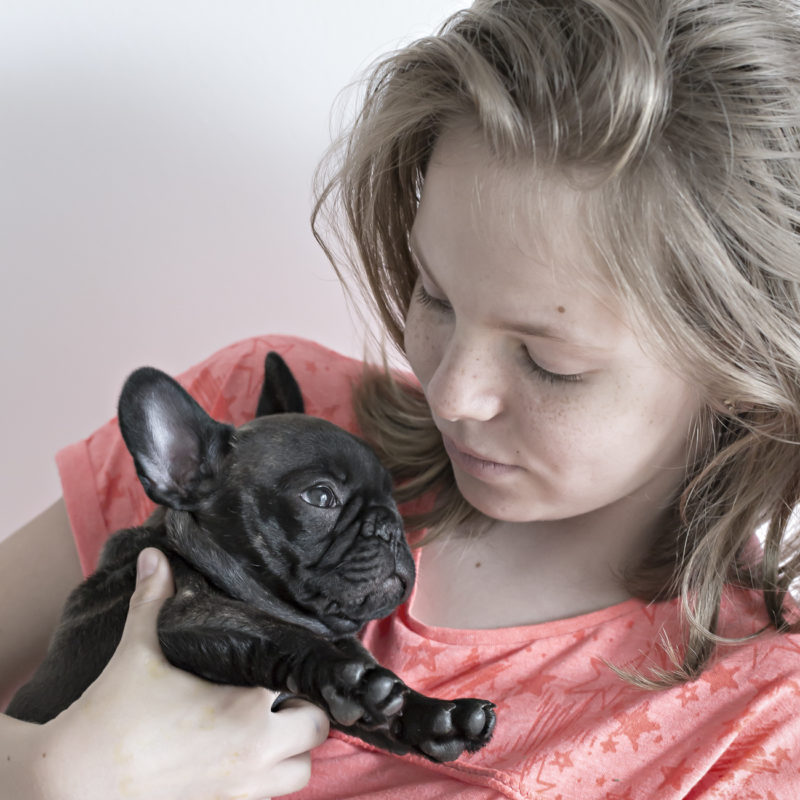 For a really long time I dreamed about a fawn frenchie bitch. I always pictured our dog to have that sweet black mask and fawn body. Until the day I found out that 4 lovely puppies were born, all brindle. What could I do? By the time I visited breeder 5 weeks later, I was already head over heels in love with this brindle baby, just from looking at pictures received several times a week (that's the good connection I wrote about!). And leaving my puppy for another 4 weeks so she could grow old enough was tough, I swear. Due to many reasons, it is not allowed to sell puppies younger that 8 weeks. No good breeder will ever allow you to separate puppies and mother sooner than that, although believe me – it is such a hard work to have those pups running around safely.
Od paru lat marzyłam o płowej suczce. Wyobrażałam sobie naszego buldożka z czarną maską i jasnym tułowiem, jakby to była oczywistość. Do dnia w którym dowiedziałam się, że w wyczekiwanym miocie urodziły się cztery pręgowane szczenięta. Co zrobić?! Gdy 5 tygodni później odwiedziliśmy hodowlę, aby zobaczyć naszą małą sunię, byłam w niej już totalnie zakochana, jako że hodowca kilka razy w tygodniu podsyłał kolejne zdjęcia (pisałam o tym, że ten kontakt jest ważny!). I kiedy pod koniec wizyty musieliśmy zostawić Chloé na kolejny miesiąc, było ciężko. Nie można oddzielać od matki szczeniąt młodszych niż ośmiotygodniowe i tu nie ma kompromisów, mimo że dla hodowcy to naprawdę ciężka praca zapewnić opiekę szczeniętom (i dużo "łatwiej" byłoby się ich "pozbyć" – kolejny punkt do przemyślenia, w kontekście nieodpowiedzialnych hodowców, bez względu na rasę).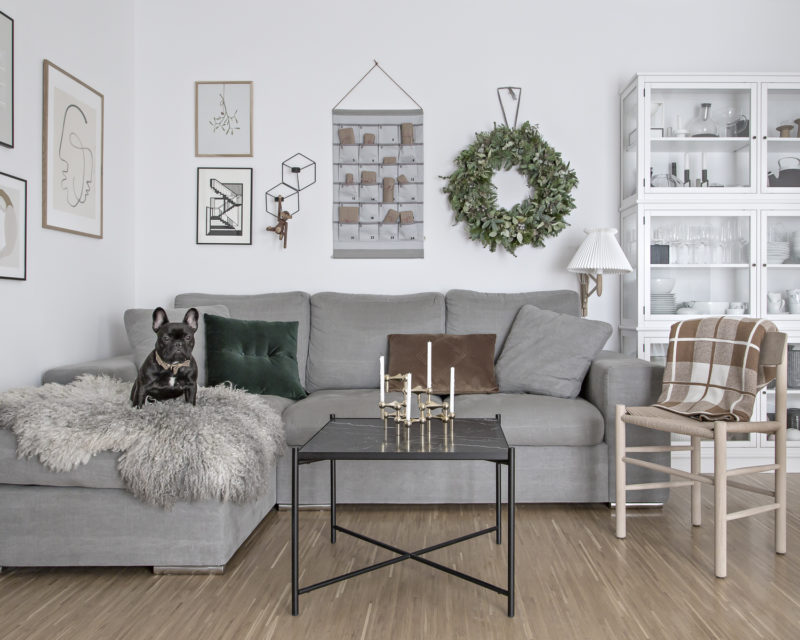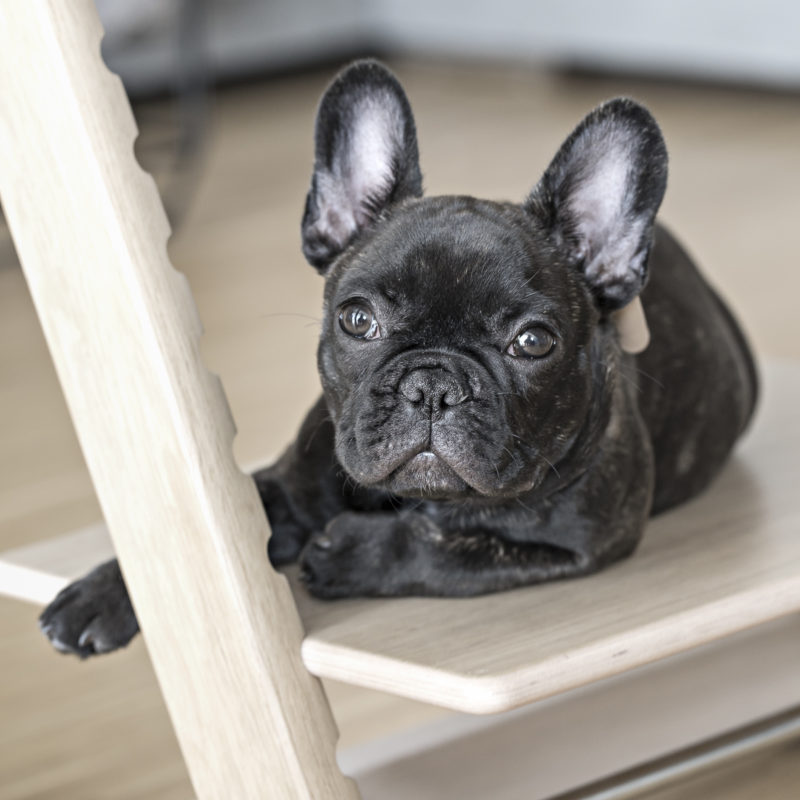 What worked with us and our puppy?
Well, for sure a puppy pen and balcony. Chloé stayed in her pen whenever alone or unattended, with her blanket, favourite toy and a bowl of water and an extra pee underlay. And whenever it was time to pee or poop, we brought her out to our balcony with a pee underlay in the corner. Praised a lot, she learned to ask to go out very fast, and while in her pen, she almost always used that underlay as well. She has not ruined a single shoe, bag or sock. Yes, she might have chewed some crayons or a couple of playing blocks, but that's kids' fault ;)
Co sprawdziło się u nas w kontekście szczeniaka?
Z pewnością kojec i balkon. Chloé zostawała w kojcu, kiedy tylko nie była pod naszą opieką. Miała tam swoje posłanie (polecam świetne produkty polskiej marki Psia Matka), ulubioną zabawkę, miskę z wodą i podkład higieniczny. Za każdym razem kiedy była pora na toaletę, wystawialiśmy ją na balkon, gdzie w kącie leżał kolejny podkład. Bardzo chwalona za każdy sukces, w mgnieniu oka nauczyła się, o co chodzi. Również w kojcu prawie zawsze załatwiała się na podkład. Nie zniszczyła ani jednego buta, torebki czy skarpety. Owszem, pożuła kilka kredek i ze dwa klocki, ale to już "zasługa" dzieci.
Regarding food, we used quality puppy food. There are many great brands like Royal Canine, Eukanuba or Hill's just to name a few. It is also good to remember that while the puppy is still growing, it is best to keep it on the slimmer side and rather give a tiny bit too little than too much. It will have plenty of time to catch up and build that super muscle body a bit later. It is a general rule for most puppies, especially those of "chunky" breeds. What I love about Chloé is, that she is one of those small Frenchies. At the age of one, she only weighs 8 kg. She's nice and compact and won't grow anymore.
W kwestii karmy, my polegamy na suchej. Na rynku jest wiele świetnych marek, jak chociażby Royal Canine, Eukanuba czy Hill's. Jak już znajdziecie karmę, która odpowiada psu, warto się jej trzymać, ale nie przekarmiać malucha. Zawsze lepiej mieć szczeniaka z minimalną niedowagą, niż nadwagą. Dotyczy to generalnie większości szczeniąt, szczególnie tych masywniejszych ras. Jak już urosną, nadrobią co trzeba. U Chloé podoba mi się bardzo to, ze jest drobna i kompaktowa. W wieku 12 miesięcy waży zaledwie 8 kg i już raczej nie urośnie (chyba, że wszerz ;)).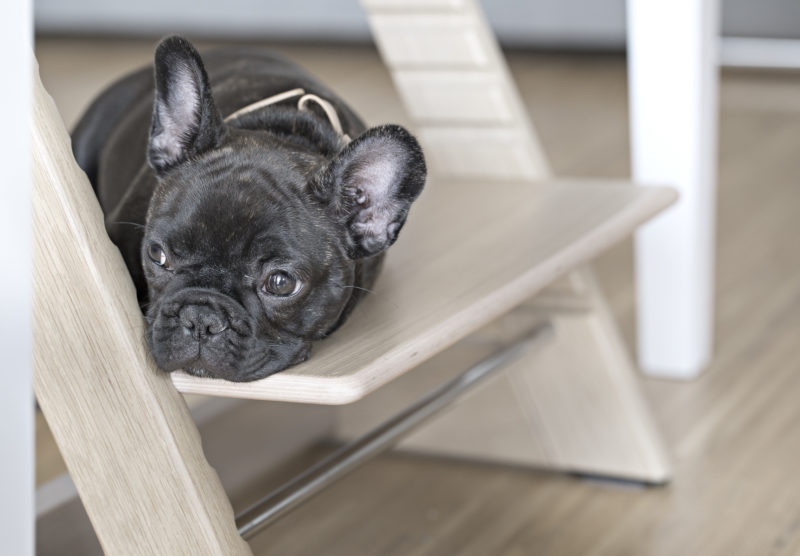 Now, in the early spring, it's time to give Chloé (and all dogs) the tick treatment so they are well protected, and can safely enjoy longer walks. Spring and fall are favorite seasons for Frenchies. As you surely know, these dogs don't like hot weather and it is very easy to overheat them (which can be life threatening). So no walks during hot days, unless you can get up at 5 am, before it gets too warm. Luckily, French Bulldogs don't need too much exercise and are fine with staying at home, with their favorite humans.
Teraz, na przedwiośniu, pora zabezpieczyć Chloé (i wszystkie inne psy) przeciw kleszczom, aby bezpiecznie mogły cieszyć się spacerami. Wiosna i jesień to ulubione pory roku tej rasy. Jak pewnie wiecie, buldożki nie lubią upałów i bardzo łatwo je przegrzać, co jest bezpośrednio niebezpieczne dla ich życia i zdrowia. Dlatego podczas fal upałów lepiej je trzymać w domu. No chyba, że lubicie wstawać o 5. rano, zanim jeszcze powietrze się za bardzo nagrzeje. Na szczęście rasa ta nie potrzebuje zbyt wiele ruchu i perspektywa zostania na kanapie z ulubionym człowiekiem może być dla buldożka nawet bardziej ekscytująca niż spacer.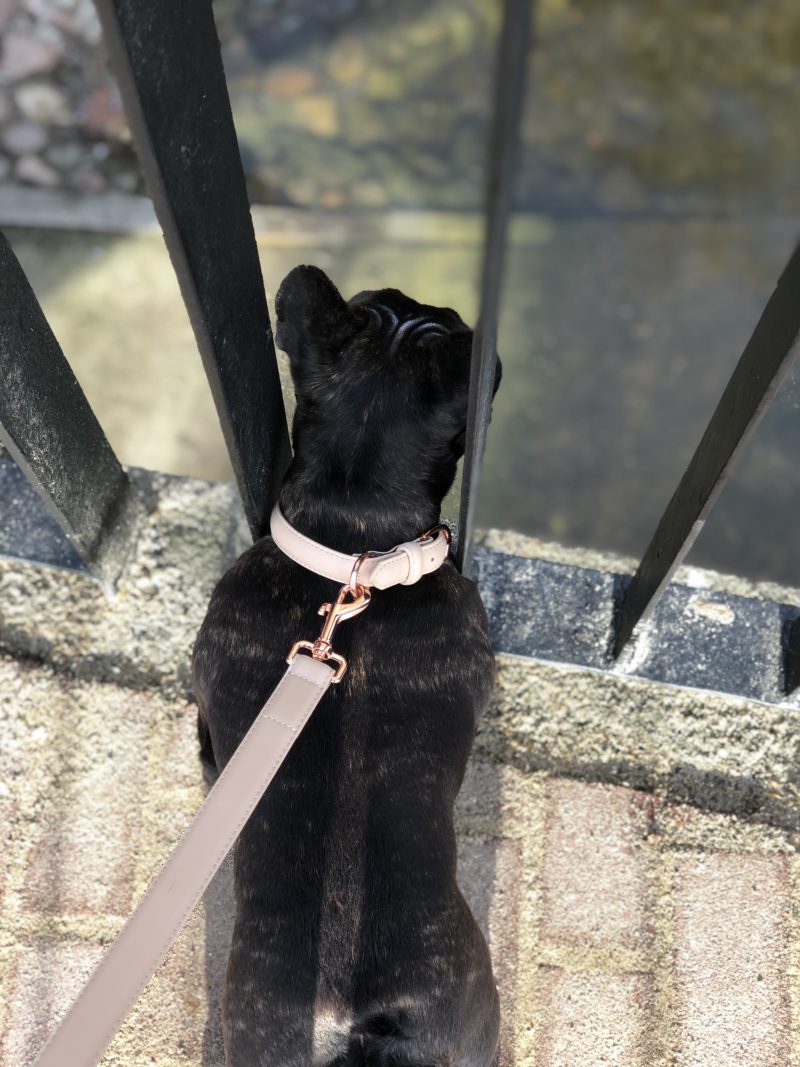 Summing up, if you would love a smaller dog with short hair and one that won't require whole lot of exercise, French Bulldog is definately a breed to consider. Eye, face folds and ear hygiene normally doesn't take more than half an hour a week (tops) and shredding is minimal, if fed correctly. Yes, they snore and make all kinds of funny noises, as soon as you touch them (or even look at them), but this is only to show their affection. And yes, adult Frenchies can have a tendency to get a bit unfriendly towards other dog's that they don't know, but if socialised correctly at the young age, this isue is easily manageable. The greatest chance for success here is to pick the right dog, responsibly and wisely, with your minds, and not so much with your hearts (look at this pure puppy!). There will be plenty of time for our hearts to take over once we have a good puppy, I promise!
Reasumując, jeśli marzy Wam się kochający, niewielki pies o krótkiej sierści, który dodatkowo nie wymaga zbyt wiele ruchu, warto rozważyć buldożka. Higiena oczu, fałdów i uszu, zwykle nie zabiera więcej niż pół godziny tygodniowo, a i linienie jest niewielkie, jeśli dbamy o odpowiednie żywienie. Tak, buldożki chrapią, a także wydają całą masę różnych dźwięków, kiedy tylko się je dotknie (albo na nie zerknie), ale tylko dlatego, aby okazać swoją wielką miłość do człowieka. I tak, dorosłe psy i suki tej rasy mogą okazywać brak sympatii do obcych psów, ale jeśli zadbamy o odpowiednią socjalizację za młodu, problem ten jest niewielki i łatwy w kontrolowaniu. Najważniejsze to dobrze wybrać szczenię – rozumem, a nie sercem (zobacz jakie biedactwo!). Jak już wybierzecie z głową, będzie masa czasu na fazę serca i kochanie na zabój, obiecuję!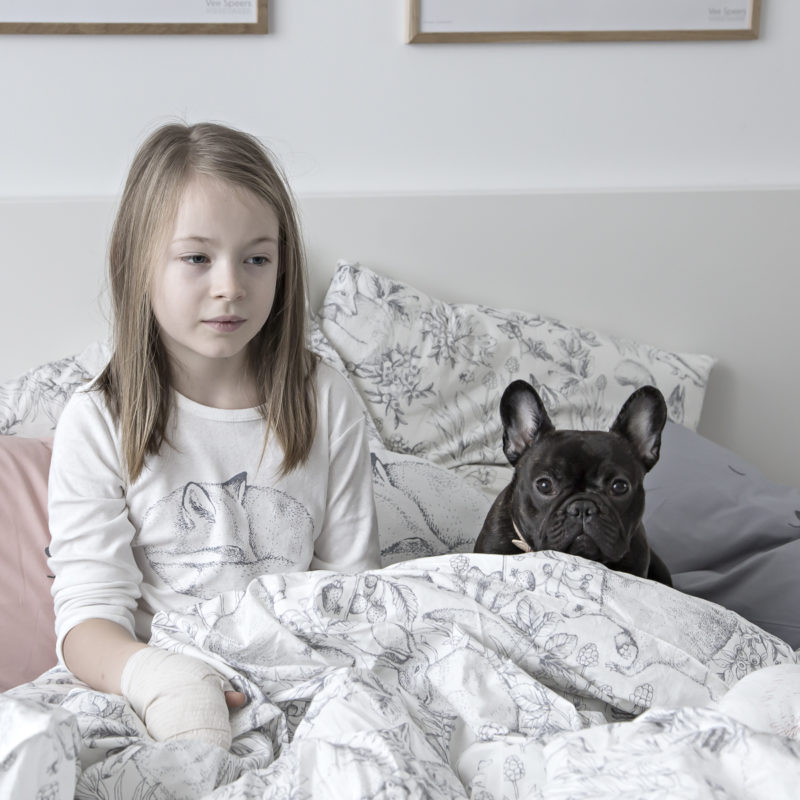 copyright Kasia Rutkowiak | My Full House | Any unauthorised use prohibited
Ps. Jeśli poważnie myślicie nad znalezieniem i zakupem buldożka, dajcie znać (najlepiej mailem), a podzielę się informacjami odnośnie mojej ulubionej hodowli.