I've been planning this post for quite some time and here it is. We got ourselves a "brand new" corner in the living room. During the past months we changed everything – from the sofa, through the coffee table, to the wall gallery. I am very happy that I gave myself time to think and decide without pressure, despite some "unsatisfied" readers. Because my full house is exactly what it says. My house, filled with people and feelings. And the most important is that we feel good here.
Back to the changes – although we changed everything (even repainted the walls), the changes are not huge. So all of you expecting a makeover might feel disappointed. The size of the room, the light and the fact that it needs to fit in the couch, dining space and my workspace, made me resign from any other wall color than white. I like many new paints and color hues which are on the market right now, but all that will have to wait till we will find a bigger place. Luckily I still love the white base and think that it compliments the neutral furniture. Or the other way around, if you wish.
Nowy kącik w salonie
Nadszedł od bardzo dawna planowany post, o naszym "nowym" kąciku w salonie. Przez ostatnie miesiące zmieniło się tu wszytsko – od kanapy, przez stolik, aż po dekoracje ścian. Jestem bardzo zadowolona z faktu, że nie poddałam się presji czasu (i niektórych czytelników) i urządziłam całość bez pośpiechu. My Full House jest bowiem przede wszystkim tym na co wskazuje nazwa – moim domem, wypełnionym ludźmi pełmymi emocji. Dlatego najważniejsze jest, aby zmiany dokonywały się w naszym tempie.
A wracając do samych zmian – choć zmieniło się tu prawie wszystko, nie jest to żadna rewolucja. Nawet ściany zostały odświeżone na ten sam, biały kolor. Mimo, że jestem oczarowana wieloma zgaszonymi barwami dostępnych obecnie farb, rozmiar pomieszczenia, światło oraz fakt, że pokój służy jako miejsce posiłków, pracy i odpoczynku sprawił, że biel wciąż sprawdzi się tu najlepiej. Inne kolory muszą zaczekać na kolejne mieszkanie. Na szczęście biały kolor jest idealnym tłem dla całej reszty. Choć może to reszta lepiej się prezentuje na białym tle? Na jedno wychodzi.
The biggest (although not too noticable) changes is the new sofa. This one, also grey, is a bit bigger than the previous one, allowing us to sit more comfortable during family cuddles and watching TV. When you are 2 grown ups and 4 kids you do appreciate every extra centimeter of space. I really like the grey fabric on this sofa, with a linnen feel and the color is perfect for it as well. The new coffee table from Handvark with black marble top is a big smaller and slightly taller than the previous one and is a very nice change. Finally – our white walls. Changing the gallery was the hardest part and – once again – I am happy that I allowed myself to wait. In the end I decided to decorate with prints and posters – both graphical and botanical. I added some warmth to the wall all by hanging a hand woven tapestry. Ours comes from Ania – Weaving My Story and is custom made specifically for our living room.
It's already been some weeks since our "hygge" corner got a whole new look and I really like it. I am sure that I will change the wall decor, mix the posters a bit over time or exchange them with some new pieces. But for the coming weeks this part of our apartment looks absolutely good enough. You are more than welcome to share your thoughts, I'd love to hear what you think, Have a lovely Thursday!
Największą (choć nie dla wszystkich zauważalną) zmianą jest nowa kanapa. Zamówiłam ją z myślą o tym, że będąc większą od poprzedniej da nam nieco więcej miejsca na wspólne chwile razem. Podczas oglądania filmu w komplecie 2 plus 4 każdy skrawek ma znaczenie. Bardzo spodobało mi się obicie przypominające len, jak też jego kolor. Kanapę znajdziecie na stronie Moma Studio, pod tym linkiem. Kolor naszej kanapy to Shadow Grey 65. Nowy jest także stolik kawowy duńskiej marki Handvark z czarnym marmurowym blatem. Jest nieco mniejszy, a jednocześnie odrobinę wyższy od poprzedniego i stanowi fajną odmianę. Stoliki te już niedługo będą do nabycia w polskich sklepach. Na koniec – nasze białe ściany. Postanowiłam udekorować je plakatami z motywami graficznymi oraz roślinnymi. Nieco ciepła dodałam poprzez śliczną makatę od Ani z Weaving My Story. Ania w mig zrozumiała o jaki styl mi chodzi i wykonała na zamówienie idealną ozdobę stworzoną do tego pokoju.
Nasz nowy kącik cieszy nas już od kilku tygodni. Z czasem pewnie poprzewieszam to i owo na ścianach, może wymienię plakat czy dwa. Zanim to się jednak wydarzy, chcemy się nacieszyć stanem obecnym, który bardzo nam się podoba. Jestem ciekawa Waszych opinii, więc piszcie śmiało czy i Wam podobają się te zmiany.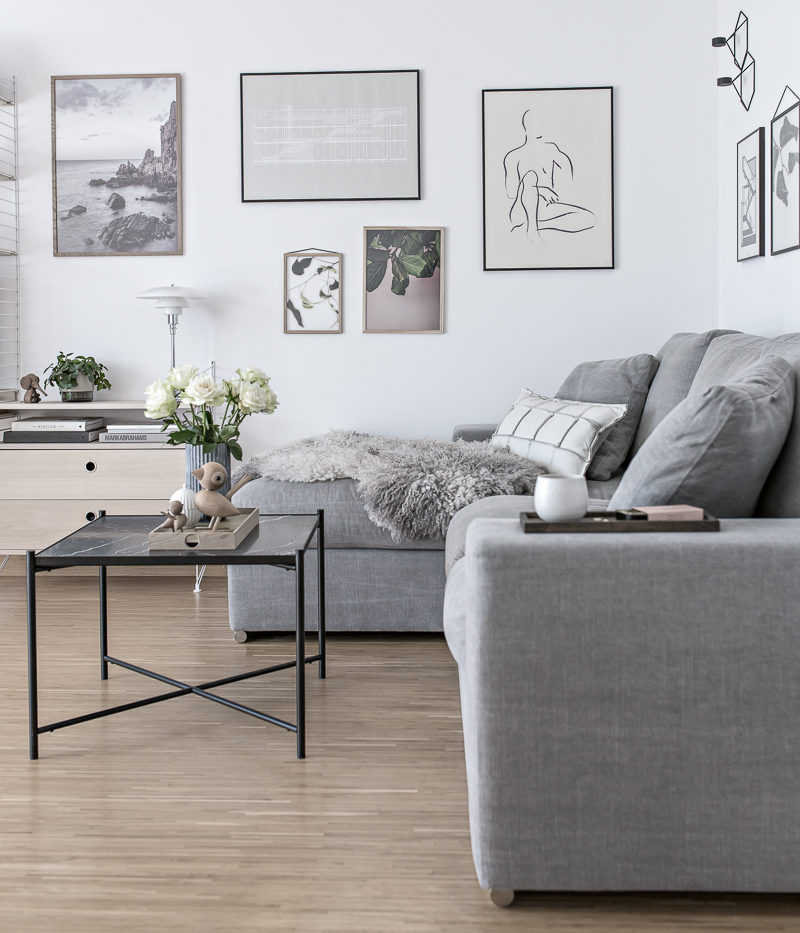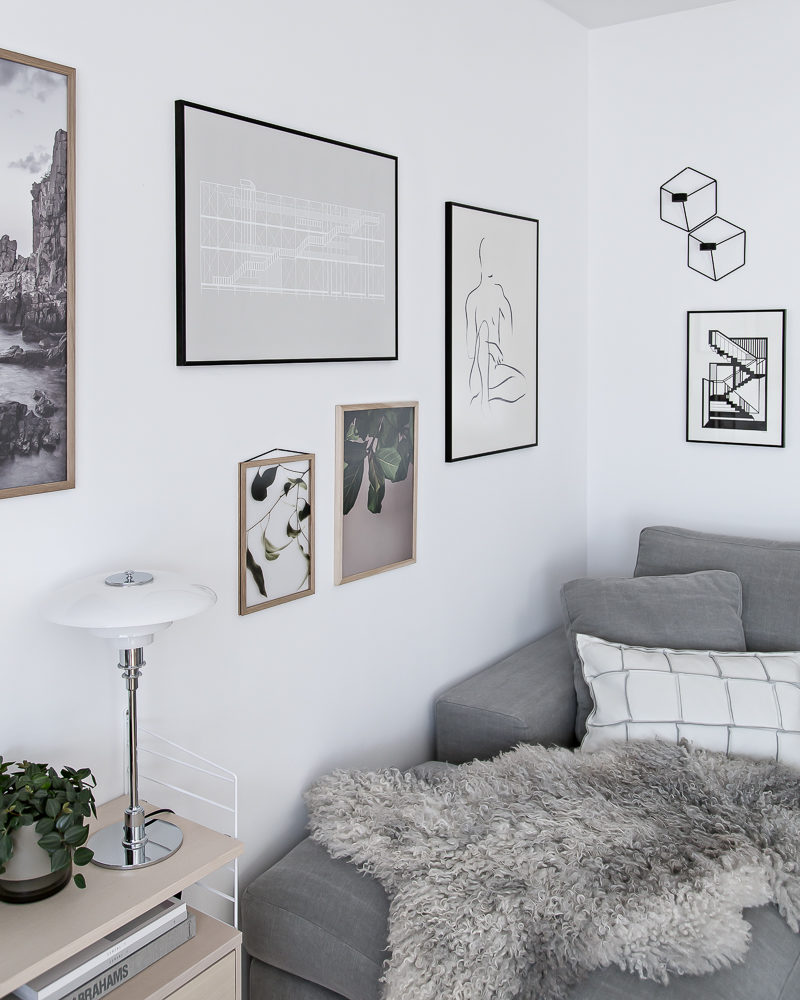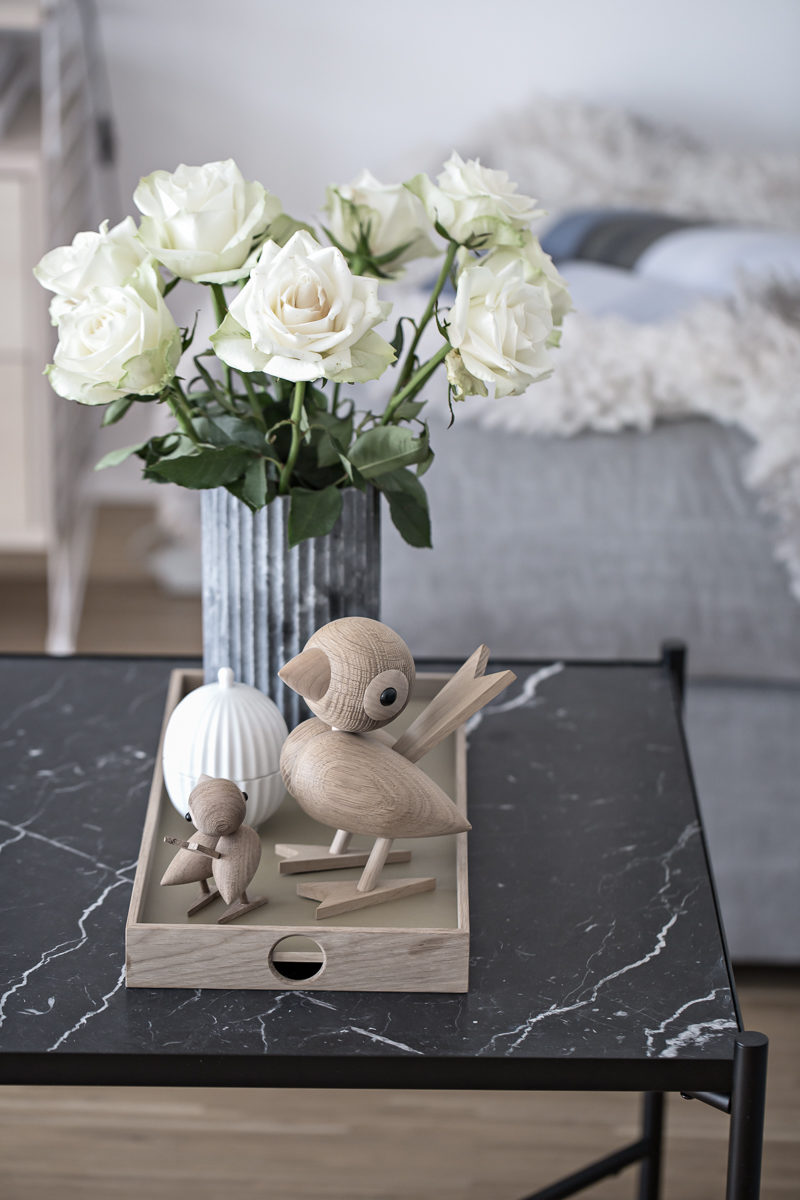 copyright Kasia Rutkowak| My Full House
Sofa / kanapa – Moma Studio, coffee table / stolik kawowy – Handvark, posters / plakaty – Kristina Dam Studio, by Garmi, Paper Collective, Foto Factory, sheepskin / skóra owcza – Milabert, tray / taca – The Oak Men, wooden sparrows / drewniane wróble – Lucie Kaas, leather pillow / skórzana poduszka – miiko.fi