Today it's time for one of my all times favorite, THE Lyngby Vase.
Every Scandinavian design enthusiast knows this shape and recognizes it amongst many other ones. Without doubt, Lyngby Vase is one of the most iconic Scandinavian vase designs. But unlike in the past, these days, these beautiful vases come in many colors, both in porcelain and glass… and in marble. To celebrate design's 80th Anniversary, Lyngby created stone versions of the vase, made from Portuguese marble. And as the shape of the vase was inspired by the classic greek dorian column, marble takes the design back to its roots. Coming in one size (20 cm) and 2 colors – Black and White, it's a true statement vase.
Especially the white version shows a lot of variety in color, depending on the stone itself. So if you buy the vase online, you never know what is hidden within a special, anniversary wooden box that it comes in. My white vase is very marbled. I like using it alone or mixing with other vases from my Lyngby collection. These vases are also perfect to decorate the space on their own, without flowers. A group of Lyngby vases is an elegant and simple way to lift the space.
Marmurowy wazon Lyngby – kwiaty na weekend
Nadeszła pora na jedne z moich absolutnie ulubionych wazonów – wazony Lyngby.
Każdy entuzjasta skandynawskiego designu bez trudu rozpoznaje je i odnajduje w gąszczu innych. Bez wątpienia, wazon Lyngby, to jeden z najbardziej klasycznych i rozpoznawalnych projektów duńskiego wzornictwa. Kiedyś dostępny tylko w wersji z białej porcelany, dziś występuje w wielu kolorach, tak w wersjach porcelanowych jak i szklanych, oraz w wyjątkowej wersji marmurowej. Marmurowe wazony Lyngby powstały dla uczczenia osiemdziesiątej rocznicy powstania wzoru i wykonywane są z portugalskiego marmuru. Ponieważ design zainspirowany został klasyczną grecką kolumną, stworzenie wazonu z kamienia było symbolicznym powrotem do źródeł. Marmurowe wazony występują w jednym rozmiarze (20 cm) oraz dwóch kolorach – białym i czarnym.
Wazony w wersji z białego marmuru charakteryzują się bardzo dużą różnorodnością wybarwienia (większą niż czarne). Kupujac wazon na odległość nigdy nie wiemy jaka niespodzianka czeka na nas w specjalnym drewnianym pudełku, w którym przychodzi. Mój posiada na przykład bardzo wiele żył. Lubię stawiać je pojedynczo lub w grupie z innymi wazonami. Wazony Lyngby idealnie nadają się też do ozdoby same w sobie, bez kwiatów. Kilka sztuk postawionych w grupie stanowi bardzo elegancką ozdobę wnętrza.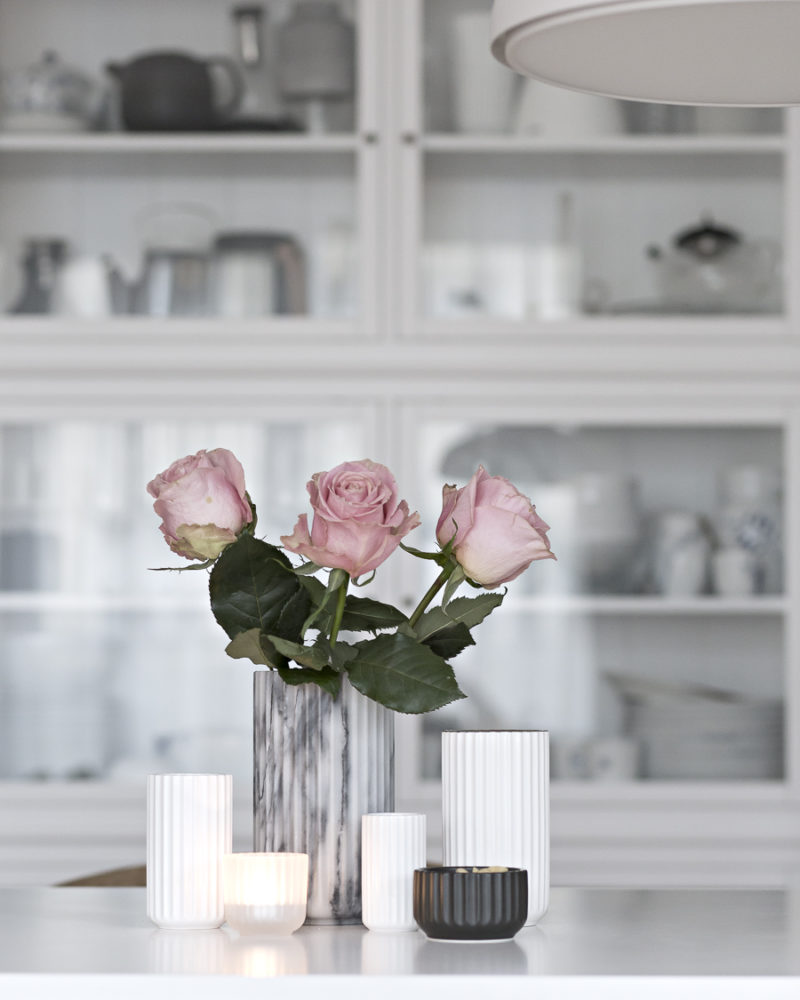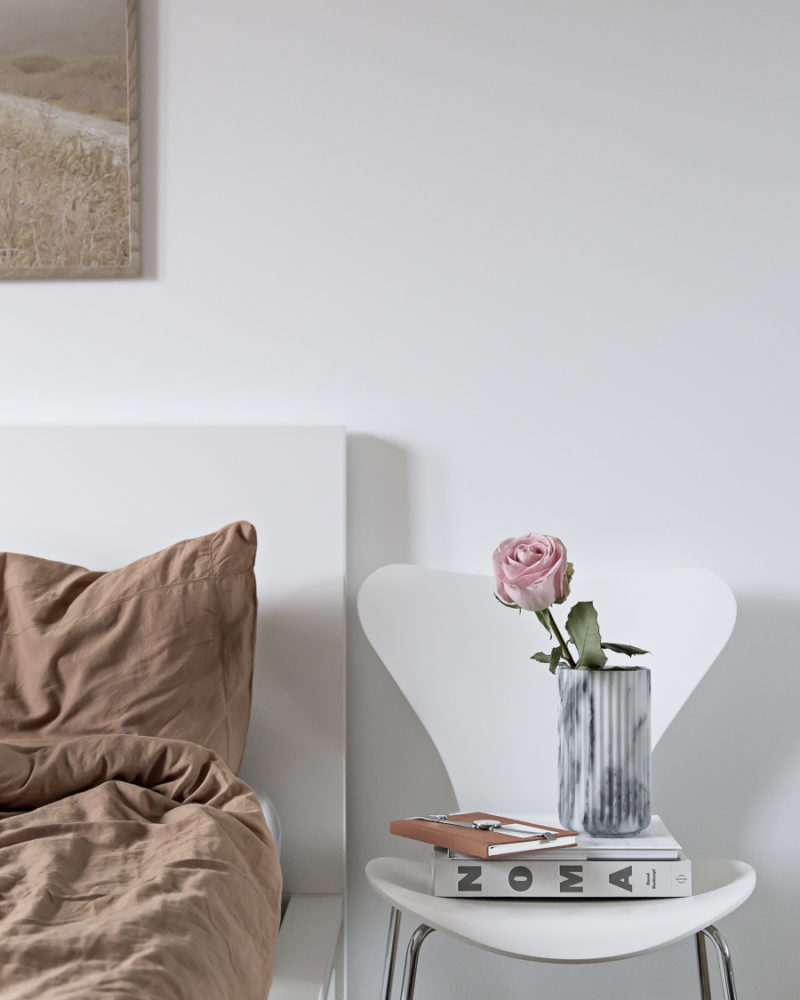 The marble looks lovely combined with both porcelain and wood. Contrast of the materials makes them all pop out in their own way.
Marmur pięknie łączy się z porcelaną i drewnem, na zasadzie kontrastu faktur i powierzchni, sprawiając, że poszczególne elementy nabierają każdy swojego wymiaru.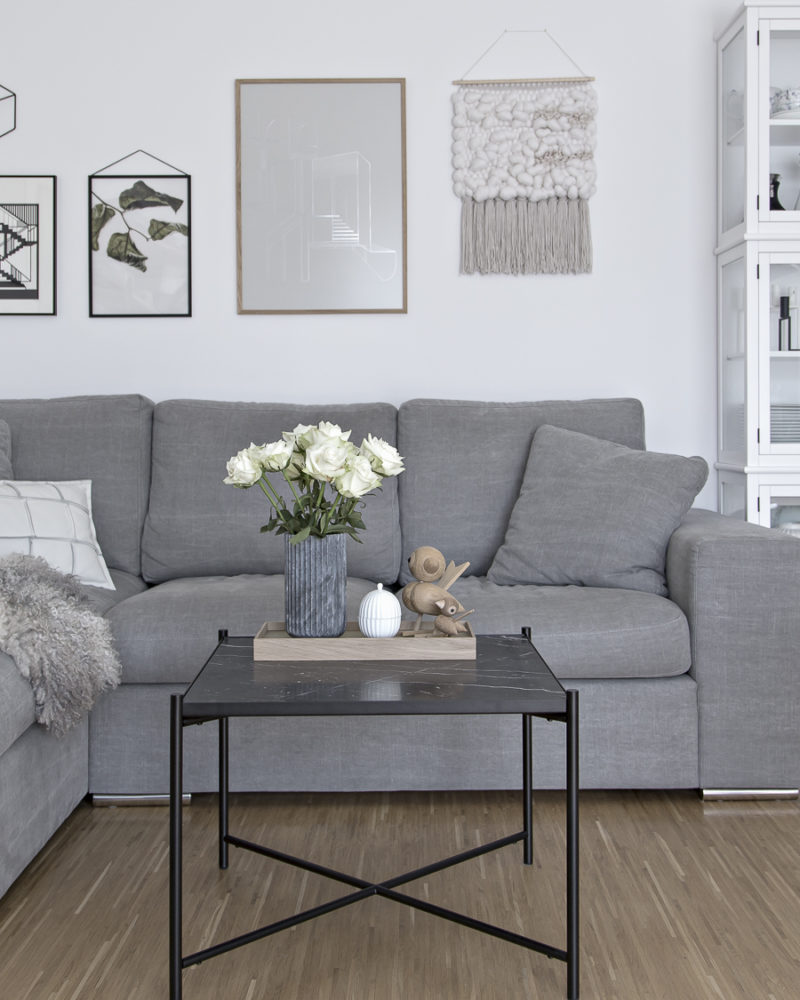 Copyright Kasia Rutkowiak | My Full House
Vases/ wazony – Lyngby (w Polsce do nabycia obecnie w sklepach House Shop, Magia Północy oraz Moaai ), coffee table / stolik kawowy – Handvark, couch / kanapa – Moma Studio