It is exactly 5 days till Christmas Eve. This year, the last Sunday of Advent falls on the 23rd. By that time, our home will be even more crowded (= my even more full house). Both us and kids cannot wait, although I think that we have different reasons. I am writing down last ideas, thoughts and filling my to do lists, constantly finding new things to put down on paper. There are still 2 projects I need to take care of before I can start those Christmas preparations for good. How about you?
Ostatnie dni Adwentu
Zostało dokładnie 5 dni do Wigilii. W tym roku ostatnia niedziela Adwentu wypada 23. grudnia. Do tego czasu nasze mieszkanie jeszcze bardziej się zapełni. Tak my jak i dzieci nie możemy się już doczekać świąt (choć pewnie z różnych powodów). Ja cały czas spisuję ostatnie zadania, wszystko co trzeba zrobić, kupić, o czym nie wolno zapomnieć. I ciągle przypominają mi się kolejne rzeczy do dopisania! Zanim bedę się mogła w pełni przestawić na tryb "święta" muszę jeszcze skończyć dwa projekty. A jak u Was? Jeszcze się skupiacie na pracy, czy już możecie odpuścić?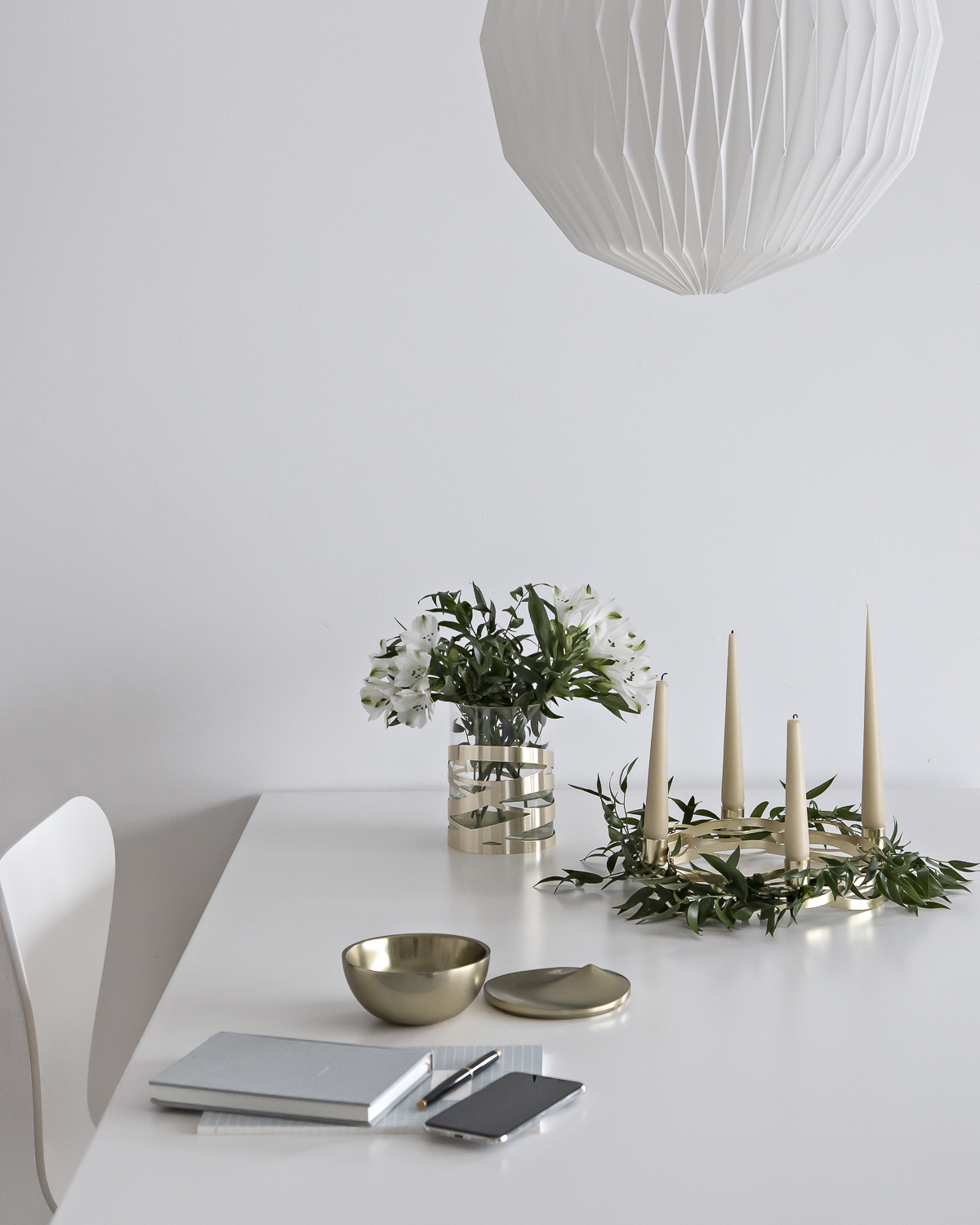 I really love the brushed brass details of the Tangle Vase and advent candleholder from Stelton. I did add some ruscus to the candleholder. Next year I will have some ornaments on my radar as well. The beautiful candles came from Danish Ester & Erik and I adore them. I chose the shortest ones (22 cm) and they burn beautifully. I have to stock up in more lenghts and colors as these are absolutely amazing. Funny how you can fall for a candle! But you can!
Uwielbiam szczotkowane mosiężne dodatki serii Tangle marki Stelton. Wazon ma idealną wielkość na mniejszy bukiet lub kilka dekoracyjnych gałązek. W świecznik adwentowy wplotłam trochę ruszczyku. Pierwotnie myślałam o użyciu eukaliptusa, ale z ruszczykiem wygląda lepiej. No i te świeczki! Pochodzą od duńskiej marki Ester & Erik i są fantastyczne. Wybrałam najkrótsze, długości 22 cm, ale muszę domówić więcej rozmiarów i kolorów, bo są absolutnie piękne i palą się jak marzenie. Mamuś, jeśli to czytasz, nie przewidziałaś się. Kiedyś było to nie do pomyślenia, a teraz… uwielbiam świeczki!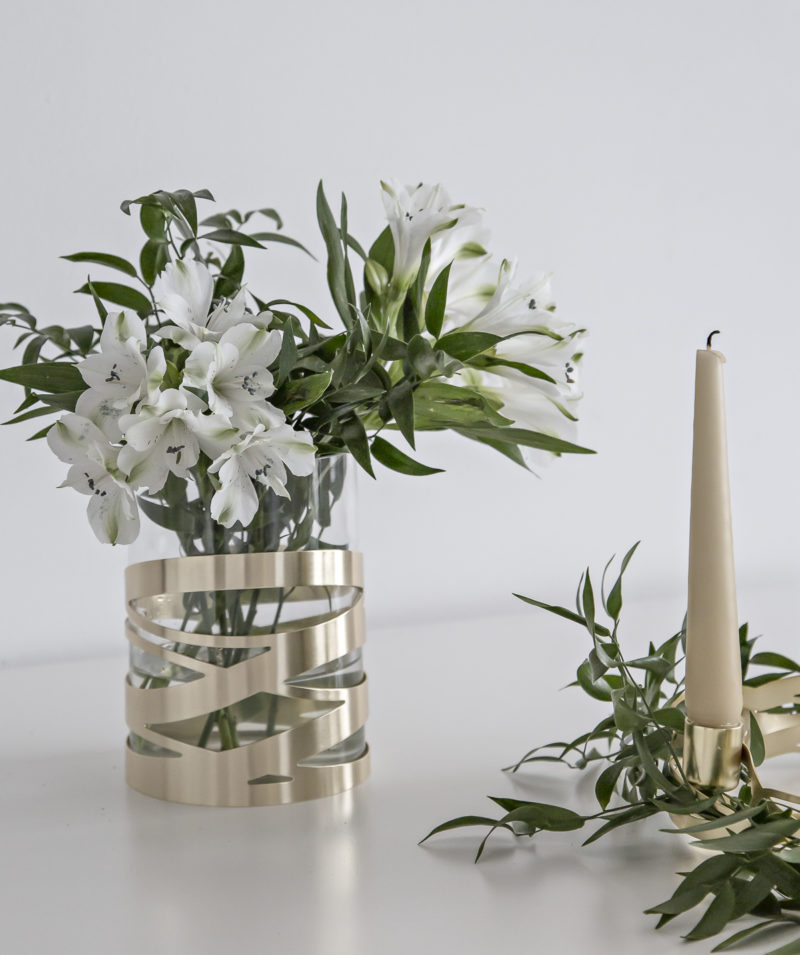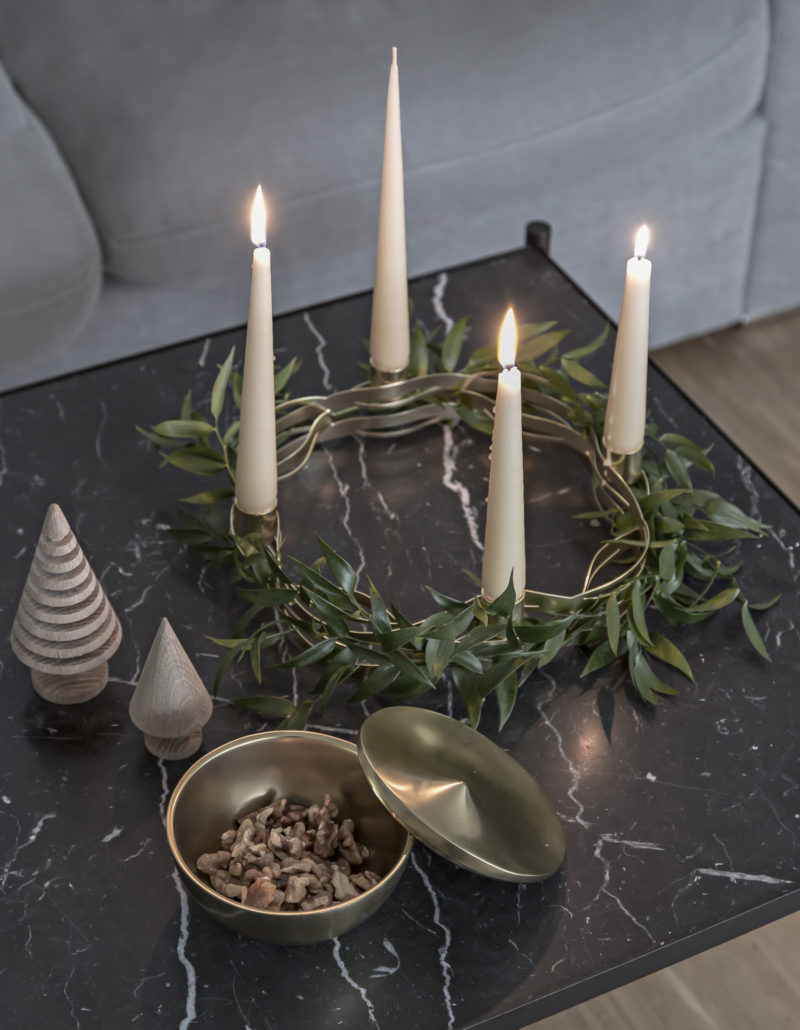 copyright Kasia Rutkowiak | My Full House | any unauthorised use prohibited
Vase, candleholder and bonnboniere / wazon, świecznik i bomboniera – Stelton, candles / świeczki – Ester & Erik, notebooks / notesy – Kartotek Copenhagen, wooden christmas trees / drewniane choinki – The Oak Men, lamp / lampa – LE KLINT