As I regularly get messages asking to incorporate Scandinavian fashion into my blog, I decided to share some of my favourite Scandinavian fashion brands. The first one that comes to my mind is By Malene Birger.
By Malene Birger started when I was living in Denmark and took Scandinavia with a storm. Led by Danish artist and Designer Malene Birger, the brand soon became key to the Danish fashion scene, appearing at Copenhagen Fashion Week from 2004, with the first flagship store opening in 2006.
Skandynawska moda – By Malene Birger
Ponieważ regularnie dostaję maile z prośbą o wprowadzenie do tematyki bloga skandynawskiej mody, postanowiłam podzielić się z Wami informacjami o moich ulubionych markach ze Skandynawii. Pierwszą, która przychodzi mi na myśl jest By Malene Birger.
By Malene Birger powstała kiedy mieszkałam w Danii i z miejsca zrobiła w furorę na rynku mody. Założona i prowadzona przez artystkę i projektantkę Malene Birger, krótko po powstaniu, już w 2004 roku pojawiła się na kopenhaskim Fashion Week, a w 2006 roku otworzyła pierwszy, piękny sklep flagowy w stolicy Danii.
As Malene stepped down from fashion design in 2014, other designers who combine aesthetics with real life concerns took over. Since 2017, By Malene Birger has been designed by Mathilde Torp Mader. A new look —one of intelligent but joyful chic— is now in the frame.
I am sure that many of you are familiar with By Malene Birger, especially it's signature flower print.
Malene opuściła markę w 2014 roku, przekazując pałeczkę młodym projektantom, którzy w swoich projektach łączą estetykę z potrzebami współczesnych kobiet. Od 2017 roku główną projektantką marki jest mieszkająca w Londynie Dunka Mathilde Torp Mader. Moda proponowana przez Mathilde to inteligentny, radosny, nowoczesny szyk.
Jestem pewna, że niektóre z Was znają By Malene Birger i charakterystyczny dla tej marki kwiatowy wzór, z którego na początku zasłynęła, a który do dziś przewija się przez wszystkie kolekcje.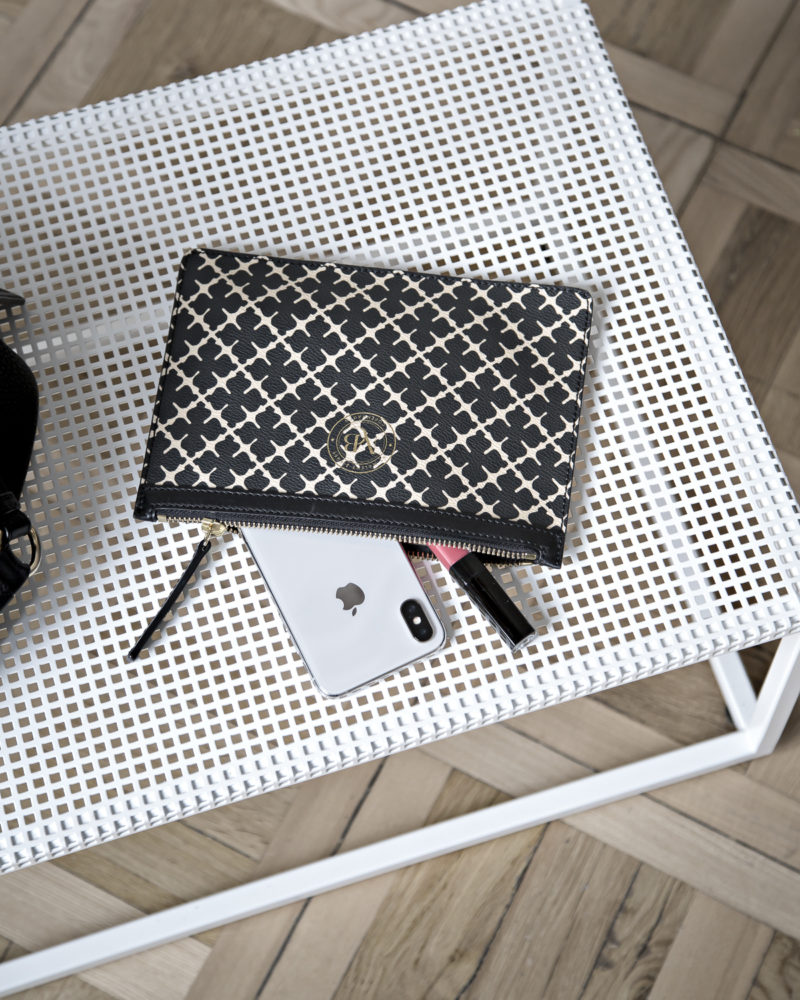 The brand is inspired by art, travel and the busy lives of women.
"We want to design collections that reflect our Scandinavian heritage. Across ready-to-wear, shoes and bags, we make sure each item is beautiful, purposeful, and feels relevant to the lives of the women for whom it is designed."
– says By Malene Birger statement
From my experience, I can clearly say, that all By Malene Birger pieces I own are very universal, well designed, made with attention to the smallest detail and versatile. My favourite ever must be my quite old creme and black dress (perfect for almost any occasion). Recently I also got a beautiful Biagio sweater in beige and a scarf with signature flower in black, beige, brown and green.
Markę inspirują sztuka, podróże i życie współczesnych kobiet.
"Chcemy tworzyć kolekcje, które ozdzwierciedlają nasze skandynawskie dziedzictwo. Przez rzeczy ready-to-wear, buty i dodatki, dbając o to, aby każdy produkt był ładny, użyteczny i wartościowy dla kobiet z myślą o których powstał"
– brzmi filozofia By Malene Birger.
Z doświadczenia mogę napisać, że wszystkie posiadane przeze mnie produkty By Malene Birger są uniwersalne, pięknie wykonane i wszechstronne. Tak jak moja ulubiona, kremowo-czarna sukienka, którą mam od kilku dobrych lat i która pasuje niemal na każdą okazję. Niedawno w mojej garderobie pojawił się też sweter Biagio i apaszka z klasycznym kwiatowym motywem marki z dodatkiem brązu, beżu i zieleni.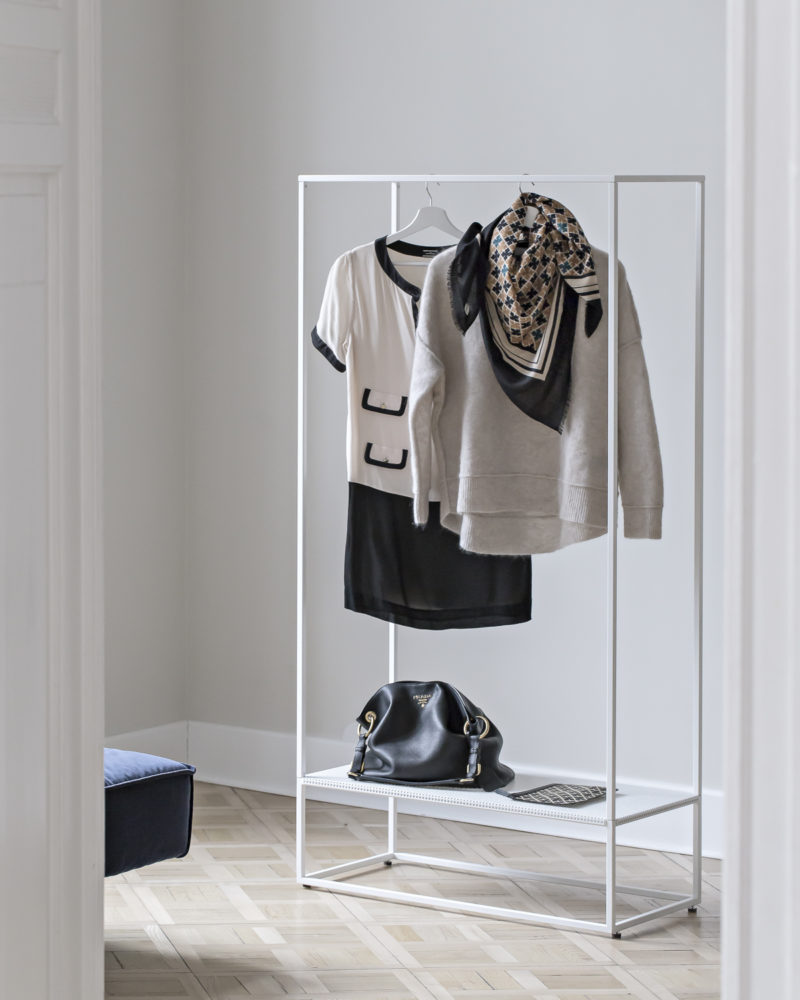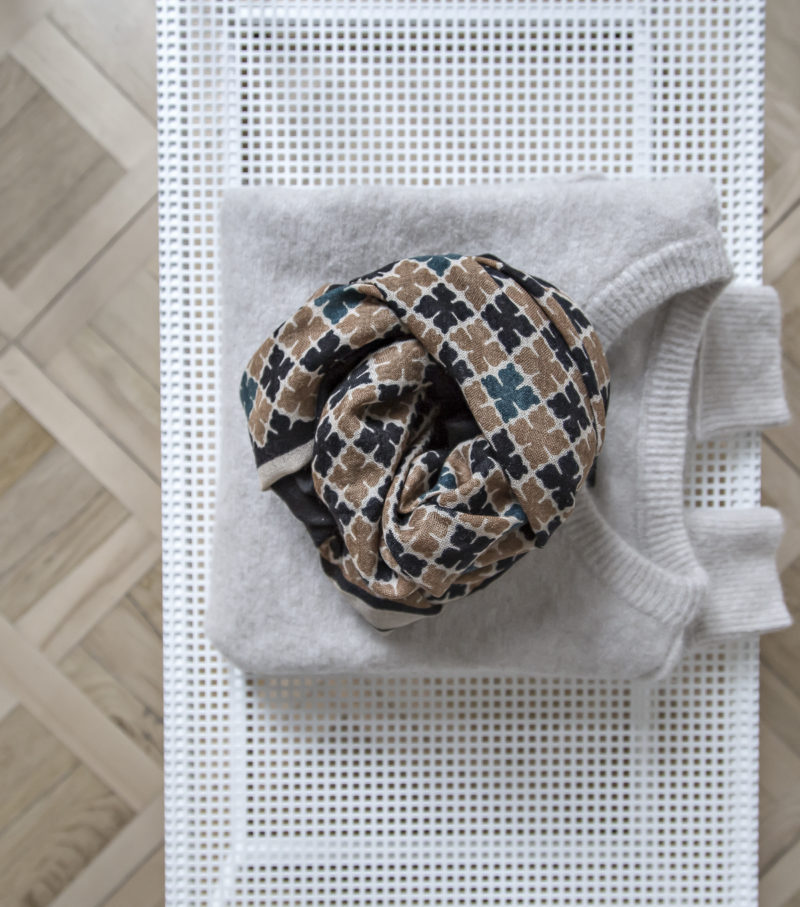 Na koniec mam też bardzo dobrą wiadomość dla miłośniczek skandynawskiej mody w Polsce. Wiele produktów z kolekcji By Malene Birger dostępnych jest u nas dzięki platformie Miinto.pl. Znajdziecie tam też dużo innych skandynawskich marek współczesnych projektantów – warto sprawdzić, szczególnie w okresie zmian kolekcji :)
A teraz przyznać się, kto już znał tę markę?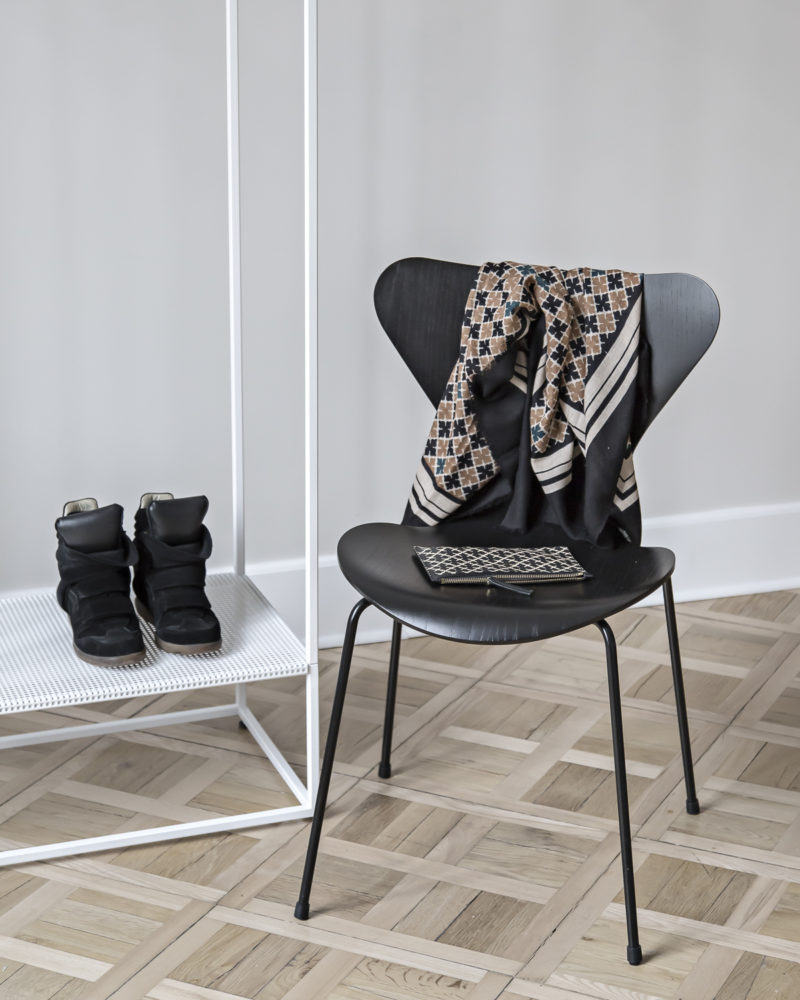 copyright Kasia Rutkowiak | My Full House | any unauthorised use prohibited
Coat stand / statyw na ubrania – Kristina Dam Studio, chair / krzesło – Series 7 Fritz Hansen, Clothing / ubrania – By Malene Birger – miintoo.pl