(and a discount code to get Scandinavian posters)
I used to love summer for it's holidays, freedom, sun and the possibility of being carefree. Now, as an adult and a parent, I did change my attitude :) One thing is – I don't have all that feedom and the possibility of being carefree, another – I have to make sure that my kids feel just as I did when I was their age. And making sure that your children feel the magic of holidays for the entire 10 weeks (that's how long the school holidays are here in Poland) is a real challenge. Luckily, I did manage to find them all some summer activities. They just went to spend some weeks away from the city. Now I have a quiet home and some quality work time, without feeling guilty that I either don't work enough or neglect the children (sounds familiar?). I still lack that summer feeling, due to work. That's why I decided to change it, if just a bit, by adding summer vibes to our apartment with a simple trick.
Powiew lata w naszym mieszkaniu
i kod rabatowy do zakupu skandynawskich plakatów
Będąc dzieckiem, jak chyba każdy, kochałam lato za wakacje, wolność słońce i bztroskę. Teraz, kiedy sama mam dzieci w wieku szkolnym, moje podejście do lata uległo diametralnej zmianie. Nie mam już beztroskiej wolności. Zamiast niej pojawiło się poczucie odpowiedzialności za to, aby moje dzieci mogły czuć się dokładnie tak, jak ja gdy byłam w ich wieku. Każdy pracujący rodzic wie, jakie to wyzwanie zorganizować beztroskie wakacje dzieciom przez 10 tygodni. Chwilowo udało mi się zapewnić im rozrywkę z dala od miasta i na kilka dni zrobiło się cicho. Mogę popracować bez poczucia winy, że albo zaniedbuję obowiązki w pracy, albo dzieci (brzmi znajomo?). A ponieważ wciąż brak mi tego poczucia, że sama mam wakacje (bo ich nie mam), postanowiłam się ratować w inny sposób. I tak właśnie w mieszkaniu pojawiły sie prawdziwie wakacyjne akcenty.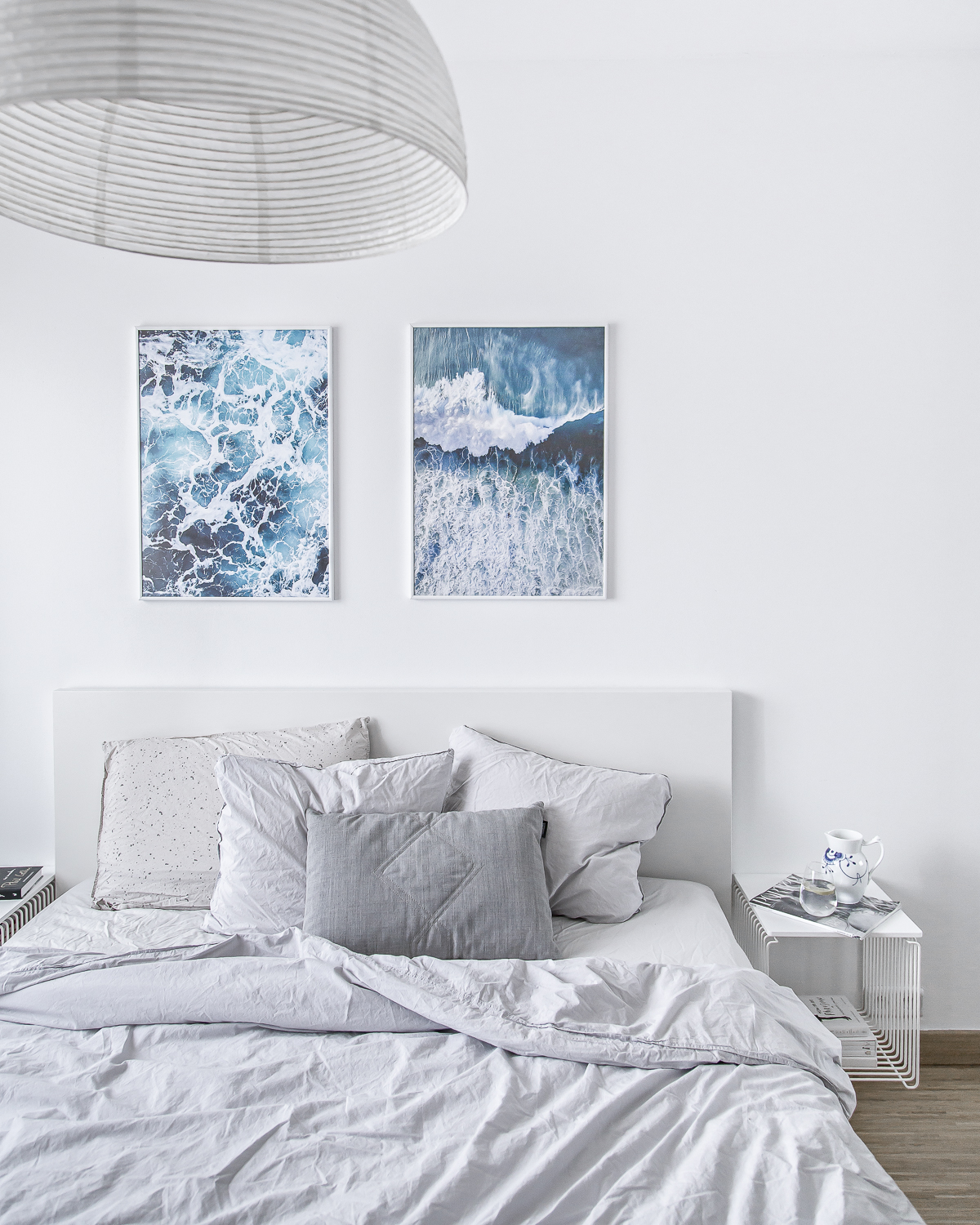 Posters are the easiest way to change the mood or the theme of any room. I did show it many times, and I will continue to do so, because I just love the trick that posters do. For this particular change, I did pair with Swedish company Desenio, offering a very wide selection of posters to suit any home. Especially Scandinavian style fans will love the wide range of wall art, available at Desenio's webshop.
Back to our apartment :) I chose a really summer theme for the bedroom in the colors that I don't usually pick. I am a girl who grew up on a coast and who lived over a dozen years on a little island. Now, far away from the sea, I do miss it. And just like many of us, I associate sea with holidays. Especially a blue sea like this. For the wall behind the bed, I chose a Sea Foam and Surfers Wave posters in size 50×70.
Plakaty to najłatwiejszy sposób na zmianę nastroju we wnętrzu. Pisałam o tym wiele razy i dalej będę to robić, gdyż uwielbiam tę "plakatową sztuczkę". Tym razem w zmianach pomogła mi szwedzka marka Desenio, która oferuje niezliczoną ilość plakatów do każdego wnętrza. Szczegolnie miłośnicy skandynawskiego stylu bedą zachwyceni asortymentem sklepu.
Wracając do naszego mieszkania, do sypialni wybrałam dwa plakaty w kolorze, który rzadko się u nas pojawia. Urodziłam się nad morzem, kilkanaście lat mieszkałam też na niewielkiej wyspie. Teraz, mieszkając z dala od morza i fal, tęsknię za nimi. I tak jak wielu z Was, to z morzem kojarzą mi się prawdziwe wakacje. Szczególnie z takim niebieskim jak to! Nad łóżkiem zawiesiłam więc plakaty Sea Foam oraz Surfers Wave w rozmiarze 50×70.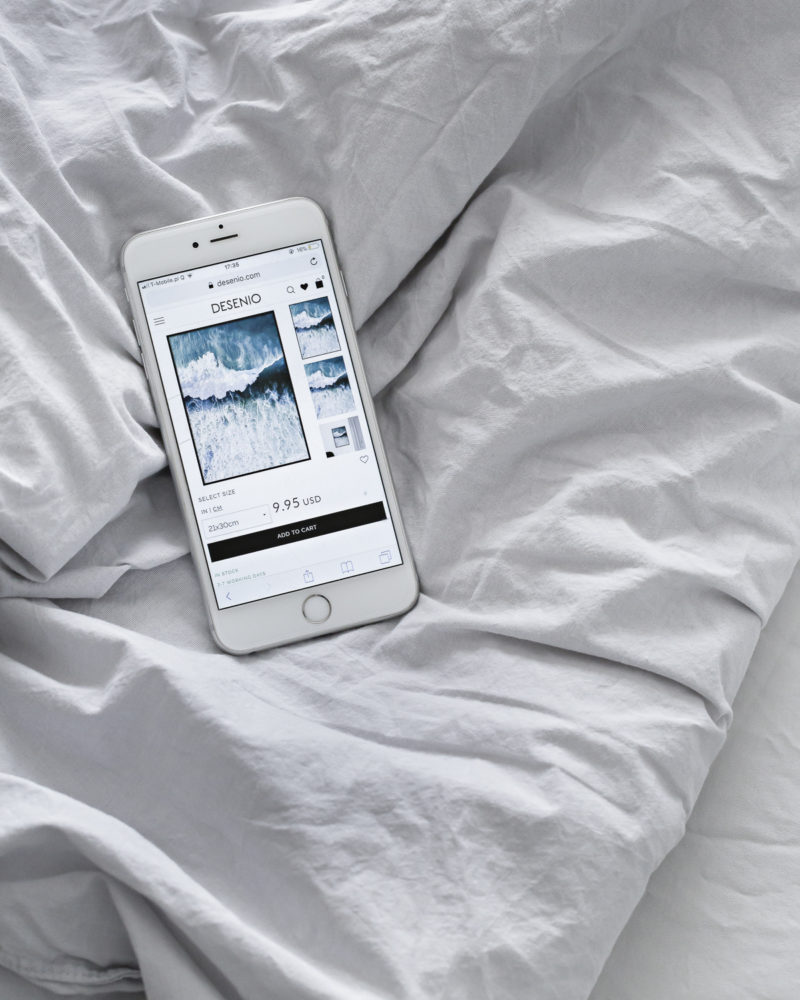 I like how these two look together, bringing the ultimate summer vibes into our bedroom, although from what you can see on the picture above, each of them can easily be paired with many other motives. The possibilities are endless. If you lack the imagination or more inspiraton, you should check out the poster pairs ideas on Desenio's website.
Just look at this foam… It screams "holidays"!
Podoba mi się to, jak te dwa plakaty współgrają ze sobą. Wprowadzają do sypialni prwadziwie letni nastrój. Z tego co widać na zdjęciu powyżej, każdy z nich można z powodzeniem łączyć z innymi motywami. Jeśli brakuje Wam wyobraźni odnośnie końcowego efektu, albo potrzebujecie więcej inspiracji, warto przejrzeć wskazówki Desenio odnośnie parowania plakatów.
I spójrzcie tylko na tę morską pianę. Czyż nie krzyczy "wakacje"?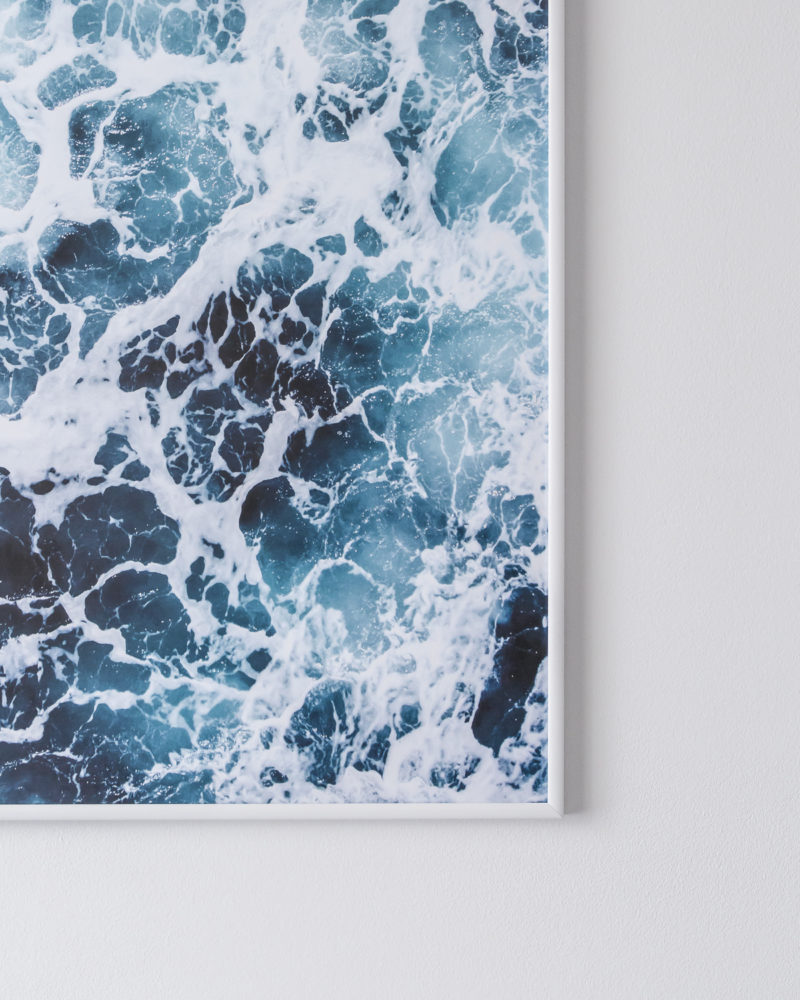 The bedroom, however, is not the only room, where I added summer vibes. Longing for a REAL holiday, with sun, water, drinks, and palm trees, I chose a Pink Palm for our living room as well. I haven't been on a holiday like this for far too long and this tropical image somehow makes it easier to wait for the real thing.
Jednak sypialnia to nie jedyny pokój, do którego postanowiłam wprowadzić pierwiastek lata. Jeszcze jeden nowy plakat zawisł w salonie. Wybrałam motyw Pink Palm, gdyż palmy nieodłącznie kojarzą mi sie z "prawdziwym" urlopem. Tropikalny widok pamowych liści na różowym tle sprawia, że w pewien sposób łatwiej mi się czeka na wymarzone wakacje.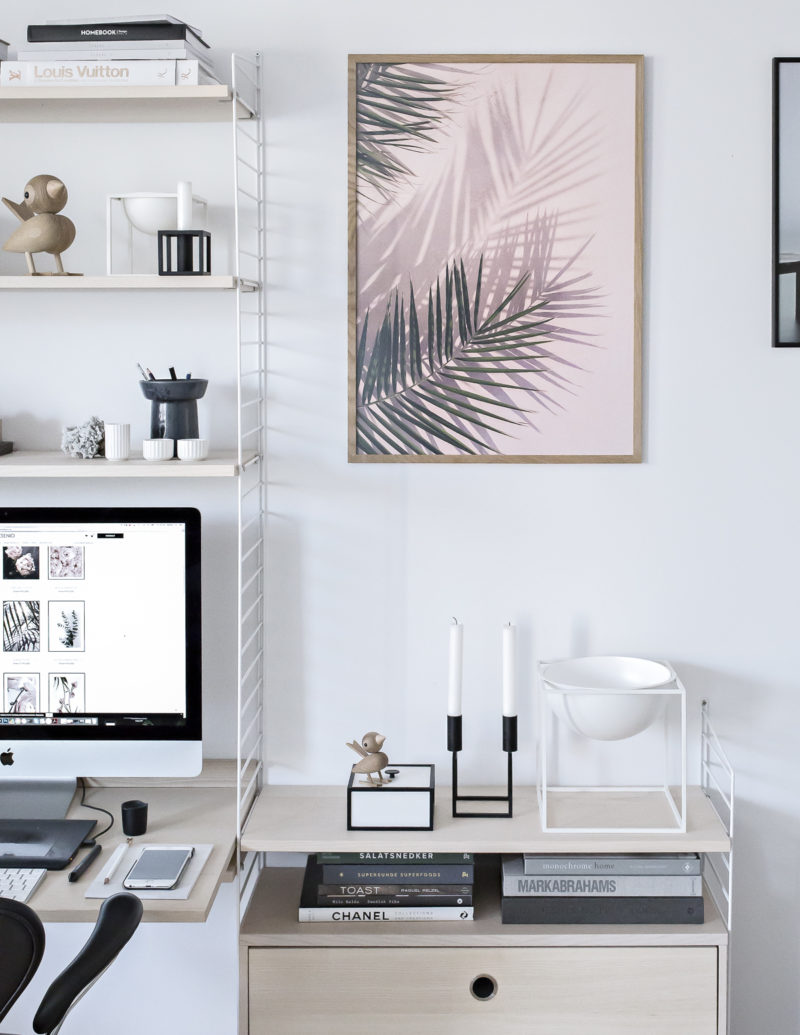 If you like my summer poster inspiration, or if you happen to look for a place with endless possibilities regarding wall decor art, please check the Desenio's website. It is a really nice place to shop, beautifully designed and easy to maneuver. As a special treat, I have a discount code valid for 3 days, starting from now!
The code "myfullhouse" gives 25% off posters* between 6th – 9th of July. 
*Except for frames and handpicked-/collaboration posters
Jeśli podobają Wam się moje letnie zmiany, albo jeśli poszukujecie inspiracji w kontekście aranżacji ścian, koniecznie sprawdźcie stronę Desenio. Sklep internetowy jest piękny i łatwy w obsłudze. Mam też dla Was niespodziankę – kod zniżkowy.
Kod "myfullhouse" daje 25% upustu na plakaty* w dniach 6 – 9 lipca. 
*Nie dotyczy ram i plakatów serii handpicked oraz collaboration
copyright Kasia Rutkowiak | My Full House | any unauthorised use prohibited
This post was made in cooperation with Desenio. Any stated opinion is my own / post powstał przy współpracy z Desenio. Wyraża moje osobiste opinie.