While the entire Instagram has been literally drowning in lilacs, I haven't posted a single image of them. I guess I just had too much. In stead, I feel drawn to another spring favorite of mine – the gillyflower. When I came across my florist yesterday, I couldnt help but notice these amazing gillyflowers in quite an unusual color.
Lewkonie i rodzinna historia
Podczas gdy od kilku tygodni instagram tonie w bzach (bzie?), ja nie opublikowałam ani jednego "bzowego zdjęcia". Chyba po prostu mi się "przejadły". Dla odmiany, pociągają mnie inne wiosenne kwiaty, na przykład lewkonie. Kiedy więc przechodziłam dziś koło kwiaciarni i zauważyłam te piękne kwiaty w wyjątkowym kolorze, nie mogłam się oprzeć.
There is a special gillyflower story running in my family. On the day when my mom was taking her master exam after her studies, her boyfriend bought many gillyflowers and placed them all over her dorm room. And by many, I mean several buckets filled with gillyflowers. If you ever smelled them, you know how amazing (and strong!) they smell. So, when Mom entered her dorm (after she did pass her exam with flying colors), she could smell gillyflowers already in the hall. Her room looked incredible, and the sweetness of the smell was almost unbearable.
I always, always, always think of this story when I see these pretty blooms. This story and my Mom.
W naszej rodzinie krąży szczególna historia związana z lewkoniami. W dniu, w którym moja Mama broniła pracy magisterskiej, jej ówczesny chłopak, pod jej nieobecność w akademiku, wypełnił jej pokój lewkoniami. Pisząc "wypełnił", mam na myśli całe wiadra lewkonii. Jeśli znacie te kwiaty, wiecie jak pieknie i intensywnie pachną. I gdy po obronie Mama wróciła do akademika, już na korytarzu czuć było ten słodki zapach, a pokój wyglądał jak z bajki (choć zapach trudno było wytrzymać).
Kiedy więc widzę (i wącham) te kwiaty, zawsze – dosłownie zawsze! – myślę o tej historii. O tej historii i o Mojej Mamie.
Jeśli to czytasz Mamuniu, te kwiaty są dziś dla Ciebie!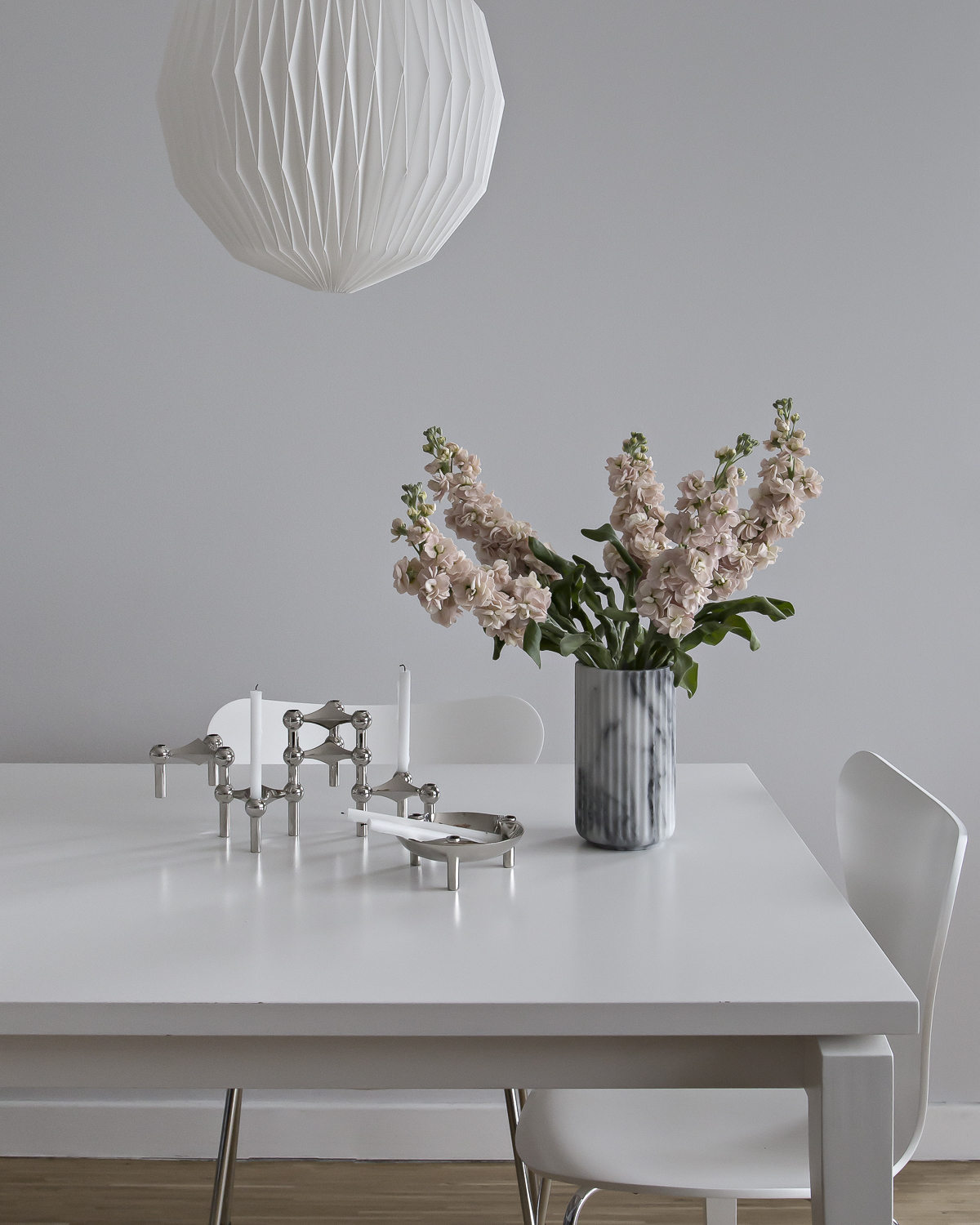 copyright Kasia Rutkowiak | My Full House | any unauthorised use prohibited
marble vase / marmurowy wazon – Lyngby, candleholder / świeczniki – Stoff, lamp / lampa – LE KLINT model 101, chairs / krzesła – Fritz Hansen (Scandinavian Living Warszawa), table / stół – TON