There's many things one can get excited about, however a trash bin is not the first thing that comes to my mind. Mistake. After publishing our Showroom Kitchen post some time ago, I got many messages asking about the Vipp Bin. Is it good? Practical? Long lasting? All in all – is it worth the hype and the money? Here's my experience.
Śmietnik Vipp – czy wart zachwytu i swojej ceny?
Zachwycać można się wieloma rzeczami, jednak śmietnik nie jest czymś, co pierwsze przychodzi na myśl w kontekście zachwytu. Błąd! Po opublikowaniu posta o naszej showroomowej kuchni, dostałam wiele wiadomości z pytaniami o kosz marki Vipp. Czy jest dobry? Czy praktyczny? Dobrze wykonany? I wreszcie – czy wart zachwytu i swojej ceny. Oto moje osobiste doświadczenia.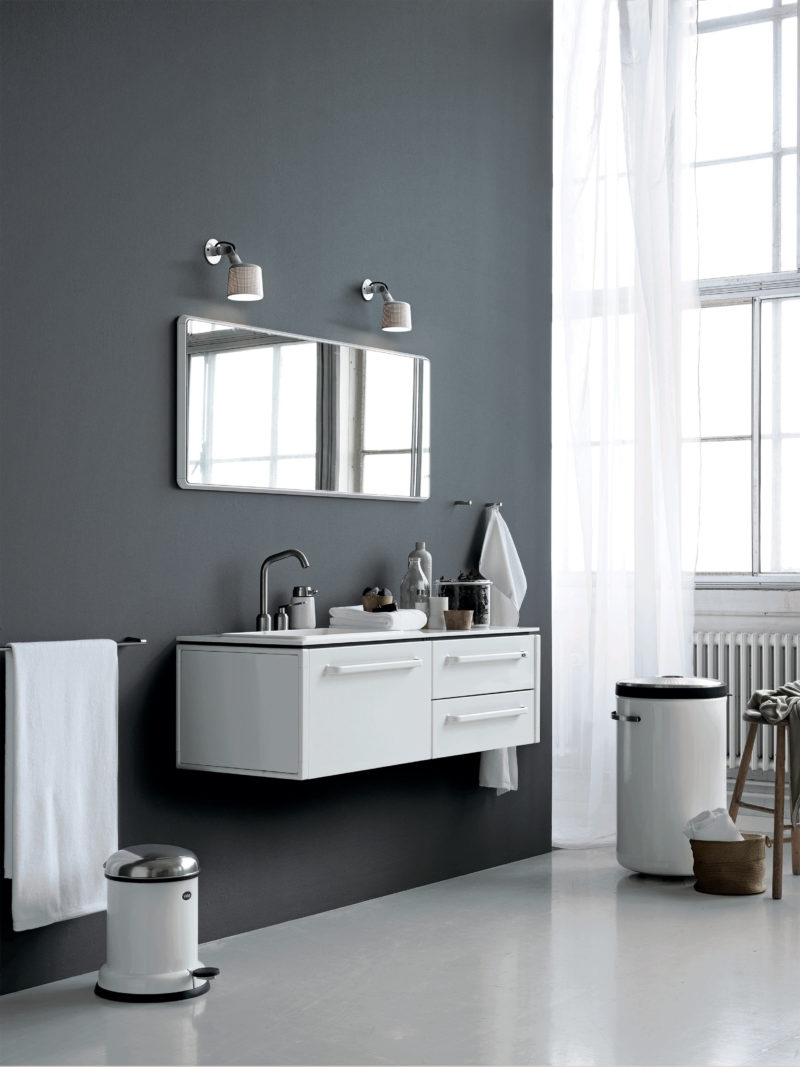 I learned about the Vipp bins back in Denmark. We used to have them in our workplace, as we needed the best bins there are. Sturdy, heavy, stable, pretty much undistractible. Having to open the bin several dozen times a day, every day, every week and month, makes many pedal pushes. And that was when I found out that I would love to have one at home, one day.
Designed by Holger Nielsen back in 1939, the Vipp bin is the most recognizable trash can in the world. Made to ensure hands-free use, the Vipp bin is equipped with a removable inner bin, a lid that ensures air-tight closure, and a damper mechanism that provides smooth closing. The rubber ring in the bottom protects floors and asures that the bin stands firmly. Many sizes and two main colors – black and white – make a timeless choice for any bathroom, kitchen or office.
Kosze Vipp poznałam w Danii. W pracy potrzebowaliśmy jak najlepszych koszy. Wytrzymałych, ciężkich, stabilnych, po prostu niezniszczalnych. Każdy kosz otwierany był kilkadziesiąt razy dziennie, co w skali miesiąca czy roku dawało ogromną ilość użyć. Już wtedy marzyłam o takim koszu do domu. Był idealny.
Zaprojektowany przez Holgera Nielsena w 1939 roku, to najbardziej rozpoznawalny śmietnik świata. Kosz Vipp umożliwia obsługę bez użycia rąk, wyposażony jest w dodatkowy wewnętrzny pojemnik i hermetyczną, miękko zamykaną pokrywę. Gumowe kółko u podstawy chroni podłogę i uniemożliwia łatwe przesuwanie. Kilka rozmiarów i dwa podstawowe kolory – biały i czarny – pozwalają dopasować ten kosz do wielu łazienek, kuchni czy biur.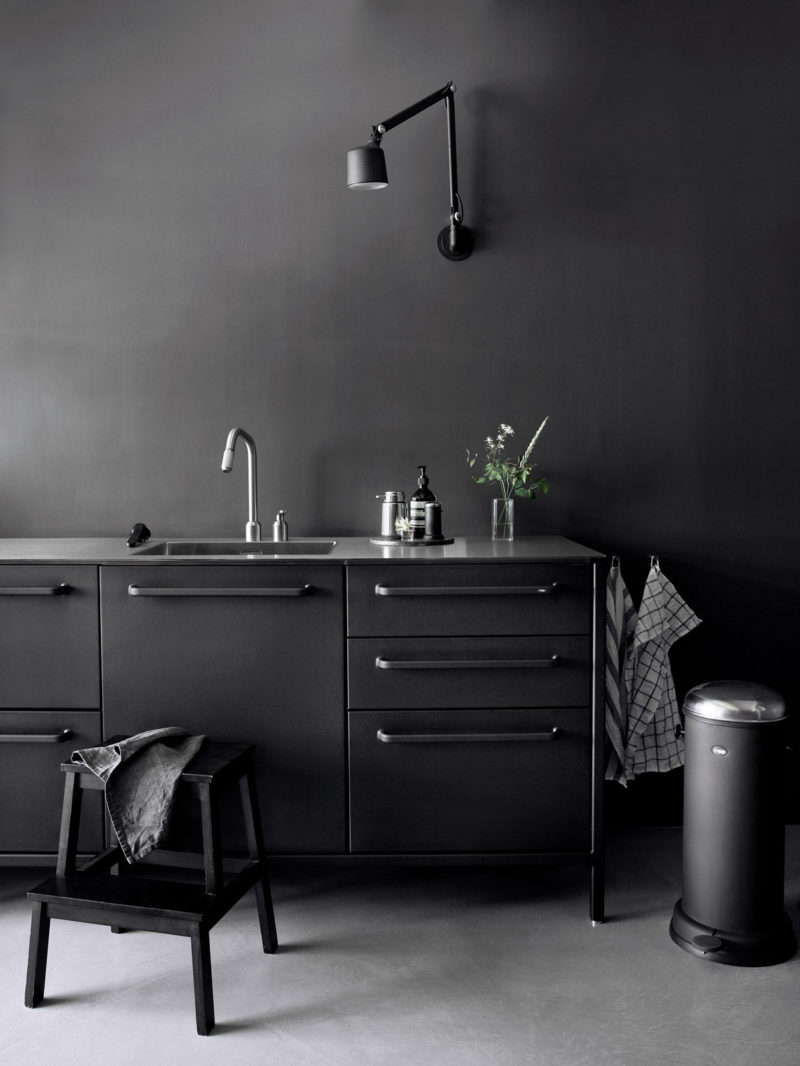 When arranging our showroom kitchen, with a free standing bin, there was only one choice for us. My dream came true. Funny as it seems, this bin made me just as happy as a bottle of parfume or a pair of shoes. Or even more, as I know that it will serve us for decades. And did I mention 10 year warranty from manufacturer?
As for the price, ranging from 219 to 409 € for a bin, depending on it's size, it is quite a splurge. However, there's only one Vipp Bin in the world, and the joy of using it every day is incomparable with it's cheaper alternatives. Aditionally – so called price per use – is actually great, when you think about it's quality and timeless design. In my opinion it's absolutely worth the investment.
Kiedy planowałam urządzenie naszej kuchni w showroomie, wolnostojący kosz mógł byc tylko jeden. Spełnienie dawnego marzenia. I choć to dość szczególne porównanie, cieszyłam się z niego przynajmniej tak jak z butelki wymarzonych perfum czy pary butów. Albo bardziej! Wiem, że będzie nam służyl przez dekady. Wspominałam o 10 latach gwarancji? ;)
Jeśli chodzi o cenę, kształtującą się w przedziale 219 – 409 € za kosz, zależnie od rozmiaru, to spory wydatek. Z drugiej strony – kosz Vipp jest tylko jeden, a radość z codziennego korzystania ogromna. Dodatkowo – "koszt za użycie", biorąc pod uwagę jego uniwersalny design i niezniszczalność, wypada całkiem korzystny. Moim zdaniem kosz Vipp jest więc wart swojej ceny.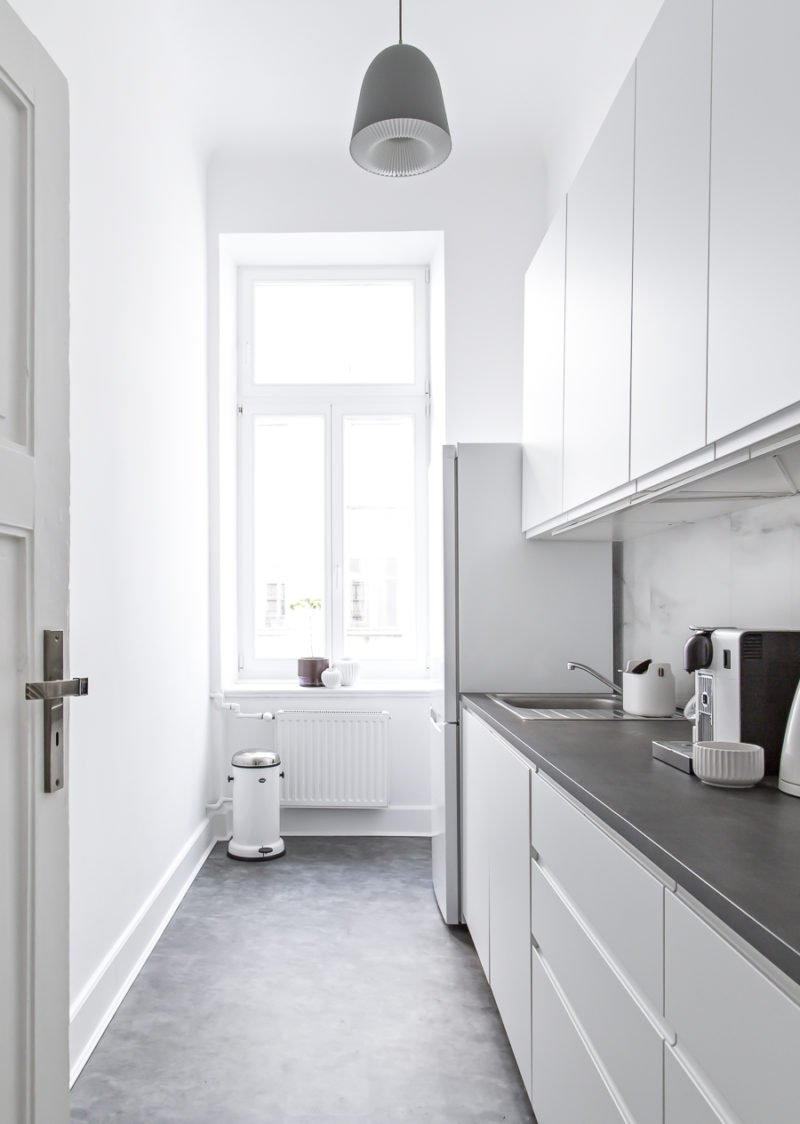 Danish Vipp is world famous for many timeless, beautiful designs, alowing to create amazing every day spaces for people with a sharp, aesthetic eye. The bin is only a tiny part of the collection, which gradually expands. You can check the Vipp webshop right here.
Duńska marka Vipp jest znana na całym świecie z ponadczasowych, pięknych produktów, pozwalających na zaaranżowanie codziennych przestrzeni w niezwykle estetyczny sposób. Kosze są jedynie częścią oferty, która ustawicznie się zwiększa. Ofertę sklepu internetowego Vipp możecie zobaczyć tutaj.
Images:  1,2,3,4,6 – Vipp, 5 – Kasia Rutkowiak | My Full House | All rights reserved