Hello 2019! I am so happy to start another year. New beginnings always mean the same. New doors will open and we will create new chapters of our lives. We will make new memories with our children and hopefully learn new things and skills.
To kick start this new year, I have a new recipe for a great treat for all coffee and ice cream lovers. I made it for the New Year's Eve party and everyone loved it. I can already tell you that we will make it a lot! I  As a huge fan of both coffee and ice cream, I don't think I can ever get tired of their combination and the cherry addition lifts the pleasure up to another level.
Przepysze wiśniowe affogato na początek roku
Witaj 2019! Tak bardzo cieszę się na ten Nowy Rok! Nowe zawsze oznacza to samo. Nowe drzwi się otworzą, napiszemy nowe rozdziały naszego życia. Stworzymy nowe wspomnienia z naszymi dziećmi i – miejmy nadzieję – nauczymy się nowych rzeczy i umiejętności.
Na początek tego roku mam dla Was nowy, super łatwy przepis, który ucieszy wszystkich miłośników kawy i lodów. To deser, który wymyśliłam przy okazji tworzenia menu na Sylwestra. Wszystkim bardzo smakował i zostanie z nami na dłużej. Jako wielka fanka kawy i lodów nie sądzę, aby to połączenie mi się kiedykolwiek znudziło, zaś dodanie wiśni sprawia, że całość smakuje przepysznie!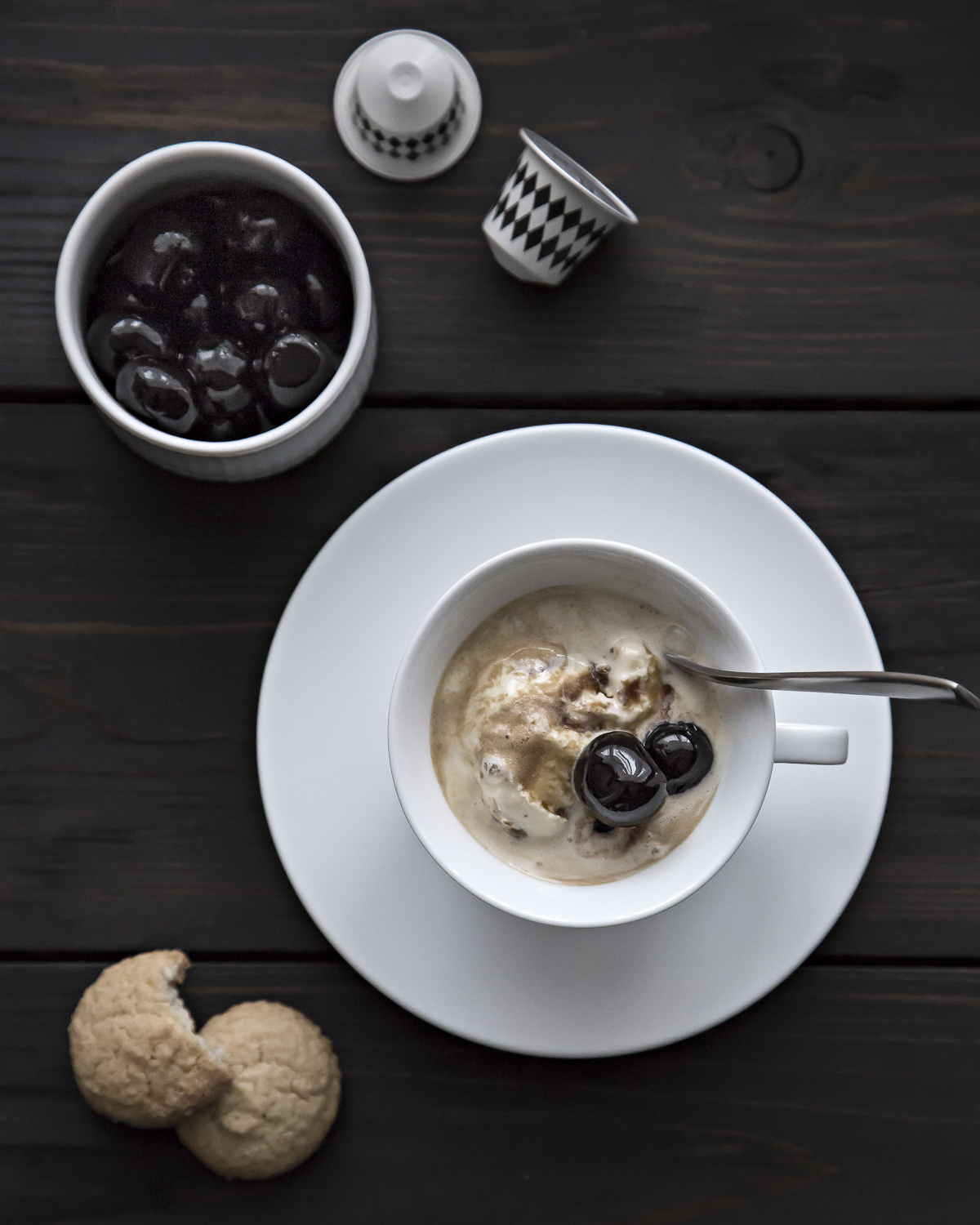 To make the perfect affogatto you need two things – a shot of perfect espresso and a scoop of perfect vanilla ice cream. Simple as that. For my New Year's recipe I chose Paris Black – coffee from Nespresso's Parisian Spirit Limited Edition. I needed a full bodied coffee with intense aroma and well balanced taste. To make the affogato more festive, I added a tiny dash of cherry liquer and some cherries in syrup on top.
Aby przyrządzić idealne affogato potrzebne są dwa składniki – idealne espresso i idealne lody waniliowe. Zdecydowałam się na użycie kawy Paris Black z limitowanej edycji Nespresso Parisian Spirit. Potrzebowałam wyraźnej kawy o intensywnym aromacie i zbalansowanym smaku. Aby dodać trochę słodyczy i świąteczny akcent, postanowiłam wykorzysać wiśnie w syropie i odrobinę likieru.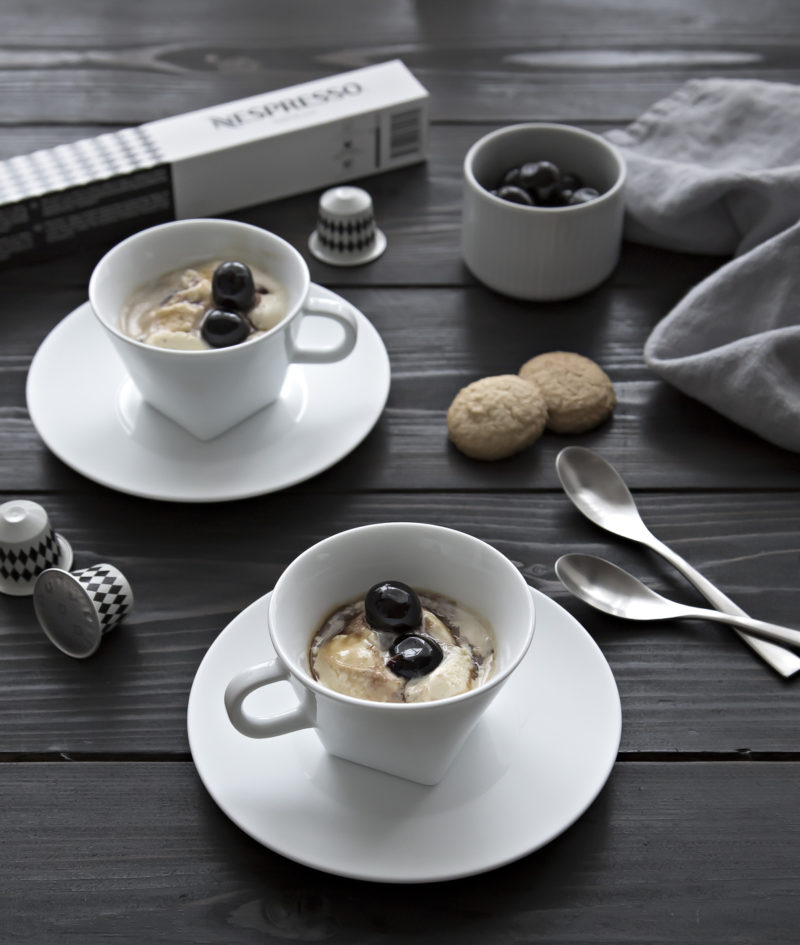 Ingredients (4 servings) / składniki (4 porcje):
4 shots of Paris Black (or your favorite espresso) / 4 shoty Paris Black (lub waszego ulubionego espresso)
4 scoops of good vanilla ice cream / 4 gałki lodów waniliowych
4 tbl spoons of cherry liquor / 4 łyżki likieru wiśniowego
Cherries in syrup / wiśnie w syropie
Method:
Put a scoop of ice cream in each small bowl/cup. Add a table spoon of liquor and a shot of espresso. Top with a cherry (or three). Enjoy right away.
Sposób przygotowania:
Do małych miseczek rozłożyć po gałce lodów. Dolać po łyżce likieru i po filiżance espresso. Udekorować wiśnią w syropie (lub kilkoma). Serwować od razu.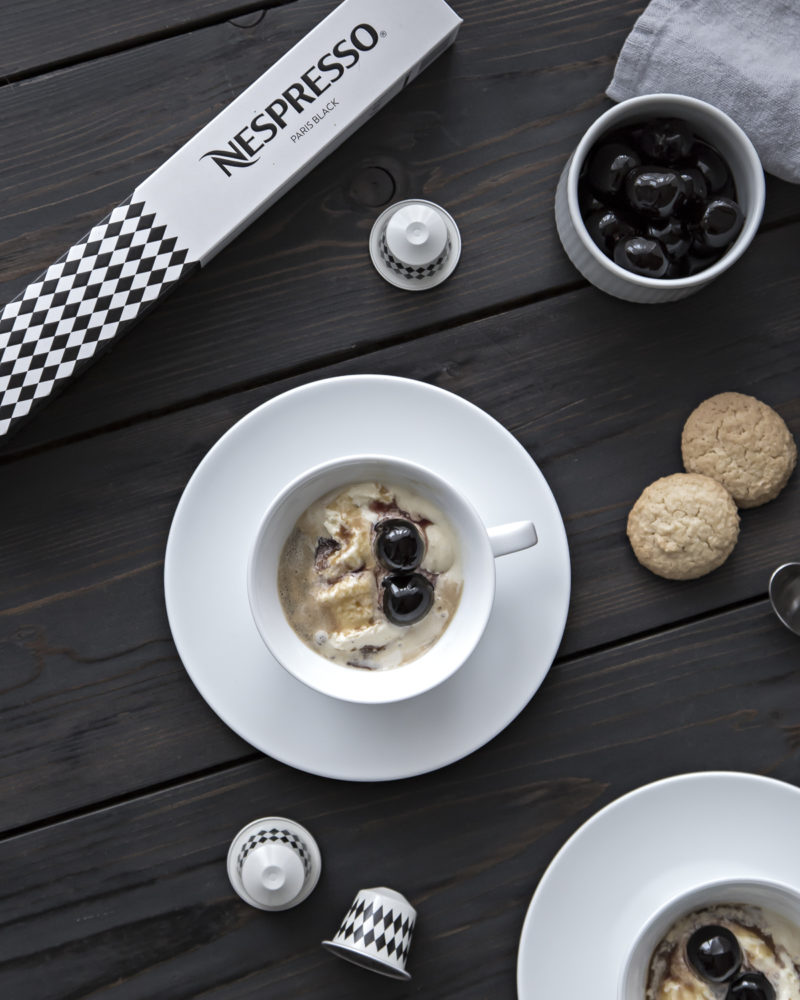 It doesn't get any more simple! If you don't drink alcohol, just replace the cherry liquor with a spoonfull of cherry syrup. The same advice goes if you make this dessert for kids. Our children love it. When I was making their desserts, I replaced Paris Black with Ristretto Decaffeinato. You should see girls enjoying their "grown up dessert". So proud! After all, they just got a year older ;)
Już prościej się nie da! Jeśli nie pijecie alkoholu, warto zastąpić go odrobiną słodkiego syropu z wiśni. Podobny deser przyrządziłam też dla dzieci, ale zamiast kawy Paris Black, użyłam Ristretto Decaffeinato. Ależ były dumne ze swojego "dorosłego" deseru! Nic dziwnego, przecież właśnie stały się o rok starsze.
It's a great idea to serve the affogato in cappuccino cups, which are perfect in size. Unless, of course, you would like a triple serving. I wouldn't blame you. This is just too good to only have one. Make sure that you use good cherries. Te best ones are Amarena Cheries and can be bought in good stores offering Italian specialites.
Bon appetit!
Całość z powodzeniem można serwować w filiżankach do cappuccino, które są idealnych rozmiarów. No chyba, że od razu macie ochotę na potrójną porcję ;) Wcale się nie zdziwię.
Pamiętajcie tylko o użyciu dobrych wiśni. Polecam wiśnie amarena, do nabycia w dobrych sklepach oferujących specjały z Włoch.
Smacznego!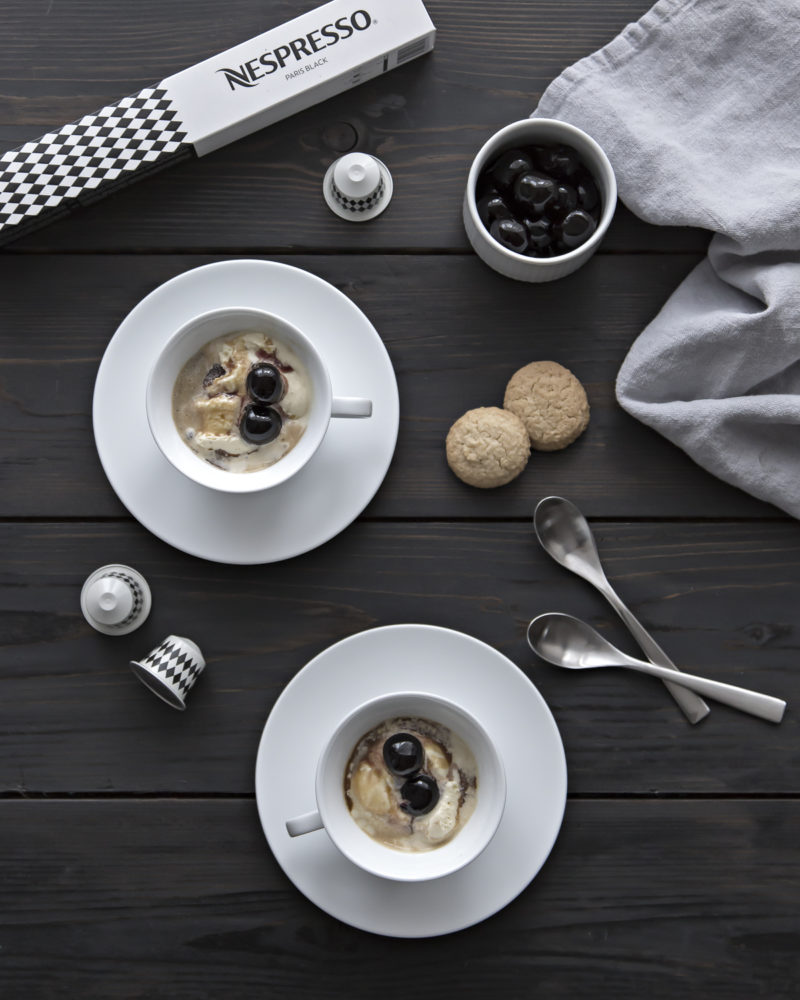 copyright Kasia Rutkowiak | My Full House | any unauthorised use prohibited