It's been over a week since the special, midsummer dinner, to which I was invited by Nespresso. I did show you a lot of images and pictures on my Insta Stories and want to thank you for all your messages (there were many!). It really was an extraordinary night and I am still impressed by the atmosphere, organisation, food and the general idea of having 450 people fine dining at the feet of the Palace of Culture and Science in Warsaw!
Cudowna noc w sercu miasta z Nespresso
Minął już ponad tydzień od kolacji "Sen nocy letniej", na którą została zaproszona przez Nespresso. Na Insta Stories pokazałam Wam wiele zdjęć i filmików z wydarzenia i raz jeszcze chcę Wam bardzo podziękować za wszystkie Wasze (jakże liczne) wiadomości! To była niesamowita noc i wciąż pozostaję pod wrażeniem atmosfery, organizacji, jedzenia jak i pomysłu zaproszenia na wykwintną kolację u stóp Pałacu Kultury i Nauki aż 450 gości!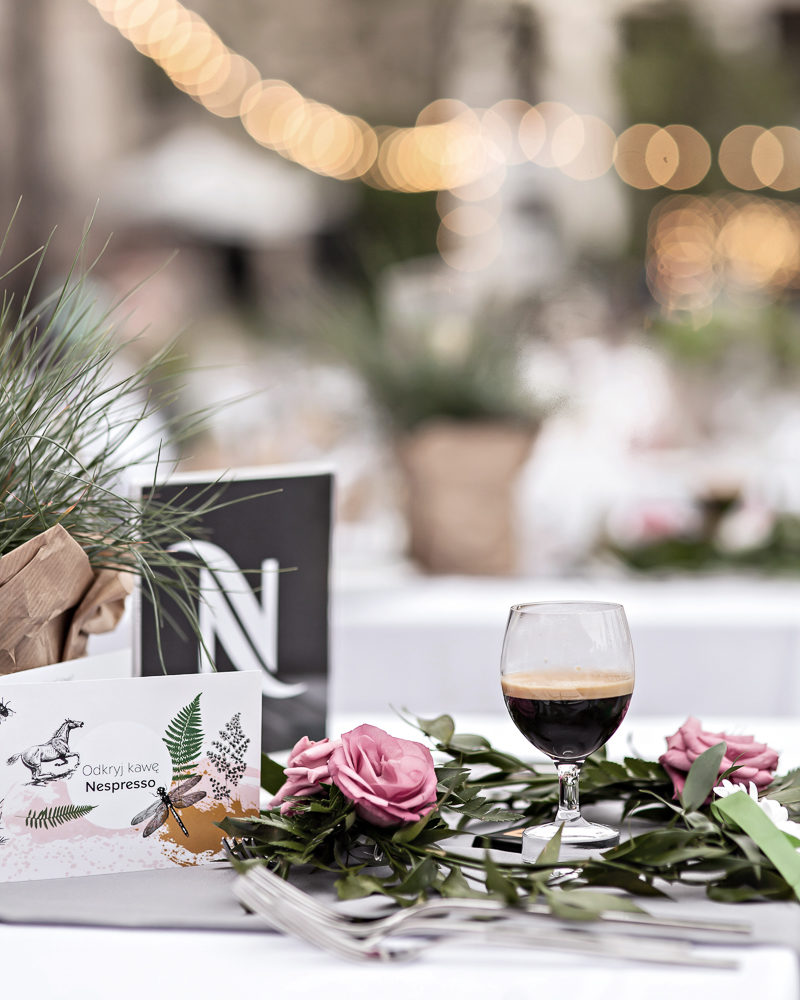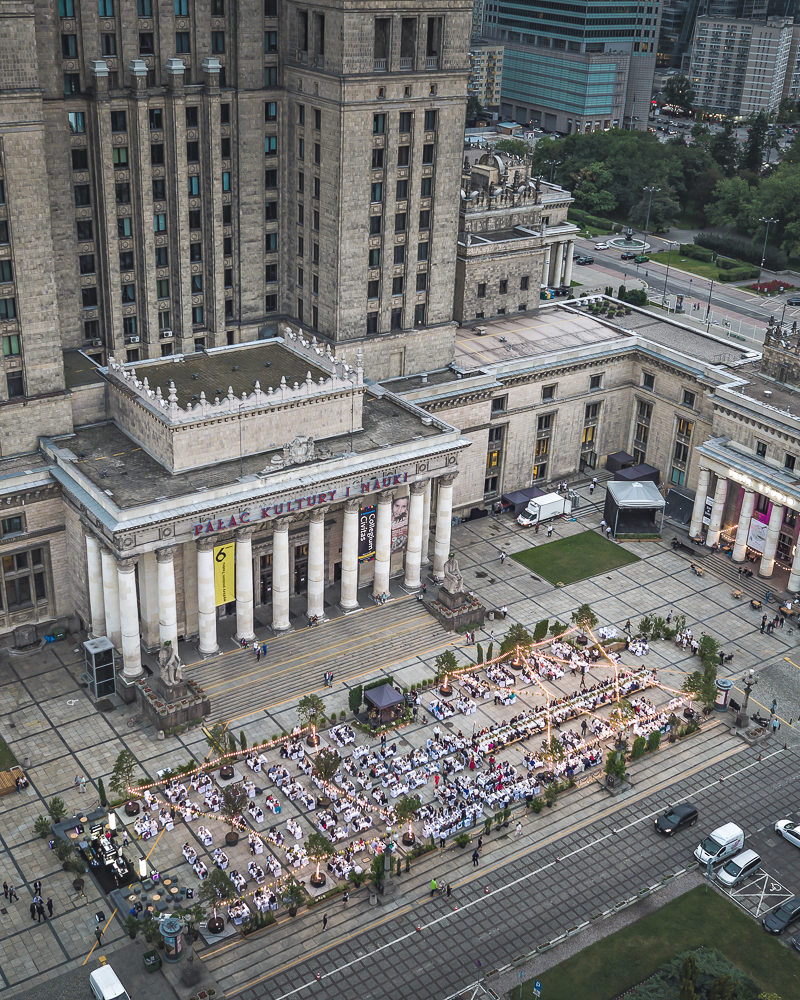 The tickets sold out so fast that event organizers decided to add 50 more seats to the initial 400. Despite of the threat of rain, the weather turned out just perfect and we all had a great time with superb food, wine, live music and coffee – what else? ;) Before the dinner started, I had a chance to taste the new, summer variations of Nespresso coffee and I fell in love with the Fresh Leggero – a mix of Green Banana Syrup, Sprite and Leggero on Ice coffee on ice. Amazing taste which I will try to copy at home. Another surprise from Nespresso was espresso coffee served in tasting glass in between meals as a separate treat. Again – superb organisation – to serve hot espresso for 450 guests at the same time!
Dulsao do Brasil, served that night, is one of my favorite Nespresso coffees, however, serving it in a tasting glass and together with premium Swiss milk chocolate, revealed new taste notes. It is incredible how the way you serve the coffee and the things you serve along, influence the entire tasting experience.
Have you ever tried coffee from a tasting glass? It gives a whole new tasting sensation and I strongly recommend it to all the black coffee lovers out there!
Bilety sprzedały się tak szybko, że organizatorzy postanowili dodać 50 miejsc do początkowej puli 400 sztuk. Mimo groźby deszczu, pogoda okazała się łaskawa i wszyscy spędziliśmy niezapomniany wieczór ze świetnym jedzeniem, winem, muzyką na żywo i kawą – what else? Przed kolacją miałam okazję spróbować letniej edycji kawy w postaci kawowego napoju Fresh Leggero w skład którego wchodzi syrop z zielonego banana, sprite, kawa Leggero on Ice i kostki lodu. Niezwykły smak, który postaram sie odtwarzać w domu podczas wakacji. Inną niespodzianką była kawa espresso serwowana w kieliszkach jako odrębne danie. I jaka organizacja! Podać 450 gorących kaw w plenerze, w tym samym czasie!
Serwowana podczas kolacji kawa – Dulsao do Brasil, to jedna z moich ulubionych kaw Nespresso, choć sposób podania – w kieliszku i w towarzystwie mlecznej czekoladki sprawił, że odkryłam w niej nowe nuty. To niesamowite jak sposób podania i inne, towarzyszące kawie smaki są w stanie wpłynąć na nasze wrażenia!
Czy kiedykolwiek próbowaliście kawy z kieliszka? Taka forma podania zwiększa walory zapachowo-smakowe napoju i szczerze polecam ją wszystkim amatorom czarnej kawy!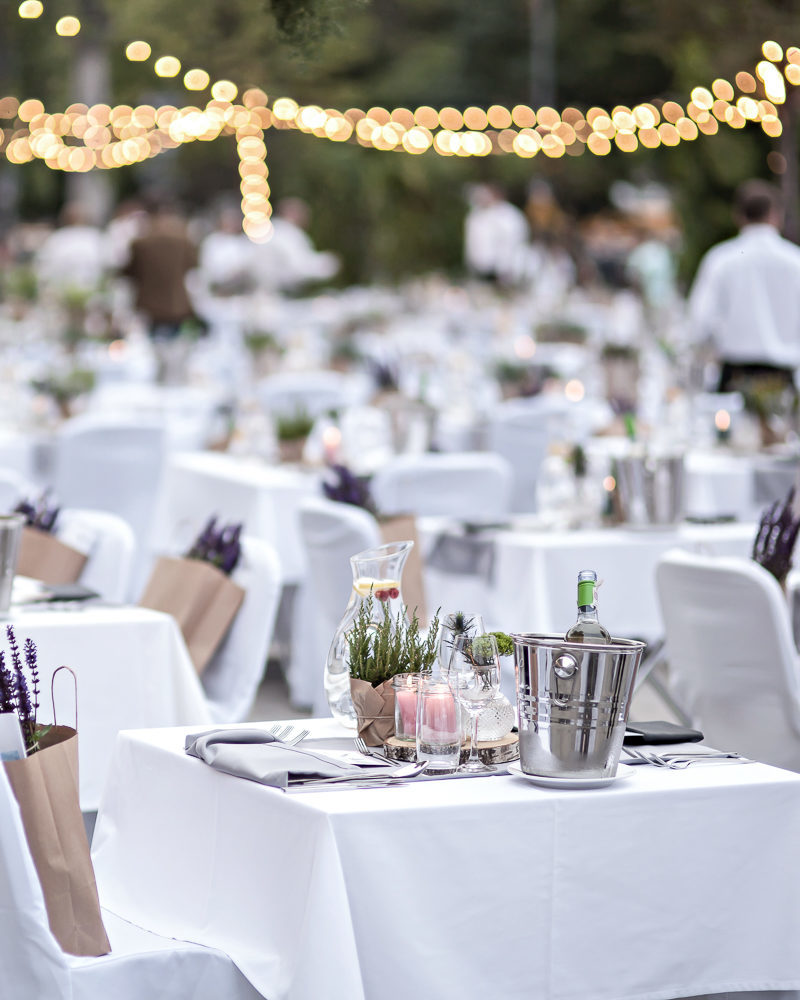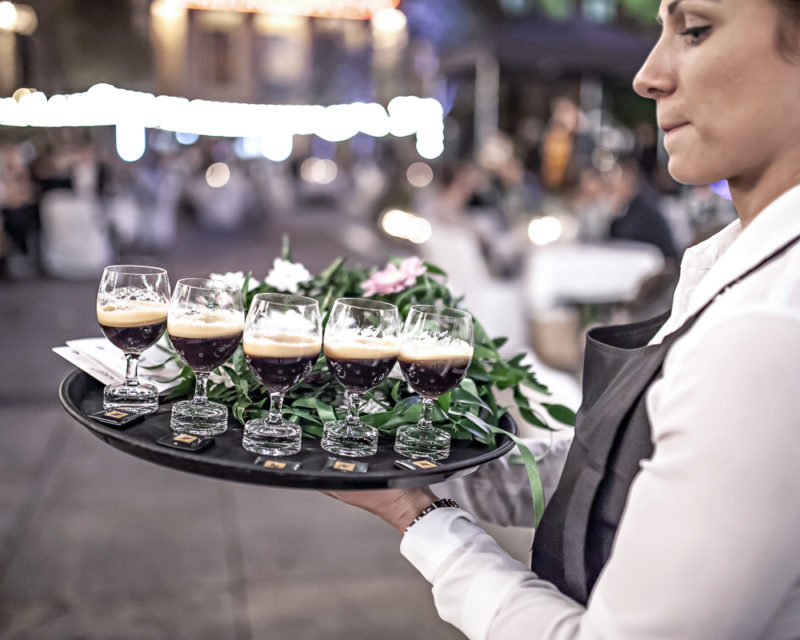 The evening, thanks to my company and host, turned out to be very informative as well. We talked about sustainability and all that Nespresso brought to coffee plantations all around the world, in order to ensure proper coffee production in the future. Issues like ecology, working conditions, quality, security and care for the enviroment AND people are very important to me, thus I listened with plenty of interest (and asked many questions too :)). Our discussion made me proud of being a Nespresso guest for this special night.
Dzięki interesującemu towarzystwu, wieczór okazał się być też bardzo pouczający. Z siedzącą obok Anią Oleksak – ambasadorką Nespresso, jak i międzynarodową sędzią mistrzostw baristów – osobą, która o kawie wie wszystko – rozmawiałyśmy o holistycznym podejściu do kwestii uprawy i produkcji kawy, które Nespresso wniosło na farmy na całym świecie, by zapewnić zrównoważoną produkcję kawy w przyszłości. Pojęcia takie jak ekologia, warunki pracy, jakość, bezpieczeństwo i troska o środowisko ORAZ ludzi są dla mnie bardzo istotne więc słuchałam z zainteresowaniem (i zadawałam dużo pytań :)). Nasza rozmowa sprawiła, że stałam się jeszcze bardziej dumna bycia gościem Nespresso tej szczególnej nocy (a Ani bardzo dziękuję za cierpliwość i towarzystwo).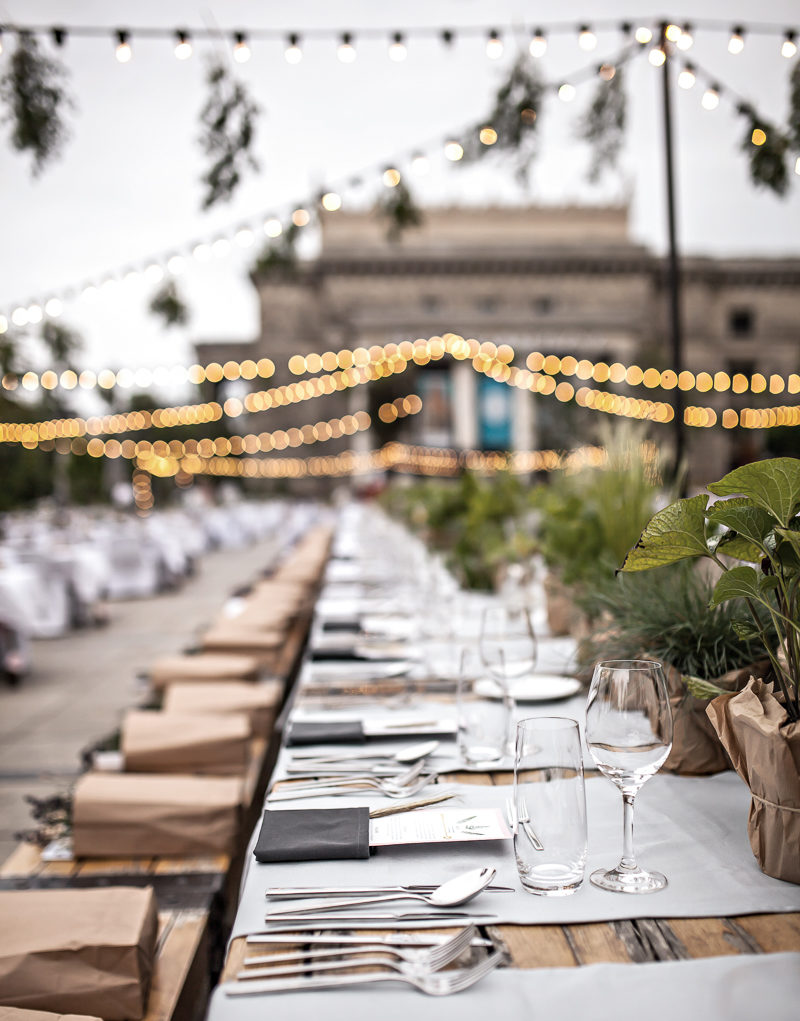 All images courtesy of Nespresso