As the trees drop the last leaves and it becomes more and more grey, I did gather some beautiful grey inspiration. I love grey, all of it's shades. It is beautiful on it's own, timeless, neutral and blends great with other colours. It definitely is one of my favourite colours, together with beige (which I've grown to love much later).
Below you can see either the things I have tried and can heartily recommend, or the ones I dream about.
What is your pick?
Piękne szarości
Podczas gdy drzewa zrzucają ostatnie liście, zainspirowana coraz bardziej otaczającą nas szarością, zebrałam dla Was kilka szarych inspiracji. Uwielbiam szary kolor we wszystkich odcieniach. Piękny sam w sobie, stanowi też idealne tło dla innych barw. Jest klasyczny, uniwersalny i ponadczasowy. Jeden z moich ulubionych (wraz z beżem, który też pokochałam bardzo mocno, choć dużo później).
Poniżej lista rzeczy, które albo sama wypróbowałam i serdecznie polecam, albo tych, które sama mam na liście marzeń.
Macie faworyta?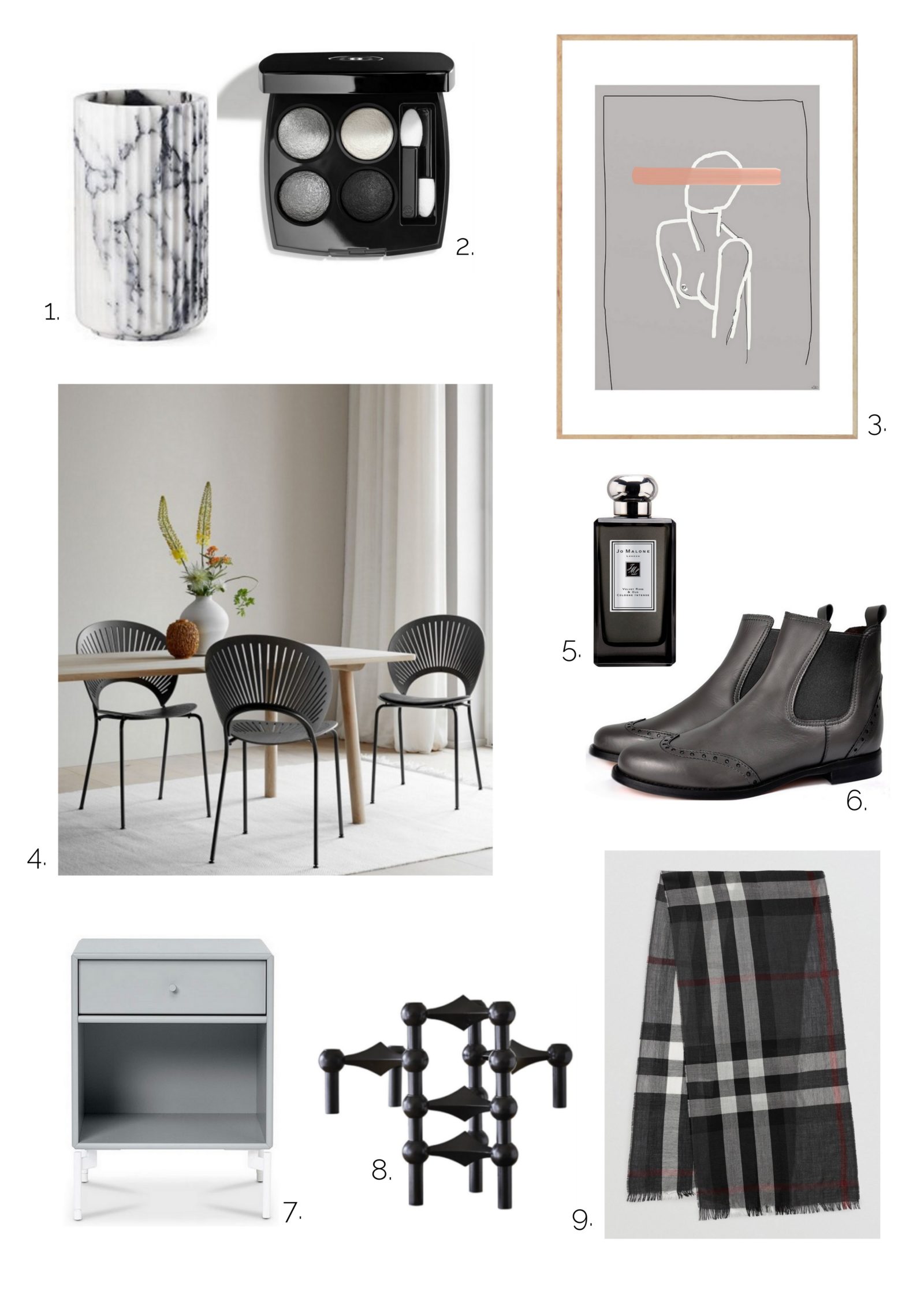 Marble Lyngby vase. I have dedicated it a separate blogpost (right here). It comes in 2 versions – white and black. Due to the natural material, the vase always comes as a surprise, as you never know how marbled it will be. It looks amazing with flowers (I ALWAYS get compliments on it) as well as on it's own (or combined with other Lyngby vases in white or black). A real statement piece.
Marmurowy wazon Lyngby. Pisałam o nim w osobnym poście (tutaj). Występuje w 2 wersjach – białej i czarnej. Ze względu na to, że marmur jest surowcem naturalnym, nie ma dwóch takich samych wazonów. Nigdy też nie wiemy jak bardzo marmurkowaty egzemplarz nam się trafi, ale każdy jest piękny. Ilekroć używam mojego, zawsze dostaję masę komplementów (lub raczej – wazon dostaje). Do kochania na całe życie!
Les 4 OMBRES from CHANEL in 246, Tisse Smoky. What can I say? Perfect!
Cienie CHANEL 4 OMBRES w kolorze 246, Tisse Smoky. Cóż mogę napisać? Idealne.
Poster "Naive" by Swedish artist Lisa Wirenfelt, exclusively for The Poster Club. I really, really like it and I am looking forward to having it on my wall.
Plakat "Naive" szwedzkiej artystki Lisy Wirenfelt, wyłącznie dla The Poster Club. Bardzo mi się podoba i już się nie mogę doczekać, aż zawiśnie na naszej ścianie.
Trinidad chair by Nanna Ditzel for Fredericia Furniture in stained lacquered Grey Oak. The shape of these chairs is absolutely amazing, and I love when the sun rays shine through the holes in the backrest. The version without armrest (just like on the picture) is stackable.
Krzesło Trynidad projektu Nanny Ditzel dla Fredericia Furniture w kolorze stained lacquered Grey Oak. Absolutnie przepiękny kształt, a pionowe otwory w oparciu sprawiają, że przeświecają przez nie promienie słońca. W wersji bez podłokietników (jak na zdjęciu) można nastawiać krzesła na siebie.
A captivating Velvet Rose and Oud Cologne by Jo Malone London. To wrap yourself in during the colder days. And nights. Remember that you can blend all JML scents to achieve that perfect result.
Urzekający zapach Velvet Rose and Oud Cologne od Jo Malone London. Aby się nim otulić podczas chłodniejszych dni (i nocy). Wszystkie zapachy JML można ze sobą dowolnie łączyć dla uzyskania swojej ulubionej kombinacji.
I usually wear hills or sneakers, but for fall and winter I'd be more than happy to swap the second ones with these gorgeous grey chelsea boots from Mauro Leone. I cannot stop thinking about them. Aren't they nice?
Zwykle noszę buty na obcasie, albo sneakersy. Te drugie z chęcią zamieniłabym teraz na znalezione ostatnio przepiękne skórzane sztyblety Mauro Leone. Nie mogę przestać o nich myśleć. Fajne?
Simply perfect or perfectly simple, you can choose what you want. Dream nightstand from Montana Furniture. You can pick from 42 colours (sic!), but as we are in grey mood, today I went for Frost. Seriously, I could put one of these in all my inspiration boards, no matter which colour I am writing about.
Perfekcyjny minimalizm lub minimalna perfekcja – jakkolwiek wolicie. Nocny stolik Dream od Montana Furniture występuje w 42 kolorach (sic!), ale jako że dziś piszę o szarościach, wybrałam delikatny Frost. Mogłabym umieszczać ten stolik w każdych inspiracjach, tak bardzo mi się podoba, a kolorów jak sami widzicie wystarczy na wiele moodboardów.
Stoff Nagel Candleholder by Danish brand Just Right. I know, it is not grey but… For this blogpost's sake, let's assume that it is the darkest shade of grey. I wanted to include it, as it is a true beauty. I am so amazed by it's form, I cannot even tell you. Unlike the Montana furniture ;)) it only comes in 3 colours – Brass, Chrome and this matt Black and I want them all! You can see the brass Stoff candleholders in one of my recent posts. The number of combinations you can build is endless, and whether you use it with or without the candles, it looks absolutely stunning.
Świecznik Stoff Nagel duńskiej marki Just Right. Wiem, że nie jest szary, ale… Na potrzeby tego posta, załóżmy, że jest to najciemniejszy odcień szarości. A już poważnie, bardzo chciałam Wam go pokazać, bo jest niesamowity. Jego design pozwala na tworzenie niezliczonych kombinacji – prawdziwych form przestrzennych. Wygląda świetnie ze świeczkami jak i bez. W odróżnieniu od mebli Montana Furniture ;) występuje tylko w trzech wersjach kolorystycznych – miedzi, chromie i matowej czerni. Moje miedziane świeczniki Stoff widzieliście już w jednym z ostatnich postów.
The Burberry Scarf in Grey. I have a beige one and I am afraid it's tired of me, as I simply wear it all the time. It could use a break, and another colour is the only way.
Szal Burberry w odcieniach szarości. Posiadam beżowy i obawiam się, że on ma mnie już dosyć, bo jesienią noszę go prawie bez przerwy. Jedynym wyjściem z sytuacji wydaje się nabycie kolejnego, a szary byłby idealny.