It's been a bit over 2 years since my last update on the home office and today I am coming with a reveal of my new workspace. It might not look like a revolution (as I only have this piece of wall and my needs are same as before), however for me it was a big change. And one more time, I went with a Scandinavian brand, this time – Moebe. You might know it for some other designs and products, especially for the great frames (read about them right here).
My changes started when I saw that Moebe introduced new addition to their shelving system – a desk plate. I have seeen the shelving system before, during Maison et Object in Paris and loved it a lot. Unfortunately, at that time, it was not suitable for my purpose. It all changed when the desk was introduced and I decided that it was a sign to make the change.
Moje nowe miejsce pracy – regał Moebe
Od ostatnich zmian w moim domowym biurze minęły nieco ponad dwa lata. Dziś mam dla Was jego nową odsłonę. Dla wielu, może nie wydać się rewolucją (rozwiązanie jest podobne do poprzedniego, a i ściana ta sama), ale uwierzcie, że dla mnie to ogromna zmiana. Jak zwykle, inspiracja przyszła ze Skandynawii, od duńskiej marki Moebe. Może pamiętacie mój post o jej wyjątkowych ramkach? Znajdziecie go tutaj.
Wszystko zaczęło się w mojej głowie (jak zawsze ;)), z chwilą gdy dowiedziałam się, że Moebe wprowadza nowy element do swojego regału – blat biurka. Regał widziałam juz zbliska podczas paryskich targów. Zrobił na mnie wielkie wrażenie, jednak wówczas nie miałam możliwości z niego skorzystać. Dodanie do kolekcji blatu, zmieniło całą sytuację i było niejako znakiem, że czas na zmianę.
For some, shelving system from Moebe might be a bit similar to the iconic String, but in fact it is a totally different concept. Coming in two wood colors (oiled or black stained oak), with beautiful shelves resting between black steel tubes, it does make a bit more rough, yet "warmer" impression. It can also be arranged in the corners, as seen here, made double (here) or even used as a room divider (here). The possibilities are endless.
I went with the oiled oak version. At first I wanted 2 tall sections and 1 low one (similar to the one I had before with String). However, after some more consideration, I went with 3 tall sections in stead. To create some extra space for variety, I made the right section in a way, that there is a space inside it to put up a poster, bigger lamp, or – like it is now – a pin board.
Na pierwszy rzut oka, regał Moebe, jest bardzo podobny do kultowego Stringa, ale to pozory. Jego koncepcja jest trochę inna. Występuje w dwóch wybarwieniach drewna (olejowany lub bejcowany na czarno dąb), a pięknie wykończone półki zawieszone są pomiędzy czarnymi stalowymi tubami. Wrażenie jest bardziej "szorstkie", ale też bardziej przytulne. Regał ten, można także stawiać w narożnikach, podobnie jak tutaj, "spinać" podwójnie (tutaj), a nawet tworzyć z niego konstrukcie wydzielające przestrzeń (tutaj).
Ja zdecydowałam się na wersję olejowaną. Z początku, chciałam dwie wysokie sekcje i jedną niską (podobnie jak poprzednio w opcji ze Stringiem). Po dłuższym zastanowieniu, wybrałam jednak inne rozwiązanie. Są więc trzy wysokie sekcje, z czego prawa ma "w środku" więcej miejsca. Dzięki temu jest gdzie powiesić plakat, postawić większą lampę, czy – jak teraz – zawiesić tablicę z inspiracjami.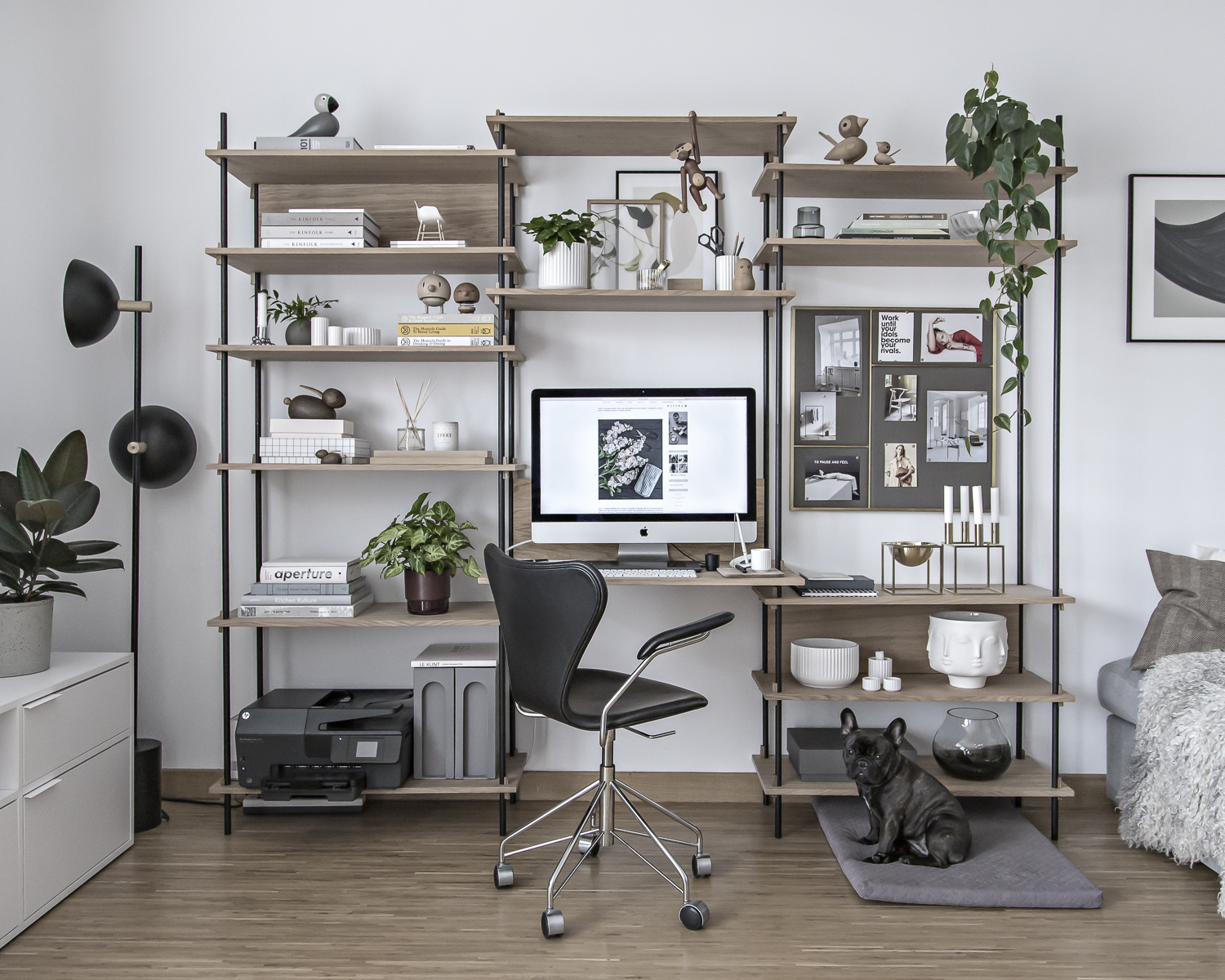 I love the look and feel of the oiled oak surfaces. I can clearly remember not being fan of oak in my twenties. Now, some years later, I love all oak. There is something so warm and elegant about it. Moebe's shelves are very pretty made and came perfectly wrapped and packed to protect each and every edge and corner.
When you assemble your Moebe shelving system, you have to have a clear idea of how you want it to look, as you can't just move shelves freely afterwards. Starting from the bottom, you slowly add them upwards, and each shelf rests on specially designed wedges. They hold the shelves in place and let the user put them at any height – with no limitations predefined by manufacturer. This age-old principle for constructing furniture contributes significantly to the sideways stability of the system. As the wedge is pushed in from below, putting weight on the shelf makes the joint even tighter and more stable. Finally, the use of wedges makes it possible to build the system using no complicated tools – all you need is a hammer, level and a measuring stick.
Uwielbiam olejowany dąb. Pamiętam, że jako dwudziestolatka nie byłam fanką tego gatunku drewna, a teraz… Lubię wszystko co dębowe. Dąb ma w sobie ciepło i elegancję, jakiej nie mają inne gatunki drewna. Półki mojego regału przyszły idealnie zapakowane, aby chronić każdą krawędź i każdy narożnik.
Składając regał Moebe, trzeba mieć jasny plan, jak ma wyglądać. Ze względu na konstrukcję klinową, zaczynamy zawsze od dołu, dodając kolejne poziomy półek. Kliny trzymają półki na miejscu, a wysokość ich zamocowania zależy tylko i wyłącznie od pomysłu użytkownika. Ta pradawna technika mocowania opartego na klinach, przyczynia się też do większej stabilności mebla. Dodatkowo, ponieważ kliny wbijane są do dołu, wraz z pojawieniem się obciążenia na półkach, zaciskają się jeszcze bardziej. Taki system mocowania pozwala skonstruować swój niepowtarzalny regał jedynie przy użyciu młotka, miarki i poziomicy.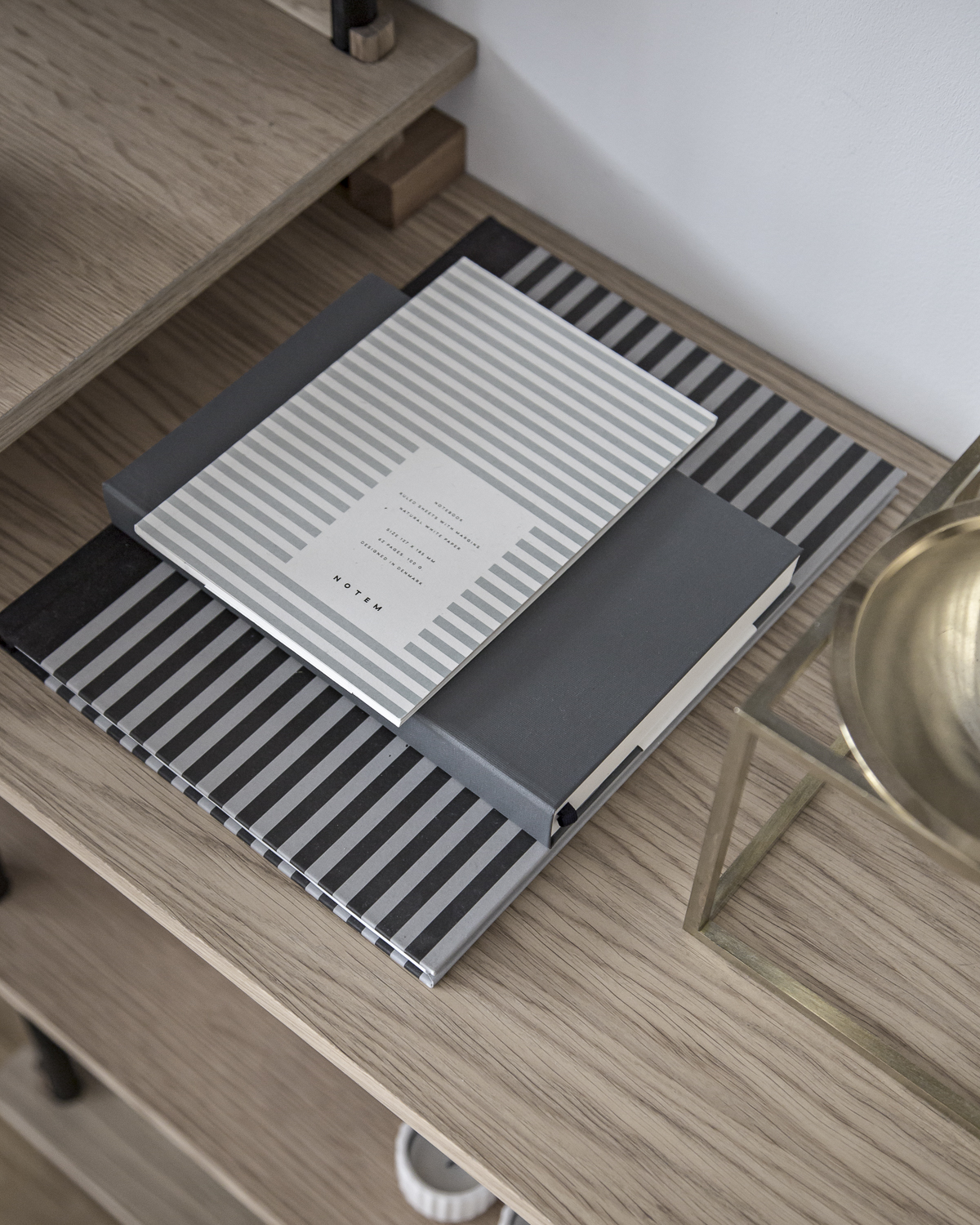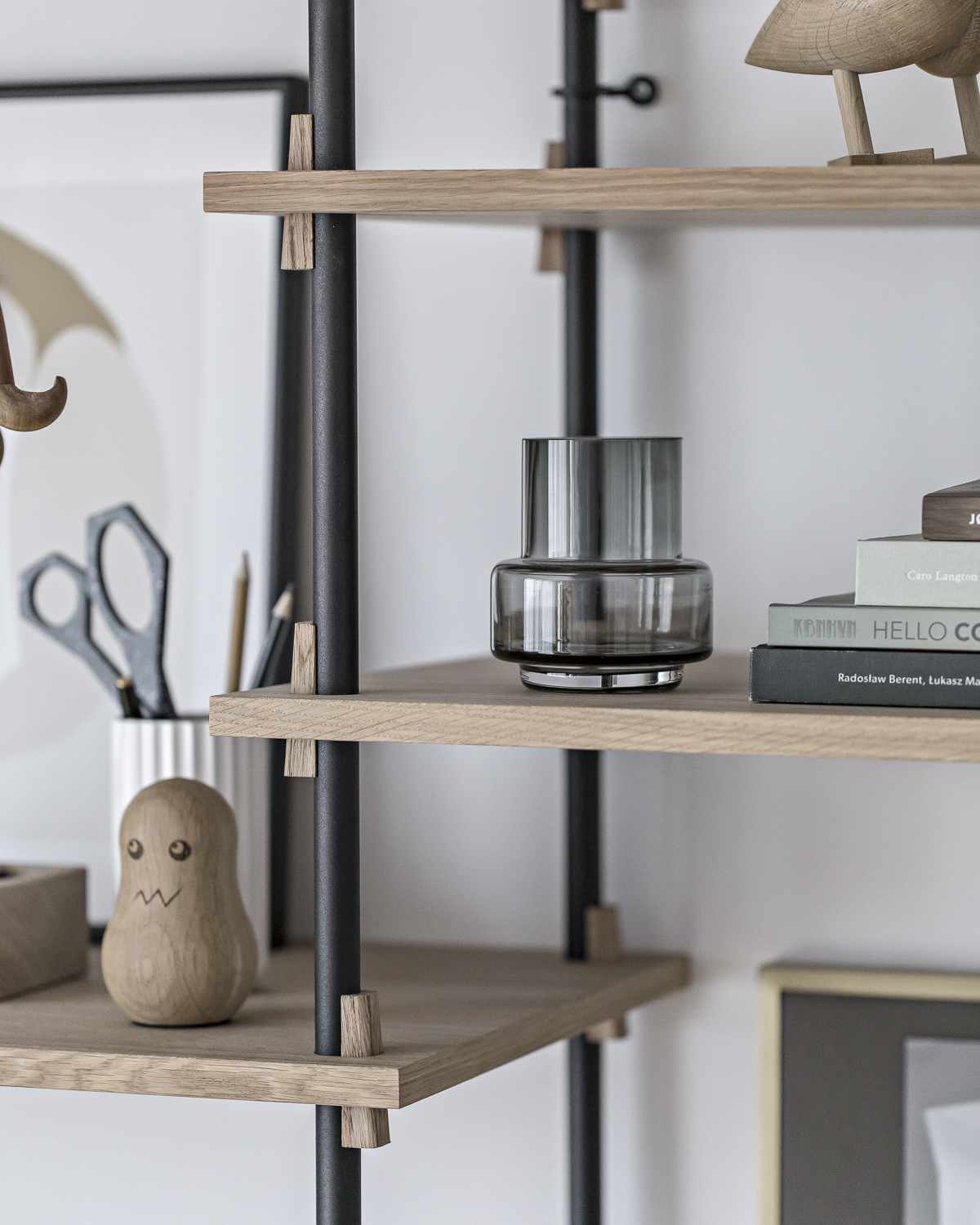 Each shelf can hold up to 20 kg, and those with the backplate even up to 30 kg of weight. That's quite impressive. I was a tiny bit worried putting my Mac on the desk (by the way, this plate is a bit wider but also more shallow than the one from String, due to the backplate), but it works great.
There are no drawers (unfortunately), but I managed to solve the issue with the help of the TV bench, placed on the left. If you haven't seen the new TV bench from tylko, you can find more about it right here.
Każda z półek udźwignie do 20 kg, a te dodatkowo wzmocnione panelem tylnym aż do 30. Całkiem sporo! Byłam lekko spięta stawiając na biurku mój komputer, ale niepotrzebnie. Przy okazji – blat jest nieco szerszy od tego ze Stringa, ale płytszy. Na szczęście mieści się i koputer i klawiatura i tablet do pracy.
Regał nie ma szuflad, ale poratowałam się szufladami w szafce RTV od tylko, która stoi zaraz obok, tuż przy drukarce (idealnie!). Jeśli nie widzieliście wpisu o szafce – zapraszam tutaj.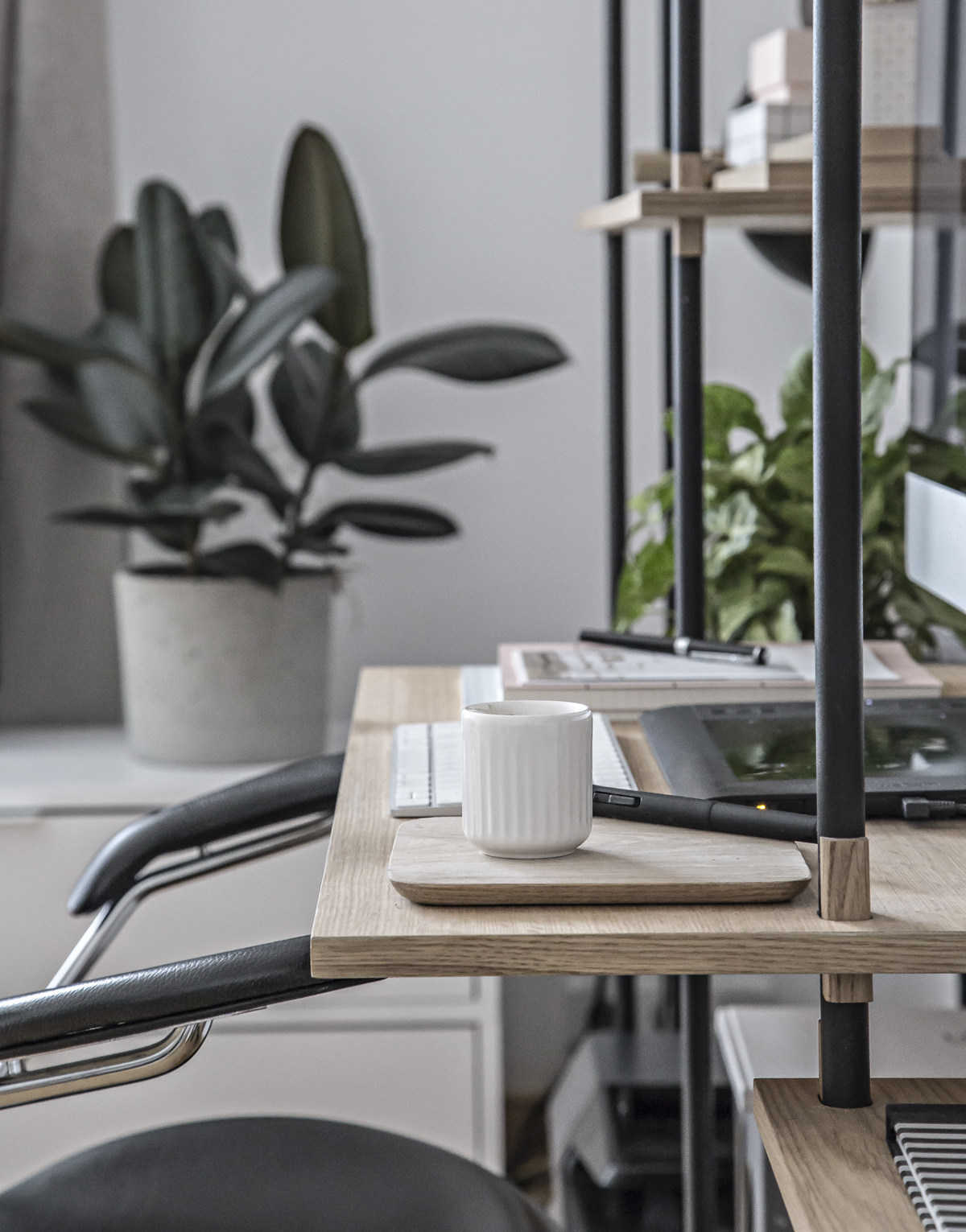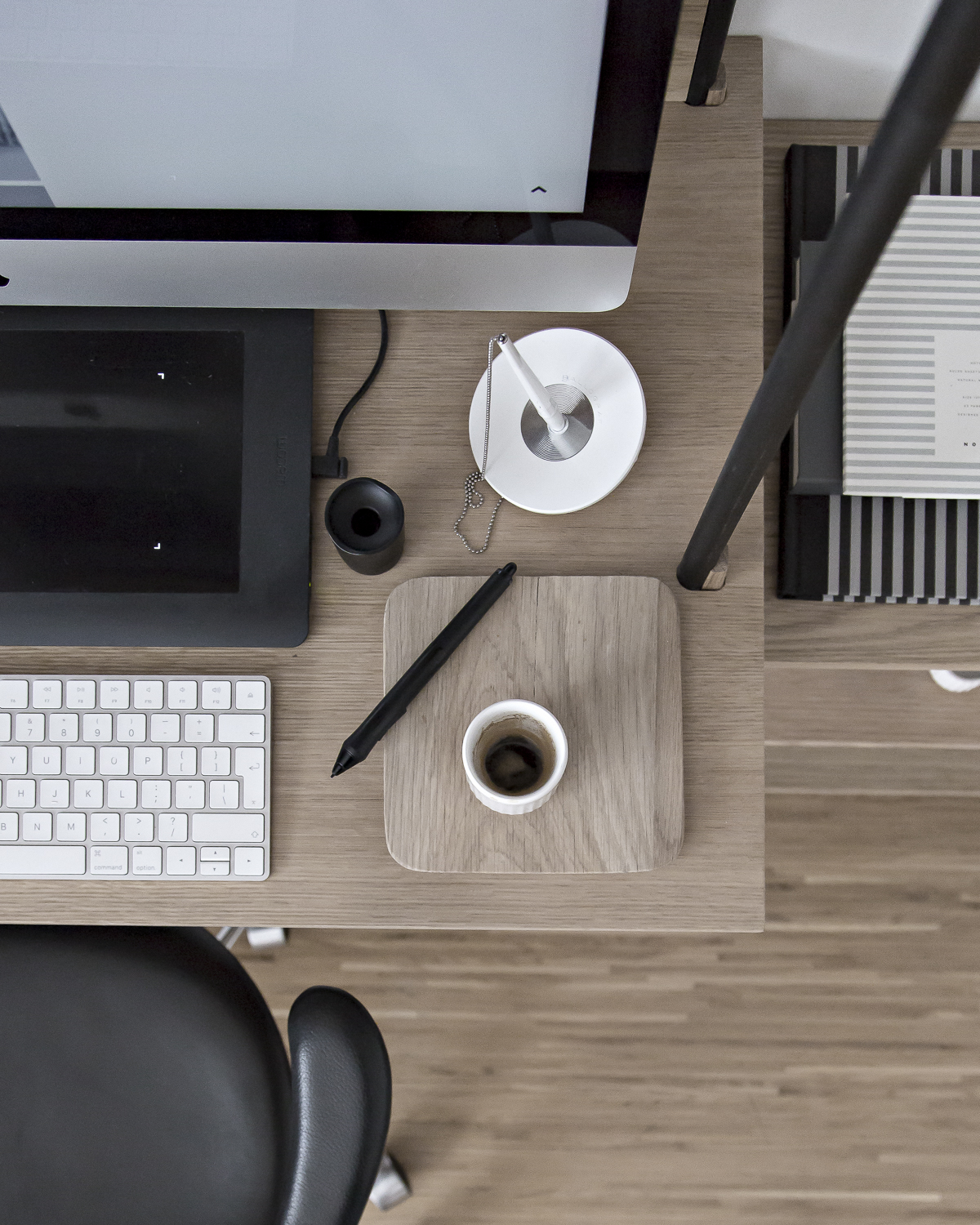 As it is for now, I kept my Series 7 swivel chair. One of the new things is the Nouveau Pin board by PLEASE WAIT to be SEATED designed by All the way to Paris. I chose the medium size (62×62 cm), in Oyster Grey and with brass frame. I absolutely love it! I use my board for pinning work and life inspiration and I really like how I can change it in an instant.
Moje krzesło biurowe Serii 7 od Fritz Hansen zostało (póki co ;)). Jedną z nowości jest natomiast wspomniana już tablica Nouveau Pin marki PLEASE WAIT to be SEATED zaprojektowana przez studio All the way to Paris. Wybrałam rozmiar średni, w kolorze Oyster Grey. Bardzo mi się podoba, ma piękną mosiężną ramkę. Na tablicy przypinam różne inspiracje. W Polsce tablicę możecie kupić w Moma Studio.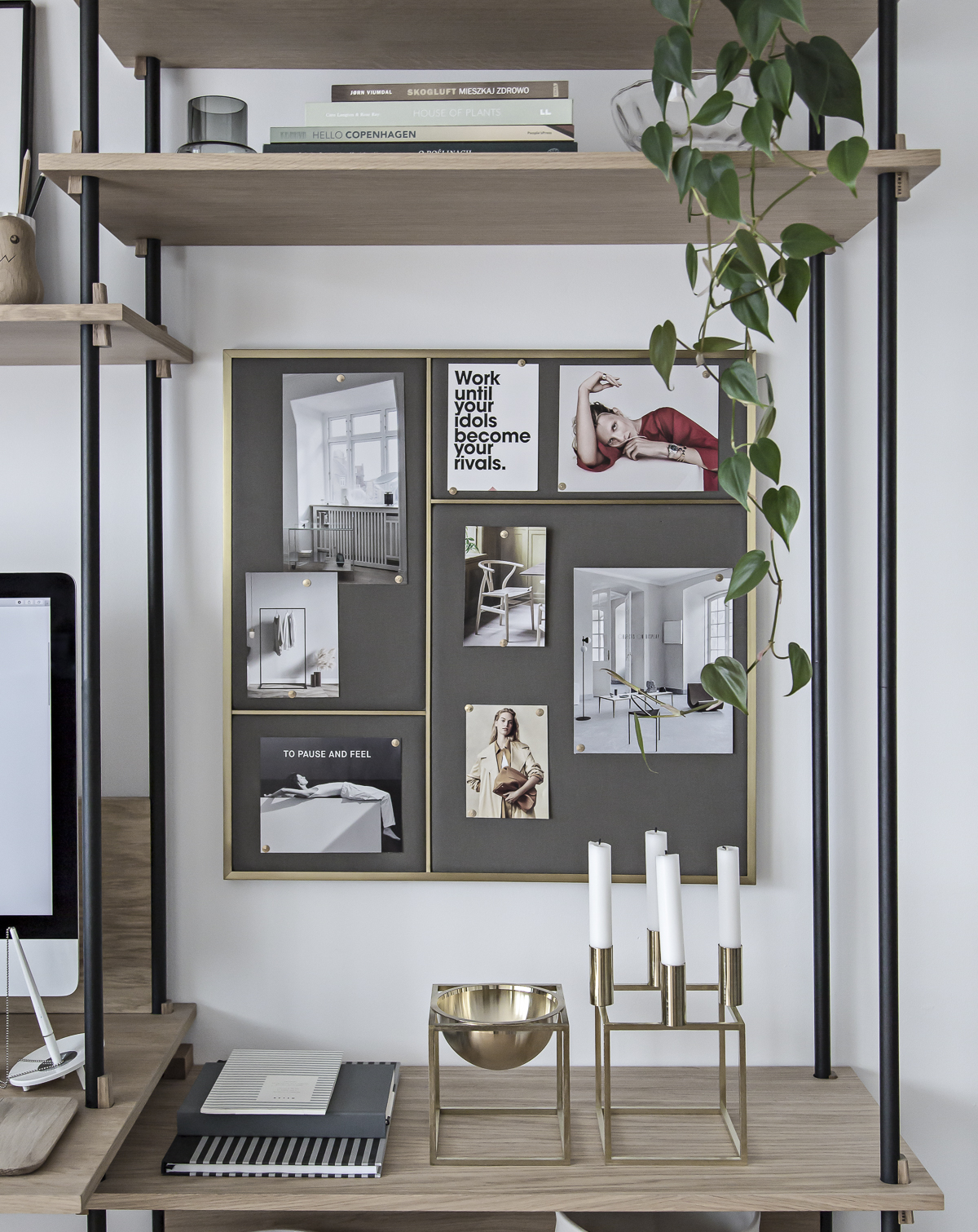 I have also my best assistant – Chloé – by my side almost all the time. Can't believe she's been with us for one year already! She is usually sleeps by my side, as I work (snorring gently), but I woke her up to take a decent picture.
Mam też swoją wierną asystentkę – Chloé. Aż nie mogę uwierzyć, że jest z nami od roku! Zwykle drzemie sobie obok mnie pochrapując cichutko, podczas gdy ja pracuję. Obudziłam ją jednak, aby zrobić jej zdjęcie ;)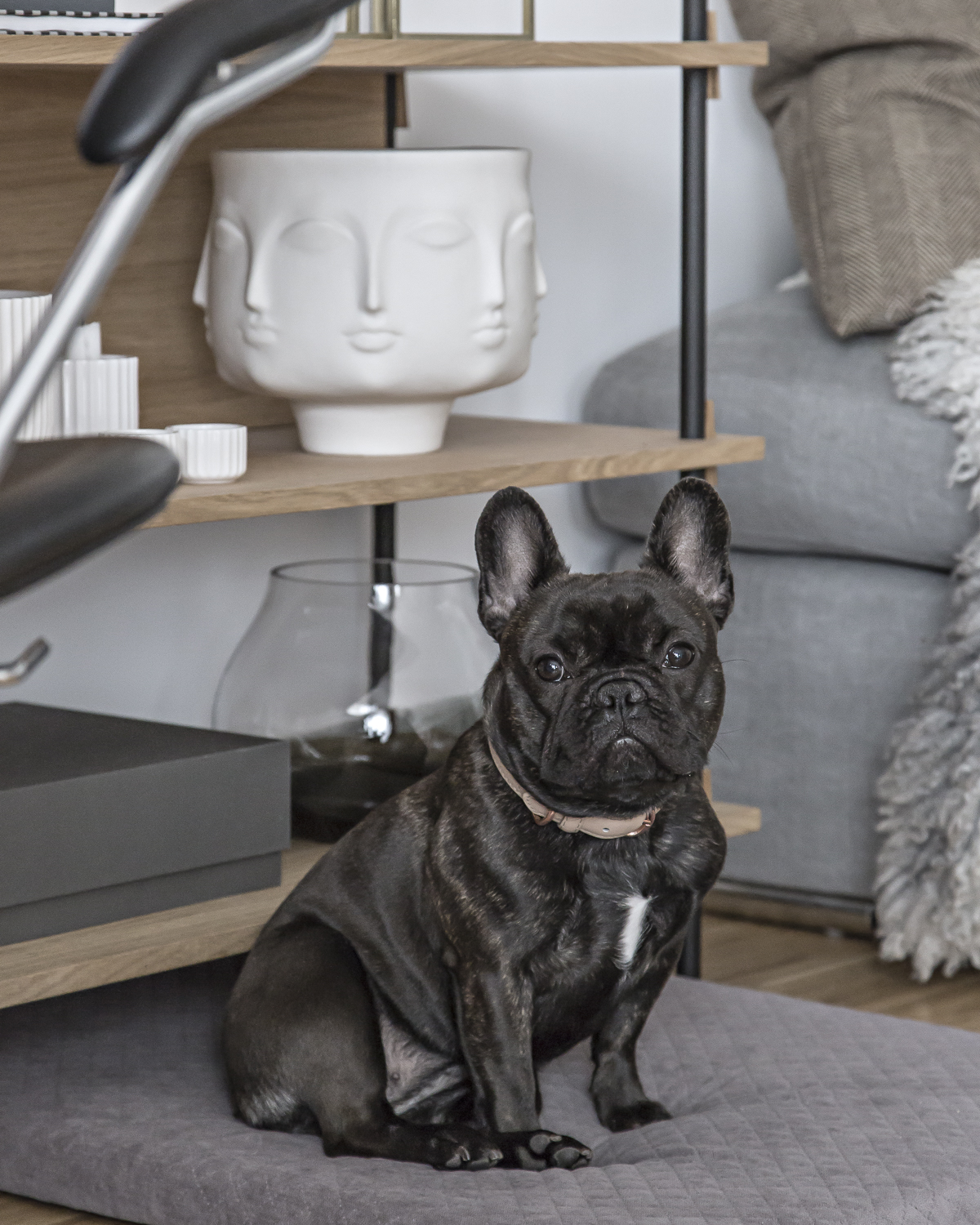 To sum things up, I am very happy with the change. Moebe shelving system lets me have all things at hand and makes a lovely, stylish display for many pretty things. You will see it often in the coming months, I am sure. Please let me know what you think about it in your comments.
Reasumując, jestem bardzo zadowolona ze zmiany. Regał Moebe pozwala mi mieć wszystko pod ręką i stanowi fajny sposób na ekspozycję wielu drobiazgów. Z pewnością będziecie go widywać regularnie. Dajcie znać, czy i Wam się podoba.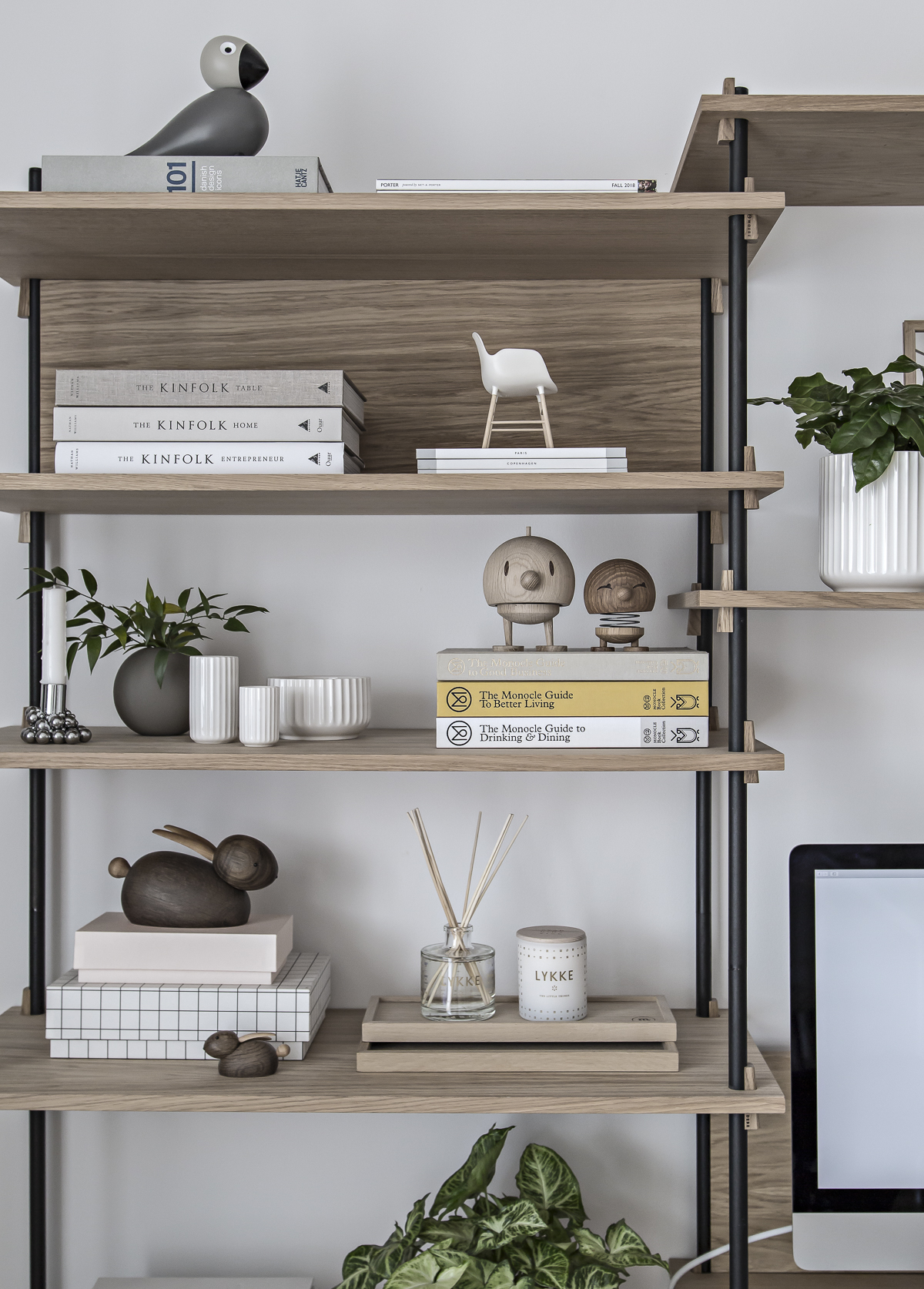 copyright Kasia Rutkowiak | My Full House | any unauthorised use prohibited