As a parent, I can totally understand why people fall into a trap of "buying time" (for work or, for a long time awaited and much needed rest), by giving their children all kinds of gamepads, smartphones and other advanced equipment. No judging (maybe except for those who put an ipad in front of a toddler in a restaurant so the kid would eat…).
My children are big enough to use electronic stuff, play or go online. We do have some strict rules as for how often, how much, when and where, but else, we're quite "normal" about this. I still think my childhood was more fun with most freetime activities taking place outside, table games and books, but… Some things we cannot change. What we can, and should strive to change, is to take a break from the virtual world whenever possible, and let the kids (or – MAKE the kids) take one too.
That's why, for Klara's 8th birthday, I decided to surprise her with something totally "unusual" in terms of nowadays gifts – a doll house. And not just any kind, but one made of paper. Cardboard to be precise.
Klara Unplugged – czas na domek z kartonu
Jako rodzic, doskonale rozumiem ludzi, którzy "kupują sobie" chwilę spokoju (do pracy, albo na wypoczynek), podsuwając dziecku elektroniczny umilacz czasu. Nie oceniam (może z wyjątkiem tych, którzy w restauracjach podstawiają maluchowi ipada pod sam nos, bo inaczej "on nic nie zje").
Nasze dzieci są dość duże, aby korzystać z dobrodziejstw elektroniki, grać lub korzystać z internetu. Oczywiście mamy w domu jasne i konkretne reguły odnośnie tego kiedy, gdzie, ile i w jaki sposób, ale myślę, że jesteśmy pod tym względem "normalni" :) Osobiście, kiedy się nad tym zastanawiam, dochodzę do wniosku, że moje dzieciństwo było ciekawsze. Gra w gumę, w podchody, kapsle czy "noża" zawsze odbywały się na świeżym powietrzu, a w domu były książki czy gry planszowe, ale… Co zrobić? Pewnych spraw nie da się przeskoczyć. Za to warto, kiedy to tylko możliwe, odrywać się od wirtualnego świata. Dotyczy to tak nas samych, jak i dzieci.
Z tego powodu, na ósme urodziny Klary, postanowiłam zamówić coś, co nie koniecznie pojawia się na listach życzeń pełnych elektroniki, a mianowicie – domek dla lalek. I to nie pierwszy lepszy, a taki z papieru. Z kartonu, dokładniej.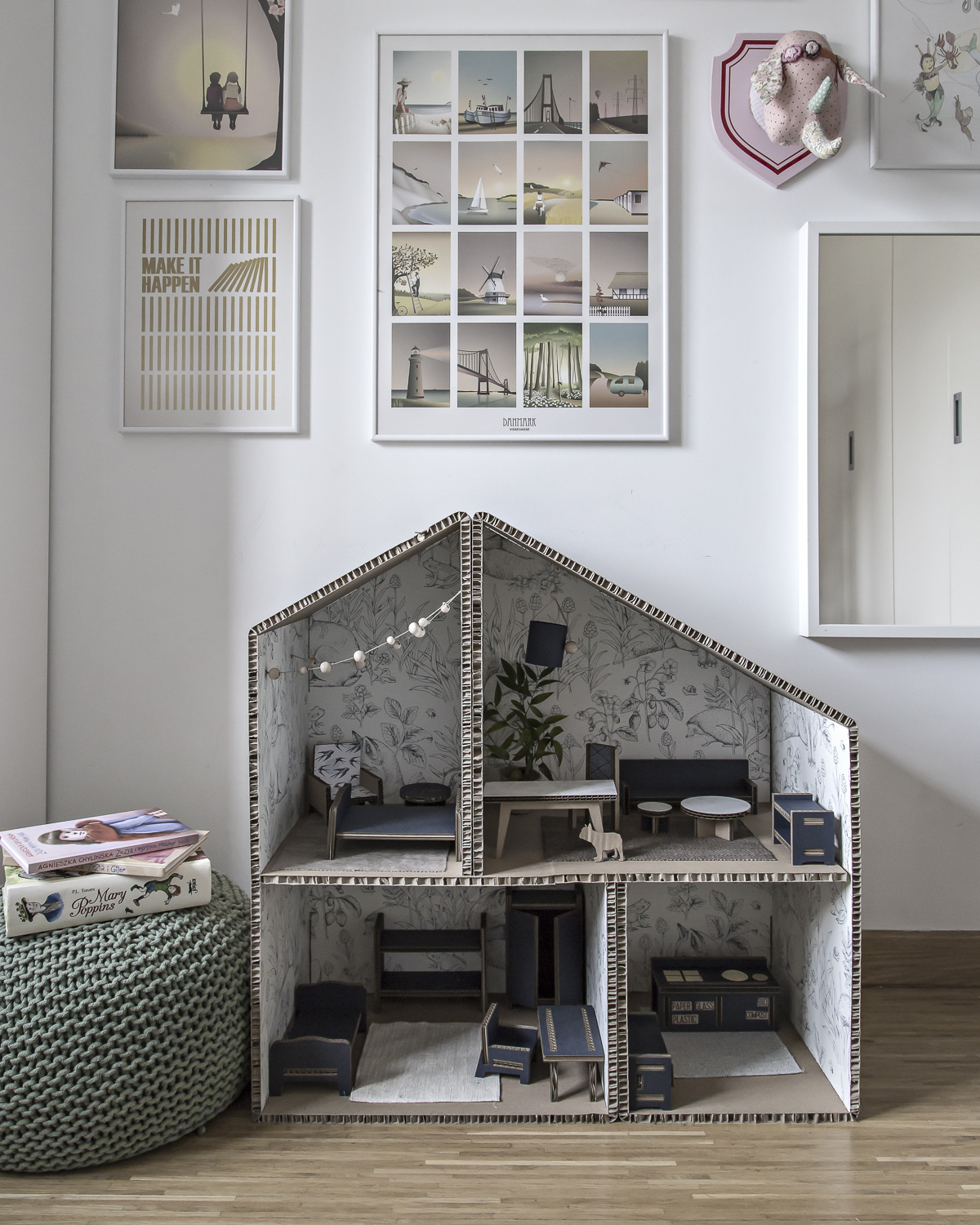 I must admit, it wasn't my own idea. I saw these cool cardboard doll-houses during an event by Newbie, upon launching new wallpaper and textile collection. I instantly fell in love with the idea. Sturdy but light, totally eco friendly and plastic free (yay!), these houses make a great way to keep your little one off the "i-stuff". And especially one like Klara, who is great at entertaining herself with someting like that.
The doll houses are made by Kasia, founder of Polish KOKO Cardboards. A very DIY-talented and cool mom, who decided she wanted to unplug more children and give them something good to play with. Kasia's ideas have already been appreciated in Paris and Milan and I really really really hope (and believe), that she will come very far with her ideas and products.
Od razu się Wam przyznam, że nie wpadłam sama na ten pomysł. Domek zobaczyłam podczas eventu Newbie i premiery najnowszych tapet i tekstyliów marki. Uczestniczki mogły same tapetować swoje (mniejsze od tego) domki. Z miejsca mi się spodobały – wytrzymałe i lekkie, totalnie ekologiczne, w 100% wolne od plastiku. Wiedziałam, że Klarze się spodoba, bo ona akurat lubi się sama bawić, jeśli ma do tego okazję.
Właśnie podczas tamtego spotkania poznałam Kasię, założycielkę KOKO Cardboards. Ta niezwykle utalentowana i pomysłowa mama, postanowiła odłączyć od elektroniki więcej dzieci, tworząc dla nich coś super fajnego. Pomysły Kasi zostały już docenione w Paryżu podczas targów PLAYTIME, oraz w Mediolanie (w kwietniu marka KOKO Cardboards brała udział w wystawie w ramach Milano Design Week!). Nic dziwnego. To świetne produkty i super pomysł. Bardzo mocno liczę na to, że przed Kasią i Jej domkami jeszcze wiele sukcesów!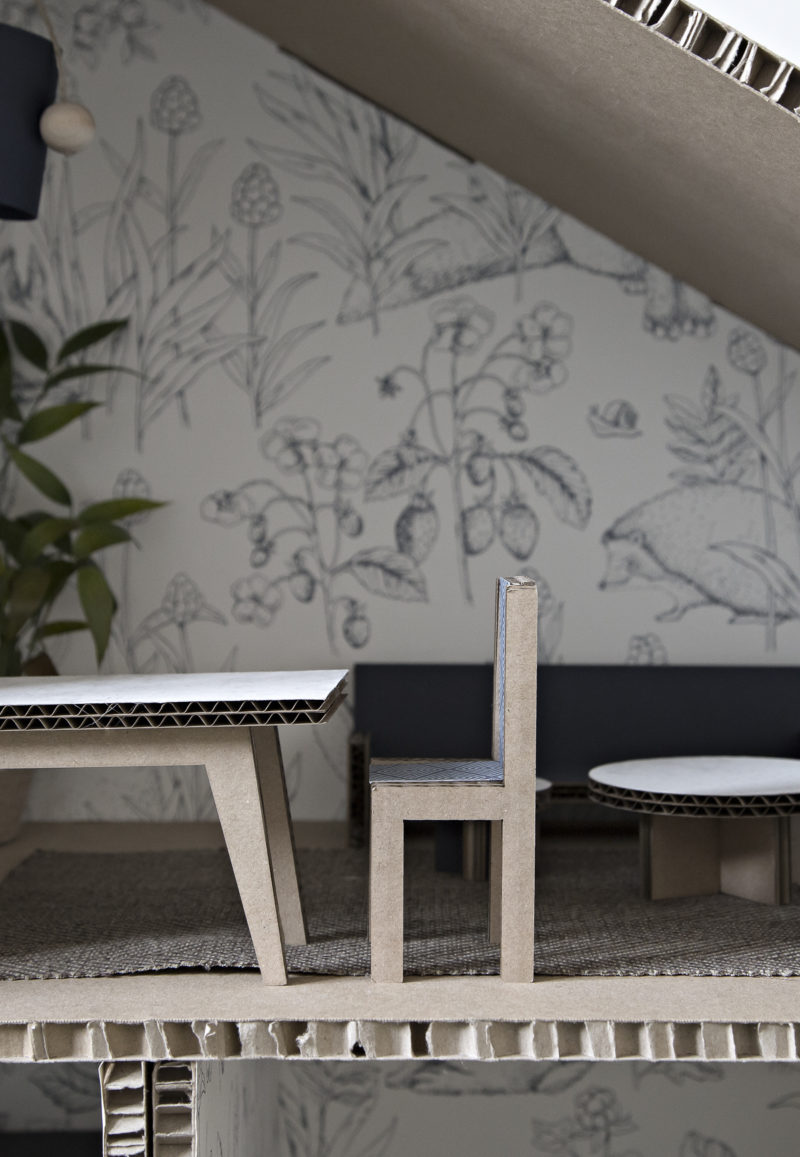 Our custom made doll house came with a lot of furniture and beautifully decorated with Newbie wallpaper. All furniture was delivered in small boxes for Klara to assemble. She loved it, and Helena (and even Olaf!) came to help her too. I had some fabric samples, which Klara happily used for carpets. She usuallu plays using small Angel figurines, but has to put them away, because of  Chloe. Our dog thinks that figurines are made to chew.
Nasz robiony na specjalne zamówienie domek przyszedł z kompletem mebli i pięknie ozdobiony tapetami Newbie. Wszystkie mebelki dostarczone zostały w małych pudełkach, do samodzielnego złożenia. Klara uwielbia takie zajęcia, choć tym razem pomagali jej i Helena i (o dziwo!) Olaf. Jako, że miałam trochę próbek tkanin, mogłam zostać fundatorem dywanów. Klara bawi się domkiem używając figurek aniołków, ale po każdej zabawie musi je chować. Chloe uważa, że aniołki są stworzone do żucia.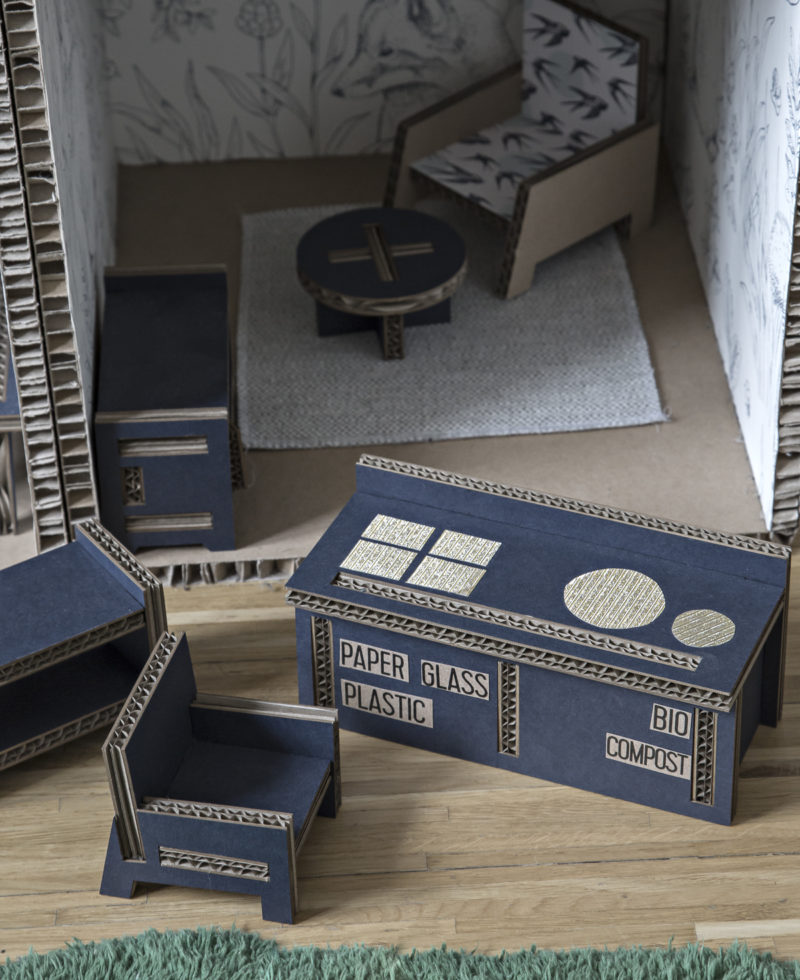 On her birthday, when Klara was going to bed, she told me that this gift was her least expected but super cool and that she was super happy to receive it. And guess what! Ever since she got the doll house, she does spend less time online and more time playing. Klara unplugged!
Kiedy w dniu swoich urodzin Klara kładła się spać, powiedziała mi, że domek był najbardziej niespodziewanym prezentem, który sprawił jej wiele radości. I wiecie co? Odkąd go ma, rzeczywiście mniej sięga po elektronikę. Klarka unplugged!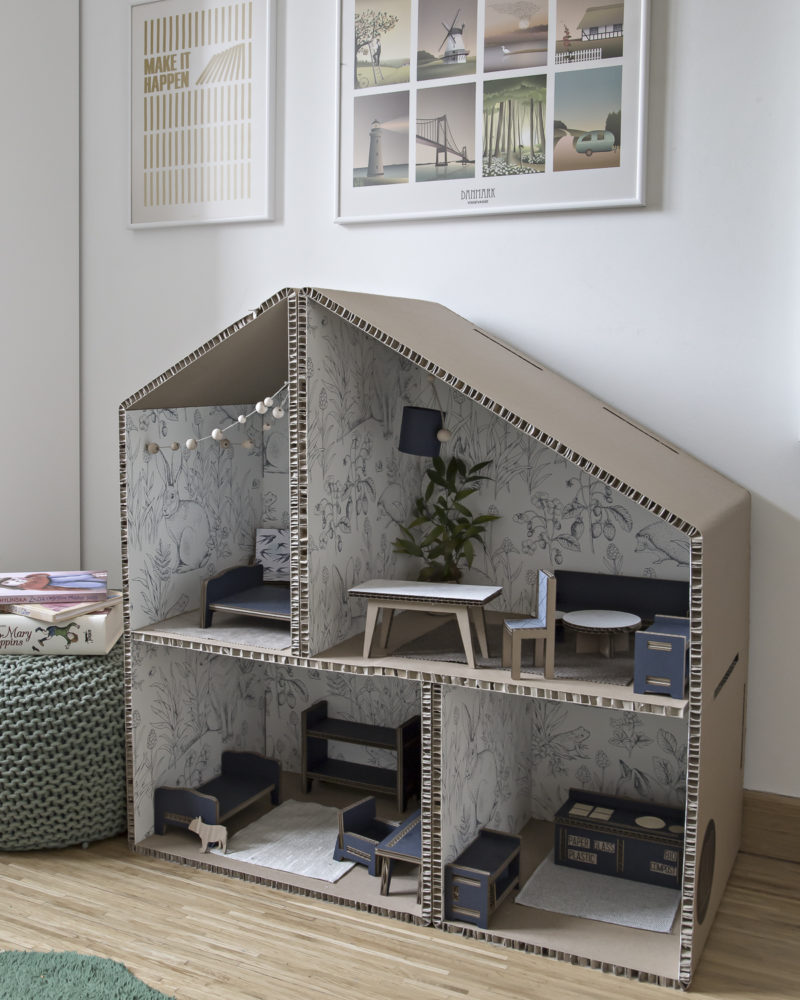 copyright Kasia Rutkowiak | My Full House | any unauthorised use prohibited 
Ogromne podziękowania dla Kasi za pomoc w stworzeniu tego pięknego domku. Post nie jest sponsorowany. Domek bardzo bardzo bardzo Wam polecam – z okazji dnia dziecka, urodzin, świąt – lub ot tak – po prostu.