Recently we did made some smallchanges in our diet. Nothing major, we are just trying to make it even more healthy. The goal is to have one salad based meal a day. So I am trying all kind of recipes, just so that our salad brunches don't get too boring – boredom would surely sabotage the plan. A couple of days ago, I made this simple and easy smoked salmon salad for lunch and we really enjoyed it.
Sałata z łososiem – wiosenny brunch
Ostatnio poczyniliśmy niewielkie zmiany w jadłospisie. Staramy się, aby jeden z posiłków bazował na sałacie. Dlatego przeszukuję wszystkie książki i internet w poszukiwaniu szybkich i smacznych przepisów na różnego rodzaju sałaty. Wszystko, aby zachować różnorodność – jak mi się sałata przeje, będzie koniec z planem. Parę dni temu zrobiłąm szybką i smaczną sałatę z łososiem – bardzo nam smakowała.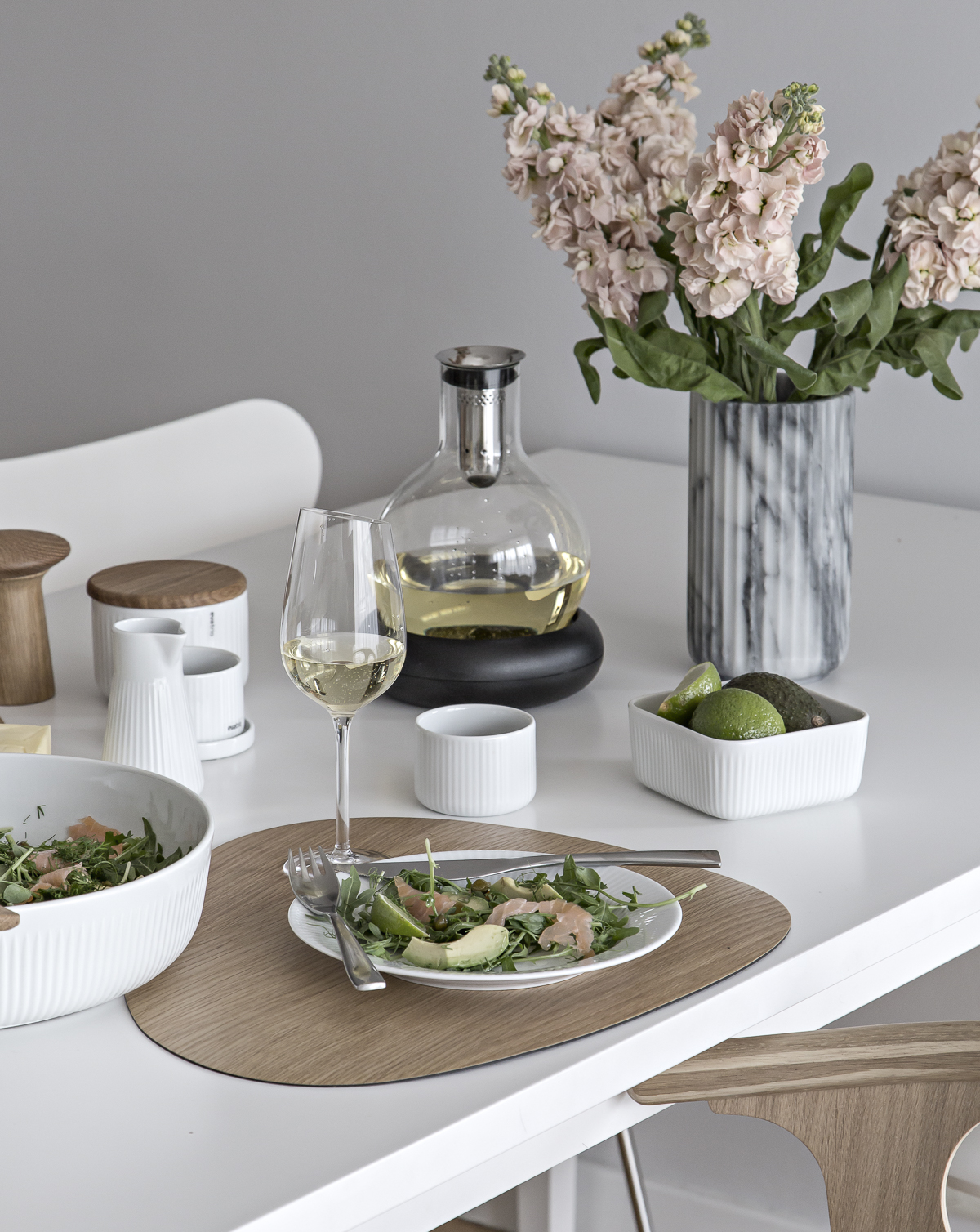 The base – as you would expect, was some grean leaves. I had argula and spinach (there is another great spinach salad recipe here). I added avocado (I eat at half avocado every day), capers, smoked salmon and plenty of dill plus some lime wedges. This time we used olive oil and salt/pepper for seasoning, else a mix of whole grain mustard with olive oil, salt, pepper and lemon is great. Unfortunately we just run out of the mustard. On the bright side – we did have some cold white wine.
Bazą, jak łatwo się domyślić, było coś zielonego. Pod ręką miałam rukolę i szpinak (inny przepis na sałatę ze szpinakiem znajdziecie tutaj). W misce wylądowały też kapary, awokado (jem przynajmniej połówkę każdego dnia), dużo koperku i limonka. Sałatę zjedliśmy jedynie polaną oliwą i doprawioną solą i pieprzem, bo akurat zabrakło nam gruboziarnistej musztardy. Byłaby idealna do dressingu. To czego nie zabrakło, to odrobina białego wina (które wolę od musztardy, więc w sumie nie narzekałam ;)).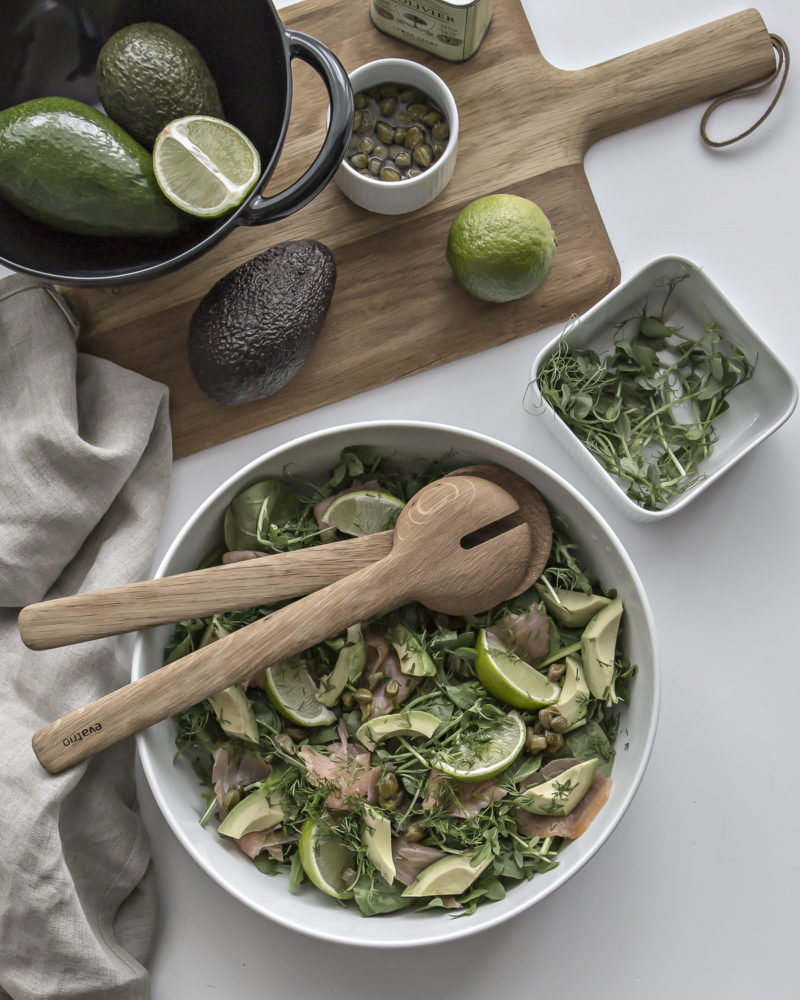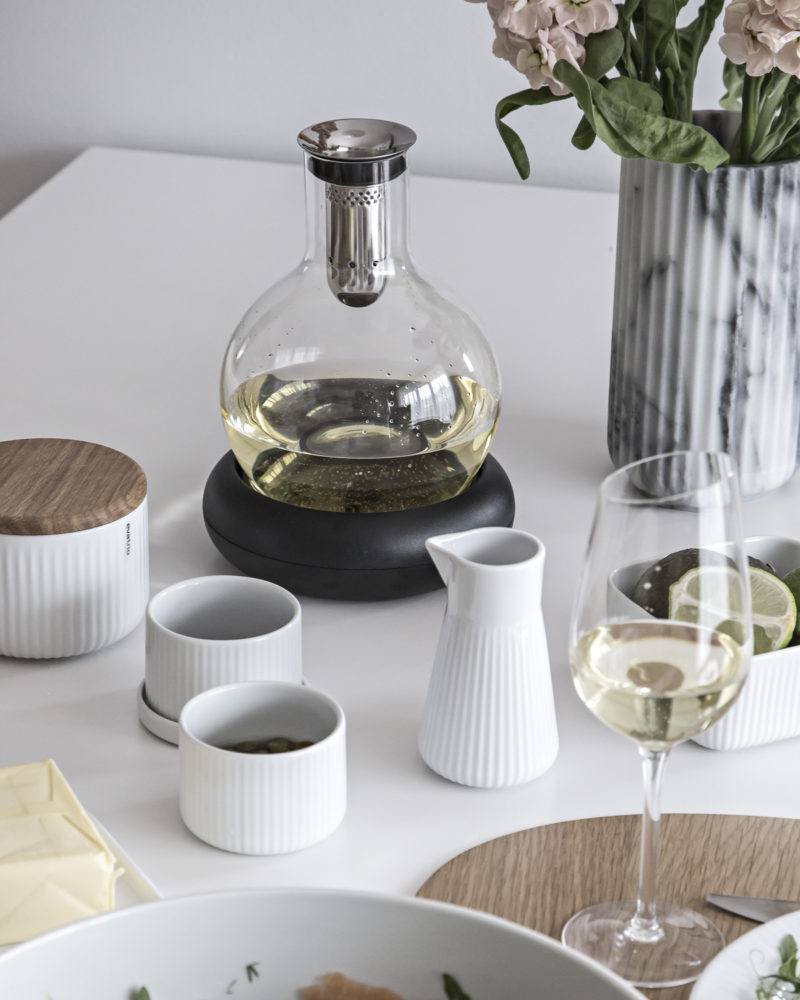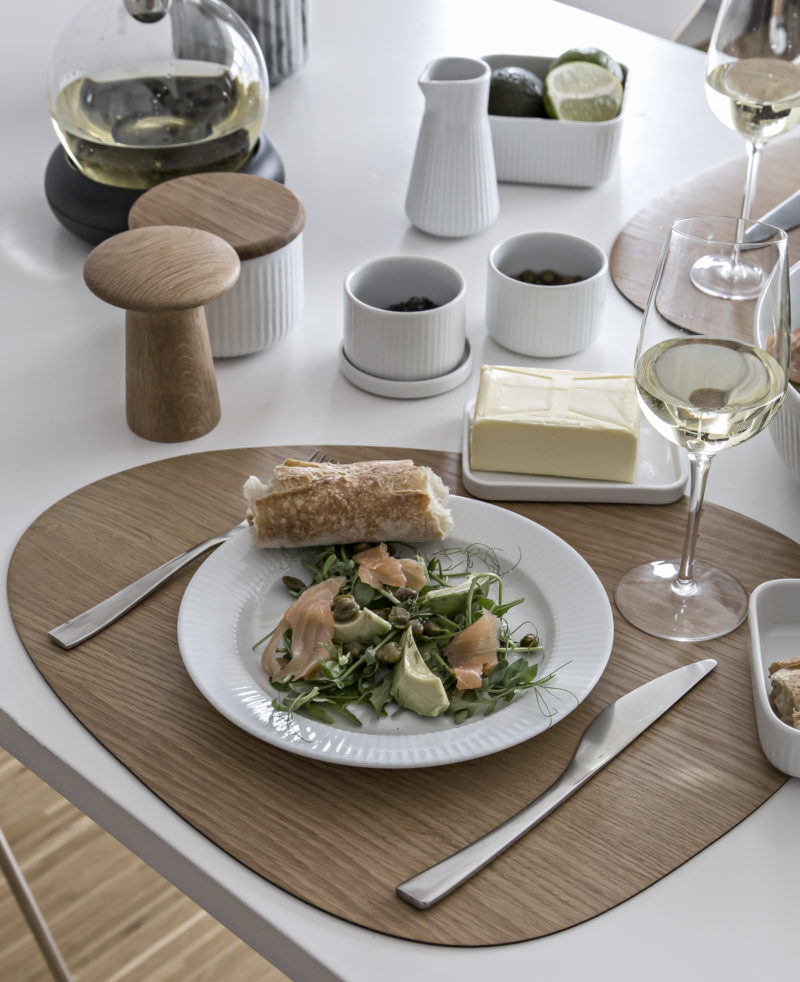 After a couple of weeks on the salad course, I already feel better. My only problem is that all the greens you get in supermarkets are packed in tones of plastic. I hope that it will change soon. It's crazy to fell better due to eating healthy, and on the other hand – bad for throwing away loads of plastic. It would be ideal to shop at the local market in stead. Definately something to consider.
Po paru tygodniach codziennego jedzenia sałaty, już czuję się lepiej. Jedyny problem mam z tym, że w supermarketach (których trudno unikać), wiele warzyw zapakowanych jest w plastik. Mam nadzieję, że wkrótce się to zacznie zmieniać. Co to za radość, czuć się lepiej z powodu zdrowszego trybu życia, a z drugiej – gorzej z powodów wyrzutów sumienia (i wyrzutów plastiku). Idealnie byłoby zaopatrywać się w warzywa na lokalnym targu. Do przemyślenia.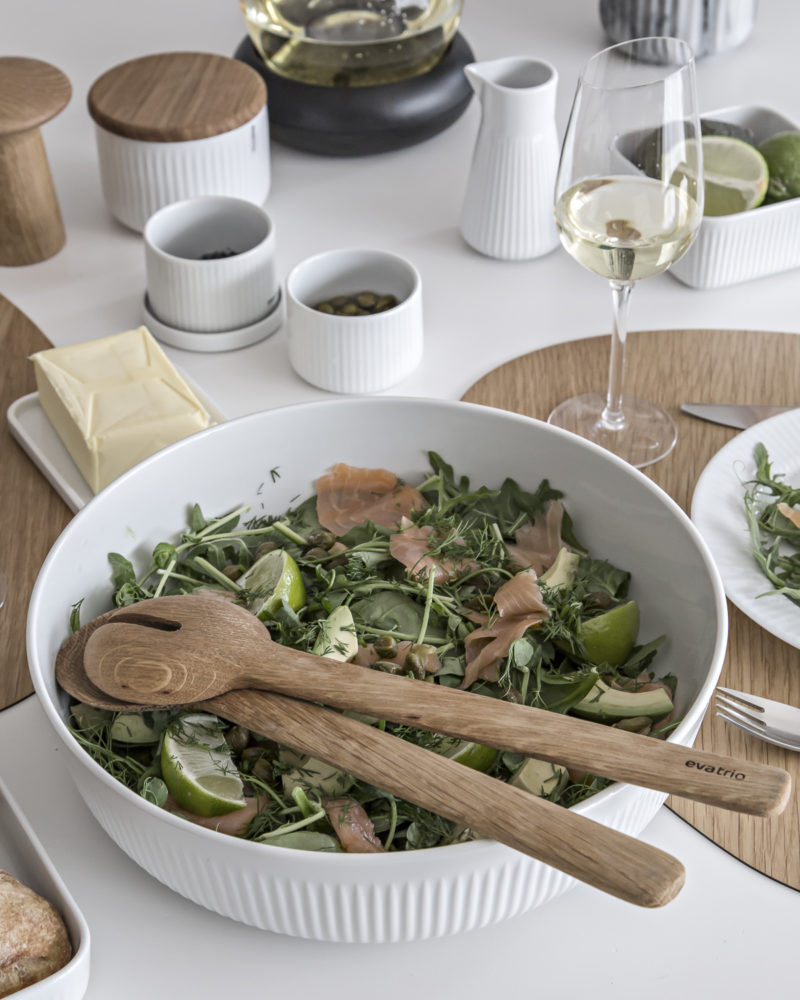 ps. I just love that salat bowl from Legio Nova line by Eva Solo. It is the newest addition to our collection. Ever since it came, we use it every single day. One more reason to love salad (although it works great for oven baked dishes as well).
ps. Uwielbiam nową misę z kolekcji Legio Nova. To najnowszy dodatek do naszego zbioru porcelany Eva Solo. Odkąd przyszła, korzystamy z niej codziennie. Dodatkowy powód, aby jeść sałatę, choć naczynie nadaje się też do zapiekania w piecu :)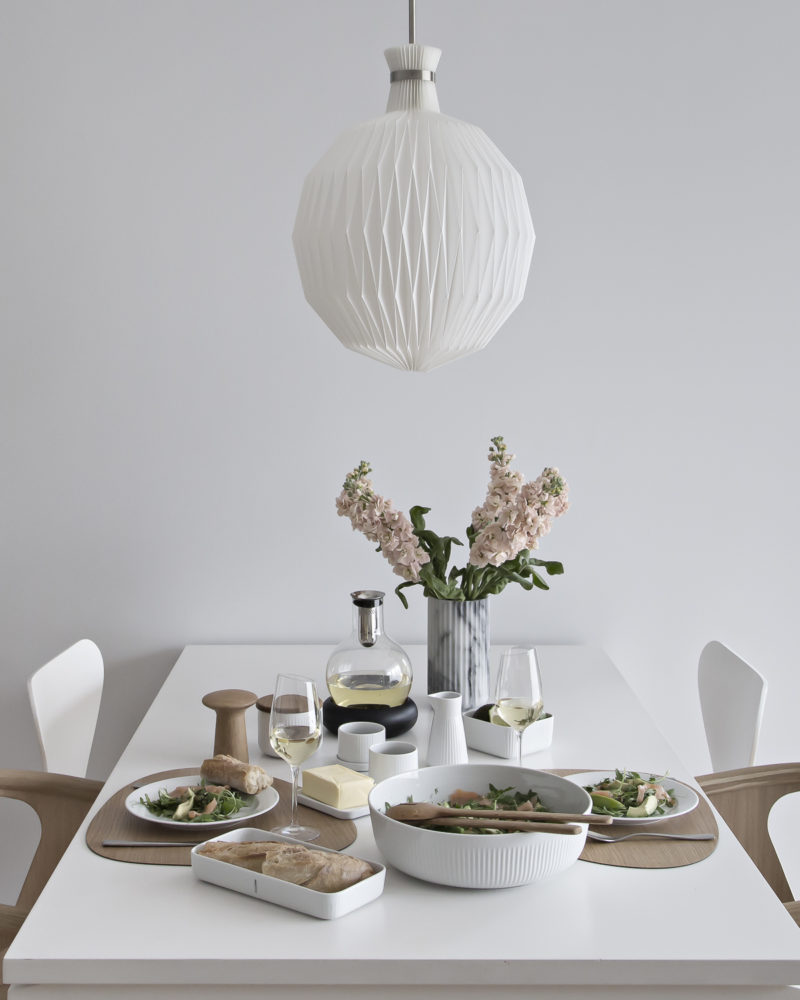 copyright Kasia Rutkowiak | My Full House | any unauthorised use prohibited
porcelain, glasses and carafe / porcelana, kieliszki i karafka – Eva Solo, place mats / podkładki – LIND DNA, vase / wazon – Lyngby, lamp / lampa – LE KLINT (model 101L), stół/table – TON