It's a special Friday here at My Full House. First of all, it's Olaf's birthday. My first born is officially a teenager from today. If that wasn't enough, 3rd of May is a national holiday here in Poland, so it's a long weekend (for many it started already on May 1st which also was a day off). Finally, Olaf's birthday is the last of 3 birthdays within 6 days. As some of you know, my children were all born in the early spring – girls on the 28th and 29th of April, and Olaf on the 3rd of May. This is master planning (or – not at all ;))!
I remember my Mom saying, that my birthday was always her special day too. She was so right! Every mother knows how it feels when a child turns another year older. We get emotional, many memories come to our mind, feelings overflow and turn into happy tears. I am no different and these 3 birthdays are a tough time for me, in a way. So it is amazing to have a husband who understands and treats me with Mama Flowers on this special time.
Piękny wazon i potrójna urodzinowa mama
W naszym pełnym domu jest dziś szczególny dzień. Po pierwsze – dziś są trzynaste urodziny Olafa. Mój pierworodny oficjalnie staje się nastolatkiem. Odkąd mieszkamy w Polsce w każde urodziny ma wolne od szkoły, co bardzo go cieszy. Urodziny Olafa są, jak część z Was z pewnością pamięta, trzecimi urodzinami moich dzieci w ciągu 6 dni. Dziewczynki świętują 28. i 29. kwietnia. To się nazywa mistrzowskie planowanie (albo wręcz przeciwnie ;))!
Każdego roku i podczas każdych urodzin moich dzieci myślę w sposób szczególny o Mojej Mamie. Co roku w moje urodziny przytulała mnie mówiąc, że to nasze wspólne święto, Jej szczególny dzień. Jak ja Ją dziś rozumiem! Każda mama wie, że urodziny dziecka to dzień inny niż wszystkie. Pełen wspomnień i wzruszeń, czasem tak silnych, że wypływają na policzki strużkami łez szczęścia. Dziś wzruszam się po raz kolejny w tym tygodniu, bynajmniej nie mniej niż parę dni temu. A mój Cudowny Mąż, który rozumie więcej niż potrafię wyrazić słowami, w te szczególne dni rozpieszcza mnie kwiatami.
As these are special flowers for a special occasion, I had to find a special vase for them. And as all my children were born on the beautiful Bornholm, the choice for those pretty roses was more than obvious. Flower Vase no 23 from Ro Collection was created by designer Nina Erichsen at her glass workshop… on my beloved Danish island. Just writing about it, on this early May morning, makes my eyes a bit wet (something tells me that I will have eyes in a wet spot all day today, and it's only 5:40 in the morning!).
And as for the vase – it is absolutely beautiful! Made of thick glass in shades of grey, mouth-blown, it has a perfect shape for medium bouquets. If you are into pretty things, that not all other people have (yet), make sure to check Ro Collection's designs! I am sure that this lovely young Danish brand will have many great products coming. And their quality truly is amazing!
Jako, że sa to szczególne kwiaty na szczególną okazję, pomyślałam, że wazon też powinien być szczególny. Ponieważ wszystkie moje dzieci przyszły na świat na pięknym Bornholmie, wybór wydał mi się oczywisty. Wazon  Flower Vase no 23 marki Ro Collection stworzony został przez projektantkę Ninę Erichsen w jej warsztacie… na mojej ukochanej duńskiej wysepce. Kiedy o tym piszę w ten majowy poranek, już czuję, że mam oczy w mokrym miejscu (i mimo, że to dopiero lekko po 5:40 rano czuję, że cały dzień będzie taki "mokry").
Co do wazonu – jest piękny! Wykonany z grubego szkła w odcieniach szarości, ma idealny kształt do średnich bukietów. Jeśli szukacie pięknych dodatków dla domu, ale nie koniecznie tego co mają wszyscy (jeszcze!), sprawdźcie tę młodą duńską markę. Ro Collection już teraz ma w ofercie wiele pięknych produktów, a z czasem będzie ich coraz więcej. Do tego jakość jest naprawdę świetna!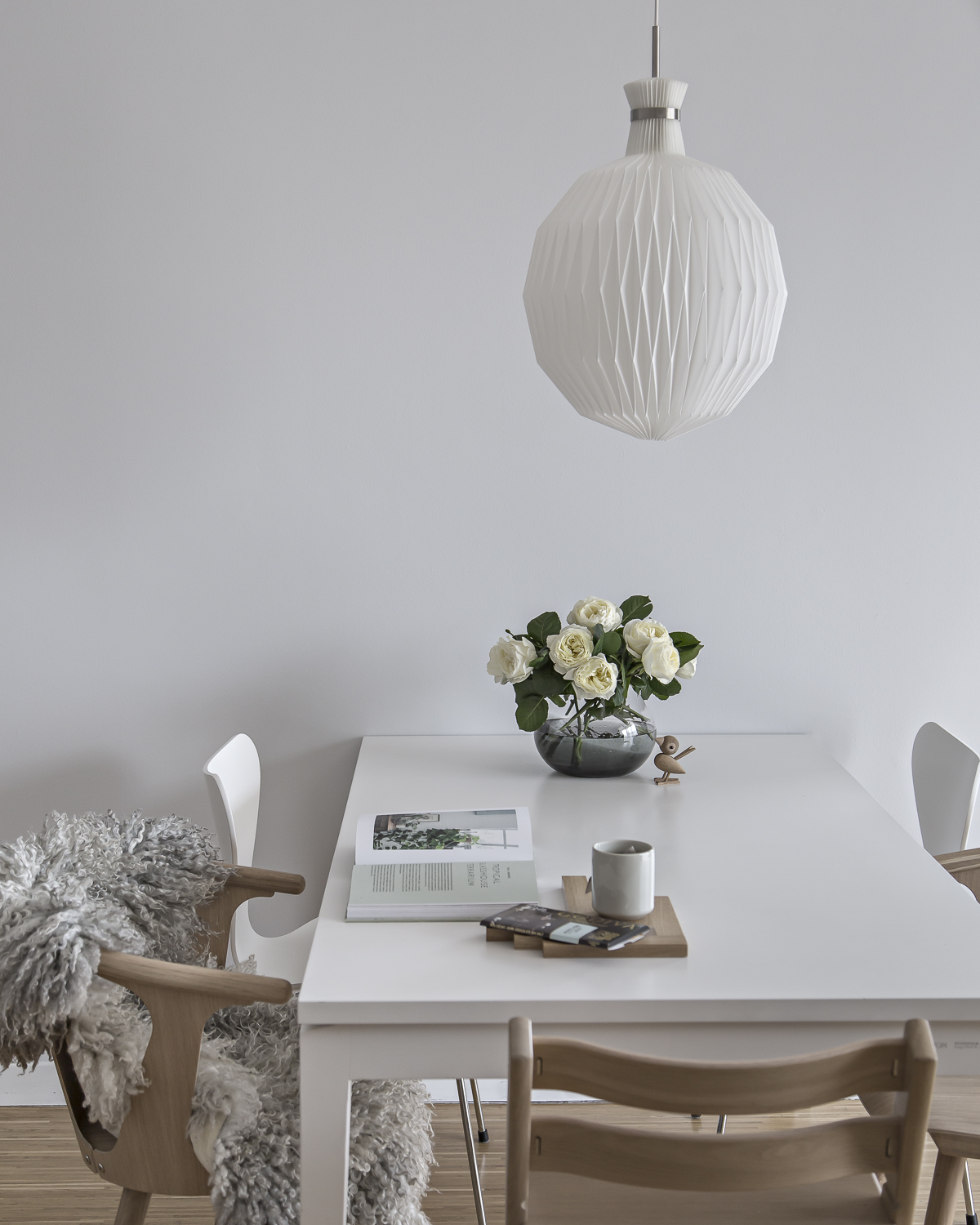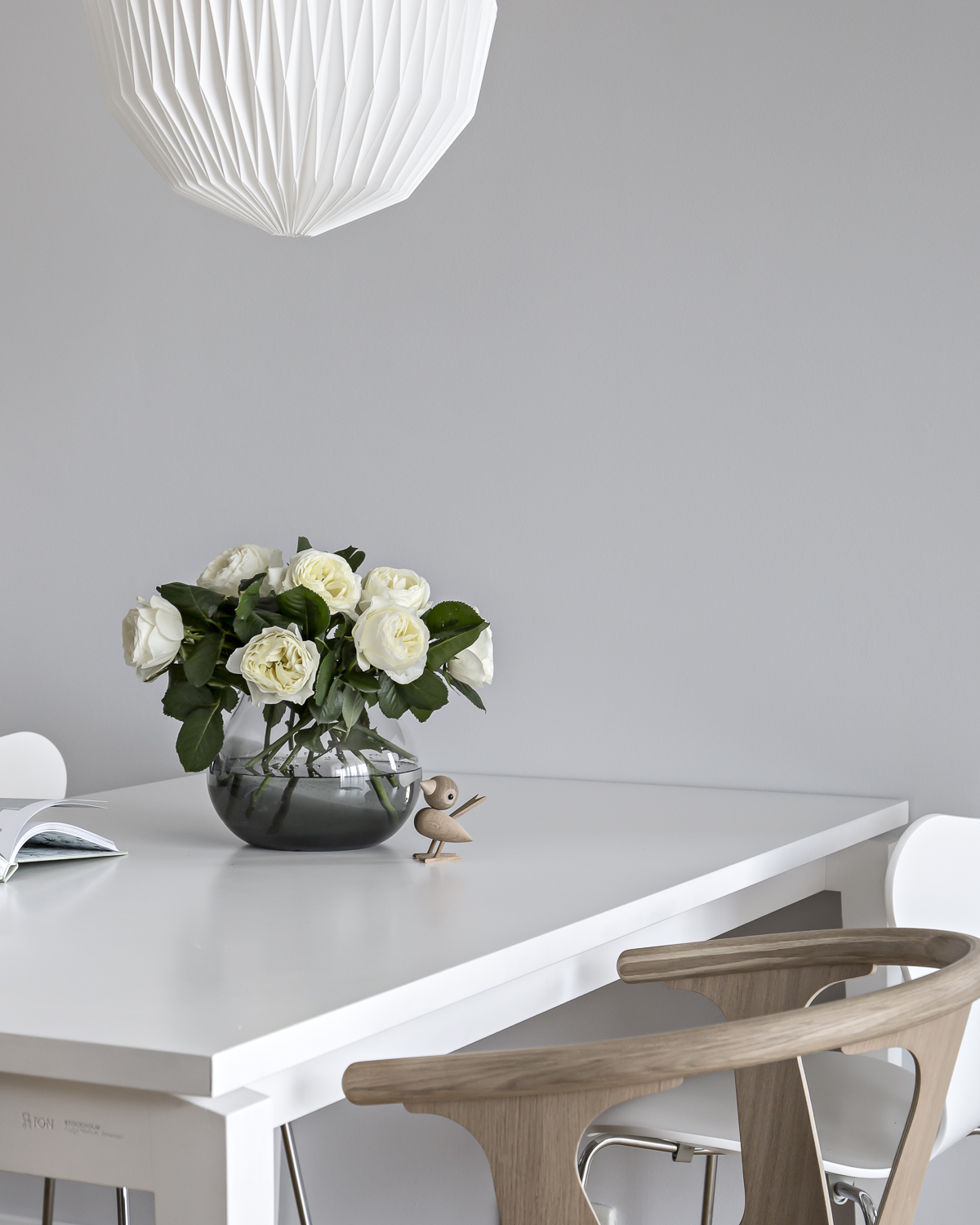 copyright Kasia Rutkowiak | My Full House | any unauthorised use prohibited
vase / wazon – Ro Collection, lamp / lampa – LE KLINT, table / stół – Ton, chairs / krzesła – Fritz Hansen and &Tradition, bird / ptaszek – Lucie Kaas (Agencja Portfolio), shelves / półka – MOEBE, sheepskin / skóra owcza – Milabert